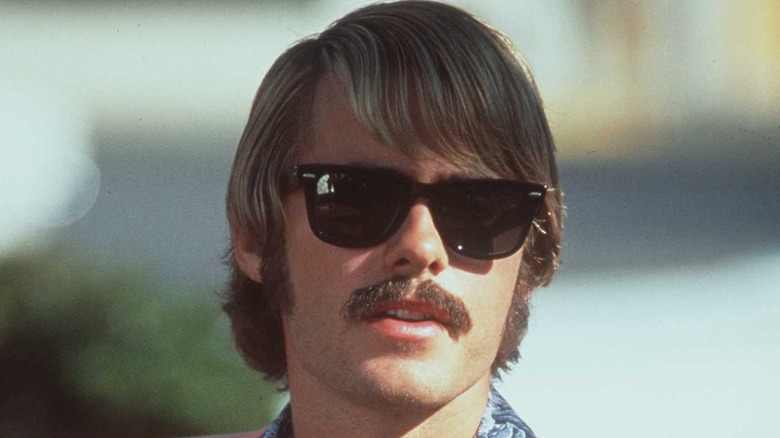 The first modern Olympics were held in Athens, Greece in 1896, and around the same time, the art of cinema was just starting to get going. Ever since, the quadrennial Games and the medium of motion pictures have been a fine pairing, both living out the Olympian motto of "Citius, Altius, Fortius" ("Faster, Higher, Stronger").
Olympic movies come in all shapes and sizes, and decade after decade, studios and filmmakers have been looking to (re)capture the spirit of the Games, in all its glory, defeat, tragedy, and even humor. Disney knows a good heartwarming story when they see one, and the Games are filled with plenty to choose from. In some cases, Olympic movies aren't even about the Games themselves, and take place far away from the tri-level podium, but are still worthy of medaling. Steven Spielberg, Clint Eastwood and Bennett Miller each have taken us to the dark side beyond the stadiums and arenas, while still drawing a crowd. Sometimes a real life tale is so captivating that it has been told more than once. The options are endless, but these are the best movies about the Olympics (in alphabetical order).
Chariots of Fire (1981)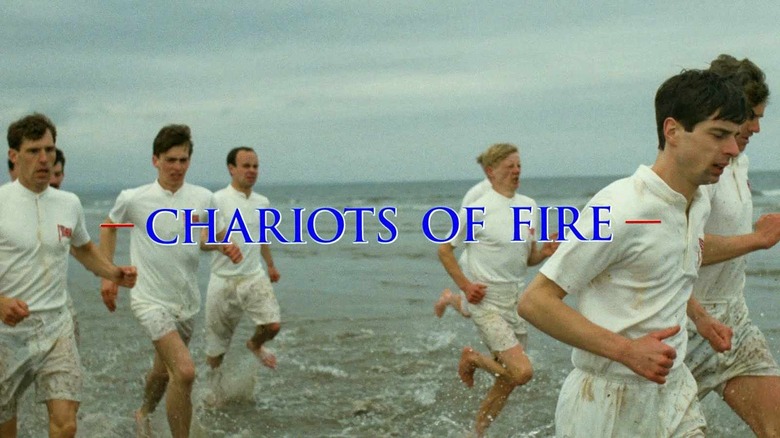 One of the most memorable opening title sequences in film history captures a group of young men, dressed in all white, running on a beach in unison, while a pulsating synthesizer theme song inspires us to cheer them on. So begins Hugh Hudson's "Chariots of Fire," which would go on to be nominated for seven Academy Awards. It won four, including Best Picture (over "Raiders of the Lost Ark") and, naturally, Best Score.
"Chariots of Fire" chronicles the real life stories of two British runners, both defined by their religious backgrounds, and out to outrun the prejudices held against them — a Jewish man, Harold Abrahams (Ben Cross) and a devout Scottish Christian, Eric Liddell (Ian Charleson). With "hope in our hearts, and wings on our heels," the film follows Abrahams and Liddell, and their fellow fleet footed countrymen as they overcome hurdles on the way and at the 1924 Summer Olympics in Paris, France.
Director Hudson didn't want to make a "heritage film," hence the soundtrack by Vangelis (whose theme topped the Billboard chart in May of 1982), but did try to be accurate where they could. He told The Guardian, "At Birkenhead, we found an old cinder track –- there weren't many left -– that looked very like the old Paris stadium used for the 1924 Olympics." Cinder tracks were last used at the 1964 Summer Games in Tokyo, Japan.
Liddell's life story post-"Chariots" was told in Chinese-backed 2016 production "The Last Race."
Charlie Chan at the Olympics (1937)
Time rightly hasn't been kind to the "Charlie Chan" film series, with caucasian actors donning yellowface to portray the famed detective headquartered in Hawaii. Even so, they did set out to try to promote a more positive view of Asian-Americans, employing many Asian actors to play Chan's kin in key supporting roles — a rarity of the era.
Swedish-American Warner Orland played the detective 16 times, and his antepenultimate adventure, "Charlie Chan at the Olympics," found him on the case of a stolen guidance system for an experimental plane. It takes him on a transatlantic trip to Berlin, complete with a (stock footage) ride aboard the Zeppelin Hindenburg — which exploded in a horrifically fatal fire 15 days prior to the film's release. The studio kept the dirigible in the film, with the weird coincidence not lost on reviewers and the studio playing up the disaster in the advertising.
Chan makes it to Berlin during the Summer Games, and it just so happens, his "Number One Son" (Keye Luke, who overprepared for the role) is competing. Clips from the actual 1936 games, including Jesse Owens on the track, are interspersed with footage of actors at the Los Angeles Coliseum cheering them on. Interestingly enough, the Berlin games were rife with Nazi pageantry and symbolism, which never get a mention in the movie, and any references to it have been all but wiped from this American-centric picture. Even the Hindenburg's tailfin Swastikas were scratched out on film prints.
Cool Runnings (1993)
A few Jamaican runners fail to make the Olympic team, so they turn their attention to a sport with no history in their country – bobsledding. The improbable becomes possible as the Jamaican bobsled team go from fishes out of warm water to representing their country at the 1988 Winter Olympics in Calgary, and becoming media darlings in the process. This is the story of Disney's 1993 hit "Cool Runnings."
Based on a true story, and originally written as a serious drama titled "Blue Maaga" (Jamaican Slang for "In a state of great distress and starvation"), it slowly transformed into an underdog comedy when Jon Turteltaub took over as director, and lost a lot of its truth in story. As he told EW, "In some ways it was looked at as a joke, and in other ways, it was looked at as a very inspiring little anecdote that made the whole Olympics have more character."
While actors such as Jeffrey Wright and even Tupac Shakur auditioned for roles, the four lead were cast with non-Jamaicans. That said, Doug E. Doug and Malik Yoba have Jamaican roots, and Leon Robinson plays in a reggae band that tours there. The cast was rounded out by Trinidadian Rawle D. Lewis and Canadian John Candy, in one of his final performances. Apparently the actors were too good at their job, as studio chief Jeffrey Katzenberg urged "the guys to speak English like Sebastian the crab from 'Little Mermaid,"' and Robinson to sound more like a "black Aladdin," to which Robinson said, "Aladdin is not Jamaican!"
While the true story may have been diluted on its way to the big screen, it still captured the Olympic spirit and pride of the Jamaican people.
Foxcatcher (2014)
Mark and David Schultz were freestyle wrestling brothers who both won gold at the 1984 Olympics. They achieved a different kind of fame when a wealthy benefactor entered their lives to help them financially to prepare for the 1988 Games in Seoul, South Korea. That benefactor was John Eleuthère du Pont, who had the brothers live and train on site with him and his Team Foxcatcher. Between the pressure of making another Olympics and the eccentricities of du Pont, the relationship between all parties became frayed, and heads in a deadly direction.
The thrill of victory and the agony of defeat is on full display in the stunning "Foxcatcher," directed by Bennett Miller and written by Dan Futterman and E. Max Frye. It stars Channing Tatum as Mark Schultz, Mark Ruffalo as David Schultz, and Steve Carell as du Pont. Bennett won the Best Director prize at the 2014 Cannes Film Festival, where the film received an eight minute standing ovation.
The film took liberties with the truth to ramp up the drama. After the real Mark Schultz (who was a consultant on the film) read reviews where critics inferred a homosexual relationship between the movie's Schultz and du Pont, he got angry and publicly threatened Bennett. He later apologized and attended the Academy Awards (where it was nominated in five categories) to support the film. While he's still not 100% on board with the final work, Schultz told The Guardian, "I'm glad it was made. I'm glad my brother was immortalized."
I, Tonya (2017)
Tonya Harding never had it easy. Her mother physically and emotionally abused her growing up, and husband Jeff Gillooly was also abusive and manipulative. Even the world of figure skating frowned upon Harding. Despite all the obstacles, Harding made a name for herself in the sport. She was the first American female figure skater to land a triple axel jump in competition, and represented USA at the Olympics twice. However, it was her second tour of duty, leading up to the 1994 Lillehammer Games, that tarnished her name in the sport. A hit was put out on golden girl rival Nancy Kerrigan's knee, and when signs pointed in Harding's direction, the media went into full frenzy. Harding's skating career was over, and her life was left in ruins.
The idea of turning her tumultuous life into a feature film wasn't on the top of Harding's wishlist, admitting to the Hollywood Reporter, "I don't want to go through this again. I've been through enough." But when her manager pitched it as a way to find closure on this chapter of her life, she let her life story be optioned to writer Steven Rogers.
Harding found the end result, Craig Gillespie's "I, Tonya" to be to be "magnificent." The movie portrays Harding's life, warts and all. Margot Robbie (with help from some incredible visual effects) in her skates, was nominated for a Best Actress Academy Award. Allison Janney, who played her mother LaVona, took home an Oscar for Best Supporting Actress. Not nominated, but equally noteworthy were Sebastian Stan (and his mustache) as Gillooly and breakout star Paul Walter Hauser as Shawn Eckardt.
Jim Thorpe – All American (1951)
Native American Jim Thorpe had a storied career in the world of sports, and was eventually enshrined in both the Pro and College Halls of Fame for his football accomplishments. He won two gold medals for the pentathlon and decathlon at the 1912 Summer Olympics in Stockholm, which prompted King Gustav V of Sweden to tell Thorpe, "Sir, you are the greatest athlete in the world." Thorpe was later stripped of his medals for his non-amateur status, then had them partially restored decades after his death.
In Michael Curtiz's biopic "Jim Thorpe — All American," Burt Lancaster was the perfect fit for the role, and even working with Thorpe himself to convincingly do his own sporting work on-screen. Thorpe was quoted as saying, "I get a funny feeling sitting there watching Burt doing the things I did … I don't think I was ever that handsome."
Curtiz and crew filmed the Olympic scenes at the Los Angeles Coliseum, home of the 1932 Summer Games, along with stock footage. To drum up interest in the film, the Warner Bros. publicity department invented the claim that Curtiz was on the 1912 Hungarian fencing team and had met Thorpe at those Stockholm games. They actually met on set in 1935, when Thorpe was cast as a pirate extra in Curtiz's "Captain Blood."
Million Dollar Legs (1932)
Welcome to the far away country of Klopstokia, where the chief exports, imports, and inhabitants are goats and nuts. That's how we are introduced a minute into this nutty W.C. Fields driven 1932 Olympic picture "Million Dollar Legs" (not to be confused with the 1939 film featuring Betty Grable and her legs). The zany picture was produced by Herman J. Mankiewicz (co-writer of "Citizen Kane") and co-written by his brother Joseph L. ("All About Eve").
Jackie Oakie plays traveling brush salesman Migg Tweeny, who, while in Klopstokia, falls for a woman (Susan Fleming), who happens to be the daughter of the country's president (W.C. Fields). The President is constantly battling his scheming cabinet, and treasury concerns, and will let Oakie marry her daughter if he can help him raise 8 million dollars. Migg quickly hatches a fundraising idea to enter the country in the Olympic games and boom — they're off to the races, and hilarity ensues.
This madcap pre-Code film was released 22 days before the 1932 Summer Games in Los Angeles began, and has won gold in the hearts of many. Revered "New Yorker" film critic Pauline Kael held the film in high regard, calling it "one of the silliest and funniest pictures ever made." John Oliver is a fan too, and even once took part in a screening and discussion of the film alongside Fields' granddaughter.
Miracle (2004)
At the height of the Cold War, the US men's hockey team defeated the Soviet Union at the 1980 Winter Olympics in Lake Placid. This "Miracle on Ice" was not only one of the biggest upsets in Olympic history, but also one of the greatest underdog stories in all of sports. (One thing that is often overlooked is that team USA had to defeat Finland in the next game to secure the gold medal.)
The story was rife for a feel-good Disney-type movie, and in 2004 that's exactly what came into being with "Miracle." The movie is directed by Gavin O'Connor, and stars Kurt Russell as head coach Herb Brooks and Patricia Clarkson as his wife Patti.
Great effort was made to capture the play and spirit of those games — which even impressed Al Michaels, the ABC Sportscaster who called the USA/USSR match. Michaels told the LA Times that "'Miracle' really got back into exactly what was taking place and how it took place. A little bit was over the top, as is the case with most movies trying to recreate real life. But I thought they caught the essence of it." The production asked if Michaels would re-record his infamous "Do you believe in miracles?!" exaltation when the clock expired, to which he told them, "Not over my dead body."
Munich (2005)
Based on the 1984 book "Vengeance" by George Jonas, "Munich" details Israel's "eye for eye" revenge mission to assassinate those responsible for the massacre of the Israeli athletes at the 1972 Olympic games. We see how Operation Wrath of God is hatched and carried out by deep cover Mossad agents, whose deadly deeds weigh heavily on their souls, and raise questions of both a political and moral nature. Upon release, the film was divisive, which Spielberg and writer Tony Kushner had done by design, telling Roger Ebert, "It puts a real burden on the audience to figure out for themselves how they feel about these issues. There are no easy answers to the most complex story of the last 50 years."
"Munich" is loaded with an incredible international cast, including Eric Bana, Daniel Craig, Cirián Hinds, Mathieu Kassovitz, Ayelet Zurer and Geoffrey Rush, and medal worthy production values for a film that spans decades. It was nominated for five Academy Awards, including Best Picture and Director. Those looking for a more detailed account can also watch the Academy Award winning documentary "One Day in September."
The Olympic Champ (1942)
Goofy began life as "Dippy Dawg" in the 1932 Disney short "Mickey's Revue." After Goofy's voice, Pinto Colvig, left the studio seven years later, series director Jack Kinney decided to pair the character with a "straight and pontifical" narrator (John McLeish) in a series of successful "how to" cartoons. They had Goofy tackle a lot of sports, like football, skiing and hockey, with "Olympian imperturbability," and in 1942, created a fun 7 minute primer for children on the Olympics themselves, which still enlightens and entertains to this day.
"The Olympic Champ," which was described at the time of its release as "taking all the roles in a history of competitive sports from the days of Greece to our times," showing Goofy trying his "garsh" darn best attempts at various track & field events, like the pole vault, and failing at most for our comedic satisfaction, while the narrator waxes poetic about Tennyson's "Crossing the Bar."
The short played in front of movies. Some lucky theatergoers got to see it and "Beau Geste" for the admission price of "10 pounds of scrap metal." It even was brought out again in 1968 to precede showings of "(Herbie) The Love Bug." 18 years after the release of the short, Walt Disney and company were heavily involved in the pageantry of the 1960 Squaw Valley Winter Games, the first Games to be broadcast to an American audience. In 1980, Goofy was adopted as the French Olympic team's mascot, and for Portugal in 1984.
Personal Best (1982)
While not a financial success, "Personal Best" was a critical one – Roger Ebert said it was "one of the healthiest and sweatiest celebrations of physical exertion I can remember." It had drama as equally compelling within it, as it did in the headlines it was making outside of theaters ("Chinatown" writer and first time director Robert Towne sued David Geffen, Warner Bros and those involved in the film's release). It follows two pentathletes, young upstart Chris Cahill (Mariel Hemingway) and veteran speedster Tory Skinner (real life track star Patrice Donnelly, who also served as a technical advisor), as they strive to achieve their "Personal Best," in hopes of securing a spot on the Olympic team.
The physical and emotional struggles, both on and off the track, takes its toll on our runners and their coach played by Scott Glenn. Since the United States opted out of the 1980 Summer Games in Russia for political reasons, the ladies pushed themselves to the limit in their final trial race, prompting the film's TV announcer to sadly say, "with the boycott at Moscow, they are all dressed up with nowhere to go."
Towne and a few of his "Personal" team members – Moore, Donnelly and TV announcers Charlie Jones and Frank Shorter – would return to the Olympic track 16 years later with another Olympian tale, "Without Limits" (see below).
Prefontaine (1997) / Without Limits (1998)
In back to back years, Hollywood gave us two Steve Prefontaine biopics — 1997's Disney-backed "Prefontaine" and 1998's Warner Bros.-produced "Without Limits."
Both films tell the same overall story: brash runner Steve Prefontaine becomes a phenomenon under the watchful eye of legendary University of Oregon coach Bill Bowerman, then butts heads with the Amateur Athletic Union (AAU) over lack of financial support for American athletes. Pre had has his 1972 Olympic debut in the 5,000 meters delayed by the massacre in Munich but ran a heckuva race. He dies tragically in a car accident at age 24 while preparing for the 1976 Montreal games.
Most critics agree that "Without Limits" is the better of the two, though neither were a financial success. But you can choose for yourself what kind of "Pre" movie you would want to watch. "Without Limits" was written Robert Towne ("Chinatown"), with Billy Crudup being coached by Donald Sutherland and Dean Norris. "Prefontaine" is directed Steve James ("Hoop Dreams"), with Jared Leto being coached by R. Lee Ermsy and Ed O'Neill?
The two films competed with each other in resources and authenticity. Disney had Prefontaine's family on their side, while Warner was able to shoot on Oregon's campus. Towne's "Limits" incorporated footage from the Games, using previously unseen film from 1972 games documentary "Visions of Eight." "Prefontaine" had the luxury of tapping into the ABC Sports archive from the Munich Games, including the use of broadcasters Jim McKay and Erich Segal's call of Pre's race.
Richard Jewell (2019)
Actor Paul Walter Hauser had quite an Olympic film run when he broke out as hooligan bodyguard Shawn Eckardt in 2017's "I, Tonya," and then headlined Clint Eastwood's "great American tragedy" picture "Richard Jewell" in 2019. He's the only actor in this piece to appear in two films on this list, making for a fantastic double feature.
Richard Jewell was a security guard at Centennial Olympic Park during the 1996 Summer Games in Atlanta, Georgia. He discovered pipe bombs on the premises, alerted the proper authorities, and helped to evacuate the area before they detonated. Two people died and over 100 were injured, but it could have been a lot worse without his discovery. Jewell, who was at first hailed a hero, later became a prime suspect by the FBI and then was vilified during the ensuing media maelstrom. While ultimately cleared of all charges, the damage was done and ruined Jewell's life.
Certain aspects of "Richard Jewell" generated controversy, which overshadowed the importance of the work as being a cautionary tale of "trial by media." Eastwood told the press at the world premiere, "We shouldn't jump to conclusions right away, and we should go back to the basics of innocent until proven guilty. That's not happening in a lot of situations nowadays, it didn't happen in his case definitely."
Sword of Gideon (1986)
Before Spielberg's "Munich" brought George Jonas' "Vengeance" to the big screen, Academy Award nominee director Michael Anderson ("Around the World in 80 Days," "Logan's Run") and writer Chris Bryant turned book into a 1986 Canadian television film named "Sword of Gideon." It was later was broadcast on HBO. While it may not have the same cache or regard that Spielberg's film of the same material achieved, "Sword of Gideon" is equally worthy of a watch on its own merits. Its cast includes Steven Bauer, Michael York, Rod Steiger, and Colleen Dewhurst as Golda Meir, and was filmed in over seven countries.
Bauer empathized with the internal struggles of the lead character he portrayed, who headed the operation. "I ended up believing that the continuation of this course of action isn't the most effective way of curbing terrorism," he told the Times Colonist. "But, while we were shooting, I certainly thought, as the real Avner did at the time, that taking the lives of the men who had taken so many themselves was justifiable."
Director Anderson, like Spielberg, wanted his audience to drawn their "own conclusions" from the film, but made its main message clear, telling the New York Times, "if we go on thinking 'an eye for an eye' soon the whole world will be blind."