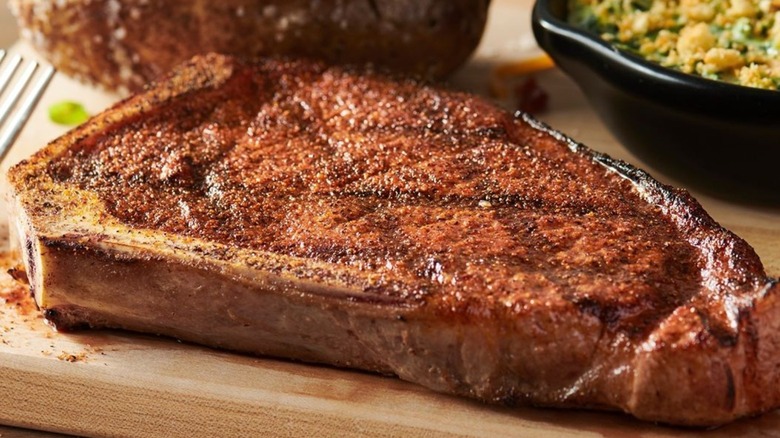 A steak sometimes is more than just a meal. As a survey showed, it can even be a date-breaker. As it turns out, a majority of Americans are uncomfortable hanging out with people who don't prefer their steak cooked in the same way as they do (via People). Given a lot is at stake around a piece of steak, it sure is worth knowing more about it. This is why we have done a deep dive into how one of America's most loved steakhouses, Outback Steakhouse, makes its steak — so that next time you dine at the Florida-born chain, you know more than just to choose between rare, medium, or well-done.
Outback's loyalty to its top menu item, steak, is so strong that the chain even started a petition to make it America's National Food. We aren't surprised. Americans love their beef. It is after all the best-selling meat in the country, per Insider. And David Burns, joint venture partner with Outback Steakhouse restaurants, says, "… everyone loves steak. It's the gold standard. You don't ever hear anyone saying they want to go out for a nice piece of chicken; they all say they want to go out and have that steak" (via Beef Magazine). If they have that steak at Outback, what they can expect is a seasoning inspired by the legendary chef Warren Leruth, as many shrimp to pair with it as they like, and of course, the star appetizer, their trademark Bloomin' Onion.
The steak tastes fresh for a reason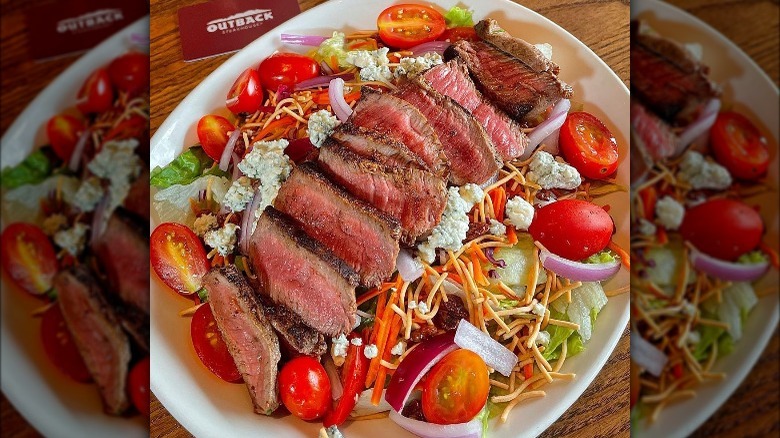 While chowing down that plate of rib-eye, it's most likely you noted how tender the meat was. Sure, you can tip the chef a little extra (unlike Miley Cyrus, who reportedly wasn't as generous to Outback staff) for the juicy steak, but the steak also owes its tenderness to how it was aged. Per Butch Pfaezer, CEO of The Bruss Company, which manufactures and distributes meat products, beef can be aged in two ways — wet or dry aging (via Chicago Tribune).
Dry aging, the more seemingly complicated method, requires the meat to be kept at a low temperature (34 to 36 degrees Fahrenheit) and a specific humidity range, for about three to six weeks. At the end of this period, the meat loses moisture — about 10% of its weight — and adopts a nutty taste. Wet aging, the more "efficient and cost-prohibitive" method, just requires the meat to be packed in an air-tight bag for a set time at a set temperature. "Tenderloins age about a week; tougher cuts may be aged three weeks or longer," says Pfaezer. Most of the moisture is still retained by the end of it, and the resultant product tastes fresher.
Outback gets most of its meat from The Bruss Company, which, per The Washington Post, wet ages its meat. That should decode the mystery behind Outback's steaks tasting perennially fresh.
Outback uses high-quality meat
If you are familiar with the Outback menu, you wouldn't gasp if we repeated what David Burns, joint venture partner with Outback Steakhouse restaurants, told Beef Magazine: that 60% of their menu includes beef. That's a lot. To keep serving the promised menu, the chain buys half a million dollars worth of beef per restaurant, Tim Gannon, co-founder of Outback Steakhouse, told Inc.
Gannon, who used to work at Steak & Ale restaurant in New Orleans before starting Outback Steakhouse, confirmed that they use high-quality beef. Recounting his early days in the restaurant business, he said that it was, in fact, New Orleans "Great Chef" Warren Leruth who told him to use above par meat and even suggested The Bruss Company as a potential supplier. "After all my time at Steak & Ale, I thought that meat was meat, but there was a huge difference. So one of the best decisions we made was going with Bruss, even though it was a little more expensive," recounted Gannon, about the time he sampled The Bruss Company's meat product for the first time.
The quality of meat might be great, but it is not the best. All the beef at Outback is USDA Choice certified, per a former food server and restaurant manager on Quora. "Choice" is one level below "Prime," which is the grade given to the meat with the maximum marbling or fat content.
There are three ways the Outback chef can make your steak
There are a lot of ways out there to make a steak, including one that involves a whole day of cooking (anyone heard of chef Heston Blumenthal?). But obviously, as customers, you don't have that kind of time, and Outback understands that. In Australia, they had steaks handed out in takeout boxes in just 10 minutes during the pandemic (via Oracle). But let's talk about a more conventional dinner at an Outback. The chain offers three different options to customers on how they want their steak to be cooked: char-grilled, slow-roasted, and seasoned and seared (via Chew Boom).
It should be noted that until 2020 — when Outback streamlined its menu and took a dollar off its star item, the Bloomin' Onion (via Restaurant Business) — the chain's steak could only be ordered either seared or grilled. Though previously, they did give customers the option of having the sirloin slow-roasted (via Brand Eating), their revamped menu neatly divided the steaks based on the way they were cooked. If you want your steak seasoned and seared, you could choose between a filet mignon, center-cut sirloin, or ribeye; slow-roasted steaks included prime ribs; and the char-grilled has the bone-in ribeye, bone-in New York strip, and porterhouse as options (via zmenu).
Most steak combos at Outback include seafood
The chain has a range of surf and turf combinations — their sirloin and ribeye steaks are available with a side of shrimp on the barbie (a term for barbecued shrimp popularized by Paul Hogan in the '80s) or coconut shrimp, and a plate of Victoria's filet mignon is decorated with a soft and tender lobster tail on the side (via Outback Steakhouse). Outback, which started in 1988, has served seafood as part of the menu since its fledgling years — a 1993 news report mentions seafood on the menu, and a 1997 Outback Menu offers the choice of ordering five grilled shrimp on the barbie along with the choice of steak. As mentioned on the website of the foodservice distributor Performance Foodservice, the seafood and meat (a.k.a. surf and turf) concept might have originated at Seattle's Eye of the Needle restaurant during the 1962 World Fair.
While the story of its provenance is sketchy, what we know is Outback Steakhouse has embraced it like its own. If you like your buttered shrimp sitting next to that beautifully cross-hatched steak, you probably know that Outback also keeps introducing steak and unlimited shrimp combo for precious little bursts of time (via Brand Eating and The Fast Food Post). Some customers sure did pounce on the opportunity to satiate their shrimp craving. One of them inhaled as many as 187 (via Facebook)!
Outback offers six signature steaks
A quick scroll through Outback's online menu shows that there are six signature steak options: a thick cut of Victoria's filet mignon, a tender center-cut sirloin, ribeye, "… extra marbled for maximum tenderness" bone-in ribeye, Melbourne porterhouse, and bone-in New York strip. While the 18-ounce bone-in-ribeye, though a tad pricey, has been touted as worth the cost; the filet mignon, reviewers noted, is a pass. Beyond the steak section of Outback's menu, there is also steak camouflaged as fries — the steak frites — and steak as a topping on fettuccine noodles.
The founders, as reported in Funding Universe, had no doubt that there would be always a demand for steak. "Our research had really showed us that beef and prime rib were still the No. 1 thing people went out to eat," said Bob Basham, one of the founders of Outback Steakhouse, recounting the days prior to launching their Australian-themed chain. The fact that a majority of Outback's menu continued to be steak, even three decades since the launch, says enough about the trio's good decision (via Beef Magazine).
Sirloin is Outback's top selling steak
Some have found Outback's sirloin tender and well seasoned (via Trip Advisor), others have called it low on flavor (via Chicago Tribune). Never mind the mixed reviews, because it is, in fact, the most asked for steak, at Outback restaurants. Sirloin steak alone brought in 35% of sales for the chain, according to a 2007 Beef Magazine report.
The cut, which is taken from the hip of the cow, is also one of the most common steak cuts. While a beef's sirloin can include top sirloin, bottom sirloin, and tenderloin, the term "sirloin" specifically refers to the bottom sirloin, which is the cheapest of the three. And if the top sirloin, the more expensive and tender portion, is served, it is usually referred to by its full name: "top Sirloin." The tenderloin, which is essentially a muscle along the cow's spine, is extremely tender and included as part of a porterhouse, T-bone and filet mignon, per The Spruce Eats.
It was in 2016 that the chain introduced center cut sirloin to its menu, calling it "the most tender sirloin of all" (via PR Newswire). According to Simply Beef & Lamb, these cuts are lean and best cooked rare or medium-rare. Anything more would make it "dry and tough."
Outback's steaks are seasoned with over 17 herbs and spices
Tim Gannon might be the senior vice president and co-founder of Outback Steakhouse, but more than anything, he is the chain's "food guy." All that complex mix of spices that you taste on an Outback steak is Gannon's brainchild. He had spent years working in New Orleans' restaurants, when his friends — Chris Sullivan and Bob Basham — roped him into their plan of starting a steakhouse. Gannon, who was deeply acclimatized to the New Orleans way of cooking by then, had replied, "It doesn't sound very exciting. I'm used to complicated Cajun menus and food" (via Nation's Restaurant News).
He finally agreed to become a part of the venture after his friends told him he could design the menu the way he wanted. Gannon developed a New Orleans– inspired seasoning for the Australian-themed steakhouse. With 17 different herbs and spices in it, the seasoning was far from the minimal salt and pepper one that chefs preached. "We were the first [casual-dining group] to bring spices and seasonings to our steaks and all our menu items … That's a signature of Outback," Gannon said.
Though the chain has never revealed its secret recipe, some Redditors have racked their brains to best recreate it. One of them posted a recipe that included salt, paprika, ground black pepper, onion powder, garlic powder, cayenne pepper, coriander, and turmeric, which, a former Outback employee said, was "as best a guess as any."
At Outback, you can top your steak with espresso butter
For some of us, who have a high-level dependency on coffee to juice up dreary Mondays and lousy conversations, Outback's coffee-flavored steak was welcome news. In 2021, the chain introduced an espresso butter topping for its porterhouse steak (via Chew Boom). While the unique butter came complimentary with that particular order, customers could always order a dollop for their filet mignons and rib-eyes by paying extra.
Some tried to reverse engineer the product. "I'm guessing a few shots of lukewarm espresso combined with room temp butter, mixed, possibly something like cinnamon or nutmeg tossed in there to round it out," posted a Redditor who was a former prep at Outback. And some were just content with how good it tasted. "I tried it yesterday and not sure how it's made but it was delicious," said a customer on Reddit.
Though a coffee-steak combo might sound strange, it's one that works. Outback even has its own coffee rub. Per the coffee roasting company, Koffee Kult, rubbing coffee grounds on the surface of a steak has the effect of pairing it with a glass of red wine. Coffee's acidity emulates the effect that the wine's tannin has — it basically cleanses your mouth to help you appreciate the steak better. Plus, rubbing coffee grounds on steak tenderizes it. Don't take our word: chefs like Ina Garten and Bobby Flay have vouched for it.
At times, the steak may not be cooked in the most pristine-looking kitchens
While we all went about our days never once bothering to think about how and where the steak was grilled, a TikTok video of a rather grimy-looking grill at an Outback location burst our Zen bubble. The video was only 14 seconds long, but it was enough to bring some damage to Outback's reputation. One TikToker commented, "I've heard if you saw how the kitchen looks in restaurants you wouldn't eat." Yet another wrote, "Some things you just don't show" (via The Daily Dot).
But the comment that probably drove a stake through Outback's heart was: "This makes me never wanna eat out." The video, which had a chef cooking 20 steaks simultaneously on a grill top coated with burnt grease and dripping with oil, was viewed by over 50,000 people before it was taken off the internet. Some viewers did cut some slack for the cook: "You know what they say a dirty kitchen means good food. Not dirty as in roaches but serving 200 plus people within hours, there's gonna be a mess," a viewer posted.
It must also be noted that not all Outback kitchens are messy, as revealed by a food blogger who journaled his visit to one of the chain's kitchens. He wrote, "Everything was clean and in order."
Outback's steaks have been voted the best in the country
A Mashed 2022 poll found that Outback's steaks are more loved than those of Longhorn Steakhouse, Morton's, Fleming's, or even The Capital Grille's. From the ratings provided by 600 odd steak lovers across the U.S., Outback is the third-best steakhouse in the country, after Texas Roadhouse and Ruth's Chris. Outback got 17.8% of the votes, in comparison to 25% for Texas Roadhouse and 22.37% for Ruth's Chris. While this is a good validation for the chain, it's not the only one. Previously, the restaurant rating company Zagat (which was bought by Google, and then sold to the restaurant recommendation website The Infatuation) (via Franchising) voted it #1 Best Steak in the U.S. among full-service chains.
Zagat's survey had 6,000 diners rating 137 chains for their "quality of food, facilities, and service." Outback Steakhouse was rated #1 not just once, but four times between 2009 and 2012. Accepting the recognition, the senior vice president of Culinary Innovation at Outback Steakhouse, John Li, had said, "All of our beef is grain-fed, aged to perfection, hand-trimmed, and then grilled to order in our restaurants … We've always sought out the best, freshest ingredients to create great tasting, signature flavors. We start every day fresh by chopping, dicing, and stirring fresh ingredients just the way our customers like it."
The steaks are not marinated
Those who learned to cook watching Alton Brown's videos wouldn't think of cooking steaks without marinating them for at least an hour, sometimes 24. But then you taste an Outback Steak, which never was marinated (except for teriyaki medallions), but only seasoned, and realize there is more than one way to cook steak. Per a cook on Quora, when you place your order of steak at Outback, the chef simply takes the pre-portioned and vacuum-sealed meat out of the freezer, oils it, seasons it, and then slaps it on the grill until it reaches a set temperature based on your order. A former headwaiter at an Outback for eight years confirmed on Quora that the restaurant does not marinate its steaks, but just seasons them with their trademark "17 spices and herbs" seasoning, before cooking them.
The marinades, as it turns out, are not that effective anyway, The Los Angeles Times reports. No matter how long you soak your meat in an oily marinade, it will only penetrate one-eighth of an inch from the outer layer because the meat is essentially 75% water, and — if you remember your school science — oil and water do not mix. Also, marinating with highly acidic marinades, like the ones with a lot of lemon juice and vinegar, can make the meat a little friable.
The first steak menus were developed in the co-founder's kitchen
The co-founders of Outback, Chris Sullivan, Bob Basham, and Tim Gannon were all colleagues at Florida's Steak & Ale restaurant, after which Gannon moved to New Orleans and ventured into restaurant management. Things didn't seem to go well for Gannon, the genius behind Outback's Bloomin' Onion, and he moved to Florida not knowing what to do next (via Fort Lauderdale Illustrated). He and his Steak & Ale mates hatched up a plan for a new restaurant that would serve American food and Australian fun; the movie "Crocodile Dundee" had inspired them to do something that would celebrate the last of lands (via Funding Universe). Gannon stayed at Basham's house for months, chalking up the recipes that would go into their steakhouse's menu in his kitchen.
The first Outback location opened in a "small, run-down" shopping center in Tampa and featured the Bloomin' Onion — which would go on to hit $1 billion in sales in a little over two decades — and steaks, for as little as $9.95. Customers also had the choice of ordering Kookaburra Wings, Aussie Cheesefries, and Jackaroo chops. As reported on Funding Universe, "… Outback gave its diners oversized flatware as well, including a steak knife that more closely resembled a saber." Gannon's food experiments inside a small Tampa kitchen became a hit big enough to spread across the country, defining the menu in about 700 odd Outback restaurants in three decades.