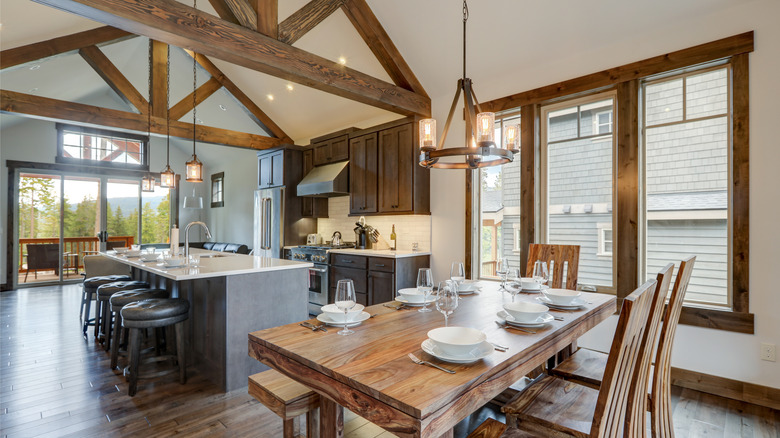 Rustic decor is all the rage these days. The concept that everything old can be new again is a great one to apply to our homes. Simplifying also seems like a great idea with everything out there to distract us. Why not come home to a place that feels like home?
According to The Spruce, decorating with rustic decor is about accentuating organic and natural materials. Think repurposed pieces, raw woods, and natural tones and textures. Rooms typically feature heavy furniture, bright and open space, and warm colors. Non-shiny metals, textured fabrics, and antique furniture are common rustic design elements (via Tarkett). Don't be afraid to add contrasting elements. Exposed ceiling beams, wood trim, sisal, seagrass, tile, and stone also contribute to a rustic look. However, the key to designing a rustic theme is creating a warm and cozy home. Here are 14 tips and tricks for styling the ultimate rustic-inspired living space.
Decorate with distressed wood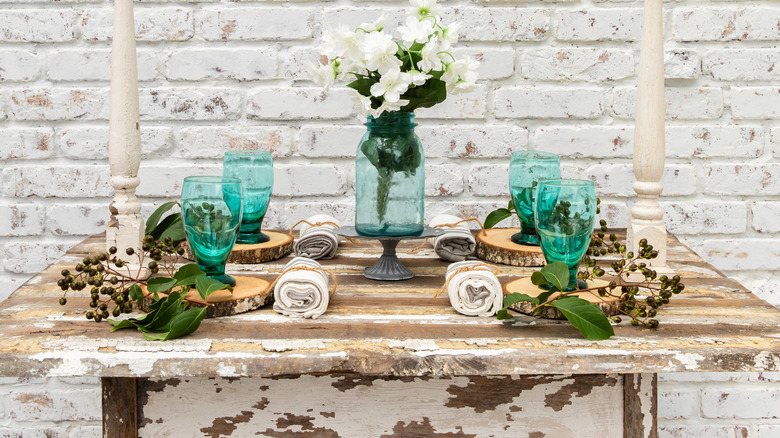 Reclaimed wood makes for fantastic rustic decor. You can use it anywhere — kitchen cabinets, bars, floors, or accent walls. Repurpose wood you already have or find wood used by someone else before you. If you can't get your hands on actual reclaimed wood, don't fret. Give new wood a distressed look with screws, hammers, and nail punches to dent and scratch the surface. Coat it with stain, seal, and style for your desired project.
The ideal wood to use in your rustic home is barn wood because it is rough-hewn and weathers to a gray patina. According to Sanctuary Home Decor, adding vertical planks to your walls, building kitchen cabinets or a bar, or adding beams to your ceilings are ways to incorporate reclaimed wood into your home. If you don't want your home to look like a log cabin or too rustic, it's best to use these wood planks as an accent wall. The good news is that you can add an accent wall in any room or every room. If you are using reclaimed barn wood, you might even be able to use varying shades of gray in different rooms of your house.
Use jars to hold your plants
Here's another great way to repurpose some things you already have in your home. According to HomeBNC, you can paint glass jars and attach them to new, reclaimed, or distressed wood and paint the backdrop. Hang your mason jars from hooks with twine or secure them with brackets. Fill them with dried or fake flowers and twinkling fairy lights. Or put potting soil in them and plant an herb garden right on the kitchen wall. If you're not crafty, that's okay. You can purchase pre-made jars online or at most craft stores.
If you like mason jars but don't want to hang them on the wall, you could use painted or decorated jars as planters on your shelves. Greenery is a great addition to rustic spaces. There are plenty of fantastic designs combining chalk paint, twine, and raffia out there to choose from (via Craftionary). This tip allows you to re-use items instead of creating trash and creates the cozy look that rustic decor is all about. You can even get the kids involved if you're making these yourself.
Use natural materials
Nothing accents dark woods like soft, light-colored fabrics. Many of the places where you're likely to find rustic decor are places that are dark by nature, like a log cabin or ski chalet. Adding elements that draw the eyes away from dark wood helps break up the room and welcome people into a lighter place.
According to Yellowstone Log Homes, decorate by considering the environment you're in and emphasizing the natural attributes of your house. For example, use earthy or brown tones if you live on a Western-style ranch. If your home is next to a ski resort, fill it with comfortable furnishings, blankets, and pillows. Textiles will soften the look of all those logs, too. Choose plush furniture, soft blankets, and throw rugs. Other natural materials like brick, stone, glass, tiles, wood, cork, and bamboo also work well with this style (via Modsy). You can use these for your rugs, mats, wall hangings, or accent pieces.
Repurpose existing items
One of the best things about rustic decor is that you don't need to invest much money into new things. You can re-use stuff you already have or spend small amounts on items you can repurpose. For example, use wine barrels as café tables, milk cans to hold up your dining room table, or distressed wood that served another role in a previous life. According to Grafomap, distressed milk crates also work wonders in a rustic home. These aren't the plastic ones you used to prop up your microwave or TV in a college dorm. Create benches or desks, turn old bottle crates into spice racks, and create shoe racks, shelves, or tables.
Want to repurpose milk cans instead of a milk crate? Paint and stencil a welcome sign for your doorstep or fill a rusted version with fresh or dried flowers and use it as an umbrella holder (via Pickled Barrel). Or, you could refurbish an old wine barrel as a table, ottoman, or even a piece of art (The Spruce). If you're looking to blend form and function, turn the tops of wine barrels into beautiful lazy susans.
Install barn doors
Barn doors are very trendy right now, especially for rustic interiors. Whether prefabricated or reclaimed, you can use these doors throughout your home. They make lovely choices in bedrooms and are a fantastic way to close off a half bath. According to The Spruce, barn doors can close off pantry shelves in your kitchen, and there are miniature versions for cabinets. You can also use them to conceal your TV to make your space look less digital.
Hanging barn doors in your home as doors is the traditional use. If you have a reclaimed model, you could turn it into a table or a headboard for a charming rustic-chic look (via The Family Handyman). You can also use them as a room divider or hide your washer and dryer. A barn door is a clever and beautiful way of tucking clutter or furnishings away when not in use.
Light rooms with industrial fixtures
With rustic decor, you're often working with raw and distressed woods. According to Houzz, these materials pair beautifully with metals. Wrought iron marries nicely with these woods, as do geometric shapes. Think bulbs strung from rods and caged pendants. Ringed chandeliers with bulbs or candles are another lovely addition to your rustic-inspired living space.
If you're looking for other DIY projects, you can use the frames from small fabric shades and attach them to existing lights in the bathroom (via Bob Vila). You could select ones made of black metal or wrought iron or paint the frames. Or you could turn a wooden tripod into a standing lamp. You can even use pipes to create your industrial version of a ceiling lamp. Recycled bottles also make lovely lamps. If you don't want to make your lighting, buy one of several different styles from places like Sebring or Shades of Light.
Hang wreaths on doors and walls
Wreaths can give your home an instant dose of rustic personality. Wreaths come in all shapes and sizes and are appropriate for different seasons. While you might associate them with the winter holidays or autumn, you can use them year-round. Grapevine and wood slice wreaths are rustic favorites, and you can make your own if you're feeling creative.
You can also create a wreath using burlap and wood slices that will complement your rustic decor. According to How to Make a Burlap Wreath, it takes four simple steps to assemble a wreath for your home. When deciding where to hang your wreaths, consider classic spots like the front door, foyer, the living room, dining room, bedroom, or other entryways (via Balsam Hill). To add some spice to your kitchen, hang up a cooking-themed wreath on a cabinet door or a wall. Once you find the perfect spot, secure your wreath with twine, ribbon, or a decorative hook.
Accent your room with burlap and cedar
On the lookout for ways to decorate with burlap in your rustic home? According to StoneGable, you can cover your books with burlap and display them for decoration. You could also choose pillows or curtains made of this material or use a long swath of it as a table runner. Stacking your burlap-wrapped books on cedar shelves creates a charming ensemble that will contribute to the rustic look of your home.
Cedar is another charming and versatile addition to your rustic home. Choose cedar blinds if you're looking for just a touch of wood in the room. Or install cedar shutters inside or outside (via The Family Handyman). If you want to go all out, use cedar planks on your walls, floors, or ceilings for everything from exposed ceiling beams to trim on doors and walls (via Real Cedar). You can use your wood for an accent wall and mantelpiece, or install cedar shelves or cabinets in the kitchen.
Whitewash terra cotta planters
Whitewashed terra cotta planters are a decorative accent that even the least crafty decorators can create themselves. Terra cotta pots are affordable and easy to come by, plus they instantly add a rustic touch to any living space. Use chalk or milk-based paint to give them a vintage look. According to Making it in the Mountains, these pots look super charming when paired with greenery and wood cabinets. Cedar and burlap would work well here, too.
While milk paint is a perfect choice for whitewashing your pots, you could also use acrylic paint, water, and damp paper towels to strip the color from the terra cotta (via Snazzy Little Things). The best part of doing these yourself? Not only do you get to unleash your creativity, but you can be as messy as you want or need to be. This project is supposed to look natural, not perfect.
Choose chunky furniture and neutral tones
Sometimes referred to as farmhouse furniture, rustic furniture tends to be rough-hewn with chunky legs and arms. Select these furnishings to set the stage for your rustic-style home. You can add other elements to emphasize the look, but these pieces are a staple. According to Coaster, rustic furniture is chunky, weathered, or unfinished. It is composed of solid woods like walnut, hickory, maple, and cherry with natural fabrics like linen, wool, and cotton.
Choosing neutral tones for your walls, fabric, and accent pieces makes your home feel even cozier. Pair white and cream shades with dark beams or use grey tones with wood walls and floors (via Town & Country Living). However, you certainly don't have to stick to a neutral color palette to make a rustic style work. The deep, rich-toned Rockwood Red by Sherwin Williams, mossy greens, violets, and light maroon tones complement more demure shades like browns and grays (via The Spruce).
Add weathered hardware to furniture
Weathered finishes are the perfect addition to rustic-style homes. One of the easiest ways to add this element to your home is by adding new hardware to your existing pieces. You can find these in wrought iron or with rustic motifs like vines. According to SF Gate, large leather straps or hinges, arrows, or Fleur de Lis-shaped pieces in wrought iron or painted black are great accessories for the home. A hammered finish contributes to the look. If you want a simple fix, paint your existing hardware black. This tip works even better if you use a matte finish.
Other finishes that work well with this style include brass, copper, marble, and wood. Don't forget to add hardware to classic places like the front door (via Hunker). You could also add weathered elements to your lighting. Look for caged lampshades with verdigris finishes, hammered steel options, and corrugated tin. Shades of Light has unlimited possibilities to add a rustic touch to your lighting.
Let the sun shine
You can brighten a room full of dark furnishings in many different ways. One of the best is to bring the outside in with big windows that let natural light flow throughout your rooms. If you don't have big windows, you can decorate with mirrors or other cozy touches.
According to House & Home, leaving windows bare or installing blinds makes rooms look light, bright, and open. You can also use crisp white shades on your walls to maximize natural light. Light-colored rugs or accessories that draw the eye toward the window will also help to make a room seem brighter. If you have smaller windows, you can still call attention to them. In this case, hanging curtains is a good option if the light can filter through. If you choose to add curtains, it's best to go with sheer material. In the kitchen, glass-fronted cabinets will open up the space.
Select soft leather furniture and accents
Like dark wood, leather is one of those elements that belong in rustic-inspired spaces. The material is soft and cozy and comes in varying neutral and brown shades. It invites people in and asks them to stay. Plus, leather pairs beautifully with other rustic elements. According to Modsy, typical colors for leather are tan and brown, but there are lovely options in all shades. You'll still want to stick with neutrals for a rustic style, but those could just as easily be moss green as brown or gray. If your budget is tight and you can't afford leather furniture, look for smaller decorative pieces, like an ottoman or throw pillows.
If you're looking for less conventional options, choose a leather headboard, a mini sofa, or leather lounge chair (via The Spruce). You can typically find vintage leather pieces at affordable prices online or at secondhand stores.
Create rustic-inspired accessories with milk paint
A coat of milk paint is all it takes to give some of your favorite furnishings and accessories a rustic twist. The powdered paint mixes with water to make a distressed look. According to This Old House, milk paint is more expensive than pre-mixed blends because it creates a unique look. Milk paint works best on porous surfaces, which is one of the reasons it pairs well with terra cotta. If you're going to use it on glass, like mason jars, add a bonding agent.
Another tip is to use two colors instead of one. Using two colors works even better because it allows the underlying color to appear in the worn areas (via The Real Milk Paint Co). Apply two coats, then sand areas that would typically appear worn, like the edges and corners. The bottom color peeking through gives the impression of a vintage piece that has been painted multiple times over the years.