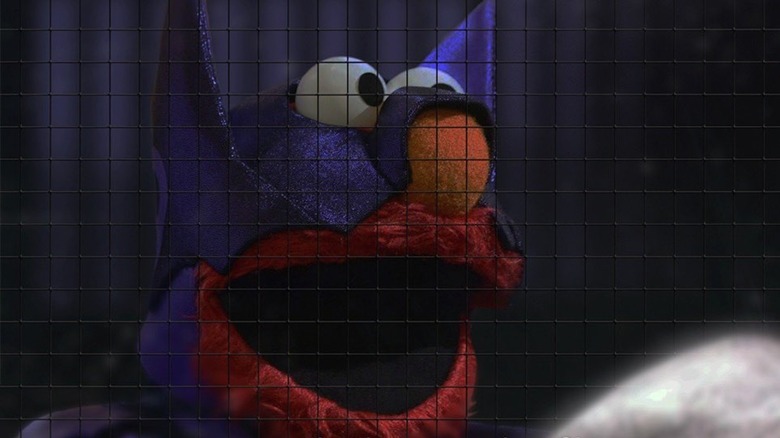 (Superhero Bits is a collection of stories, updates, and videos about anything and everything inspired by the comics of Marvel, DC, and more. For comic book movies, TV shows, merchandise, events, and whatever catches our eye, this is the place to find anything that falls through the cracks.)
In this edition of Superhero Bits:
The Elmo/Rocco feud gets a Batman tribute.
"Echo" may bring some major characters back to the MCU.
Michael Bay has some conditions before he would make a superhero movie.
James Marsden rules out a return as Cyclops in "Multiverse of Madness."
Wesley Snipes is making a new comic called The Exiled
Wesley Snipes helped make Marvel a commercially viable entity in the movie space with "Blade," and now he's circling back to comic books with an original graphic novel. Per a press release, it has been revealed that Snipes is teaming with Gifted Rebels, PCB Entertainment, and Maandi House Studios for "The Exiled," a new graphic novel that will be funded via a Kickstarter campaign set to launch in June. As for what the story is about? Here is the synopsis:
[The Exiled] follows Detective Niles "Roach" Washington as he pursues a serial killer in the aftermath of a deadly gas attack. The killer is ripping the spines from his victims and using tools over five-thousand years old. The world outcasts Roach for his theories, but his instincts keep pushing him forward. With enemies on all sides, and within, he wades into the darkness to find the killer and uncovers Earth's darkest secret.
We can see some of the early artwork above, which looks an awful lot like Snipes. Adam Lawson and Keith Arem will be collaborating with Snipes on the book, with Gabriel "Eskivo" Santos handling the artwork. No word yet on a release date, but we'll keep you posted.
Ms. Marvel will be the MCU's first PG project
As reported by Comic Book Resources, it seems that the upcoming "Ms. Marvel" series for Disney+ is going to be breaking new ground. The outlet notes that the series will come with a TV-PG rating, making it the first Marvel Cinematic Universe project to be rated below a PG-13 or TV-14. This really is shaping up to be a unique tale, and it seems this is one that will be pretty accessible to even younger viewers given the PG nature of it all. And quite frankly, in an age when so many things seem to be going dark and gritty and/or R-rated, there is absolutely nothing wrong with that.
You can win a trip to the Doctor Strange 2 premiere by posting fan art
"Doctor Strange in the Multiverse of Madness" is just around the corner, with advance tickets going on sale this week. Now, Marvel has revealed a contest in the above Instagram post where fans can have a chance to attend the premiere. To do this, people are encouraged to share artwork inspired by the film with the hashtag #DoctorStrangeContest and a winner will be chosen to attend the event. So if you've ever felt the need to pay tribute to the minotaur-esque sorcerer Rintrah, now is your time to shine.
Sydney Sweeney is doing research for the Madame Web movie
One of Sony's next moves within its larger plans to take obscure "Spider-Man" characters and turn them into franchises is a "Madame Web" movie that will star Dakota Johnson in the lead role. But "Euphoria" breakout Sydney Sweeney is also on board and, during a recent chat with Variety, the actress revealed that she is currently doing her research for the part. And yes, it involves reading a bunch of comic books.
"I've been ordering a bunch of comic books. There's a lot to learn. I've always been a really big fan of all of the Marvel and Sony Universe movies. I've grown up watching them all and I've been engulfed in the entire world my entire life, so being able to be a part of that is such an incredible, incredible thing."
It is pretty amazing to think that someone who is 24 now, as Sweeney is, has hardly lived a day without superhero movies being at the forefront of pop culture, as "X-Men" came out in 2000 and "Spider-Man" soon followed in 2002. As for what she's going to contribute to it? We shall see what the future holds.
Sorry X-Men fans, James Marsden isn't playing Cyclops in Multiverse of Madness
James Marsden is starring in this weekend's "Sonic the Hedgehog 2," and he recently popped by to have a chat about it with Black Girl Nerds. In the above video, we can see the actor addressing whether or not he's going to suit back up as Cyclops in "Doctor Strange in the Multiverse of Madness," having played the role multiple times beginning with 2000's "X-Men." The actor did not mince words saying, "No, I'm not. So I'm not going to see it! [Laughs] I mean, that would be cool to see those two worlds collide." For what it's worth, we do know at least one major mutant from that franchise will be in the film, so it's not inconceivable to imagine that Cyclops could show up too, but Marsden has dashed those hopes for now.
Michael Bay would make a superhero movie if he can build the world himself
At times, it's strange to think that Michael Bay, the guy behind "Armageddon" and the "Transformers" franchise, has yet to make a superhero movie. It's not that it hasn't been discussed, as he was attached to a "Lobo" movie for some time. Now, in a recent interview with Comicbook.com while promoting his new movie "Ambulance," the master of Bayhem explained that he would be up for doing one — it's just got to be done on his terms.
"It's not that I'm not interested in Marvel. As Ridley Scott says, the most complicated thing for a director and the most fun thing for a director is to build the world. I'm not the guy to go into Lucas' Star Wars and do Star Wars Five. That's not me. I'm not the one to come into Iron Man Seven. I'm not the one to do Batman 10. I want to do my own thing. I would love to do a superhero thing but I want to do it on my own terms and create my own world."
Admittedly, it would be hard to do that within the MCU as it exists, but look at what Matt Reeves did with "The Batman." The DC universe could offer something for Bay, and that's certainly something to think about.
Is Marvel's Echo series bringing back Daredevil and Kingpin?
What time is it? It's rumor time! Admittedly, I would normally exercise a little more trepidation in discussing a rumor, but, truth be told, this one seems pretty much rock solid. It turns out that costume designer Stacy Cabellero may have spilled the beans on some major casting for the upcoming "Echo" series on Disney+. Specifically, a resume link on her website states that both Charlie Cox and Vincent D'Onofrio are set to appear in the show, which would mean that Daredevil and Kingpin will reunite. That is a huge deal. Cox returned as Matt Murdock in "Spider-Man: No Way Home," while D'Donofrio's Wilson Fisk graced us with his presence in "Hawkeye," which is where we met Alaqua Cox's Echo in the first place. So this all makes a lot of sense, and Cabellero has worked on both "Thor: Ragnarok" and "Black Panther: Wakanda Forever." So don't get your hopes up too high just yet, "Daredevil" fans, but good things appear to be happening.
DC fuels the Elmo/Rocco feud with a Batman/Joker twist
Lastly, today we have a charming bit of fun in the form of this tweet from the folks at DC. Recently, the official Elmo Twitter account shared a photo of the "Sesame Street" mainstay in full superhero attire. DC got wind of the tweet and decided to include Elmo in a deleted scene from "The Batman," in which Robert Pattinson's Caped Crusader interrogated the Joker. This time, it's between Elmo and Rocco, who have their own famous feud that came to a head earlier this year. There's not a whole lot to say here other than this is the DC social media team having a good bit of fun, and good on them for it.