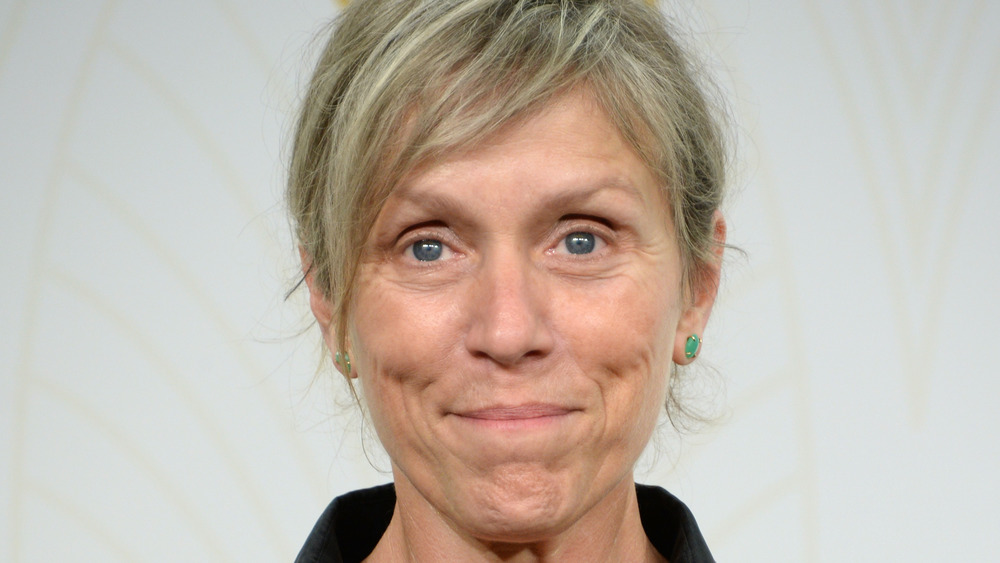 Frances McDormand is one of the most talented leading ladies in Hollywood, and she has the resume to prove it. The actor was born in Illinois in 1957, though she spent most of her childhood near Pittsburgh, Pennsylvania. McDormand's career spans several decades. She landed her first role back in 1984, when she played the role of Abby in Blood Simple. McDormand's breakout role came years later in 1996's Fargo, where she starred alongside William H. Macy and Steve Buscemi. Of course, her husband Joel Coen and his brother Ethan Coen served as writers and directors on the film.
McDormand's role as Marge Gunderson earned her the first Oscar of her career. She won again in 2018 for her performance in Three Billboards Outside Ebbing, Missouri. In all, the actor earned five Oscar nominations in her career and countless other award nods. Some of McDormand's other notable works include Almost Famous and Moonrise Kingdom. Her impeccable acting skills have earned her an impressive net worth of $30 million, and it's safe to say that she can still count on plenty more roles in her future.
And while it's easy to see that McDormand is incredibly talented in acting, there's actually a lot about her life that fans may not be aware of. Keep scrolling to find out!
Frances McDormand is not the actress's original name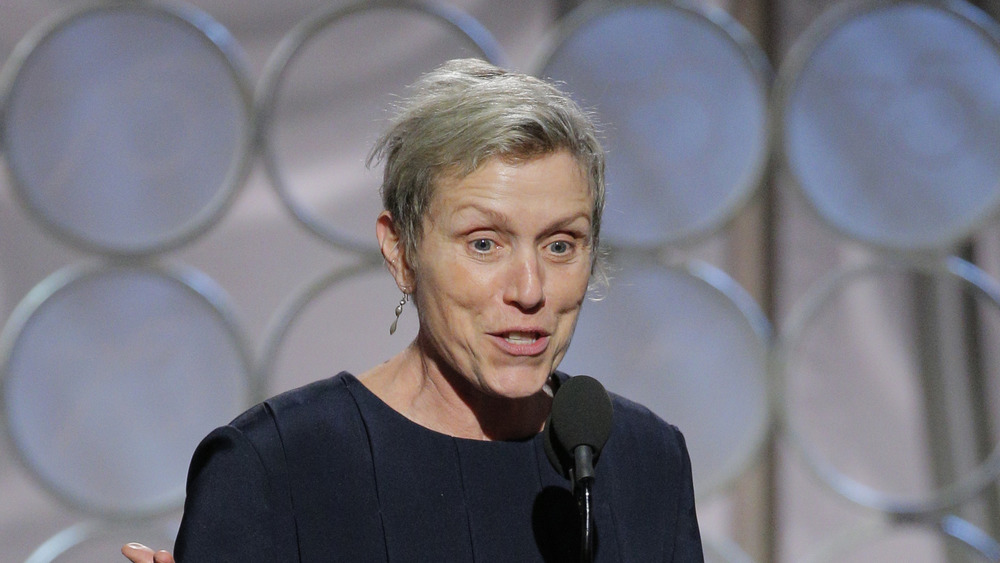 It's like we've been living a lie this whole time. While several actors choose not to go by their real name, it's news to most that Frances McDormand is one of them. It wasn't revealed until decades into her career that McDormand's birth name is Cynthia Ann Smith. It turns out the Oscar winner did not choose a different stage name for herself, but when Vernon and Noreen McDormand adopted her, they changed her name to Frances. According to the outlet, McDormand was one of three children adopted by Vernon and Noreen, but the actor also recalled being the ninth child the family took in, including foster children.
Frances turned down the opportunity to meet her birth mother when she had the chance. "I identify as gender-normative, heterosexual and white-trash American," she said in a 2017 The New York Times Magazine article, referencing her birth mother. "My parents were not white trash. My birth mother was white trash."
This famous actress was once Frances McDormand's roomie
It's no surprise that Frances McDormand's ties to Hollywood legends run deep. In the '80s, McDormand had a pretty well-known roommate in fellow actor Holly Hunter. According to Hunter, she and McDormand met through their (now) ex-boyfriends. At the time, McDormand was a graduate student at the Yale School of Drama, where she was working toward her Master of Fine Arts degree. "My boyfriend and Fran's boyfriend were best friends," Hunter dished to Vulture. "I met mine doing a play at the Repertory Theater of St. Louis, and then I came back to New York. He said, 'Hey, my best friend is going to Yale, let's visit.' And his girlfriend was Fran."
The Big Sick actress went on to reveal that the four of them hit it off immediately. Soon, they would move to the Bronx, New York, where Hunter lived in an apartment with her boyfriend while McDormand lived in a separate apartment with hers. When things went south in both of their relationships, Hunter and McDormand decided to become roomies. "Fran's as fabulous as she seems," Hunter raved. "We had a blast. We stayed up there for a couple years, and then she did (Coen's debut film) Blood Simple. After that, Joel Coen sort of moved in with us and they eventually got married. It was a great chapter (in life)."
The two later went on to star together as co-stars in the hit Raising Arizona, which was written by Joel Coen and Ethan Coen.
Frances McDormand was the proud owner of pair of fake breasts
Yes, you read that right. Among many other quirky things about her personality, it turns out that Frances McDormand used to be the owner of a pair of fake breasts. According to Vogue, McDormand wore a pair of prosthetic breasts in the movie Raising Arizona. After, she shared that many people came knocking on her door with scripts specifically aimed at big-chested women. So, wherever McDormand went for auditions, her chest was sure to follow. "They became props, like a false nose or a wig. You could play the boobs," she joked.
McDormand elaborated a little bit more on her "movie prop" that she also wore while filming The Man Who Wasn't There. "Also I sometimes felt physically huge because of the padding and the shoes and the hats. I even had special fake boobs," she explained for The Guardian. "I have different sizes I use for different characters."
As crazy as it seemed, they actually helped McDormand to land plenty of roles.
Frances McDormand's Oscar was stolen
After the show comes the after-party, but it's not always all champagne and caviar. In 2018, Frances McDormand notably took home an Oscar for her spectacular performance in Three Billboards Outside Ebbing, Missouri. She took it to have it engraved at the Governor's Ball, and she almost didn't get it back. The Oscar went missing during the shindig, causing McDormand a lot of stress and even tears. Luckily, the statue was recovered, according to McDormand's rep, Simon Halls. "Fran and Oscar are happily reunited and are enjoying an In-N-Out burger together," he shared with USA Today at the time.
The court accused Terry Bryant of stealing the precious statue after surveillance footage caught him. Though he could have spent time in jail for the incident, charges against him were dropped in 2019. "I'm blessed, I'm good," Bryant said following the incident, per ABC 7. "I feel vindicated, I feel happy that this entire case was dismissed. It made absolutely no sense."
For Hollywood, Frances McDormand has unique views on plastic surgery
While many celebrities in Hollywood have chosen to go under the knife to alter different aspects of their appearance, Frances McDormand is not one of them — and she never will be. The outspoken actress has never been shy about speaking her mind on any topic, and that of plastic surgery isn't any different. In 2014, the actor told The New York Times that people's lack of desire to age is upsetting, as the actor believes that getting older should be "seen as a gift."
She also shared that she feels many people in Hollywood like to dress up like teenagers, feeling the need to dye their hair and have a "smooth face," but she is vehemently against it. "I have not mutated myself in any way," she said. "[Joel Coen] literally has to stop me physically from saying something to people — to friends who've had work," she shared. "I'm so full of fear and rage about what they've done."
McDormand also expressed her opinion on the aging process, saying that it should be respected "that you are someone who, beneath that white hair, has a card catalog of valuable information."
Frances McDormand hates award shows
Even though Frances McDormand has plenty of success at awards shows (so has her husband, pictured above), that doesn't mean that she enjoys attending them. In fact, the down-to-earth and laid-back celebrity could do without walking down the famed red carpet altogether.
"I don't like award shows. At our house we call this time of year 'the convention.' It's too bad we haven't figured out how to stop it," she once said, according to The Sun. McDormand also shared that she does believe that there could be an end of Hollywood award shows insight — it's like she had superpowers and saw the COVID-19 pandemic in a crystal ball. "But I think it will come around, because of the internet. We'll have other ways to gather." The actor said that the shoes at awards shows hurt too much for the whole process to really be worth it.
Interestingly enough, McDormand's husband, Joel Coen, has won four Oscars and has been nominated for an impressive 308 awards. As mentioned early, McDormand is the proud owner of two Oscars herself, so the couple surely attends their fair share of shows — whether they like it or not.