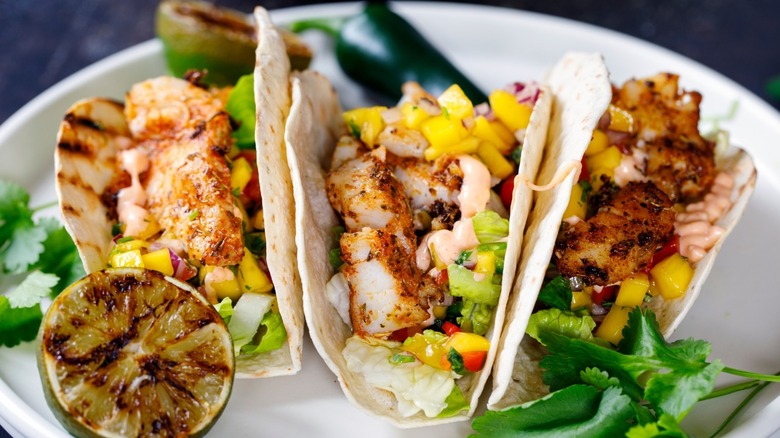 It's easy to pass off an average taco as something noteworthy. Just add toppings and a tortilla and douse in a bold sauce to fool more than a few tastebuds. On the flipside, when perfectly executed, all of those components — fresh, well-seasoned fish, complimentary toppings, corn tortilla — line up and there's very little that can top it. That synergy can make a fish taco sing.
Simply put, a fish taco is any combination of fish and a tortilla. Indigenous people in North America have been eating a version of this for thousands of years, and in the coastal areas of Mexico, this combination has also been popular for ages (via Sunset). Ralph Rubio is widely credited with popularizing the Baja-style fish taco in the early 1980s (via San Diego Magazine). Baja, a fishing town in San Diego, was known for its beer-battered tacos, complete with corn tortilla, cabbage, and Mexican crema. Rubio saw an opportunity to share these tacos with a larger audience, and since then fish tacos have been enjoyed around the country (and the globe!), synonymous with delicious and flavorful fare.
If you've been craving fish tacos, we've rounded up a little list of the best options in the country. In no particular order, here are the best fish tacos in the United States and where you can order them.
The fish taco at Best Fish Taco in Ensenada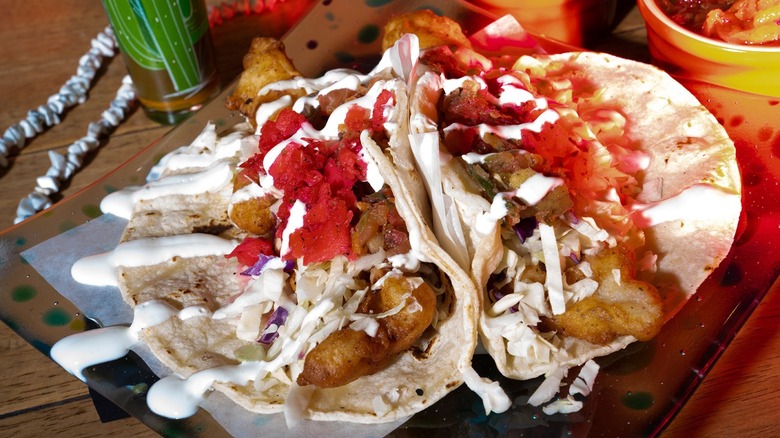 Taco aficionados may not know that Baja-style fish tacos can be traced back to the Baja surfing town of Ensenada (via NPR). Although Best Fish Taco in Ensenada taco shop is located in Los Angeles, it's making a pretty bold claim. You might miss this place if you aren't looking for it, since it's rather small, but once you've found it, you're in for a treat. One Yelp reviewer wrote, "The fish was cooked to order, and it was hot hot hot! The batter wasn't too thick and it was light, crispy, and the fish was so flaky! The shredded cabbage and the crema were a nice fresh addition and complemented the fish well without masking it."
This is a Baja-style taco, plain and simple. You can expect the fluffy breaded fish along with all of the traditional Baja toppings, like cabbage, salsa, and crema, but of course, you can decide how exactly you want to top your tacos. These are tasty and a great entry into the world of Baja-style fish tacos for newbies. Even if you're well aware of the joys of fish tacos, you'll find them delicious.
Bajamar Fish Taco at Bajamar Seafood + Tacos
Seafood and taco specialist Bajamar has two locations in Las Vegas — one on Las Vegas Blvd. and the other on Blue Diamond Road. While there are several taco options on the menu, it's hard to beat the namesake Bajamar fish taco. The $4.50 taco includes cabbage, pico de gallo, chipotle, and aioli sauce. You can get the fish battered or grilled, but to keep it super traditional and enjoy it in the Baja style, it's best to order the fish fried. One reviewer, who ranked it as the best fish taco option in Vegas, highlighted the corn tortilla. It is slightly grilled, giving it a very subtle char and crispness. This provides some unexpected textural interest and makes the taco that much more delicious.
A Yelp reviewer claimed the fish tacos at Bajamar were better than the ones they tried in Baja, adding, "I will be dreaming about these for months to come until I can come back!" You might not expect to find fresh fish tacos in the middle of the desert, but if you're looking for them, you'll be pleasantly surprised.
Fish Taco at Restaurant Atoyac Estilo Oaxaca
Oaxacan food differs from the cuisine of other regions of Mexico in that it's heavy on moles (and therefore chocolate), chapulines (or grasshoppers), and lots of deep, roasted flavors that are crafted over hours of cooking (via Eater). Phoenix, Arizona's Restaurant Atoyac Estilo Oaxaca aims to bring these layered, Oaxacan-style twists to its fish tacos. However, it also gives a nod to Baja-style tacos with its light batter, lettuce, and guacamole salsa. "There are several places in the Valley to try fish tacos, but when it comes to tacos de pescado, purists who may lament their lack of flavor or abundance of breading will not be referring to [Taco Atoyac founder Dan] Maldonado's creation," Laura Hahnefeld wrote for the Phoenix New Times.
Restaurant Atoyac's batter is all Baja, but the jalapeno vinegar that tops the tacos is a reference to the beautifully complex flavors of Oaxacan food.
Fish tacos at Coconuts Fish Cafe
A fish taco is a beautifully simple handheld food, but Coconut's Fish Cafe fish taco has 17 ingredients. We're not privy to the details of those 17 ingredients, but the menu lists some of them, like cheese, tomato salsa, wasabi-coconut milk coleslaw, tomatoes, tomato salsa, mango salsa, and cheese. The Hawaiian restaurant actually has several locations on the islands, along with two locations in Scottsdale, Ariz. The fish is not battered but grilled Mahi Mahi and Ono (or Wahoo, as it's referred to outside of Hawaii), providing a slightly fresher taste.
The fish is wild-caught and served fresh. Because there is no batter, the fish is actually allowed to express itself more than some other iterations. Another Yelp reviewer said, "The 17-ingredient fish tacos are definitely some of my favorite fish tacos I have ever had. I love the combination of all the flavors! It is also incredibly filling."
Tropical Fish Taco at Cocina Madrigal
Yet another Phoenix, Ariz., fish taco pick has made it onto our list. Cocina Madrigal makes quite a few dishes, and unlike many of the other taco joints on our list, this is actually a sit-down restaurant with table service. The tropical fish taco offers roasted salsa picante, coconut cabbage slaw, mango, and chipotle aioli, it's served in a corn or flour tortilla.
This isn't any sort of attempt to be a Baja-style taco, and we love it for that reason. It's a fresh, light taco with grilled fish and zingy toppings. "The fish tacos were the juiciest fish tacos I've ever had," wrote one Yelp reviewer. They were filled to the brim with toppings as well — didn't skimp out." Sometimes the fish deserves to hog the spotlight, but Cocina Madrigal proves that if you choose the right combination of high-quality toppings, going the extra mile can pay off.
Baja Style Fish Tacos at Casanova Fish Tacos
The Baja style fish tacos at Casanova Fish Tacos are lightly-battered, deep-fried pieces of white fish served in a corn tortilla with cabbage, pico de gallo salsa, tomatillo with habanero salsa, and a signature aioli. The standout at this Southern California truck and caterer is the fish. These would probably be excellent fish tacos without all the toppings because that component is just so perfectly light and fluffy. It's fried to a golden crisp without delivering grease. According to a Yelp reviewer, "The batter-fried Baja fish tacos are out of this world, tender fish, crispy, fluffy batter, and amazingly fresh and flavorful toppings."
Because Casanova doesn't have a storefront, you'll have to keep an eye on the truck's social media to find out its schedule (it's primarily based in San Diego, but also travels to Orange County and Los Angeles). However, these tacos are worth tracking down. Another Yelp reviewer wrote, "Once I dug into my first taco, I could see why this place got so much hype! They are simply delicious! The perfect fish taco that makes you feel like you are on a beach in Mexico." These are some of the best fish tacos in the United States because Casanova knows how to prepare some of the best fried fish in the United States.
Fish Taco at Taco Nazo
There's plenty of taco competition in Southern California, but Taco Nazo is ready for the challenge. Its fish is great, the toppings are wonderful, but it's the shop's sauces and special touches that take these to another level. One Yelp reviewer said, "The fish taco was soft and flaky; the sauce was also ultra creamy. I appreciated the chili that was included because it really cleanses your palate after each bite!"
This is yet another Baja-style taco, and it's topped with cabbage, pico de gallo, and crema. what's not debatable is that the shop knows a thing or two about bringing excellent complimentary flavor where it's needed. Not that this needs it… The fish is crunchy and each bit of the fish taco at Nazo Taco is perfection. Another Yelp reviewer said, "Best fish tacos I've ever had, hands down! This is my top choice whenever I'm hankering for a good fish taco. They don't skip out on anything and all the flavors really make these some of the best in town!" Taco Nazo has 5 locations throughout Los Angeles County, including Bellflower, La Puente, South El Monte, La Habra, and Walnut.
Bear Flag Taco at Bear Flag Fish Co.
Bear Flag Fish Co. is an all-in-one seafood market, sushi bar, and eatery with 3 locations in Southern California — two in Newport Beach and another in Huntington Beach. Its poke is the star of their menu and might outshine all of the other menu items, but don't be fooled. While its Bear Flag Tacos, which are with panko-crusted Basa catfish, aren't the heartiest tacos you can find in Los Angeles, they are some of the most delicious. These tacos come complete with pico de gallo, red and white cabbage, and Bear Flag's signature Tommy sauce, which is its proprietary hot sauce blended with mayonnaise.
Hot sauce lovers will be delighted to know that there are plenty of other options, such as habanero and lime salsas and Indonesian sambal, according to the Los Angeles Times.
These aren't your typical Baja-style tacos — they have more of a crunch from the panko and more heat and sweet notes from the array of sauces. It's different, indeed, but we like what it brings to the taco scene.
Battered fish taco at Oscars Mexican Seafood
The tacos at San Diego's Oscars Mexican Seafood are top-notch. The sauce just happens to also be quite delicious, taking these from tasty tacos to some of the best in the country. "What really sets Oscar's apart is their sauces: distinctive red and green bottles that visitors can grab from the nearest table," wrote Annika Olives for The Guardian at the University of California, San Diego. They are habanero aioli, chipotle aioli, and Japanese pepper hot sauce. Since the tacos are served sauceless, it's up to you to choose your own hot sauce adventure.
Oscars Mexican Seafood uses a relatively simple batter that includes garlic, mustard, and baking soda and provides the fish with a fluffy, flavorful coating (via San Diego Magazine).
These tacos would also be great without the sauce, and the sauce would also work well on plenty of other dishes, but together, the components come alive. Add a squeeze of lime and prepare to have your mind blown!
Tacos de Pescado at La Carta de Oaxaca
Seattle, Washington-based La Carta de Oaxaca is yet another Oaxacan restaurant that blows other tacos spots out of the water with its unique flavor and authenticity. A Google reviewer sang pretty high praises and said, "Best fish tacos in Seattle and some of the best in my life. The most authentic, consistent Oaxacan Mexican food in Seattle."
The fish taco is comprised of halibut marinated in lime juice with pico de gallo, avocado, chipotle, all served in a fried corn tortilla. It is fresh-tasting with bright flavors that differ quite drastically from the golden crunch of a Baja-style taco, but it's just as delicious. Since no taco lover could take a bite without adding some salsa, it's a relief to know that all of La Carta de Oaxaca salsas are made in-house, and according to a Google reviewer, they "are always delicious."
Battered fish tacos at Los Mariscos
There's enough great food in New York City that it's often hard to find the "best of." Pizza? Steak? Everyone has their top pick, but when it comes to fish tacos, Los Mariscos doesn't have much competition. They specialize in the Baja-style fish taco and according to Eater, "The fish taco is made with a white fish in the bass family lightly breaded and fried." You may be sitting in the middle of one of the world's busiest cities, but this taco will transport you to the West Coast with just one bite.
Some toppings include cabbage, avocado crema, pico de gallo, and chipotle mayo and it's a clear nod to the West-Coast taco style. A Yelp reviewer said, "The fish itself is so crispy and light all while not being too oily. All the sauces are perfectly strewn on so every bite is spicy and seasoned. Not to mention the tortilla is also amazing!" Maybe it's the handmade tortilla and the homemade salsas. Maybe it's the fluffy fish that's just big enough to be substantial without completely dominating the taco. Regardless, there's something about this taco and the way it comes together that is just irresistible.
Fish Tacos at Mama's Tacos
Taco toppings are important, and the tortilla texture is crucial. But fish tacos are nothing without perfectly cooked fish. Mama's Tacos in Miami, Fla., has a great understanding of this. The Miami Beach restaurant dishes up authentic Mexican food, but its fish tacos are out of this world, complete with toppings that amplify the perfectly cooked fish.
The fish is flavored with cajun seasoning before it's pan-fried and added to a corn tortilla, where it's topped with lettuce, onions, and tomato. This results in a fabulously cohesive taco with each bite more exciting than the last. They're fresh, perfectly cooked, and exciting enough to fit South Beach's buzzy backdrop. The finishing touch is a bit of cilantro along with a spicy green sauce, which works well with the lighter textured fish. Fried fish tends to receive most of the attention when talking about fish tacos, so these sauteed fish tacos are a nice change of pace and a way to explore other avenues of fish tacos.
The Baja taco at The Taco Stand
The Taco Stand's Baja tacos come complete with shredded cabbage, cilantro, onions, tomato, avocado, and chipotle sauce. It has 7 locations in California, Las Vegas, and Florida, so there's a good chance that you can grab one of these tacos at a location near you. "I've tried many Mexican places in Miami but Taco stand is just the best. Their fish tacos are amazing, always fresh and exquisite," said one Yelp reviewer. The Taco Stand prides itself on its homemade corn tortillas, which add a nice subdued sweetness.
This taco made the list because it's balanced and authentic with crispy, crunchy fish. "The Baja taco has my favorite components of a fish taco – creamy guacamole and Baja sauce with the soft battered fish and crunch of cabbage," said another Yelp reviewer. If you're into a bit of customization, make your way to the salsa bar where you can find a range of homemade sauces like cilantro and habanero to add an extra kick.
Fish Tacos at La Playa Taco Shop
We'll always say yes to soft and freshly made corn tortillas. There's something about the unmistakable chew and pure corn flavor that elevates a taco. So that's why San Diego, California's La Playa Taco Shop made our list. They've perfected the art of homemade corn tortillas.
They then add their fantastically fried fish, a few spoonfuls of rice, and the toppings such as cabbage, lettuce, and tomato resulting in a classic taco that's irresistible. One Yelp reviewer said, "Tried this place out along with a few others for fish tacos and la playa blew them out of the water. Definitely the best fish taco in town."
If it's not the best fish taco you've ever tried, it'll come close to the top of the list. The Taco Shop baffles taste buds by taking simple ingredients and transforming them into something magical. Another Yelp reviewer said, "With every bite I keep staring down trying to find the secret of what is simply fish on tortilla right? So wrong, somebody cares about this delight- you'll see and become a fan too."
Grilled fish taco at Veracruz All Natural
Veracruz All Natural's tacos are one of the few grilled fish tacos to make this list. It's hard to compete with the breaded crunch of fried fish, but Veracruz — which has 6 locations throughout Texas — has managed to make the nearly impossible happen. These tacos are grilled tilapia and topped with cabbage, mango pico de gallo, Monterey jack cheese, avocado, and a side of chipotle mayo salsa. Toppings are a crucial component of tacos, but Veracruz All Natural is able to pack tons of flavor and freshness right in the tilapia, which is a skill in its own right. "The star of the show was the fish! Perfectly seasoned and light. Should have ordered 4 of those." said one Yelp reviewer.
Reyna and Maritza Vazques, sisters and owners of Veracruz All Natural, grew up with their grandmother and mother in the kitchen, learning the recipes and ins and outs of authentic Mexican cuisine.
The flawless tacos are all the more impressive considering Veracruz operates out of several food trucks. If you're looking for a slightly lighter spin on a fish taco, Veracruz All Natural's will be a satisfying experience!