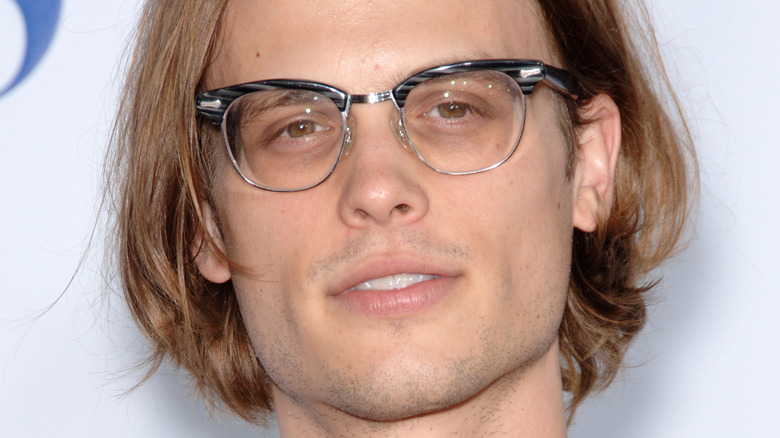 Fans of "Criminal Minds," one of the longest-running scripted shows in television history (via Deadline), no doubt know Matthew Gray Gubler. The actor played Dr. Spencer Reid on the hit show for 15 years and became widely known for his portrayal of the genius FBI agent. Reid was one of Gubler's earliest roles and made him a household name in 2005. While the series ended in 2020, he is still beloved for his unique creativity off the small screen.
What Gubler fans may not know, however, is that he's always been a creative person, choosing different avenues to express himself throughout his life. Even while he experienced bullying growing up, the Nevada native embraced his individuality and shared it with the world through modeling, acting, and the visual arts. Although Gubler has transformed since the public met him almost two decades ago, he still maintains his quirkiness and child-like wonder, even joking that he's still "very similar" to the way he was when he was 5 (via BuzzFeed).
He grew up in Las Vegas with supportive parents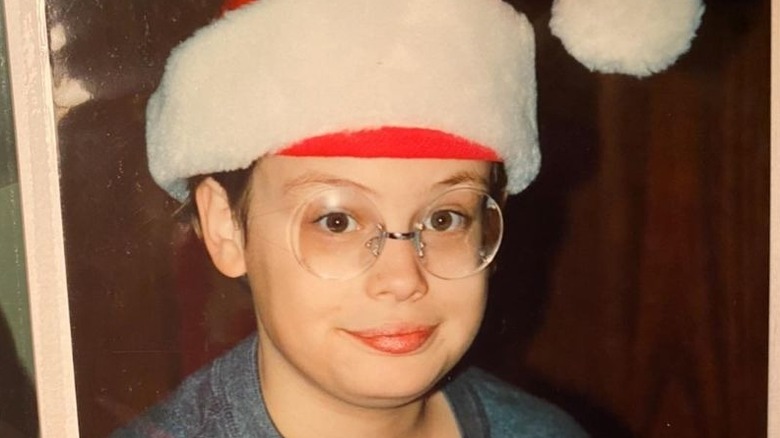 Before fans came to know Matthew Gray Gubler, he spent his childhood in Las Vegas, Nevada, where he was born on March 9, 1980 (via IMDb). While most children grow up figuring out what they want to do with their lives, Gubler knew he wanted to entertain early on. The future star even took opportunities to perform as a young child. "I have a crazy memory, and I remember being 2 years old at someone's party and thinking, 'This party is boring! I better spruce it up!'" he told Glamour. "I got up and tried to do this really dumb dance that I saw Winnie the Pooh do, and I remember falling over and thinking, 'This is what it's all about.'"
Luckily, Gubler's family always supported his dreams. The actor described mom Marilyn, a rancher and a political consultant, and father John, an attorney, as supportive while he was growing up. "I've been lavished with nothing but encouragement," he also told Glamour. "Probably too much!"
Matthew Gray Gubler attended a performing arts high school
The entertainment bug stayed with Matthew Gray Gubler as he got older. After attending middle school, Gubler honed his talents at the performing arts high school Las Vegas Academy of International Studies, Performing and Visual Arts. "I knew that at the academy, those were the people I wanted to be around," Gubler told the Las Vegas Review-Journal. "My junior high experience wasn't the most creatively charged, so I was very happy to make an exodus to a place where creativity was lauded instead of beaten down."
Some of the school's other now-famous former attendees include R&B artist Ne-Yo, "Queen Sugar" actress Rutina Wesley, and "Dancing With the Stars" performer Julianne Hough, according to the Las Vegas Review-Journal.
As someone who experienced bullying in middle school, Gubler found relief at the academy. In an interview with BuzzFeed, he described his high school as a "magical realm" that "became a sanctuary for every not-quite-normal kid in Las Vegas."
He was unexpectedly discovered as a model
After graduating high school, Matthew Gray Gubler set off to continue his performing arts education. He enrolled in New York University's Tisch School of the Arts, where he studied filmmaking, as noted by Backstage. However, in an interesting twist of fate, a talent scout randomly discovered Gubler, but not for acting or filmmaking. Instead, he was asked to model in a Kate Spade campaign, according to Watch! Magazine.
It wasn't long before Gubler would become an in-demand model. "I'm in Paris opening up a Louis Vuitton show," he told Watch! Magazine. "I'm like, 'Holy smokes — I have to walk up there and not laugh!' It was a thing I knew very little about. It was like someone calling you and asking, 'Hey, do you want to be an astronaut?'"
While Gubler had a thriving modeling career, ultimately life as a top model made him a stronger actor. "It's some of the hardest acting I've ever done," he shared. "You don't have the words to hide behind."
He never gave up on his filmmaking dreams
Although Matthew Gray Gubler surprisingly chased a modeling career, he remained focused on working in film while in school. School also allowed him to hone his acting skills. While attending, Gubler acted in many films by other student filmmakers. "It was all a big beautiful snake eating its tail, progressing along the way," Gubler told Backstage.
Gubler received another big break while attending school in New York — this time in movies interning for director Wes Anderson. "I really wanted to intern for Wes because he's one of my favorite filmmakers and lives in New York and has a production company there," Gubler recounted in Glamour. Gubler sent Anderson a DVD of the movies he'd made with a cheeky note saying he'd love to get Anderson coffee. "I lucked out and got to work there, and that was a real dream come true," he added.
Anderson encouraged Gubler to audition for a part in the movie "The Life Aquatic with Steve Zissou," which ended up being Gubler's first Hollywood acting role, according to the actor's IMDb page.
He landed a huge role on Criminal Minds
Just one year after appearing in his first movie in 2004, Matthew Gray Gubler landed the role of Dr. Spencer Reid on the CBS crime drama "Criminal Minds." The show centered on a group of FBI agents in the bureau's Behavioral Analysis Unit as they profiled and tracked down serial killers. Gubler's character, Reid, was known and loved for his incredible intellect.
Gubler admitted he was "very protective" of the character that made him famous, as noted by the Associated Press, and also worked to keep him from being portrayed as the stereotypical nerd. "I'll never touch a computer," Gubler told BuzzFeed about playing the character. "I'll never drive a car, I'll never hold a laptop, I'll never hold an iPad. My phone is from 1997. I have a revolver instead of a Glock. I just wanted him to be out of step, sort of not in any era necessarily."
He became best friends with his co-star Paget Brewster
Fans of the long-running "Criminal Minds" came to love the chemistry between the show's characters, and that chemistry spilled off camera. In 2015, Matthew Gray Gubler spoke to Glamour about the bond between the cast. "When you work this many hours together for this many years, you see each other more than your own families," he said.
Gubler grew particularly close to his castmate Paget Brewster, who played Special Agent Emily Prentiss. Gubler has described Brewster as his best friend and even showed off a portrait he painted of her for an interview with BuzzFeed. Gubler and Brewster grew so close that he introduced the actress to her future husband and eventually officiated their wedding in 2014. He announced his special role in the ceremony when he tweeted a photo of him and the newlyweds with a sweet accompanying message that read, "Had the unique pleasure of getting to officiate the marriage of 2 of my best friends and now I have minister fever."
Matthew Gray Gubler flexed his directorial muscles on projects
Even though Matthew Gray Gubler found acting success playing Dr. Spencer Reid on screen, he continued to work behind the camera as a director. Between acting on the set of "Criminal Minds," Gubler also directed 12 episodes throughout the series, including his friend Paget Brewster's final one. "The best thing a director can hope for is a story rife with drama and so many interesting things to get to," Gubler told Entertainment Weekly about directing the episode, noting, "And just to be asked to do it meant the world to me."
In addition to directing stints on "Criminal Minds," Gubler also directed two music videos for the band The Killers ("Dirt Sledding" and "Don't Shoot Me Santa"), according to his IMDb page. Gubler expressed his love for directing in a 2015 interview with Glamour, telling the magazine he's also proud of the work he's done in the director's chair. "To me, I really feel most like myself, or that I'm doing what I'm supposed to be doing if I'm directing or acting in comedies or telling ghost stories," he shared.
He went from from the small screen to the silver screen
"Criminal Minds" was a hit TV show, but Matthew Gray Gubler didn't limit himself to the CBS drama. Aside from directing jobs, Gubler also snagged several movie roles after his debut in "The Life Aquatic with Steve Zissou." In 2009, Gubler appeared in "500 Days of Summer" starring Zooey Deschanel and Joseph Gordon-Levitt. "I had a feeling it was going to be something pretty spectacular," Gubler said in an interview with Assignment X about the cult classic film. "That script was amazing and the minute I saw Marc Webb, the director, the savvy that he had behind the camera, I knew I had a very good feeling about the film."
Gubler also scored the role of Simon in 2007's "Alvin and the Chipmunks" and reprised the role in the sequels "Alvin and the Chipmunks: The Squeakquel" (2009), "Alvin and the Chipmunks: Chipwrecked" (2011), and "Alvin and the Chipmunks: The Road Chip" (2015). Gubler has also starred in movies like "The Great Buck Howard," "Endings, Beginnings," and "Horse Girl" (via IMDb).
He amassed a YouTube following
Ever creative, Matthew Gray Gubler founds ways to express himself outside of acting and directing. One outlet was YouTube, where Gubler published several videos, including a satirical series titled "The Unauthorized Documentary." In it, Gubler plays a caricature of himself while filming "Criminal Minds." "We have all this time on the set, and I'm a big fan of improv-based shows like 'Curb Your Enthusiasm,'" Gubler told the Pittsburgh Post-Gazette in 2006. "So I said, let's make a documentary about me acting like the people I see or hear about who I hate."
At the time of publication, Gubler's channel had more than 280,000 subscribers and more than 9 million views. Gubler shared his excitement about his YouTube videos, also telling the Pittsburgh Post-Gazette he's more excited about them than his "Criminal Mind" shows. "On 'Criminal Minds' we're dealing with 17 million people watching every week, and we're checking YouTube every two hours to see how many people have watched this dumb documentary," Gubler said.
Mathew Gray Gubler has shared his love of art
When he's not on the set, multi-hyphenate Matthew Gray Gubler is also a painter and illustrator. Gubler shares his unique drawings and paintings on multiple platforms, including his Twitter and website Guberland (where he also shows pictures of people who've gotten tattoos of his illustrations). "On the internet, it's this safe space where I can put it up and people can click on it or not," Gubler told BuzzFeed about sharing his art.
While Gubler admits some people have misinterpreted his style of art as "offensive," his creative work has still found an audience. In addition to fans permanently inking themselves with his drawings, Gubler announced that one of his pieces sold for more than $10,000 in an eBay auction. He also made shirts with his illustrations and designed a tote called "Universe, I Love You," donating 100% of the proceeds to the American Red Cross.
Matthew Gray Gubler said goodbye to Criminal Minds in 2020
After 15 years of portraying Dr. Spencer Reid on "Criminal Minds," Matthew Gray Gubler said goodbye to the character when the series ended in 2020. After appearing in more than 300 episodes (via People), Gubler compared the series' end to losing a beloved grandparent. "It's kind of like if you went to your grandfather's 115th birthday and then the next day he passed away," he told the Associated Press. "You'd be very sad but you'd also say, 'Hey, he had an incredible life. He lived so long.'"
As the long-running series wrapped, Gubler shared a sentimental post on Instagram to commemorate. "I've carried these 3 props with me almost every day for the last 15 years," he captioned the photo of Reid's badge, watch, and gun. "After tonight I'll just carry them in my heart where I will forever keep memories of the best crew, the best cast, and the best fands (fans/friends) a fictional crimefighter could ever have." He also posted a farewell group shot with the show's crew on his Instagram Story (via People).
He published a bestselling children's book
After modeling, acting, and directing, Matthew Gray Gubler continued to create in new ways. "I love life so much and I want to try to do everything, whether or not I do it well I don't know," he told the Associated Press.
One of the things Gubler tried (and succeeded at) was publishing a children's book, which he wrote and illustrated himself, including the bar code and publisher logo. The 2019 book, "Rumple Buttercup: A Story of Bananas, Belonging, and Being Yourself," embraces the unique weirdness of the main character Rumple Buttercup. "Rumple popped into my head a few years ago, and I, basically, wrote the book for anyone who's ever felt like they didn't quite fit in, just to make them know that they're not alone," Gubler told Parade.
"Rumple Buttercup" became a No. 1 New York Times bestseller. Fortunately for fans, Gubler revealed he had plans to write more books.