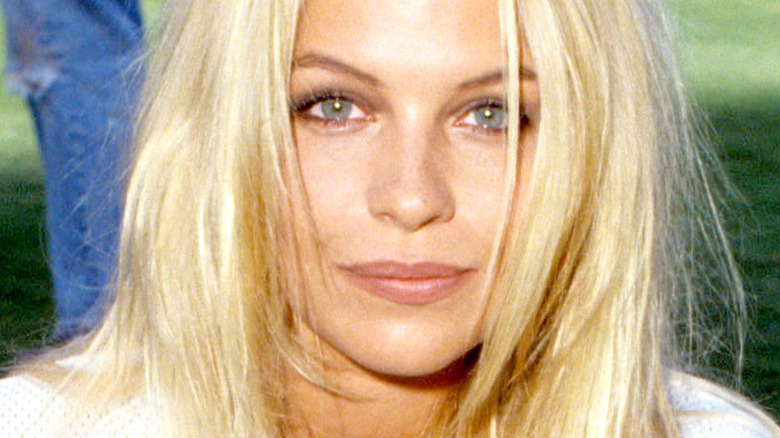 The following article includes allegations of domestic abuse, substance abuse, and sexual assault.
Pamela Anderson was the bombshell of the 1990s. The popular model and actor was quite likely one of the most recognizable public figures of the era, thanks in no small part to her record-breaking 14 appearances on the cover of Playboy (via W Magazine), her popular role as lifeguard C.J. Parker in NBC's long-running action drama "Baywatch," and her tabloid-friendly personal life.
The life of a stunning, absurdly famous superstar can seem to be full of comfort and luxuries, but as is so often the case, appearances can be deceiving. In fact, when you look behind all the glitz and glam, you'll find that Anderson's life has been far from easy, to the point that she has quite likely endured far more hardships and misfortunes than the average person. Let's take a look at what her life has been like behind the veneer of Hollywood glamour. This is the tragic real-life story of Pamela Anderson.
Pamela Anderson's childhood home was an unhappy place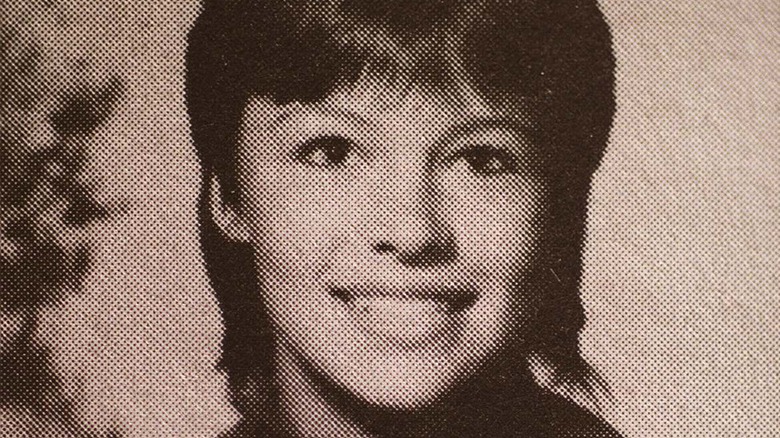 According to Biography, Pamela Anderson was born in Ladysmith, Canada in 1967. In a 2014 speech at the Cannes Festival (via the Associated Press YouTube channel), she noted that she hardly lived in the lap of luxury. Her father struggled with alcoholism, and her deeply overworked mother was struggling to keep it together. "My mom was always crying," Anderson said. "Dad didn't always come home, leaving us in tremendous pain and worry."
Though Anderson says her parents did their best to provide a safe environment for her, the fact that they struggled in their own lives meant that they were ultimately unable to shield her from the misfortunes of life. Unfortunately, Anderson got to experience more than her share of bad things — such as sexual abuse — at an early age, and in order to avoid burdening her mother any further, she chose to keep her troubles to herself.
If you or anyone you know is struggling with addiction issues, help is available. Visit the Substance Abuse and Mental Health Services Administration website or contact SAMHSA's National Helpline at 1-800-662-HELP (4357).
If you or anyone you know has been a victim of sexual assault, help is available. Visit the Rape, Abuse & Incest National Network website or contact RAINN's National Helpline at 1-800-656-HOPE (4673).

She was abused at an early age
In 2014, Pamela Anderson gave the launch speech of The Pamela Anderson Foundation (via the Associated Press YouTube channel), and revealed that she's a victim of multiple cases of sexual abuse. The first of these incidents came from her babysitter when she was just 6 years old, and the next culprit was the older brother of a friend's boyfriend when she was 12. If that wasn't awful enough, she was also assaulted by her boyfriend and his six friends during her school years.
These terrifying experiences, combined with the fact that her parents meant well but were unable to provide her an adequate safe space, left her feeling so alone with her troubles that she's implied she contemplated some pretty dark things at the time. "Needless to say I had a hard time trusting humans — I just wanted off this earth," Anderson described her state of mind at this point of her life. "I wasn't sure why I was alive."
If you or anyone you know has been a victim of sexual assault, help is available. Visit the Rape, Abuse & Incest National Network website or contact RAINN's National Helpline at 1-800-656-HOPE (4673).
If you or anyone you know is having suicidal thoughts, please call the National Suicide Prevention Lifeline​ at​ 1-800-273-TALK (8255)​.
Pamela Anderson's violent marriage with Tommy Lee
Pamela Anderson's most famous relationship was with Mötley Crüe drummer Tommy Lee, according to Biography. The pair met each other at a New Year's Eve party at the end of 1994, and married in February 1995 after a short — and what would turn out to be characteristically chaotic — courtship period. The curious pair was seemingly very happy together; however, for a number of reasons things turned sour for the couple. Apart from constant tabloid attention, a stolen sex tape, and a miscarriage, their relationship was strained by an arguably unexpected factor: The births of their two sons.
Per the New York Post, Anderson's focus on motherhood shifted attention from Lee, who found it a hard pill to swallow. "When [Anderson and Lee's second son] Dylan was born, I dropped down to No. 3," Lee said. "Now I was full-on nonexistent. And I couldn't deal with that."
Things culminated in 1998, when Lee was arrested for allegedly physically abusing Anderson — while she was breastfeeding their younger child, no less (per the Evening Standard). She filed for divorce, and he received a six-month jail sentence for spousal abuse, serving four. They eventually reconciled and got together again in 2008, but broke up in 2010.
If you or someone you know is dealing with domestic abuse, you can call the National Domestic Violence Hotline at 1−800−799−7233. You can also find more information, resources, and support at their website.
Sharing tattoo needles with Tommy Lee gave Pamela Anderson Hepatitis C
Pamela Anderson divorced her rocker husband, Tommy Lee, after he became physically abusive (via Biography), but unfortunately, the relationship left her with lasting physical damage. According to Reuters (via People), she revealed in 2002 that contact with Lee's blood gave her a liver condition called Hepatitis C, which can lead to dangerous ailments that range from cancer to cirrhosis (via the Centers for Disease Control and Prevention).
"I contracted Hepatitis C while sharing a tattoo needle with my ex-husband, Tommy Lee," Anderson's statement read. "Tommy has the disease and never disclosed it to me during our marriage."
Hepatitis C can be a relatively short and easy condition, but apparently, Anderson wasn't quite so lucky. Per People, she struggled with the ailment for no less than 16 years. In 2015, a new treatment finally helped her conquer the disease. Though she was originally horrified by the diagnosis, and it can't have been easy to carry that weight for over a decade and a half, she ultimately survived with no ill effects — something she attributes to the fact that she was able to find the right treatment in time. "I don't have any liver damage and I don't have any side effects," Anderson said. "I'm living my life the way I want to, but it could have eventually have caused me some problems, and so it was a real blessing that I was able to get the medicine."
Pamela Anderson regrets her breast augmentation surgery
Pamela Anderson is famous for her looks, and according to ABC News, the star's breast augmentation in particular has been surprisingly influential. During the heyday of her "Baywatch" fame, she became an outright icon for plastic surgery, and it wasn't uncommon for women to use her as a measuring stick for their own cosmetic operations — in both good and ill. "Pamela Anderson Lee became a reference point," Dr. Mark Berman of Santa Monica, California described her influence in 2001. "Some people want to look exactly like her. Others want to make sure they don't get that artificial look."
Anderson's chest may have divided opinion, but one thing is certain: It became an iconic part of her image. In fact, it can be easy to forget that she actually got her famous implants removed all the way back in 1999. "I just didn't feel like it looked very good," she told the New York Post at the time. "I was really kind of being self-conscious of it."
In a 2016 interview with W Magazine, Anderson reflected on aspects of aging and beauty, and revealed that her opinions about her augmentations have not exactly changed since she got her implants removed. When the interviewer asked her if she has any issues with "anything she's done in the name of beauty," Anderson immediately singled out her breasts with a gesture. "Not that we need to point it out," she commented.
Her sex tape with Tommy Lee was stolen
Arguably the most famous and public of Pamela Anderson's misfortunes is the theft and viral fame of her intimate tape with husband Tommy Lee, per Rolling Stone. Allegedly stolen by an irate ex-contractor in 1995, the private video of America's favorite tabloid couple started slowly but inevitably making waves after the theft. After Anderson and Lee learned of the situation, they made attempts to reclaim the tape and control the situation. Unfortunately, the situation coincided with the internet's emergence as a global communication tool, and once the tape made its way online, it went viral.
A couple of years after the fact, Anderson and Lee ended up agreeing on a settlement that signed away their copyright to the home tape. Unfortunately, they failed to fully realize the ramifications of the deal they made with internet entrepreneur Seth Warshavsky (via The Washington Post), and it resulted in both internet distribution and physical copies of the video, which sold by the truckload.
According to Anderson, she chose the settlement option because she was simply too exhausted to continue fighting. "I've never seen [the video]," she told "Watch What Happens Live with Andy Cohen" (via People) in 2015. "I made not one dollar. It was stolen property. We made a deal to stop all the shenanigans. I was seven months pregnant with Dylan and thinking it was affecting the pregnancy with the stress and said, 'I'm not going to court anymore.'"
She had another sex tape, too
Pamela Anderson's most famous sex tape might be the one featuring her and Tommy Lee (via Rolling Stone), but as the Los Angeles Times tells us, it wasn't the only one. In 1998 — shortly after Anderson and Lee had reached a settlement about the rights of their tape — Anderson's former boyfriend, singer Bret Michaels of the band Poison, filed an invasion of privacy lawsuit against the internet company holding a tape with him in it, with the allegation that the leaked copy was Anderson's. "Pam had a copy. Bret had a copy. Bret still has his copy. That's all I know," Michaels' legal representative, Edwin McPherson, commented.
According to the BBC, the saga of the Anderson-Michaels video ended much like one concerning the Anderson-Lee video — with a settlement with the man holding the affronting copy of the video, Internet Entertainment Group owner Seth Warshavsky. However, while the details of the latter remain somewhat murky and Anderson has insisted that she never made any money off it (via People), this court battle was far more successful from Anderson's standpoint. Not only did she and Michaels manage to block the distribution and force the Internet Entertainment Group to destroy its copies of the tape, but they also reportedly received a seven-figure settlement sum.
Still, considering that this new sex tape situation arrived so close in the wake of the first one, and the settlement wasn't reached until 2001, the entire ordeal must've been a pretty deflating experience.
She's watched her good friend Julian Assange wither away
Julian Assange has been in trouble with the authorities since his website Wikileaks started releasing a great number of classified documents, per the BBC. A wanted man in the U.S., Assange spent seven years in the embassy of Ecuador in London, and in 2019, he was caught by British authorities and sent to prison (via ABC News). There, he's fighting extradition to the U.S., where he could face a prison sentence that would lock him up for the rest of his life. Assange has personally noted that the whole ordeal has not been easy on him, and in both January 2021 and January 2022, British courts have ruled that his ailing mental health would make extradition risky.
One of Assange's staunchest allies has been none other than Pamela Anderson, who considers him a close friend (via the New York Post). Anderson has expressed worry for Assange's health plights a number of times, like in a 2018 interview with The Hollywood Reporter, and in a 2019 appearance on "The View." "His health is really deteriorating," she said in the latter. "He has lost about 30 pounds I think since I saw him, and he was thin at that point."
If you or someone you know is struggling with mental health, please contact the Crisis Text Line by texting HOME to 741741, call the National Alliance on Mental Illness helpline at 1-800-950-NAMI (6264), or visit the National Institute of Mental Health website.
Pamela Anderson was in trouble with the IRS
Many celebrities have been known to encounter the occasional trouble with the taxman. Famous folks from superhero actors to rappers have attracted the unforgiving eye of the IRS, and extreme examples like country music legend Willie Nelson have owed the government outright absurd amounts of money. Per ABC News, Pamela Anderson became part of the celebrity IRS club in 2010, when news broke that her reported tax debt was no less than $493,144.
In 2012, reports emerged that Anderson once again owed the taxman – this time, a total of over $370,000 — but as the actress herself told the tabloid the Daily Mail (via Latin Times), she wasn't purposefully dodging her responsibilities as a taxpayer. "I'm not trying to avoid any tax obligation," she said. "Certain events occurred, outside of my control, which caused this temporary but embarrassing situation. All of my tax obligations will be resolved in the very near future."
Judging by the fact that there have been no reports of Anderson's unpaid taxes since these incidents, it appears that she's kept her word.
Her relationship with Kid Rock was no match made in Heaven
In 2006, Pamela Anderson entered her second rock star marriage when she tied the knot with rap-rocker Kid Rock, per Biography. However, this union ended even more quickly than her marriage with Tommy Lee, seeing as she filed for divorce that very same year. In an interview with Rolling Stone, Rock had some fairly unsavory comments about his ex-wife, including an insinuation that she faked a miscarriage to get back at him during a fight. Anderson, on the other hand, has chosen to avoid elaborating on exactly what caused the split between the two (via People). "I'd hate to point out habits I had a hard time with," she's said. "They are personal to him and that's why we are not together."
As sources told the New York Post (via CBS News) at the time, these habits may have included Rock's jealousy and anger issues, which were allegedly on full display during a screening of the Sascha Baron Cohen hit comedy "Borat," in which Anderson appears as the object of the main character's affections. Reportedly, Rock didn't take this well. "[He] started screaming at Pam, saying she had humiliated herself and telling her, 'You're nothing but a w****! You're a s***! How could you do that movie?' in front of everyone," one source stated. "It was very embarrassing." In 2019, Cohen himself confirmed this version of events in The Daily Beast's Last Laugh podcast.
Pamela Anderson's numerous broken marriages
As Biography reports, Pamela Anderson hasn't been afraid of settling down, but her marriage track record is unfortunate. Her best-known marriages are with musicians Tommy Lee (from 1995 to 1998) and Kid Rock (a few months in 2006), but she also has three other ex-husbands.
Apart from her much-publicized rock star marriages, her most tumultuous one has been with poker player Rick Salomon, whom she's married and divorced two different times (per E! Online). They first married in 2007, but the marriage was annulled in early 2008. They gave it another go in 2014, but after six months, she filed for divorce. After Salomon, Anderson's next marriage appeared to be a brief, 12-day union with producer Jon Peters in 2020 — though, as Anderson later revealed (via People), they weren't legally married. Most recently, Anderson married her bodyguard in late 2020. Per Rolling Stone, she filed for divorce in January 2022.
Anderson has also had long-term relationships that didn't lead to marriage, including one with French soccer player Adil Rami (pictured), whom she dated for two years (via Bleacher Report). In 2019, Anderson announced the split in a lengthy Instagram missive (visible on Paris Match journalist Clémentine Rebillat's Twitter), making allegations of two-timing and abuse against Rami.
If you or someone you know is dealing with domestic abuse, you can call the National Domestic Violence Hotline at 1−800−799−7233. You can also find more information, resources, and support at their website.