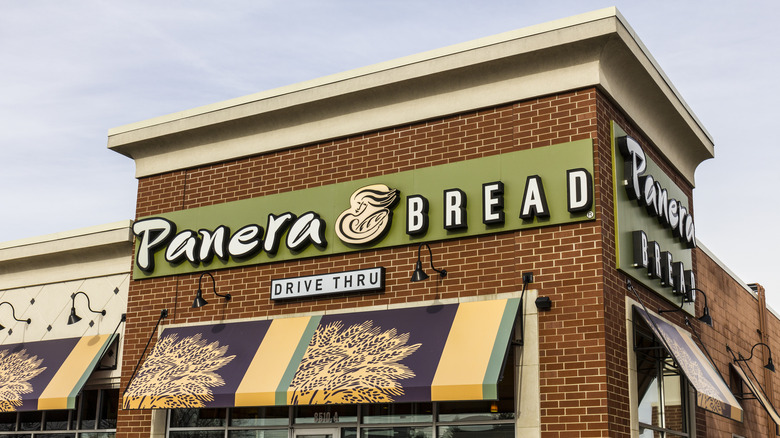 Panera Bread has quite a hold on the fast-casual lunch market. It's been a place to go to get a coffee and a pastry and do some work on their always free wifi. Aside from breakfast staples, the bakery-themed chain also has served up plenty of lunch options since opening in the 1980s. The menu started off as your basic soup, salad, and sandwich cafe menu. However, in recent years, Panera Bread has expanded its menu to include some unsuspected new items, like mac & cheese and flatbread pizzas.
It's harder to classify Panera Bread in 2022. Back when the chain first exploded, Panera had a lot of consistency that helped define its brand. For instance, there were always tiny samples of free bread at the door. There were must-order items for newbies, like the broccoli cheddar soup or a cinnamon crunch bagel. It felt like a homey bakery and it garnered a reputation as being a "healthy" option for a quick lunch. In more recent years, it seems like Panera's gone from trying to be your friendly neighborhood bakery to another fast-casual chain trying to keep up with the Joneses.
Another major change since the dawn of Panera Bread is its ever-increasing price points. Sure, there are factors like inflation that just can't be ignored. However, the restaurant has garnered a bit of a reputation of being overpriced (via Reddit). To help you navigate the menu before your next Panera run, we decided to point out a few items on the menu that are just flat-out overpriced.
Mediterranean veggie sandwich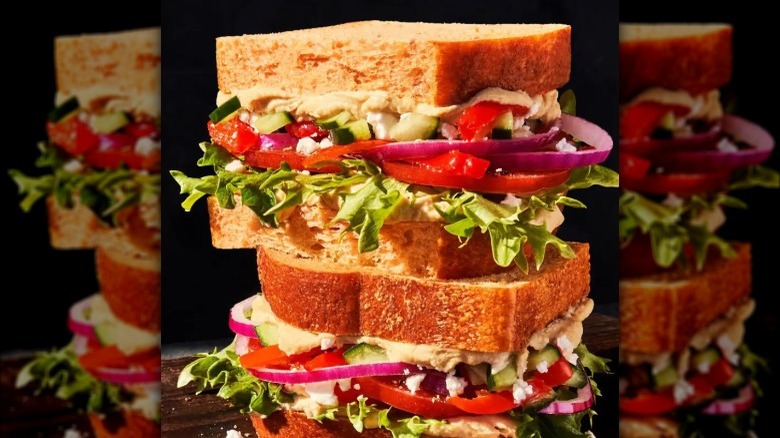 Sandwiches are one of the main pillars of Panera Bread's menu, as is the case with most lunch-focused cafe spots. While there are a few options worth their listed prices, Panera seems like it's overcharging for its Mediterranean veggie sandwich. For around $8 (as of 2022), the sandwich includes, cucumbers, greens, onions, tomatoes, peppers, feta cheese, and hummus on tomato basil bread. It's a delicious and healthy option, but not exactly for the price.
Sandwiches at Panera tend to be a little higher-end, with the chain charging up to $13 for its meat-heavy options. It doesn't make sense for this sandwich, which contains no meat or expensive protein, to cost nearly as much as the others that are piled high with chicken, bacon, or turkey. The Mediterranean veggie doesn't even include slices of avocado to justify the price tag, as Panera charges extra to add avocado to any sandwich (via Panera Bread).
Classic grilled cheese sandwich
The price of a simple grilled cheese sandwich at Panera Bread is one of the more shocking listings on the menu. A grilled cheese is quite arguably the easiest sandwich to make of all time — it's bread, butter, and gooey cheese. Despite its simplicity, Panera bread is charging a whopping $8 for a plain cheese sandwich. When looking at the online menu, Panera won't charge you to add some extras, like tomatoes, but others, like bacon, will add almost $2.50 to the price tag.
To put it into perspective, In-N-Out customers have learned that you can order a grilled cheese off of the fast food chain's "secret menu" that will cost you less than $3 (via Hack The Menu). The cost-per-serving of grilled cheese is low, around 50 cents per serving according to research from Cockeyed, so it's shocking that Panera is charging so much for such a classic staple.
Mac & cheese bowl
Panera Bread has been serving its buzz-worthy mac & cheese since it was first introduced in 2006, and fans have continued flocking to the restaurant to enjoy it ever since (via Market Watch). The brand has gone on to make as many mashups with the product as possible, whether it's their broccoli & cheddar version or their mac & cheese grilled cheese sandwich. Despite it becoming a staple of sorts, it's far from one of the cheapest meal options at Panera.
With popularity comes a high price tag, as Panera Bread will charge you a whopping $10 for a large bowl of mac & cheese. In comparison, the 2022 prices for a large portion of mac & cheese at Kentucky Fried Chicken costs $4.99 and a large from Boston Market is $5.99. Both of those options are enough to feed more than one person, while Panera's is a single portion for nearly double the price.
Tuna salad sandwich
The final regular sandwich that Panera Bread is seemingly over-charging for is their tuna salad sandwich. On two slices of black pepper focaccia, the sandwich features tuna salad mix, greens, red onions, and tomato slices for $9. Each sandwich does come with a "free" side like chips that is included in the price, but the total is still hard to justify.
According to Impact Alpha, the average can of tuna costs less than $1 to consumers. A restaurant chain like Panera Bread is likely buying their tuna and other ingredients in bulk, which only brings the price down more. That, considered along with the minimal toppings on the sandwich, doesn't seem to justify a $9 price tag. Tuna salad is something that can easily be made at home for a quarter of the price, so it's unclear how Panera Bread thinks its version is special enough to charge an arm and a leg.
Any bowl of soup
Aside from sandwiches, Panera Bread's wide variety of soup options might be one of things they're best known for. The chain serves several different kinds, from chicken & wild rice to its famous broccoli cheddar soup. But when looking at the price tags for a single bowl of any flavor, it's pretty astonishing how much a simple lunch will cost you.
In 2022, Panera is selling their bowls of soup for around $7-9 each. Soup is one item that restaurants tend to mark up relatively high, as its an easy add-on for them to make money (via Go Banking Rates). Santorini Chicago reports that soup can have a 60% profit margin depending on the company's strategy. It's crazy that Panera is likely making a ton of cash off of the soups that they produce on a national scale, and they're charging nearly $10 … with or without a bread bowl.
Rustic sourdough loaf
At its core, Panera Bread is a bakery and, in case you forgot, they do sell full loaves of bread. Most of them are reasonably priced, but a few, including the brand's rustic sourdough loaf, are seriously overpriced. This loaf of bread is priced at around $8.50, which is nearly double the cost of almost all the other loaves for sale. Panera Bread's website doesn't clarify what exactly makes the rustic bread such a high-dollar item, but it's worth noting before you buy one from the bakery rack without looking at the price tag.
According to Cost Aide, the average loaf of bread costs around $5 or less. And in 2022, a loaf of sourdough bread at Walmart costs less than $4. Customers on Reddit seem to agree that the bread isn't worth the cost. "All I can assume is they are actively trying to deter people from buying bread to keep their limited supply for the cafe," U/Pizookie123 wrote.
Kitchen sink cookie
Surprisingly, some of the best deals at Panera Bread can be found in the bakery display of every location, where there's always something warm and sweet ready to be devoured. One outlier on the menu, though, is the kitchen sink cookie, which in 2022 costs a whopping $4.29 for a single cookie (via Panera Bread). This cookie has chocolate chips, caramel pieces, pretzels, and flaky sea salt. Sure, it's more than your standard chocolate chip cookie, but are the add-ins really worth doubling the price?
For the price of one of these cookies and a couple more quarters, you can buy two whole bagels and a side of cream cheese. That's much more of a justifiable way to spend $5 on a meal. Even a regular chocolate chipper cookie from Panera is about $2.50, so it's confusing how the brand came up with the higher price for the kitchen sink version.
Meatless Baja bowl
A more recent addition to the Panera Bread menu is their warm bowls options, which are essentially different variations of grain salads. Most of them are hearty and filled with a lot of ingredients, but the pricing is a bit confusing. Most of the bowls that have chicken (including one version of the Baja bowl), ring up for around $12 a piece … pricey, but more justifiable with the added cost of lean protein. However, if you opt for a meatless version, it will still cost you about $11. It seems logical that the meatless options would be a better bargain, but the difference is only about a dollar.
The warm grain bowls are loaded with ingredients. The meatless Baja bowl has quinoa, feta cheese, avocados, tomatoes, salsa verde, Greek yogurt, and black bean and corn pico de gallo. It's actually an easy recipe to replicate at home, and the ingredients will likely amount to way less than a whopping $11 per bowl.
Kids' Turkey BLT
It's kind of a universal truth among chain restaurants that kids' meals are supposed to be low-cost. Food aimed at children tends to be pretty basic, and is only a fraction of a regular-sized portion. However, some of Panera's items on its kids' menu cost nearly as much as the regular items. For example, sandwiches like the kids roasted turkey avocado BLT cost nearly $9 as of 2022, while the "adult versions" are $12. Yes, the kids' variety comes with all the same toppings as the full-sized version, but the portions are half the size.
There are a few sandwiches on the kids' menu that are lower cost. Luckily, a kids' grilled cheese will only set you back around $5, unlike its pricy full-sized counterpart. You can also get a pretty basic turkey sandwich for $5, but don't expect anything fancier than American cheese and deli turkey on whole grain bread.
Chef's chicken sandwiches
Like any fast food chain, Panera Bread couldn't resist hopping on the chicken sandwich bandwagon. Sure, they were a little late to the game and no one really expected them to participate, but they jumped on board anyway. That said, unlike low-price chains like McDonald's or Popeye's, Panera Bread's chef chicken sandwiches cost way more than a couple dollar bills.
There are two takes on the sandwich — original and spicy, which is nothing unique in the era of chicken sandwich wars. Regardless of which option you pick, a sandwich will cost you a hefty $12 a piece, as of 2022. Sure, both versions feature chicken breast on a brioche roll with a few toppings thrown between. And certainly, the allure of trying a sandwich topped with spicy pickle chips and buffalo sauce, or emerald greens and Parmesan crisps might be tempting enough to have you shell out the cash once or twice … but it still doesn't seem like a competitive price point for Panera to succeed long-term in a market that's already highly saturated.
Kids' salads
As previously mentioned, almost the entire Panera Bread kids' menu is confusing from a cost perspective. If you need another example, look no further than their salad offerings. For a kids' salad with chicken, you're looking at spending no less than $8-9 a piece for a massively reduced portion size. If you opt for no meat, the price goes down to about $6, but it's still significant.
Panera Bread's salads are clearly more than your typical side-salad. However, it seems like the brand places these at such a high price point to discourage parents from encouraging their kids to order a salad. After all, why order a salad (that the child might turn its nose up at) when you can get a sandwich or bowl of Mac & cheese for less? For parents hoping to help their children eat more greens, it may be more cost-effective to order a regular-sized large salad and split it with the child, instead.