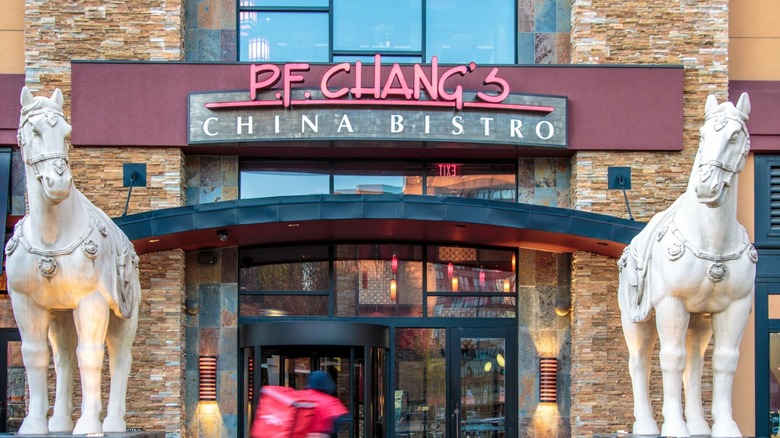 One of the restaurants to really popularize an American take on Asian cuisine is P.F. Chang's. First opening in the early '90s, the chain has gone on to boast hundreds of locations around the world. The menu takes inspiration from many places, particularly China and Japan. P.F. Chang's popularity is responsible for bringing menu items like Sriracha sauce and lettuce wraps into mainstream U.S. food culture.
P.F. Chang's is one of those places where you know exactly what you're getting. It's not the restaurant to frequent if you're looking to try something authentic hailing from Asia. Popular P.F. Chang's menu items include fried chicken doused in sticky-sweet sauce, wok-cooked noodles tossed in vegetables and aromatics, and all of those Americanized classics reminiscent of mall food courts and paper take-out boxes.
P.F. Chang's is a total step up from mall food. The price is also a bit higher than your typical fast-casual Chinese chain, but when you properly navigate the menu and take into account the overall atmosphere, it really is quite an inexpensive option. Here's how P.F. Chang's manages to keep prices as low as they are.
The company has multiple money-making initiatives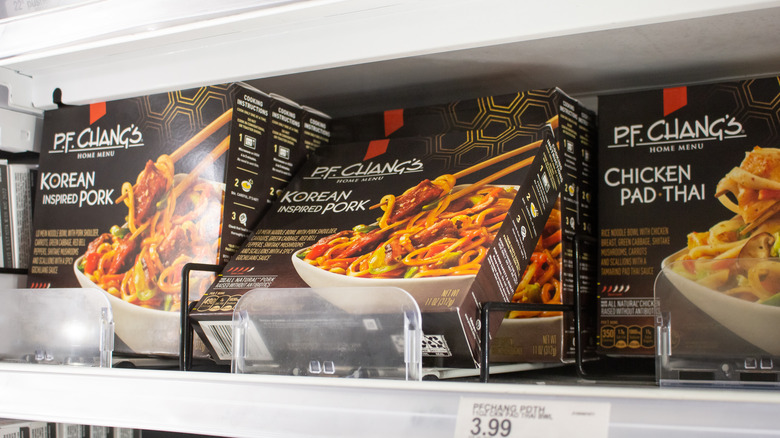 Outside of its 200+ restaurants in the U.S. (according to the company), P.F. Chang's is a massive brand with many additional avenues to make money. The company has an extensive at-home grocery line, where shoppers at stores like Walmart can buy P.F. Chang's signature sauces right off the shelf. The majority of the at-home line is made up of ready-made frozen meals like Chicken Pad Thai, Firecracker Tempura Shrimp, and Pork Shoyu Ramen (via P.F. Chang's Home Menu).
More recently, P.F. Chang's unveiled a merchandise shop where customers can buy apparel, accessories, and cookware to rep the brand. The clothing line is fairly on-trend, with socks and bucket hats adorned with drawings of fortune cookies and sushi rolls. The cookware line includes knives, woks, the restaurant's chopsticks and signature crane rest, and more to add some flare to your kitchen.
Even outside of the P.F. Chang's flagship restaurants, the company also has pursued several restaurant concepts. Most recently, it introduced a fast-casual takeout concept with P.F. Chang's To-Go, with plans to open more U.S. locations through 2022 (via Business Wire). It's not the first time the company has tried something like this out; in 2000, the brand opened Pei Wei Asian Diner, another fast-casual chain. However, P.F. Chang's did eventually split from the brand, as part of a sale tallying $700 million, according to Bloomberg News.
P.F. Chang's good reputation retains workers
In an age when restaurants are struggling to retain workers, P.F. Chang's has maintained a good reputation as a pleasant place to work. According to reports from employees on Indeed, a server at P.F. Chang's makes, on average, $16 an hour. That's a bit higher compared to the national median hourly wage of waiters, which is at $13.95 (via Bureau of Labor Statistics). Many companies have used higher hourly pay as a way to entice and retain employees, but it seems like that's been a strategy for P.F. Chang's prior to the worker shortage of the early 2020s. If a company can retain its workers, it can spend less time on marketing to future employees and training recruits.
Former employees on Indeed also wrote positive reviews about their experiences working for the chain. One former host wrote that they "always felt safe and respected at work," and commended the ample opportunity for growth. The experience, of course, depends on the location, but several reviewers commend their fellow coworkers, the pay, and the overall support at the company.
Their bulk menu deals incentivize larger orders
If you take a look at P.F. Chang's menu, it really incentivizes people to order more than one plate. A single dish may be pricy compared to other chain concepts, but the family meal deals are a bargain. They include meals for two for $36, four for $60, and six for $84. The packages come with more food than you probably would order for yourself — lettuce wraps, soup, starch, and at least one entree — and they appeal to new customers who are looking for a reliable option to feed their family for a decent price.
The P.F. Chang's menu, in general, is designed to be shared family-style, according to the restaurant's blog. Sure, entrees tend to land between $15 and $20, but they're usually large enough to split. The chain is exactly the place where you'd want to order a few plates for the table and try everything. In the end, you will likely end up paying around the same price per-person, but everyone gets to try several dishes.
P.F. Chang's also offers other deals for those not looking to shell out the full price for a dinner entree. At lunchtime, the restaurant sells bowls for $15 or less, which lets customers sample a wide variety of items in smaller portions.
P.F. Chang's keeps its sushi prices down
As far as expensive menu items go, sushi is pretty high up there. The process requires restaurants to purchase pricy materials and source difficult-to-find ingredients. It's a high cost, so sushi rolls tend to be priced accordingly. In 2019, the average cost for a basic sushi roll in the U.S. was somewhere around $7, while premium rolls typically hovered around $15 (via Bloomberg Quint).
To keep prices low, P.F. Chang's likely buys seafood in bulk. Its buyers have appeared at conventions like Seafood 1on1 and Seafood Expo North America, and an event director referred to the chain as a "high caliber, high volume" buyer in 2016, according to Intrafish. However, the details of the chain's sourcing are unclear. P.F. Chang's says it uses "responsibly sourced seafood" but does not elaborate. Heidi Berger, the company's vice president of financial operation and risk, told Yahoo! Finance that quality and safety risks are important to the company: "Our business depends on a sustainable supply of items at high risk for disruptions, like shrimp and other seafood."
It's important to note that P.F. Chang's received backlash in 2012 for purchasing squid tied to fishing slave labor (via Triple Pundit). More recently, the company faced a lawsuit regarding their "krab mix," which is used in various sushi rolls. The suit alleged that the misleading label hinted the rolls contained real crab meat. However, the claim was dropped in 2021, according to Legal Newsline.
The restaurants make a lot on alcohol sales
Unlike some other inexpensive restaurant concepts, P.F. Chang's has the upper hand by making a lot of money on alcohol sales. A liquor license is one of the most profitable things a restaurant can implement, particularly at a casual sit-down concept like P.F. Chang's. In fact, alcohol usually generates about 25% of a restaurant's income. Additionally, it's not uncommon for the markup value of alcohol to be four times the wholesale price, meaning other menu items can stay low-cost yet still profitable (via Houston Chronicle).
P.F. Chang's extensive cocktail list probably helps keep the cost of the rest of its menu items down. A person might order just one dish during a meal but down a few drinks while dining in at the restaurant. Many of P.F. Chang's specialty drinks lean into the theme of the restaurant, featuring Japanese spirits, sake, and flavors like lychee, yuzu, and green tea. This entices customers to order these cocktails, as they are not likely to be found on other chain restaurants' menus.
Its kitchens rely on inexpensive staple ingredients
The base of many dishes at P.F. Chang's relies on low-cost pantry staples with high markups. According to Reader's Digest, some of the most profitable ingredients featured on menus include noodles, which cost a few cents but can have an 800% markup. Additionally, an appetizer like edamame, which P.F. Chang's serves, has a whopping 1,250% markup. Most entrees at P.F. Chang's are based on rice or noodles, two very low-cost options that are also filling for diners. They also help fill up a plate so that restaurants can be a bit more reserved with their higher-cost ingredients like meat.
Another staple in P.F. Chang's kitchens are green onions. The company reportedly goes through more than 36 million a year (via P.F. Chang's blog). Green onions are an example of a low-cost staple that adds a lot of flavor, and it's clearly a tactic P.F. Chang's has implemented.
P.F. Chang's reuses expensive ingredients in many plates
While P.F. Chang's relies on cheap staples, it doesn't skimp when it comes to protein. So many of its dishes are filled with hefty portions of chicken, beef, shrimp, salmon, and more. Those ingredients are some of the most expensive to buy, with Forbes attributing meat as the biggest cost on most restaurant plates. The average restaurant aims to spend about 30% of its budget on purchasing ingredients (via Gourmet Marketing). Therefore, restaurants have to find creative ways to get the most use with the least amount of waste.
If you look at the P.F. Chang's menu, it's full of repeats. Fried chicken, fried shrimp, tofu, and flank steak are good examples. It's likely because the company buys protein in bulk to get the best price and uses each item as much as possible to maximize the cost. Additionally, Reddit user u/OK_Manufacturer845 wrote that when they used to run a P.F. Chang's kitchen, everything the restaurant made (aside from some desserts) was prepared from scratch and in-house. That flexibility makes it even easier for line cooks to ensure they're getting the most from every ingredient.
Customers are encouraged to become regulars
P.F. Chang's knows that no one can resist a good deal, so it has implemented a few promotions to convert casual customers into full-blown regulars. The more customers a restaurant has, the better business is, and the less of a need there is for the brand to raise menu prices. First of all, depending on the location, the chain offers rotating happy hour offerings that make menu items even less expensive. Happy hour is a fairly lucrative way to get diners to order more plates at a low cost.
Additionally, P.F. Chang's has a loyalty rewards program that is free to join. Every time you spend money at the restaurant, you earn points that add up to free menu items on future visits. There are also exclusive events and special deals only available to members, so it's an easy way to make customers want to come back and rack up points.
P.F. Chang's notable history keeps it relevant
The first P.F. Chang's opened in Arizona in 1993 from restauranteurs Paul Fleming and Philip Chiang. But Chiang's start in the industry began much sooner than his namesake restaurant opening. He is the son of Cecilia Chiang, the former owner of the extremely successful San Francisco-based Chinese restaurant the Mandarin. When Cecilia returned to China, her son took the lead at the restaurant's Beverly Hills location (according to Honolulu Magazine). So the base of P.F. Chang's flavors have a rich history in Asian-American cuisine and U.S. restaurant culture.
It's not that the legacy of P.F. Chang's is exactly common knowledge for most people. However, the restaurant has developed a reputation of being a reliable staple where you can always count of getting bold, tasty meals. The menu and presentation change frequently (via Community Newspapers), but the ethos of the restaurant and its dedication to the wok-style of cooking remain the same.