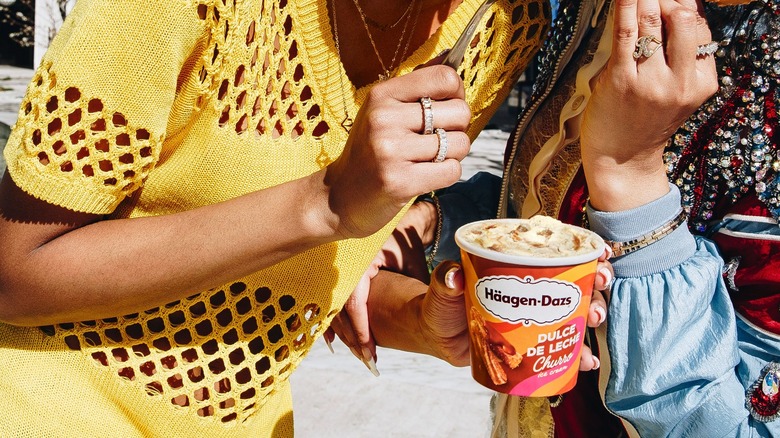 Häagen-Dazs ice cream has undergone a street-style makeover. The famous brand's newest lineup, dubbed the City Sweets collection, swirls in the flavors of international foods from street vendors, according to People. Imagine the quintessential snacks from the bustling avenues of your favorite cities, jammed into pints of five fresh takes on popular Häagen-Dazs flavors.
The quintet of flavors includes black and white cookie, chocolate peanut butter pretzel, coffee chocolate brownie, summer berry cake pop, and dulce de leche churro. Three of these come in frozen snack bar form in addition to the classic pint. The idea behind the line is to allow customers to experience sweets from their favorite cities without booking a plane ticket, Häagen-Dazs said in a statement shared with People. City Sweets initially launched at select stores earlier in 2022 but, as of April, is now available in retailers all over the U.S., including Publix.
How much is City Sweets?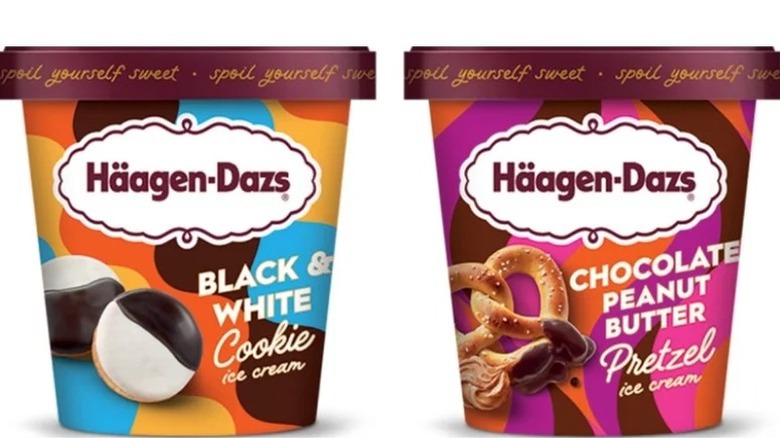 A regular pint of Häagen-Dazs ice cream can retail for around $4 at Target, depending on where you live, but you can expect to pay a little extra for a selection from the City Sweets collection. Each one costs $5.49, People reports.
But that's nothing. Americans spent $6 billion on ice cream in 2019, per Research America. Plus, Häagen-Dazs has been referred to as the Rolls-Royce of ice cream. The reason Häagen-Dazs is so expensive comes down to the brand's high production standards. The process by which the brand is manufactured ensures a creamier-than-average texture with fewer ice crystals. That means there are fewer air bubbles within the product, and you're truly getting more ice cream for your dollar than with other popular brands. Additonally, each flavor of Häagen-Dazs also contains at least 14% butterfat and natural ingredients. These elevated practices allow the brand to price its pints a bit higher than competitors.
What are the flavors?
Each type of Häagen-Dazs City Sweets ice cream contains a classic flavor from the brand, like dulce de leche, with a unique touch inspired by street food offerings, People explains. The five flavors range from fresh and fruity to rich and chocolaty. Dulce de leche churro kicks off the City Sweets Collection with cinnamon-flavored Spanish churro pieces mingled with dulce de leche ice cream for a blend of crunchiness and creaminess. This flavor also comes in the form of a snack bar for consumption on the move.
Black and white cookie, meanwhile, brings New York City's bakeries to your freezer with vanilla bean ice cream, cookie pieces, and chocolate frosting. Coffee chocolate brownie combines brownie chunks, fudge sauce, cocoa nibs, and the fan-favorite Häagen-Dazs coffee ice cream into a treat that just might smell like a local cafe. For a sweet and salty masterpiece, the brand combined peanut butter and chocolate ice creams with crispy pretzels for the chocolate peanut butter pretzel flavor, also available in a bar. Finally, summer berry cake pop mixes a rich sweet cream ice cream with light and fresh strawberry ice cream. Cake bites and raspberry sauce finish each bite.
How long will City Sweets be available?
The City Sweets collection swept the streets in early 2022, according to People, but Häagen-Dazs has been around since 1960 when it was founded in Brooklyn, New York. Reuben Mattus was the visionary behind the company, the website reports, but he launched the now-famous company with his wife, Rose. The brand started off with three basic flavors — chocolate, vanilla, and coffee. It took six years to come out with strawberry, the next flavor. Today, however, there are close to 50 varieties to choose from.
For now, it appears that the colorfully packaged and branded City Sweets Collection — developed by New York City artist, designer, and creative director Jade Purple Brown — will stick around with the rest of the classic Häagen-Dazs flavors with one exception: One of the snack bars — the summer berry waffle flavor with raspberry filling and a chocolate-waffle coating — was released as a limited-edition product.
What customers are saying about City Sweets
While City Sweets has won over some ice cream lovers, not everyone is convinced that Häagen-Dazs hit the mark on their favorite street vendor snacks. The coffee chocolate brownie flavor has more than 20 one-star reviews on the brand's website. One reviewer took issue with the texture: "Took a few bites from the pint and had to Google to see if it was intended to be gritty or if it was a manufacturing issue. Still unsure but I can't imagine they wanted to create a product like this," they wrote, comparing the brownies to a "powdery substance." Another commenter had similar thoughts, remarking that the product was "bitter and grainy." In the same vein, a blogger disliked the dulce de leche churro's "awful" texture, calling the churro pieces "soggy and stale," though they loved the dulce de leche swirl.
The black and white cookie flavor, however, is winning fans left and right. One reviewer said the flavor was Häagen-Dazs' best new option in years. Another commenter who awarded the product five stars said, "Such a good balance just like the cookie. Creamy with small cookie bits." Overall, it appears that the collection is a mixed bag depending on your personal tastes, though nowhere near as popular as the brand's more longstanding flavors.