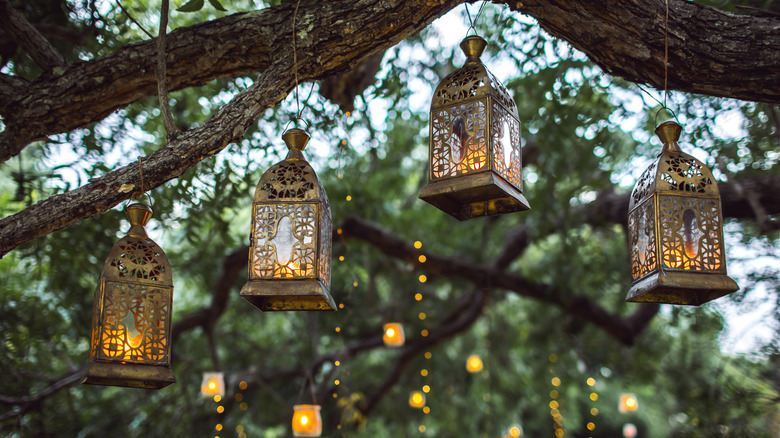 When it comes to decorating lanterns, the possibilities are endless. While lanterns are a source of light, they also have other purposes. They can be placed around different rooms in a house to create inspirational designs. According to Craft Warehouse, lanterns are versatile and can mix up the decor in your home year-round. Whether used on a dining table as a centerpiece or hung on a living room wall as art, there are many ways to decorate with lanterns.
While there are people who prefer to use lanterns for light, others may like the craftier side of lantern decorating. You can decorate lanterns to feature a particular holiday or season with glass, greenery, candles, and glitter. They can also be handmade with materials that range from metal to paper to glass to wood. Here are some great ideas to help you create your own homemade lanterns and brighten your living space.
Try out a seasonal motif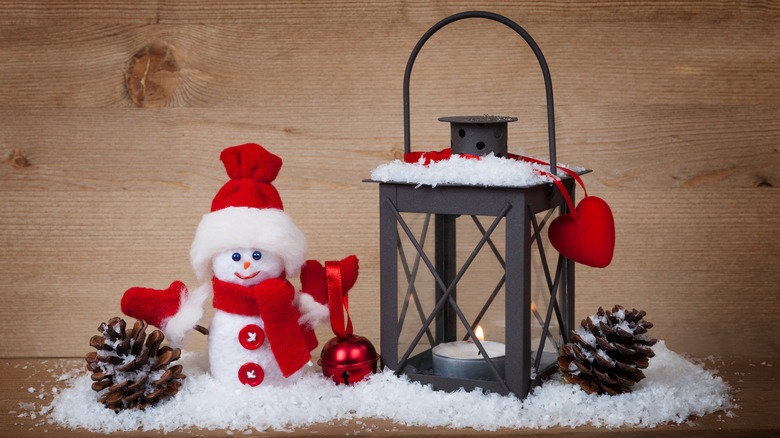 One way to reflect the changing seasons in your home decor is by decorating for the season at hand. What is something people tend to see during the wintertime? Snow! Why not fill your lantern with some fake snow? According to Empress of Dirt, there are a variety of different recipes for creating fake snow. One of the benefits of artificial snow is that it is moldable. Children will love making their own snow for a lantern to create a snowy scene. There's no better way to show off a winterized lantern than creating the perfect snowman family.
On the other hand, there are ways to create a summer motif inside a lantern for those lazy, hazy summer days. One idea is to make sand (via Fun-A-Day). While artificial sand can get messy, there are recipes online for making moldable sand. You can also add small trinkets like umbrellas or beach balls to a lantern to create a summery scene.
Set a vacation mood
While it's always fun to go on vacation and take new photos for the scrapbook, you can create a vacation spot right at home by decorating inside a lantern. Grabbing sand from a beach to decorate the lantern is a good starting point. Glue seashells and rocks collected during vacations along the sides of the lantern or place them inside the lantern base for a beach house look.
Seashells are available in a wide array of shapes and sizes. They can be multi-colored and made from more than just one kind of rock material. To add zest to regular seashells, try painting them to add a colorful effect. After washing your shells, grab acrylic paints and paintbrushes to create any pattern or style desired. According to Homemade Charlotte, you can paint seashells to spell words or polka dots for personality. Consider adding text with beach-themed words like "sun" or "splash" for a cute touch.
Go for pumpkins galore
Halloween decorating with lanterns doesn't have to be spooky. Decorating with pumpkins is also a cute way to add spice to a lantern during the fall time. According to Better Homes & Gardens, a great way to create a Halloween-themed lantern is to paint small, white pumpkins from a craft store with acrylic paint or nail polish. You can spruce them up with glitter and bright colors. After painting and drying the pumpkins, place them inside or around the lantern.
For young children who want to make a simple craft, they could create their pumpkin paper lantern from orange and green construction paper by cutting and crisscrossing the paper strips. This simple activity encourages children to use their fine motor skills with scissors. In addition to scissors, you may need glue or tape to complete this craft. Paper lanterns won't break and shatter as easily as glass or iron material.
Create a mini fairy home
Are you a fairy fan? Create a mini home for these mystical creatures inside your lantern. According to A Crafty Mix, you can make a magical home for pixies with a few simple steps. Finding a mason jar, unused trinket box, or wood lantern is the best way to begin the project. To create a mini home for fairies, you might also want to find some fairy statues at a toy store or in an online shop. These are usually inexpensive and can fit into most lanterns.
To add to this mystical aesthetic, collect items found in nature like tree branches, sticks, and rocks to glue inside the lantern. Craft and hobby stores provide pieces of fabric and felt to make miniature bedspreads or other small furniture for the fairy home. This lantern is a charming craft for those who like fantastical elements in their home.
Be creative with odds and ends
When it comes to designing lanterns, any small knickknacks can do. A kitschy way to add flair to a lantern would be to gather old-time childhood toys like jacks and marbles. Though it may take a trained hand, hot gun gluing toy jacks or marbles inside a glass lantern will look pleasing and eye-catching. This idea is ideal for children and adults who are children at heart.
According to DIY & Crafts, there are many ways to make button crafts for shoes, jewelry, fridge magnets, gift bags, and picture frames. The same techniques work for decorating lanterns. One idea is to glue buttons of all colors around the outer body of the lantern. This style would look especially fetching on a lantern mason jar. Another fun way to craft with buttons is to glue buttons on the top of mason jars and use them as lanterns. The possibilities are endless.
Style with acorns
Want a distinct way to decorate a lantern with elements found in nature? Look no further than acorns. These oak tree nuts are usually found outdoors on the ground or trees. According to Craftionary, acorn crafts are the perfect fall living room decor to reflect the changing seasons. For lanterns made from mason jars or ones with a removable top, acorns can be painted or glued on top. To add a unique effect, glue the tops of acorns onto the tops of mason jars.
Want an uncomplicated way to decorate a lantern with acorns? Put acorns on the bottom of a glass lantern and set the lantern on a table as a decorative statement. This tip will help bring attention to a small centerpiece. Paint your acorns with warm autumn colors like green, orange, yellow, red, or brown for seasonal spirit, or go for a bright color for a delightful touch.
Have some glow-in-the-dark fun
More than just a novelty, glow-in-the-dark items have a special place in the hearts of children and adults alike. From slime to candy to bouncy balls, glow-in-the-dark products are everywhere. To create a glow-in-the-dark lantern, follow a step-by-step guide, per Instructables. This craft is easy for children to do with some adult supervision.
For those who favor a glow-in-the-dark vibe, buying glow-in-the-dark stars and moons to stick on the inside of a glass lantern creates an outer space-themed vibe. This style is perfect for a child who wants to be an astronaut or scientist. Another way to make a glow-in-the-dark lantern is by sticking stickers around the outer body. Look for designs with planets, stars, and solar systems to create an authentic scene. Painting the outside of a lantern with glow-in-the-dark paint will also produce a special "glow" effect. Find non-toxic paint that is easy and safe for children to use.
Opt for fruity flavor
Adding fruit to home decor is a way to spice up any living space. According to Martha Stewart, faux fruit is a creative way to spice up a home or decorate furniture. Fake fruit can feature many different materials, including marble, beads, wood, and glass. Craft and hobby stores often sell fake fruit like plastic grapes and cherries on stems. Place these inside your lantern to create a fun and fruity aesthetic. When it comes to larger fruits, faux pears and apples made of plastic or plaster are also available at craft stores. Place these fruits inside a lantern for a juicy look.
Instead of decorating the inside of your lantern, it's also possible to decorate around a lantern. You can create an impressive centerpiece by placing a wrought iron lantern in the middle of a dining room table and arranging fruit around the sides. You can achieve the same effect if you decorate a mantel above the fireplace. Scatter faux fruit and some greenery around your lantern to create a gorgeous scene.
Embrace the holiday spirit
Anything goes when it's time to decorate your house for the holidays. Tying a red ribbon around a lantern and placing pinecones inside is the perfect way to spread holiday cheer and create a wintry effect. A nativity scene could add a religious touch to the holiday season for those who celebrate Christmas. One way to achieve this style would be to buy religious figurines from a store specializing in Christian gifts. Place the pieces inside the lantern or arrange them around a lit lantern. If you celebrate Hanukkah, consider decorating a lantern with blue and white colors.
According to Country Living, a great way to decorate lanterns for the holiday season is by placing battery-operated LED lightbulbs inside. White lights look particularly festive. Paint your wood lanterns in red, green, white, or other appropriate holiday colors. String twinkle lights and faux garlands around your lantern to achieve a stunning effect.
Satisfy your candy cravings
Satisfy your sweet tooth by filling your lantern with fun candy varieties. If you have children who would like to craft with candy, consider following the instructions on the S&S Blog and making mini gumball ornaments with terra cotta pots. For decorating lanterns, a candy-themed craft may be just the thing to try out. Taking a plastic lantern and filling it with bright candy can create a cute snack aesthetic.
There are a variety of candies to try, including sour, sweet, and salty flavors. To craft a classic candy lantern, fill it with Skittles, Starburst, or hard candies like gumballs. Be careful with powdered or sugared candy because it could make a mess and attract insects or other pests. To create a faux candy lantern, buy colorful pom-poms or beads that look like candy. This solution will remove the stress of candy messes and keep your lantern clean.
Explore the possibilities of paper
Not all lanterns feature metal or wood material. There are also paper lanterns. According to Art Bar, making your own paper lanterns is a safe craft that children can make by themselves. It only requires some paper, glue, scissors, paints, and brushes to make beautiful, artistic paper lanterns for your home that your kiddos will love.
To create paper lanterns, paint on a piece of white paper or construction paper to begin the project. There may be designs online that follow a sphere or a pyramid pattern to create a specific lantern shape out of paper. Style a unique design by decorating your lantern with glued-on beads on the top and bottom. You can also splatter paint onto your lanterns for a whimsical effect. Once the project is complete, you can string yarn through the top hole and hang the lantern outside or inside the home.
Use lanterns for baby showers
Baby showers are a big part of people's lives. They are an occasion to gather and celebrate an upcoming birth. According to Shelterness, paper lanterns are the perfect accessory for baby showers, whether used as centerpieces or decorations over tables.
When decorating for a baby shower, include lanterns in soft pastel colors like blue, yellow, purple, and pink. You can also decorate the lanterns with paper butterflies, flowers, air balloons, and animals for a sweet touch. One idea is to fill a glass mason jar with pastel candies or candles. After filling the jars, puncture the top of the lids with twine or string and hang the lanterns on trees in clusters (if the baby shower takes place outside). The lanterns can also be small centerpieces on outdoor tables. Surround the mason jar lanterns with greenery and tiny LED lights to add spark once nighttime falls.
Light up your paper lanterns
Want to create a lit paper lantern without candles? According to Boulder Families, there's an easy way to complete this project step-by-step. This craft is perfect for children since there are no open flames, and the supplies needed are simple. You'll need a paper with guidelines for a pyramid shape, a hole puncher, LED lights, and glue. Once everything is complete, the result will be a lit lantern that fits in the palm of your hand.
Adults who would like to create their own lit lanterns can easily buy something pre-made or complete a project to make their own. Find small tea light candles from an online shop or a hobby store. Then, get a wrought iron lantern and glue the tea lights inside. Be careful when lighting the candle and keep it away from small children and pets. These lanterns will look great outside during summer nights.
Add some sentimental value
Everyone knows how hard it is to lose a loved one. When a loved one passes away, there is a period of grief and sadness that can trickle into everyday life for a long time. According to Frugal Coupon Living, creating memorial crafts for deceased loved ones can help you cope with loss and honor the people in your life. From soundwave art to printing family recipes onto dish rags, there's a range of ways to keep a loved one's memory close to your heart.
You can also create lanterns that hold sentimental value. To make a craft with photographs, collect pictures of a deceased loved one and place them inside a glass-windowed wrought-iron lantern. The lantern will preserve the photos for years down the road. Another way to make memories is to cut small pieces of an article of clothing owned by the family member who passed and place the pieces into a lantern.