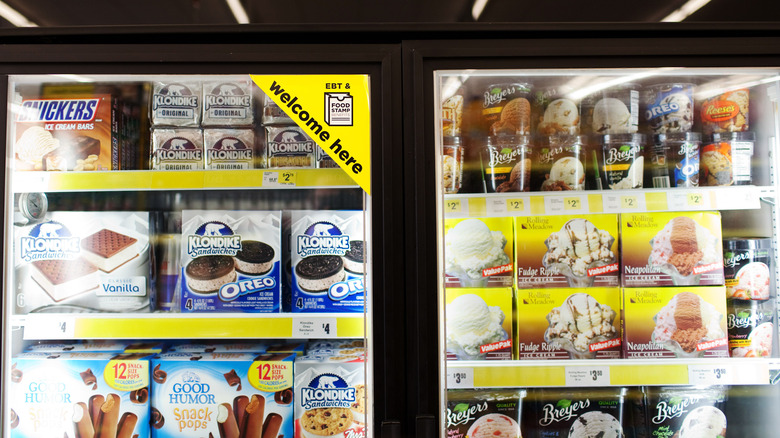 You're hot, hangry, and have an aching sweet tooth. You find yourself in the frozen foods section looking for an icy cold treat only to realize the one thing you're craving isn't there. Is the store merely out of stock? Or has it gone away for good, like so many discontinued frozen desserts before it?
Unfortunately, we have all had this experience before. Whether you're taking a trip down memory lane to find your favorite Popsicle or looking for an ice cream you haven't had in a while, it's disappointing to be met with an empty place on the freezer shelf and an empty stomach to boot. Stomach growling, you pull out your phone, type "What happened to…" into Google, and land here. It's time to face the music (preferably from an ice cream truck). Find out if your favorite frozen dessert has gone on to the big freezer in the sky.
Jell-O Pudding Pops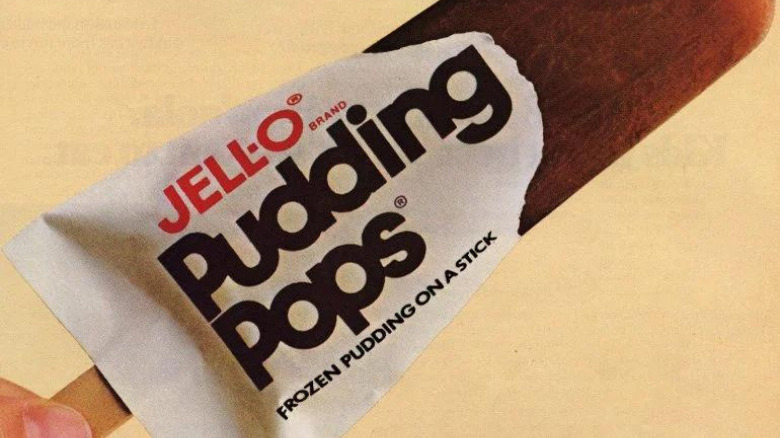 You're not alone if you've ever wondered what happened to your favorite childhood treat, the fudge-like frozen dessert known as Pudding Pops. Delish reports that, on average, 3,600 people search for "jello pudding pops" on Google each month, only to be disappointed when they find out they were discontinued.
As early as 1967, Jell-O shared a recipe for frozen fudge pops in their adverts. The brand started producing Pudding Pops in the 1970s, but they became freezer staples in the 1980s. That was, in large part, due to one charismatic spokesperson and household name, Bill Cosby. His commercials put the frozen desserts on the map.
Strong sales continued into the 1990s, but Pudding Pops were discontinued despite their popularity because they weren't profitable (per Culinary Lore).
According to Today, Jell-O worked again with the Popsicle brand in 2004. However, the reimagined version of Pudding Pops never achieved the same level of popularity as the original. Customers didn't like the taste, texture, and shape as much as those of its predecessor. Popsicle pulled them from stores in 2011.
These days, you can buy mold kits to DIY them yourself using this official recipe courtesy of Jell-O. However, it just isn't the same as grabbing a done-for-you Pudding Pop out of the box.
Flintstones Push-Up Pops
Yes, Push-Up Pops are still a thing, but you won't find Flintstones Push-Up Pops, and they were arguably the best kinds. The commercials were a hit, too. A rapping Fred Flintstone? Come on!
According to '80s Baby, the Flintstone Push-Ups were introduced in 1990 and stuck around until the late '90s. Nestle had been making them before this, but they took off once they were rebranded with the images of the modern Stone Age family. Of course, the original Flintstone Pops were delicious with flavors like Yabba-Dabba-Do Orange, Lime Rock Lime, and Bedrock Berry. But the Pebbles Push-Ups were dotted with Nerds candy pieces throughout for crunchy ice cream only a kid could love. The CoolCream Sherbet Treats were another favorite from the Flintstones line.
Nowadays, you'll have to settle for Nestle Push-Ups in Cherry Blast, Turbo Grape, and Outrageous Orange without the citizens of Bedrock on the tubes. Those will have to Yabba-Dabba-Do for ya.
Mickey's Parade Ice Pops
If fruity versions of Mickey Mouse, Minnie, Donald Duck, and Goofy graced your freezer as a kid, you're a child of the '90s. Known as the Mickey's Parade Ice Pops, they were made by the Good Humor ice cream company. In the Mickey's Parade lineup, other frozen treats included the Mickey Mouse Ice Cream Bars, Sprinkle Cones, and Paradise Pops. Together, they were billed in the commercial as "a parade you can eat."
The Ice Pops, though, are the best-tasting popsicles in the nostalgic minds of 90s babies. Mickey was cherry flavored, Donald Duck was grape, and oddly enough, both Minnie and Goofy were orange. Couldn't they have offered a fourth flavor — lemon or lime, perhaps?
According to Kenny The Pirate, Mickey's Parade Ice Pops were distributed as early as the 1980s (some say the '90s) and were discontinued in the early 2000s, though it's disputed across the Internet. Were these popsicles as good as we remember, or was it just strangely satisfying to take a bite out of our favorite cartoon characters? Nostalgic fans of the pops have a Facebook group dedicated to bringing back these frozen treats. Let's see if they can make it happen!
Popsicle Micro Pops
Popsicle Micro Pops were one of the wackiest '90s frozen treats. They were Dippin' Dots meets Push-Ups but without the cream. Strawberry, lemon, and blue raspberry flavored frozen dots were pushed up out of a tube directly into your mouth. That being said, the red, white, and blue theme was perfect for summertime. Happy 4th of July, kids! Shove these dot-filled tubes into your mouth.
Practically speaking, eating them was kind of messy. Dots aren't really lickable — that's why the pros at Dippin' Dots serve them with a spoon. These dots, however, were stuck together in one big glob, making them unappealing to some. Perhaps that's one of the reasons they fell to the wayside.
While we don't know for sure when they disappeared from retailers' freezers, we can safely assume they didn't make it far into the 2000s, if they made it out of the '90s at all. They appeared in the popular 1990's Popsicle Zone commercials, and many of those novelty popsicles have since melted away into only our memories.
Popsicle Sprinklers Ice Cream Bars
Vanilla ice cream dipped in chocolate and coated with more sprinkles than you can count, Popsicle Sprinklers Ice Cream Bars were a colorful and crunchy part of many childhood memories. The strange Sprinklers commercial began airing as we entered the '90s, according to this Retrojunk upload with an air date of 1990 listed.
The exact date the crunchy Popsicles were discontinued cannot be confirmed, but based on the disappearance of other Popsicle Zone creations, we'd estimate that these were discontinued in the early 2000s. A thread on the brand's Facebook page asking them to bring back the Sprinklers started in January 2017 and has continued for years.
Don't get your hopes up, though. Brand responses have ranged from passing the customer requests on to brand innovation to outright saying, "The truth is that some flavors are just more popular than others and we can't keep them all." They've also stated in the past that they have no plans to bring Sprinklers back. However, if you feel passionate about Sprinklers making a comeback, there's a petition on Change.org hoping to do just that.
Ben & Jerry's Oatmeal Cookie Chunk Ice Cream
Ben & Jerry's are known for sending beloved ice cream flavors to the Flavor Graveyard. Sometimes it's for a good reason, like when part of their supply chain for the flavor stops making an essential ingredient. Other times, it's because they made a funky flavor that just didn't jive with the public. Called the dearly de-pinted, the flavors still live on in our hearts and in the very real graveyard the company erected to honor its discontinued flavors behind their Vermont factory.
According to Ben & Jerry's, one of the most mourned flavors in the Flavor Graveyard is Oatmeal Cookie Chunk. Made from 2004 to 2012, the sweet cinnamon ice cream loaded with fudge and oatmeal cookie chunks was a fan favorite. The flavor was retired not due to lack of popularity but because the oatmeal cookie supplier stopped making cookies. The ice cream makers couldn't find another supplier to meet their exacting standards to keep it going, choosing instead to let the flavor rest in peace.
But let this news gladden your hearts, oatmeal cookie fans. According to Brit + Co, they've been making Oat of This Swirled since 2017. While it's not the same, the brown sugar ice cream and oatmeal cookie cinnamon swirl does satisfy the craving for that oatmeal-cinnamon flavor combo.
Mounds Ice Cream Bars
Modeled after the coconut-filled chocolate candy bars, Good Humor began selling Mounds Ice Cream Bars around 2012. Dark chocolate on the outside with coconut light ice cream and coconut flakes on the inside captured the essence of the candy bar in a convenient frozen form made for summer. With six ice cream bars per box, you had almost enough to get you through the week if you had more self-restraint than we do.
While we don't have a definitive date on when the Mounds Ice Cream Bars were discontinued, Facebook posts about not being able to find them in stores date back to at least September of 2015.
Although you can no longer find them in stores, we think this fan of the bars has an excellent idea for a DIY version on the cheap: vanilla ice cream, shredded coconut, and Magic Shell. If you try this idea, we recommend blending the shredded coconut and vanilla ice cream, refreezing it, so it's easy to slice, and then dipping it in some hard shell. *Chef's kiss*
Trader Joe's Salted Caramel Gelato
When Trader Joe's first released their Salted Caramel Gelato in 2014, it quickly became a fan favorite. Customers loved the tasty gelato for its sweet flavor and creamy texture that was perfectly scoopable right out of the canister. You could dip cookies in it, mix in nuts or chocolate chunks, or have a big scoop with a brownie or cup of coffee. There was no wrong way to enjoy the cool, creamy caramel flavor.
It seemed to be holding strong since it remained in stores for several years. That's why the news that the dessert would soon be discontinued shocked customers when the now-defunct Trader Joe's Food Reviews announced it in June 2020.
Soon after, Reddit threads surfaced lamenting the disappearance of users' favorite frozen treat. Some fans of the flavor have suggested that Talenti's Sea Salt Caramel Gelato is comparable, but nothing tastes as sweet as the one dessert you can never have again.
McDonald's Stroopwafel McFlurry
Stroopwafels are a favorite Dutch dessert, and in 2019, McDonald's brought them to their Worldwide Favorites menu. Made with vanilla soft-serve ice cream, caramel waffle cookies (called stroopwafels), and caramel sauce, this frozen dessert should have been with us for years to come. Unfortunately, it was a limited-release menu item only available for that summer.
If you missed out, you might be wondering, "What the heck is a stroopwafel?" They're caramel-filled waffle cookies that are as tasty with a cup of hot coffee as they are in ice cream.
We would love it if this limited release menu item made a comeback. But you don't have to seek out the Golden Arches to enjoy one. You can make a homemade Stroopwafel frozen treat with vanilla ice cream, Stroopwafel cookies, and caramel sauce. McDonald's used Daelmans Stroopwafels in their famous McFlurries, and they're available at many grocery stores, Target, and Walmart.