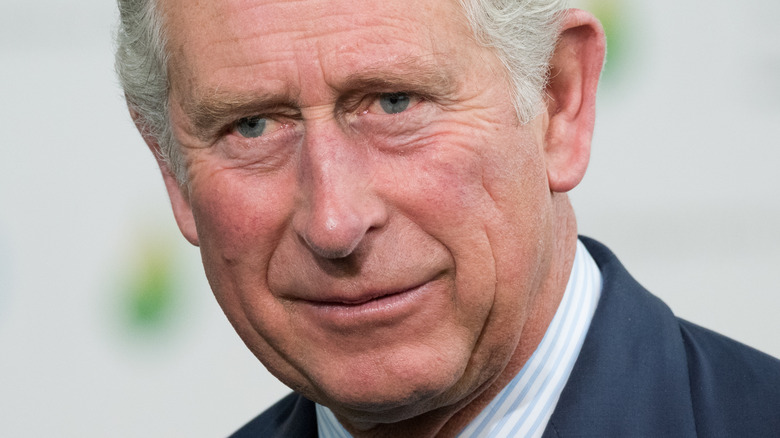 Every family has a couple of black sheep. Unfortunately, if you're the royal family, there's no hiding them. As a prince or princess, you're expected to behave a certain way and uphold the values of the crown at all times. Well, no one is perfect, even royalty, and that's a lesson Queen Elizabeth has had to learn over and over again throughout her reign.
In total, Queen Elizabeth has four children, Prince Charles, Princess Anne, Prince Andrew, and Prince Edward. She also has eight grandchildren and 12 great-grandchildren. Take those numbers and add in an unflinching public eye, and you've got plenty of room for tabloid-worthy screwups.
There's not enough time in the world to break down every scandal caused by every royal family member, so we've shortened the list to those who are closest (and messiest) to the queen. Below, we break down all the drama, from the upsetting extramarital affairs to the downright criminal deeds.
Prince Harry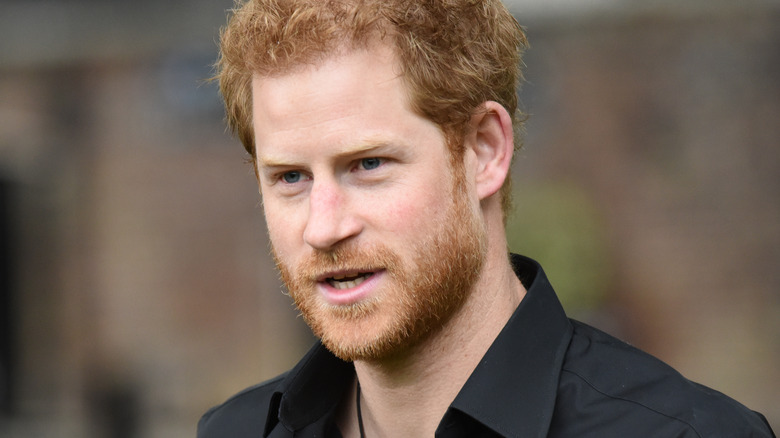 Prince Harry has been a thorn in Queen Elizabeth's side from the very beginning. In his teen years, Harry was known as a very hard partier. You might remember when he made headlines for dressing up as a Nazi for Halloween or getting into fights, or getting caught partying in Las Vegas, with nude photos as a result.
It wasn't until years later that Harry finally opened up about his past, which was less about partying and more about coping, it turns out. "I would probably drink a week's worth in one day on a Friday or a Saturday night," Harry told Oprah Winfrey during an interview for their mental health-focused docuseries "The Me You Can't See" (via CNN). He continued, "And I would find myself drinking not because I was enjoying it but because I was trying to mask something." Harry explained that he was gravely affected by the trauma of losing his mother (via USA Today). The Duke of Sussex shared, "I was willing to drink, I was willing to take drugs. I was willing to try and do the things that made me feel less like I was feeling." Meghan Markle persuaded her husband to attend therapy and confront those issues, he recalled.
Ironically, even though it was supposedly Meghan who helped Harry finally confront his demons, it was also his relationship with her that furthered his reputation as a problem child, when they abruptly announced in 2020 that they were leaving their senior royal positions.
If you or anyone you know is struggling with addiction issues, help is available. Visit the Substance Abuse and Mental Health Services Administration website or contact SAMHSA's National Helpline at 1-800-662-HELP (4357).
Prince William
As the heir apparent, all eyes are always on Prince William. Since his brother, Prince Harry, left his working role in the royal family, much of the focus has been on what part Wiliam might have played in hastening Harry's departure. The trouble allegedly started when Harry was dating Meghan Markle. William reportedly urged his brother against moving too fast with Meghan (whom he called "this girl"), and that made Harry very angry, as "Finding Freedom" authors Omid Scobie and Carolyn Durand reported in their book excerpt for The Sunday Times (via The Hollywood Reporter).
While bad and racist press surely pushed the Sussexes to leave the firm, there are long-standing rumors that William's treatment of Harry was the final nail in the coffin. "The Duchess of Cambridge's coolness toward Meghan, and William's alleged bullying contributed to a devastating 'Cain and Abel' fallout between the brothers," royal expert Andrew Morton claimed in his book, "Meghan: A Hollywood Princess" (via the Daily Mail).
William and Harry have denied any allegations of bullying, but the rumors have stayed strong. Case in point: after Prince Philip's 2021 funeral, a source said that once the brothers stepped inside palace doors and out of the public eye, "There they were, at each other's throats as fiercely as ever" (according to the Daily Mail). As if you needed more proof of William's icy attitude, look no further than Harry and Meghan's 2022 return to Windsor Palace. Where were Will and Kate that week? Conveniently skiing in the Alps, of course, very far away from their in-laws (per Us Weekly).
Prince Andrew
Then there was Prince Andrew. When it comes to problematic royal children, Andrew takes the cake. You may know him from his legal troubles resulting from his relationship with Jeffrey Epstein. In 2019, Virginia Giuffre claimed on BBC "Panorama" that Andrew sexually assaulted her on multiple occasions when she was a teenager being trafficked by Epstein. Andrew has adamantly denied the allegations and gave a strange interview on BBC "Newsnight" in which he claimed he couldn't have been with Giuffre on one of the nights in question because he was miles away at a U.K. pizza chain, Pizza Express.
Andrew's reputation was irrevocably ruined. Queen Elizabeth, reportedly at the urging of Prince William and Charles, ultimately made the difficult decision to publicly distance herself from Andrew. Per the official royal family website, the queen rescinded Andrew's royal patronages, military affiliations, public duties, and charitable initiatives. He is no longer allowed to be referred to as "his royal highness."
After years of back and forth, Andrew reached a private settlement with Giuffre out of court, per BBC. Since losing his title in 2019, Andrew has tried to lay low, but has made the occasional appearance at family events such as his father's funeral. Otherwise, you can find him sitting at his £30 million countryside estate with his ex-wife, Sarah Ferguson, per Hello!.
If you or anyone you know has been a victim of sexual assault, help is available. Visit the Rape, Abuse & Incest National Network website or contact RAINN's National Helpline at 1-800-656-HOPE (4673).
Prince Charles
If you know anything about the royals, you know how messy Prince Charles can be. As Queen Elizabeth's eldest child, he's been in the spotlight since birth. That means his personal life has always been a topic of public debate. The public first soured toward Charles in the '80s when he married Princess Diana (at his parents' urging) and proceeded to cheat on her for years with his now-wife Camilla Parker Bowles.
Neither the public nor the queen, it seems, were eager to move on from Charles' scandalous affair with Camilla. Some have hoped that Elizabeth might skip Charles and pass the throne on to her grandson William instead. That is more than likely not going to happen, but to this day, there's no love lost between the queen and her son. She's become increasingly frustrated with Charles' handling (as she sees it, mishandling) of Harry's royal departure, a source told Us Weekly.
Charles was reportedly a big factor in Harry's decision to leave royal life. In his 2021 CBS interview, Harry detailed how angry he was at his father for not defending Meghan at the hands of the British press. "I feel really let down because he's been through something similar. He knows what pain feels like. I will always love him, but there is a lot of hurt that's happened," Harry said, per Us Weekly. "I will continue to make it one of my priorities to try to heal that relationship," he continued, saying earlier in the conversation, "There is a lot to work through there."
Princess Anne
Unless you've been keeping up with "The Crown," you may not know much about Princess Anne. Just like her older brother, Prince Charles, Anne had a messy divorce and a series of scandalous affairs. In 1973, before all her brothers were married, she wed Mark Phillips, whom she met riding horses in Mexico — a passion they both shared. Their marriage was not a merry one, and both Anne and Mark allegedly engaged in extramarital affairs.
Anne is believed to have begun an affair with her bodyguard, a man named Peter Cross, in 1979. The two reportedly stopped seeing each other once their tryst came to light. Seemingly unbothered, Cross later sold News of the World his details for a whopping £600,000…classy. Anne was also rumored to have had an affair with Andrew Parker Bowles (Camilla Parker Bowles' first husband), per royals biographer Sally Bedell Smith (via Town & Country).
If you're feeling bad for Mark, don't — because he was reportedly even messier than Anne. The marriage was mercifully cut short in 1989 when news broke that Mark had fathered a child out of wedlock with a New Zealand school teacher. Anne saw her out and took it, and within years was engaged to Timothy Laurence, to whom she's still married. Per People, Anne and Timothy Laurence had exchanged romantic letters while she was still with Mark Phillips. Though Anne eventually found happiness, her divorce — along with those of her brothers Charles and Andrew — reportedly deeply disappointed the queen.
Zara Tindall
When it comes to Zara Tindall and her mother, Princess Anne, history seems to be repeating itself. Just like her mom, Zara found herself in a very messy and very public marriage that partly mirrored that of her parents.
Zara married Mike Tindall, a professional rugby player, in 2011, and within a few months, the union was already in trouble. Mike was caught on CCTV getting cozy with a blonde woman at a bar in New Zealand, per the Daily Mail. At first, Mike denied any wrongdoing, but he eventually confirmed he was the man in the videos. Zara was reportedly upset, both by Mike's dishonesty and what she saw as a betrayal by her friends. "He's surrounded by people who she probably knows and who she might have expected to step in and tell him to behave himself," a source explained to the Daily Mail. '"Instead, you can see that they act as if they know the woman and aren't at all surprised to see her and Tindall getting cozy with each other."
Though she was deeply embarrassed, Zara made the difficult decision to give the short marriage another shot. Today, things seem to have calmed down, but Mike is the first to admit that marriage to Zara isn't easy. "A marriage or long-term relationship can't always be roses and rainbows," he said during in 2021 for ITV's "Loose Men" special, per People. Mike added that he likes to hug it out and move on after a big fight but that Zara "stays angry" — can you really blame her?