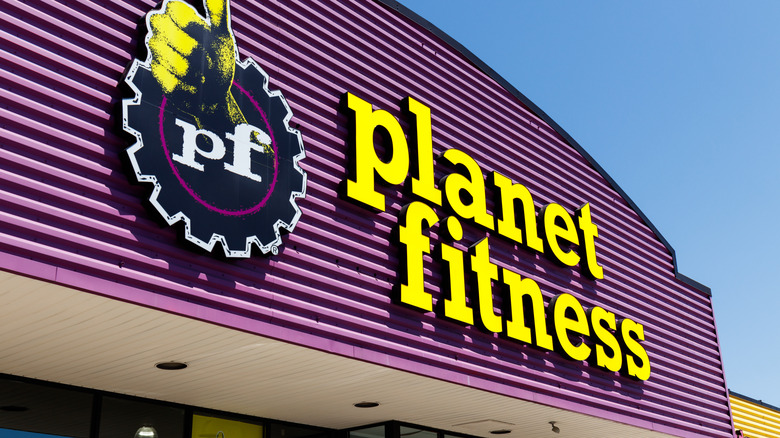 The very first Planet Fitness — a gym with locations around the world, most known for its high-quality equipment and "judgement-free" atmosphere — opened in 1992 in Dover, New Hampshire (via Planet Fitness). Over a decade later, the gym brand began its franchising program, with the first franchise location opening in 2003 in Florida. By 2017, Planet Fitness reached 10 million members across its more than 1,000 clubs.
Planet Fitness has become somewhat of an anomaly in the gym industry. It's aimed toward attracting people who usually wouldn't end up at the gym, such as those in the very beginning of their fitness journeys, or older folks (via Grandfolk). When you walk in, you're supposed to feel relaxed and comfortable, something fitness newbies may not feel when strolling into a traditional gym. With two membership tiers offered by each of its clubs, members can choose which option feels best for them. They start as low as $10, priced just right for casual gymgoers.
Let's dive into everything you want to know about Planet Fitness and what to expect from its unique take on health.
It strives for a welcoming atmosphere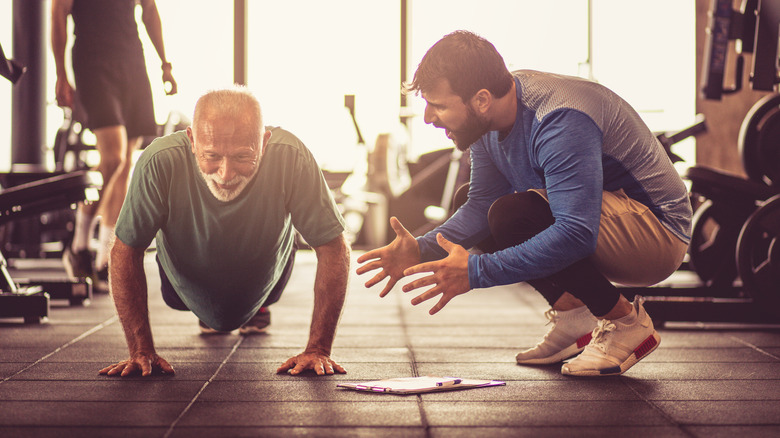 Planet Fitness's primary branding is its "Judgement Free Zone" slogan. The brand started using the phrase in 1997 to encourage people who may not feel comfortable in more traditional gym atmospheres to visit their nearest Planet Fitness and begin their journeys to better health. The idea was in stark contrast to other popular gyms that made fitness beginners feel left out (via Verywell Fit).
In late 2016, Planet Fitness took a step toward spreading its no-judging vibe outside of its gyms by building a mini Planet Fitness inside a Boys & Girls Club in New Hampshire. It added inspirational messages for patrons on the walls, including, of course, "Judgement Free Zone," to show its stance on bullying, confidence, and empowerment (via Planet Fitness).
If you noticed something odd about the slogan, you're not alone. In 2017, Planet Fitness addressed on Twitter why the unnecessary 'e' is included in the word "judgement." According to the brand, it was originally a typo, "but now it's the embodiment of our judgement free personality." When a Twitter user commented that the explanation didn't make much sense, Planet Fitness further explained, "We add the extra 'e' because everyone belongs at our Planet. Just another way we do things a little bit different than most gyms."
Still, some wonder how "judgement free" it really is
Not everyone is getting on board with believing that Planet Fitness is always free of judgment. You might have heard about the dreaded "lunk alarm" circling the internet over the past several years. According to Planet Fitness gymgoers, the lunk alarm sounds when someone grunts too loudly, judges another person, or drops weights. One Reddit commenter says, "I've had a Planet Fitness buy my local gym (twice). I've been lunk alarmed for VERY controlled deadlifts. The lunk alarm is real." A Twitter user also posted a picture of a large lunk alarm sign in their gym, along with stating, "Planet Fitness claims to be judgement free zone … yet they have this hanging up in their gym, judging a certain type of person. … Hypocrisy?"
In another Reddit thread, a user posted a photo of a Planet Fitness sign stating, "We do not cater to bodybuilders or heavy weightlifters. Please help us keep our non-intimidating environment by loading only four weight plates on each side." It's not necessarily a good look for the company that strives for no judging in any form.
To be fair, some people may have unrealistic expectations of what no judgment means, like the New Hampshire man who walked into his Planet Fitness, got naked, and worked out. According to WFTV9 ABC, he finally took his place on a yoga mat to begin his workout after walking around nude. Apparently, he thought that the gym accepted nudity as part of its welcoming philosophy.
It has more than 2,000 locations
According to the Planet Fitness 2021 third quarter financial report, the company has 2,193 owned and franchised locations. In 2017, the company finally fulfilled its goal of adding at least one Planet Fitness gym to each state with the opening of Hawaii's first location. According to a company press release, the Honolulu location opened within the Ala Moana Center. CEO Chris Rondeau said of the opening, "Entering our 50th state is a testament to the strength and broad appeal of our brand nationwide. 2017 was another milestone year for our business and we are well-positioned to capitalize on the many opportunities that lie ahead." As of 2022, Hawaii now hosts three additional Planet Fitness gyms in Waianae, Kailua-Kona, and Kahului (via Planet Fitness).
The gym company has spread beyond just the U.S., too, with locations in Mexico, Canada, the Dominican Republic, Panama, Australia, and Puerto Rico.
You can own a Planet Fitness gym
Not all Planet Fitness gyms are owned by the company. Many of them are franchise owned and operated, meaning that individual business owners or franchise companies can start one of their own. If you've ever dreamed of owning your own gym, you can make it happen with the help of an already-established brand.
The first franchise location opened in 2003, 11 years after the first Planet Fitness made its debut. Planet Fitness states that it "refined" its brand throughout that time before deciding to allow franchising. According to Franchise Direct, a franchisee can choose to open a completely new location or transform an already existing gym into a Planet Fitness space. However, the owner must agree to the Planet Fitness 24/7 operating model unless their locality will not allow all-day, every-day operation. Fair warning: The costs can be hefty. Franchise Direct estimates that most franchise owners will spend $20,000 for the franchise fee alone, plus another $43,000-$953,000 on fitness equipment to fill their gyms.
It takes cleanliness seriously
Planet Fitness locations were some of the many gyms forced to close down temporarily at the beginning of the COVID-19 pandemic. Once the company was able to start opening its gyms again, it took cleanliness to a whole new level, introducing the "Clean Thumb Club" as its commitment to health, safety, and sanitation.
According to Planet Fitness, the Clean Thumb Club ensures that each gym has excellent air quality, consistent cleanliness practices, and employees who are dedicated to keeping everything safe for gymgoers. The company enacted touchless check-ins and cleaning stations with paper towels and disinfectant spray. You can even check the Planet Fitness app before you head to your gym to see how crowded it is.
While Planet Fitness's precautions may seem extreme to some, it appears that they may have helped the company stay in business when the industry as a whole went through a tumultuous time during the pandemic. CEO Chris Rondeau told Yahoo Finance Live, "I am extremely happy to say we lost no gyms in the pandemic. The industry lost 22% of the gyms open, closed permanently. We lost none."
Planet Fitness memberships have value
When you sign up for a Planet Fitness membership, you'll get a lot more than just the opportunity to work out. Smart Asset even names Planet Fitness one of the "best gyms for your wallet" thanks to its membership options for just about any budget. Even with a basic membership, you get any-time access to your home club, free Wi-Fi while you work out, and free fitness training. Most clubs are open 24/7, so you can take advantage by working out in the morning, after work, or even after a late-night shift.
The higher-tier PF Black Card Membership offers even more for serious gymgoers. When you choose this membership, you'll get access to any Planet Fitness club, which is handy for frequent travelers. Members can also bring guests, get exclusive deals on drinks, and get a 20% discount on Reebok goodies (per Planet Fitness).
Other perks pop up frequently, too, like Planet Fitness's partnership with Shell, which gifts the gym's members 25 cents off per gallon of gas for their first fill-up and five cents off per gallon for any other fill-up after signing up for Shell's Fuel Rewards.
The company donated equipment to first responders
What's a gym to do when it has professional fitness equipment that it no longer needs? Hopefully, donate it, just like Planet Fitness did in 2021. The generous act happened after the company closed down its corporate clubs, leaving treadmills, circuit machines, stationary bikes, and other pieces of equipment with no home.
According to Seacoastonline, Planet Fitness donated some of the pieces to places that needed them, including fire and police departments, and other first responders in and around the company's home state of New Hampshire. Scott High School in Toledo, Ohio, was also a proud recipient of over $60,000 worth of equipment from Planet Fitness (via NBC 24 News).
That's not the only generous act Planet Fitness is known for. It also partners with the Boys & Girls Club of America, offering trainings to members and staff, volunteering at nationwide clubs, and donating money to the organization and its partners (per Boys & Girls Club of America). According to Planet Fitness, the company also prioritizes a philanthropic spirit from its team members, encouraging staff to volunteer their time to impactful organizations.
Planet Fitness gyms offer more than just equipment
If you sign up for Planet Fitness thinking you're just getting access to a squeaky-clean gym, you'd only be partially correct. The higher-tier gym membership, known as the PF Black Card Membership, offers a lot more than gym equipment: As a member, you'll also get free group training classes, which combine Planet Fitness's workout equipment with guidance from a trainer. The classes cater to people of all fitness levels, allowing you to learn how to use equipment properly and challenge your body to do more while enjoying a class with other fitness enthusiasts (per Planet Fitness).
Members can also enjoy the gym's massage chairs and HydroMassage machines. The latter offers a comfy lounge chair with heated water that loosens tight muscles, giving your body a way to cool down and relax after an intense workout (via HydroMassage).
And then there's Planet Fitness Pizza Monday, which began in 1999 at the Concord location as a way to thank its members for continuing to visit and work hard in the midst of a hot-water outage that latest a few days (via Planet Fitness). What started as a one-time deal became a tradition. Now, the first Monday night of each month, pizza makes its way into the gym, letting people with any Planet Fitness membership indulge a little. There's also Bagel Tuesday, which happens the second Tuesday of each month.
It completely understands the stress of tax season
Some people might head to the gym to release some of the stress of tax season. Planet Fitness takes its responsibility seriously amid tax season, giving members a way to de-stress even more than by just completing a workout.
Planet Fitness usually has an excellent offer up its sleeves when tax time rolls around each year. For example, in 2019, members of the public — not just gym members — had a full week in April during which they could get a free massage from a HydroMassage bed at their local club. HydroMassage president Paul Lunter stated in a press release, "Especially during stressful times, we all know how important it is to get a few moments of relaxation. Over the last 10 years, we've heard from so many that have been helped by HydroMassage, and Planet Fitness has been gracious to open their doors again this year nationwide."
In 2022, Planet Fitness reserved four days for members and nonmembers in April to destress during tax season with not just a free HydroMassage, but also a free workout. That means that anyone could visit a club and redeem a coupon to try the place out for themselves. "Exercise can help lift your mood, reduce the risk of anxiety and depression, and improve sleep — so put yourself first this tax season and experience all that the Judgement Free Zone has to offer," said chief marketing officer Jeremy Tucker in a press release.
You can bring a workout partner for free
As a PF Black Card member, you can bring a nonmember guest with you for free every time you visit your local club (per Planet Fitness). If you're a basic member, your guest will need to pay a day fee, which the club determines. Guests must be at least 18 years old and register themselves via an invite you can send on the Planet Fitness app.
If you've ever worked out with someone else, you might already know how helpful it can be in staying motivated and having fun. According to AARP research, working out with someone else can keep people exercising harder and longer, leading to better results for both parties. Plus, being around people who have like-minded fitness goals can also lead to more successful fitness and health overall.
Even better for your health: rounding up a group of friends or family who enjoy working out with you at Planet Fitness. Personal trainer Rob McGillivray tells Better by Today that "working out in a motivational pack or using it as a tool to enhance internal or external competitive performance is fast becoming the preferred form of exercise." Bring along a different guest each time to try it out, and you might soon have a solid workout group to motivate one another.
It's finding success despite the pandemic
According to Club Industry, 22% of gyms and health clubs have closed permanently as a result of the COVID-19 pandemic. At the height of the pandemic, many gyms had to shut down temporarily, ultimately losing revenue and struggling to catch back up.
However, Planet Fitness remained afloat. Not only was the company able to survive the pandemic thus far, it's actually been thriving in an industry that was hit hard. MarketBeat reports that Planet Fitness is on track to earn as much as $205 million in the first quarter of 2022, and may reach up to $931.80 million for the entire year. Compare that to the many other well-known gym brands that have filed for bankruptcy since the pandemic began, such as 24-Hour Fitness and Gold's Gym (per NBC News). Bloomberg also notes that Peloton Interactive, Inc. — one of today's biggest household names — is struggling as people return to the gym, with its shares dropping by 24% in January 2022.
However, according to Bloomberg, Planet Fitness continues to expand, and has plans to add another 100 workout centers to its name. The Motley Fool points out that the Planet Fitness franchise business model could be partially responsible for its success, allowing franchise owners to have more financial control over their businesses during a tumultuous economic period. Another perk for Planet Fitness? Its super-low membership rates, which were affordable even during a pandemic.
It's come under fire for its dress code
Planet Fitness's mantra targets no judgment and inclusivity. However, some patrons have pointed out that it hasn't quite lived up to its standards when it comes to its dress code that seems to judge more than include. According to the Planet Fitness FAQ, the company has some dress rules in place that make sense for a gym. For instance, people working out shouldn't wear open-toed shoes, jeans, or soiled clothing. This aligns with usual safety and cleanliness practices at most gyms.
The problem comes from a different rule: "We're all for people expressing themselves, but do ask that clothing that may be perceived as intimidating, revealing, or offensive not be worn in the club." Some gymgoers have alleged sexism based on this rule, and also noted that it hasn't protected them from unpleasant encounters. For example, one woman wrote about her experience at a Planet Fitness club for Refinery 29, stating that she had experienced harassment from male patrons, stating that "I've never felt more judged than within that gym's walls," despite its "Judgement-Free Zone" signage. The woman tried unsuccessfully to get Planet Fitness to rectify the situation, noting that she wasn't surprised. "After all, this is the same gym where, according to the dress code, 'women can't wear sport bras as their only top, and their tank tops should not be overly revealing.' There's no language about restrictions on men." However, in a later edit to the piece, a company representative stated that only "jeans, boots, sandals, or string tank tops" aren't allowed.
Planet Fitness has a diverse portfolio of sponsorships
Planet Fitness seems to know how to get its name out there. The company has partnered with some big names in entertainment and massive events as a sponsor. One of its most notable sponsorships has been as the presenting sponsor for the Times Square's New Year's Eve celebration in New York City for seven years in a row. In a press release about the 2021 celebration, CEO Chris Rondeau stated, "It's imperative to remember that fitness is essential to everyone's lives and for strengthening us both mentally and physically. Exercise can boost your mood, improve sleep, and even reduce the risk of anxiety and depression — work out and feel good at Planet Fitness in the New Year."
Another success story for the gym brand is its sponsorship with hit TV show "The Biggest Loser," which made its comeback debut in early 2020 with Planet Fitness as its national gym sponsor. Contestants got to complete their workouts in gyms fully equipped with Planet Fitness gear (via Planet Fitness).
And then there's the company's partnership with Boys & Girls Clubs of America. In addition to donating equipment for mini gyms housed within some clubs, Planet Fitness has sponsored the organization's kids golf tournaments and youth scholarships.
Employees enjoy free membership and other perks
Planet Fitness members aren't the only people who get to enjoy all the perks that the company has to offer: Apparently, Planet Fitness also makes sure its employees get to revel in some benefits, too. At the time of this writing, one job posting for a Planet Fitness Team Member states that employees get paid a starting wage of $14.49, which is almost double the federal minimum wage. Additionally, they get paid time off, flexible scheduling, and opportunities for recognition, sales bonuses, and advancement within the company. Perhaps the icing on the cake is a 100% free PF Black Card membership, which gives them access to HydroMassage beds, fitness classes, and all the other benefits of membership.
Planet Fitness team members also take to PayScale to report their benefits and leave reviews. Some team members report getting a 401(k) retirement plan, paid holidays or vacation time, life or disability insurance, and the ability to dress casually. Reviewers who enjoy their jobs with the company list pros like a "relaxing environment," rewarding career, and a supportive team as the reasons they stick with it.