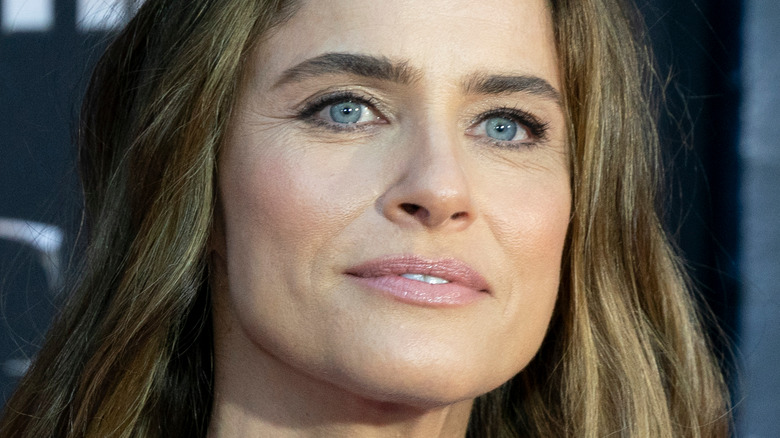 In April 2022, a query on Twitter went viral which read, "If you know who this is, like this tweet. We're settling a debate about whether or not she is 'super famous.'" It was accompanied by four pictures of an actor who — 20 years ago — would have been pretty much recognizable straight away.
Indeed, Amanda Peet was barely off our screens in the '00s, starring alongside A-listers like Bruce Willis ("The Whole Nine Yards"), Ben Affleck ("Changing Lanes"), and Ashton Kutcher ("A Lot Like Love"); working with Woody Allen ("Melinda and Melinda"), Roland Emmerich ("2012"), and Nancy Meyers ("Something's Gotta Give"); and enjoying recurring roles in dramedies like "Jack and Jill" and "Studio 60 on the Sunset Strip."
But Peet's last film credit was in the 2015 rom-com "Sleeping with Other People," which perhaps explains why some younger cinema-goers responded to the aforementioned tweet with a shrug of the shoulders. That said, the star has continued to work both in front of and behind the camera during the past decade — here's a primer of exactly what she's been up to.
Amanda Peet created a Netflix miniseries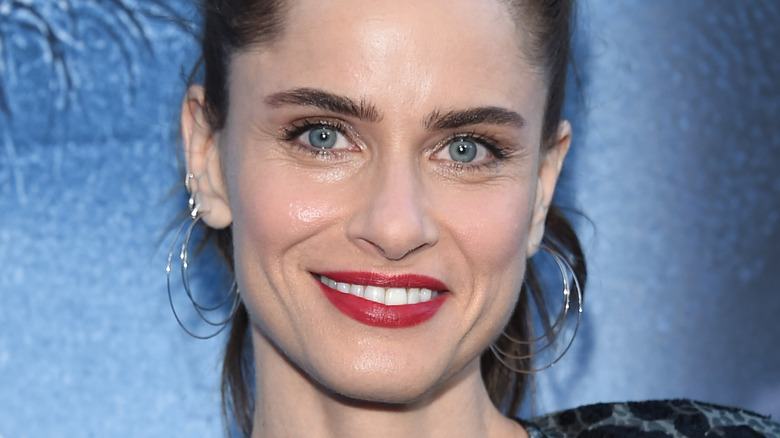 In 2021, Netflix dropped "The Chair," a miniseries based on a fictional university's newly appointed English department chair. The show scored an impressive 86% on Rotten Tomatoes, with USA Today describing it as "a darkly funny satire, skewering aspects of modern higher education with veritable glee." And unusually for a show on the all-conquering streaming platform, it didn't outstay its welcome. The whole story was wrapped up in just six episodes!
While the likes of Sandra Oh and Jay Duplass took center stage, another actor was able to take credit for the whole concept. Yes, Amanda Peet served as writer, producer, and co-creator of the dramedy, working alongside Annie Julia Wyman, a Cambridge and Harvard academic, to ensure all the educational talk was as authentic as possible.
When asked by The Guardian what the inspiration for the show was, Peet replied, "I loved this idea of having young idealists, then people whose idealism had softened, then older folks who once thought of themselves as progressive but are now just seen as part of the system, part of the white patriarchy. I thought that could be rich territory for a workplace comedy."
She wrote several plays
"The Chair" might have been Amanda Peet's first effort as a TV showrunner, but she'd already had plenty of experience writing for the stage. In 2013, she penned "The Commons of Pensacola," an off-Broadway play starring Sarah Jessica Parker and Blythe Danner.
Five years later, Peet once again proved she was a multi-talent by writing the Geffen Playhouse production, "Our Very Own Carlin McCullough," the story of a prodigious tennis player who gets stuck in the middle of her warring mother and coach. Peet was inspired by both the relationship she had with a camp counselor as a teenager and the court skills of her nephew and niece.
Peet told Backstage that working behind the scenes had given her a new outlook on her day job: "Maybe I'm a little less precious. I've been lucky enough to find a job elsewhere, so if I suck at something as an actor, I can always try writing, and having that safety valve is great. On the other hand, I've chosen something that's equally cutthroat!" But it's fair to say that she didn't enjoy the playwriting experience her second time around: "This one was much harder. It's taken me twice the amount of time. I don't know all the reasons why, but I think it just sucked for a really long time."
She appeared on Who Wants To Be A Millionaire?
In 2020, Amanda Peet put her reputation as one of Hollywood's most intelligent actors on the line when she braved the hot seat on "Who Wants To Be A Millionaire?" Luckily, the "Trust Me" star acquitted herself well.
Peet, who was later joined on the show by her "surrogate husband" DB Vise, made it all the way to $32,000 before needing her first lifeline. She then successfully used both Phone a Friend and Ask the Guest before coming unstuck on the $250,000 question. Even with the help of 50/50, the actor decided against taking a punt on answering, "In 'The Lego Movie 2: The Second Part,' Emmet teams up with Rex Dangervest, the tough-guy captain of what time-traveling spaceship?"
The "Dirty John" star admitted that, although her son had seen the film, she had no idea who Emmet was, and so walked away with a cool $125,000 for her chosen charity, Big Sunday, a Los Angeles organization that provides support for numerous local charities. And if you're wondering what the answer was, it's The Rexelcesior!
Amanda Peet gave the performance of her career
Amanda Peet might not have appeared on the big screen since "Sleeping with Other People," but she's been much more visible on the small one. She took main roles in "Brockmire" and "Togetherness," had a recurring stint on "The Good Wife," and guested on "The Romanoffs." While those parts were memorable in their own right, her most impressive latter-day performance has undoubtedly been in the second season of "Dirty John."
Peet played Betty Broderick in the true crime adaptation, the real-life woman sentenced to at least 32 years in prison after killing both her ex-husband Daniel and his wife Linda in 1989. In a chat with Forbes, the New Yorker said she believed she was stepping into the shoes of a clear sociopath: "She murdered the father of her children so you have to have those tendencies in order to do that. What scared me was that she had no remorse for the murders, or at least claims not to have any. That definitely scared me."
However, Peet was also glad that the show didn't present Broderick as a one-dimensional villain: "[Showrunner Alexandra Cunningham] wanted to explore the ways in which Betty was not crazy, to actually bring to the foreground the ways in which she actually stayed sane for a while in the face of horrendous adversity and humiliation."
She's now a mother of three
Amanda Peet first became a mother when she was more of a regular big screen presence, giving birth to daughter Frances Pen in 2007, the same year she voiced Maria in "Battle Terra," played Harlee in "Martian Child," and wrapped up the first and final season of "Studio 60 on the Sunset Strip."
Her second child, Molly June, followed three years later, but it wasn't until 2014 — and the arrival of her son Henry — that her family unit was completed. The father of Peet's three kids is David Benioff, the director, writer, and producer best-known for his work on the TV adaptation of George R.R. Martin's "Game of Thrones."
Peet and Benioff first began dating in 2002 before tying the knot four years later at the Quaker Friends Seminary School that Peet used to attend. The pair have largely avoiding mixing business with pleasure, but Benioff did contribute as a writer and executive producer on his wife's Netflix miniseries, "The Chair."
Amanda Peet wrote a children's book
Channing Tatum, Hilary Duff, and Kelly Clarkson are just a few of the celebrities who have made the unlikely pivot into children's books over the years. And Amanda Peet added her name to that list in 2015 with a festive story titled, "Dear Santa, Love Rachel Rosenstein."
Co-penned with one of Peet's best friends, Andrea Troyer, the picture book sees the titular Jewish character embark on a mission to bring Father Christmas to her home without her parents' knowledge. But after trying to track down the man whose belly shakes like a bowlful of jelly at the mall and writing to him at the North Pole without much luck, the youngster begins to recognize how special her own traditions are.
Peet was inspired by her kids Molly and Frankie, and their queries about the lack of Christmas trees, cookies, and lights in their own household, as she explained in a Doubleday Books statement [via Bustle]: "The book came out of a desire to capture the feeling of being left out during the Christmas holidays and to explain how you can't always get what you want — and how sorting that out, for Jews and Gentiles alike, is part of what the holiday spirit is all about." Further embracing the season of goodwill, Peet donated a percentage of the book's profits to the nonprofit Seeds of Peace.
She had to drop out of The Gilded Age
Amanda Peet looked all set to take a rare detour into period drama when she was cast as Bertha Russell, a late 19th century middle-class citizen who tries to ingratiate herself into the social elite via her business genius husband in "The Gilded Age."
But like many shows during the early stages of the pandemic, the filming of the HBO series hit scheduling problems. And as a result, a busy Peet had no option but to drop out of the latest creation from "Downton Abbey" scribe Julian Fellowes. It's why you now see Carrie Coon wearing the finest vintage French couture as Russell instead.
This wasn't the first time Peet had missed out on a previously guaranteed screen appearance. In 2012, she joined Rachel Weisz, Michael Sheen, and Barry Pepper on the list of actors whose performances in Terrence Malick's "To the Wonder" were entirely cut from the final edit.
The actor won't go under the knife
Unlike many of her peers who are more than happy to go under the knife to continue grabbing those magazine front covers, Amanda Peet has no desire to dramatically alter her face. In a revealing letter she penned for Lenny, the actor claimed she will never use plastic surgery or Botox as a way to stay youthful.
However, Peet is not entirely averse to using less extreme methods to knock a few years off: "I've bleached my teeth, dyed my hair, peeled and lasered my face, and tried a slew of age-defying creams. More than once, I've asked the director of photography on a show to soften my laugh lines. Nothing about this suggests I'm aging gracefully."
In fact, the only reason Peet won't resort to more radical procedures is the fear that her vanity will be exposed to the general public: "I'm afraid one visit to a cosmetic dermatologist would be my gateway drug. I'd go in for a tiny, circumscribed lift and come out looking like a blowfish. Or someone whose face is permanently pressed up against a glass window. Or like I'm standing in the jet stream of a 747. What's the point of doing it if everyone can tell? I want the thing that makes me look younger, not the thing that makes me look like I did the thing."
Amanda Peet botched her Martin Scorsese audition
From Terrence Malick ("To the Wonder") to Nicole Holofcener ("Please Give"), Amanda Peet worked with several celebrated auteurs during the early 2010s part of her career (even if her scene in the former was cut). And she could have added one of the most esteemed of them all to her resume if she hadn't let the occasion get the better of her.
Yes, Peet once auditioned for the irrepressible Martin Scorsese for his 2011 biopic of FBI director J. Edgar Hoover, the imaginatively titled "J. Edgar." But the actor admitted in a 2018 interview with Backstage that she wasn't exactly her most focused during her audition.
Peet said, "I read for 'J. Edgar' with Leonardo DiCaprio for [Martin] Scorsese in a hotel room, and basically the entire time I was just like, 'Oh my god, I'm reading with Leonardo DiCaprio for Scorsese; oh my god, I'm reading with Leonardo DiCaprio for Scorsese.' So that's how that went." Needless to say, her nerves seemingly got the better of her.
She isn't interested in the red carpet thing
Amanda Peet will still gladly attend the odd premiere. See the night she joined her showrunner husband David Benioff for a screening of "Game of Thrones," for example. Or the time she posed for photos at the Westwood Village Theatre to help promote the Amy Schumer comedy, "I Feel Pretty." But in general, it seems as though the actor considers the glitz and glamor of such events as passé.
In 2020, Peet and her BFF, "American Horror Story" regular Sarah Paulson, were asked by InStyle whether they missed stepping out of a limousine and posing for a cavalcade of photographers. While the latter admitted she does enjoy the process of playing dress-up for the occasion, the former was less enthusiastic: "The red carpet can still be intimidating, but it's just not as important to us as it used to be."
Even when Peet does make the effort, she's not always credited for doing so. The "Gulliver's Travels" star explained, "About a year ago I got out of the car in full hair and makeup, and as I took my fancy red-carpet stance, people yelled, 'Lake Bell! Lake, over here!' Part of me was really excited because she's so hot. But then I was like, 'Wow, I feel bad for her that this is happening to me.'"
The actor has stage fright
Amanda Peet has written several acclaimed plays, including "The Commons of Pensacola" and "Our Very Own Carlin McCullough." But if you're wondering why she's never treaded the boards herself in such productions, then there's one likely explanation: The Hollywood star with no fewer than 60 film and TV credits to her name suffers from severe stage fright.
In an interview with Cinema Blend, Peet revealed that both she and her best friend Sarah Paulson have the same affliction: "Whenever one of us does a play, for the first, all through previews and then probably for about two weeks after opening night, we just call each other and we're like, 'Why the f*** did you let me do this? Why? I'm serious!' It's just not fun at all. It's torture, just torture."
Peet has tried several different ways to combat her fears in the past. Unfortunately, as she explained to WENN, one particular tactic while performing in "This Is How It Goes" backfired: "I go to the soda can dispenser thing and I get a Coca-Cola because I have terrible nausea. The only problem was that as I started drinking my Coca-Cola to help my stomach I started to have problems burping onstage. I got a note from my director, (saying), 'What's going on in the first scene?' So now our dressers take the Coca-Cola away from me after a few sips."
Amanda Peet is choosier with her roles
Amanda Peet's early film career is littered with films whose Rotten Tomatoes rating has only just made it into double figures. See "Body Shots," "Whipped," and "Simply Irresistible" for just three examples. But now that she's decided to take much more creative control over her career, the actor can afford to be a little choosier with her roles.
In an interview with The AV Club, Peet explained how she now decides she wants to take on a project: "When you're not panicking, and when you're really thinking of, hey, when my alarm goes off at 5:20 in the morning, 'Are these the words that I want to be saying? And is this the story that I want to be telling? And is this the set that I want to be on?' And it eliminates a lot of things."
Speaking to the Los Angeles Times in 2020, Peet admitted to some regrets about her resume. Referring to her writing ability, the "Togetherness" star said, "I also feel like I wouldn't have done some of the lousy stuff that I did because I would have realized that there were other resources at my disposal. I didn't have to play that wife role or that role in the unnameable movie that I won't name. I could have been writing instead of doing that. I think there was a period of time in my 20s where I was definitely chasing the hype instead of doing my work."
She now prefers TV
Although Amanda Peet's film career appears to have stalled, she still remains a regular face on the small screen. In an interview with Refinery 29 to promote one of the shows she's had a recurring stint in, "Togetherness," the New Yorker claimed that television is now where it's at.
Peet said, "I feel like I'm getting better writing than a lot of movie stars. I think part of it is being on TV — it's less star-driven. HBO hired Mark and Jay [Duplass] to deliver their vision. They don't need to stuff the show with a bunch of stars in order to do that: They want Mark and Jay. HBO is amazing that way."
But Peet also knows all about the downfalls of being beamed into people's homes on a regular basis. The star, of course, is married to "Game of Thrones" co-creator David Benioff, and during an appearance on "Watch What Happens Live with Andy Cohen," she felt compelled to defend the backlash against the fantasy phenomenon's finale: "I had read it, and I loved it when I read it, and I continue to stand by it. I just feel like maybe some people couldn't — didn't want to say goodbye, I don't know. Look, maybe I'm just too close to it. But I didn't understand the blowback. For God's sake, people, it's a television show!"
Amanda Peet feels she's being pushed out by younger stars
As well as revealing her aversion to plastic surgery in the candid letter she penned for Lenny, Amanda Peet also admitted to feeling like she's fallen several rungs down the Hollywood ladder as she's gotten older. And there's one particular star who the actor believes she's been pushed down by.
Yes, after disclosing that she recently lost out on a role because she wasn't current enough, Peet mentioned Academy Award winner Alicia Vikander as someone who blatantly is. The New Yorker explained, "You might think, 'Wait, she's 27 and a gorgeous movie star, and you're 44 and a low-tier, TV-mom-type; you're not in the same ballpark.' But she is squeezing me out. She's in the hot center and I'm on the remote perimeter."
Peet then used another analogy to describe the gulf between herself and the "Tomb Raider" star: "The train has left the station and I'm one of those moronic stragglers running alongside with her purse caught in the door. Everyone's looking at me like, 'Let go, you bullheaded old hag! There's no room for you.'"