It may seem like buying curtains is no big deal. But your home's windows are your view of the world. Why not frame your view beautifully with the perfect window treatments? Curtains have been the go-to choice for dressing windows for centuries, and for good reason. As LinkedIn states, curtains are an important design element. There are tons of options, and they can be bought or made to fit nearly any style or taste. They can be dressed up for a formal dining room or can create a casual vibe in a busy playroom.
As far as function goes, curtains earn bonus points. They can not only elevate the look of the room, but they can provide privacy and block out unwanted light. Curtains can even prevent cold drafts, save heating costs, and reduce noise pollution. So how do you know what to look for when shopping for new curtains? Even with the many benefits, a curtain purchase can go terribly wrong without the right knowledge. You know curtains are a great choice for your windows, but finding the right ones is key. So, check out the mistakes to avoid before embarking on your curtain shopping adventure.
Not measuring for your new curtains correctly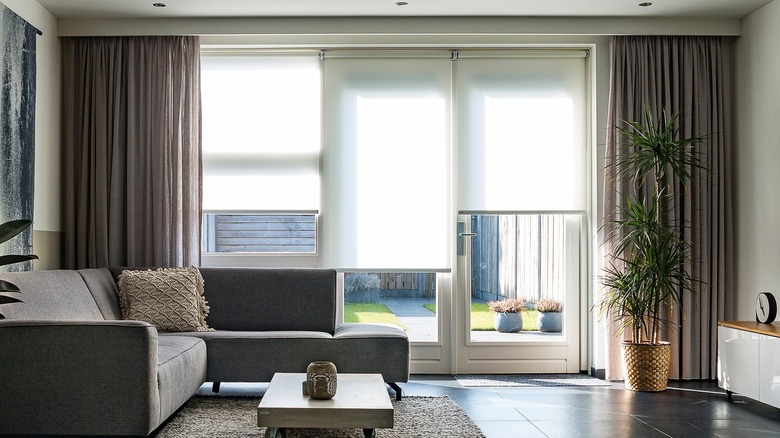 When it comes to curtains, the old adage rings true. It's smart to measure for curtains twice, so you only have to buy them once. Mistakes in measuring can leave you with too-small curtains that simply won't work. You might also end up with too big curtains, giving yourself the tedious chore of hemming them or restarting your search. Grab your tape measure and something to jot down your measurements. Keep in mind that curtains are typically labeled with the width as the first number and the length as the second. Wayfair advises measuring and recording your numbers in the same order can avoid confusing the two.
Measure the width of the window from edge to edge. Use the outermost edge of the frame or window trim as boundaries. This is the base width that your curtains need to cover. This is where personal preference comes in. If you are looking for a fuller look, multiply this width by about three times. For a more minimal, streamlined feel, you can simply double it. Whichever you choose, divide the final number in half and start your search for individual panels in that width.
Choosing the wrong curtain length for your space
Another style-breaking mistake is choosing the wrong length of curtains for your space. Too long styles can leave your curtains looking sloppy. If they are too short, you can end up with unpolished gaps. Carefully measure, and don't be tempted to save some cash by chancing it on too-short curtains. When deciding on a curtain length, it's key to measure from where you will be hanging your rod, not just the window's height. Portland Window Coverings suggests that you measure from there to a ¼ to ½ inch above the floor. For spaces with surfaces below windows like kitchen counters, measure for curtains that simply cover the window frame.
Don't miss this opportunity to draw the eyes upward in your space. Hanging your curtain rods two or three inches below the ceiling maximizes the height of your room. So, measure from there to about just above the floor to find your ideal curtain length. The pooling of curtains can be an elegant look. Keep in mind that this works best with lightweight, airy fabric choices. It should also be reserved for out-of-the-way spaces to avoid tripping hazards and drapery fabric being ruined by foot traffic.
Selecting high-maintenance curtain materials
Your curtains shouldn't bog down your to-do list. Look for materials with care and maintenance needs that work for you. Maybe you're willing to shell out the cash for routine dry cleaning. Or maybe you prefer simple wash and rehang options. Either way, shop for curtains you are prepared to take proper care of. Classic go-to fabrics like polyester and cotton can make ideal easy-to-clean curtains. Many of these curtains are machine washable and even dryable. Just make sure you check the fabric care and laundering instructions carefully. The Cleaning Institute has a helpful guide for deciphering fabric labels. This makes it simple and low-cost to keep your new window treatments in great condition.
Maybe you're in love with the delicate, sheer look of lace or voile. Just check the care instructions or you may end up with more work than you bargained for. Some of these delicate options are actually machine washable. However many are also dry clean only, a task and cost you'll want to be ready for. Velvet and silk curtains certainly make a luxurious statement. But prepare your pocketbook for these high-maintenance fabrics. You'll need to enlist a great dry cleaner to ensure that your new curtains are kept in stunning condition.
Missing the statement-making potential of curtains
Sure, curtains are highly functional. They provide privacy, block light, and have many other benefits. Your new curtains can also be a chance to make a stylish statement in your space. Curtains have the potential to elevate your décor and add interest and dimension to your room. Contrasting tones and patterns provide a bold visual statement. The Sessions College color wheel tool makes choosing a color scheme simple and fun. If your room is mostly neutral, a vivid green or blue curtains can provide a splash of vibrancy. Or, if your space is a bold or dark hue, light-colored curtains can provide some balance.
The curtains you choose can also add to the current vibe of your space. Light, sheer panels add airiness to already light and serene spaces. Dark, dramatic rooms can be made even more so with bold-hued, velvet drapes. Curtains can also add dimension to a room. Textured curtains provide visual interest and character. Layering multiple curtains can take the impact of your window treatments to a whole other design level.
Being too frugal when curtain shopping
Everyone has their own individual budget when shopping for home décor items. Think about how much you are able to spend on your new curtains and set a budget. It's important to strike a compromise between value and quality. It can be tempting to hit the buy button on an unbelievable drapery deal. However, you might find that these discount curtains are too sheer or poorly made. If they are low quality, you might even need to replace them sooner than expected. In the end, you can end up spending much more than you planned.
As Money Crashers suggests, investing a little more for quality items can pay off long term. Look carefully at the curtains as you are shopping. Are the stitches the same length? Are the hems straight? If there are grommets, are they cleanly and securely attached? These are all clues as to how well curtains were manufactured. You might have your eye on a fantastic set of quality curtains that are out of your budget. Look for coupons and promo codes or wait for upcoming sales. You can also shop around and search online for a comparable alternative.
Buying curtains that don't make sense with the current décor
Curtains can add to and uplift the look of your space. They can also look out of place if they don't mesh well with the rest of your design choices. Learn about your current design aesthetic with this guide from The Open College of Arts and look for styles that fit right in. If you opt for a more traditional design style, look for classic curtain options. Solid colors, subtle stripes, and muted floral patterns can all fit into a variety of spaces. Cotton and polyesters are reliable fabrics that make great, medium-weight curtains.
Maybe you've created a modern farmhouse, rustic, or bohemian style in your space. Natural fabric curtains work best to add to this aesthetic. Linen, burlap, or even hemp curtains can enhance your earthy vibe. If your home is all about modern opulence or eclectic style, take it to the next level with curtains to match. Rich velvets amp up the poshness of your space. Vibrantly-hued silk can infuse bold elegance. Or look for a metallic pattern to add a touch of sparkle to your luxurious décor.
Forgetting to choose a curtain rod carefully
Just like buying a great outfit, the accessories you choose can make or break your curtain purchase. By far, the most important of these is the curtain rod. However, it needs to be functional as well. A quality rod should be sturdy enough to resist bending or sagging. Once you select curtains, you'll need to choose a curtain rod that works for how they hang. Some styles of curtains have grommets, while others have a simple pocket or tabs to insert the rod into. You also might opt for curtain rings or hooks for added style.
If your curtains have grommets, look for a rod that matches or complements the metal. If they are silver or gold, you can choose a rod with the same finish. Mixing metals is also a stylish option. Just be sure the tones are the same finish for a polished look. Selecting a curtain rod of the right size is the first step of proper installation, according to Home Depot. Many are adjustable, so you'll need to ensure that your space's width is within the range. You'll want to measure the actual spots that you plan to hang the rod, not just the window's width for the correct size.
Not accessorizing your curtains for added style and function
Once you have chosen your curtains and rod, you can accessorize more to add style and function. Adding finials to the ends of your curtain rod can create a statement. Stylish tiebacks also add to your look and keep curtains securely out of the way. Simple round or cube finials are classic and work with all types of curtains. Crystal finials can be a stylish touch that looks best with more neutral drapery choices. You can also use nature-inspired finals like leaf and fruit shapes for a fun statement.
Keeping curtains tied back during the day allows you to maximize the natural light. The Spruce says you need in your home. 'You can purchase a basic set of tieback hooks that complement your curtain rod for a subtle touch. Or, consider using ones that double as accent pieces. Tiebacks made from pipe add to industrial-designed spaces while wooden ones can fit into a rustic theme.
Shying away from patterned curtains
Many people are drawn to solid curtains. However, pattered curtains can add a ton of style and interest to your space. Adding patterned curtains is a simple way to test the waters of statement-making. It's less permanent than a pattern-painted wall and typically a lower cost than a patterned rug or piece of furniture.
You might already have patterned textiles like pillows or throws in your space. Pattern mixing is a fun way to customize your style. Using tips from MasterClass, stick with the same color schemes within your patterns for a put-together look. Grey and white striped curtains look great with checked pillows in the same hues. Or, play off your bright, floral throw with plaid drapery in similar shades. If your space is more neutral, you have a blank slate to make a statement with your new curtains. Go bold with a fun animal print. Or, look for tribal or geometric designs in fun colors. Curtains with large images of maps or murals are an awesome way to add character to your space.
Buying curtains that are too trendy
While taking risks with curtains can be a good idea, going for ones that are way too trendy can be a mistake. You don't want to look at them in a month or two and feel the urge to replace them. Opt for choices that will stand the test of time, especially if you are investing a significant amount of cash. Décor trends are cyclical and there seems to be a new fad daily. Latching on to these can leave you on an endless curtain shopping mission. If you choose to try an uber-trendy style, look for a deal so they are a lighter hit to your decorating budget.
There are some patterns and curtain trends that tend to be more timeless than others. Stripes and florals will always be a mainstay. According to Architectural Digest, even bolder fabrics like ikat print are classic and likely to be stylish in the long run.
Not thinking about how curtains look with other window treatments
One of the most commonly overlooked factors in selecting curtains is the other window treatments in your home. MyMove explains the importance of sightlines in interior design. Making sure all of your window treatments complement each other, especially if they can be seen simultaneously, gives your whole home a polished look.
Maybe you are choosing to mix and match several kinds of window treatments. You might want blinds or plantation shutters in the kitchen and fabric drapery in the adjacent dining space. Use common sense to ensure a seamless look. Neutral and complementing colors often work best to create order between various types of window coverings. If you plan to hang curtains in several nearby spaces, consider using the same style and color for a uniform look. If you choose to mix it up and add interest, make sure the fabrics you choose look good together. Common colors and similar pattern intensities can make your mix and match curtains flow well.
Forgetting that you can see curtains from the outside too
Window treatments can be seen from both the inside of your home and the exterior. Don't ruin your curb appeal with this mismatched and chaotic curtain mistake from Blinds.com. Be sure to look at what your curtains look like from the outside. Take a peek during the day to make sure your windows look polished with the curtains closed. However, after the sun sets is the real test. The interior illumination can often make mismatched or patterned curtains stand out in the dark night.
A simple way to avoid this is to shop for curtains that are solid colored or have a quality lining. If you are in love with a brightly-hued or boldly patterned unlined curtain, don't worry. Hemming in a liner is a simple DIY task. You can also purchase a blackout curtain liner in the same size and hang it on the same rod behind your curtain. You'll easily have a uniform look from the outside of your home and the stylish curtains you want on the inside.
Not being open-minded about where to shop for curtains
People are creatures of habit, especially when shopping. You likely have a handful of stores that you frequent when purchasing home décor. However, this mistake can cause you to lose out on some stellar curtain finds. Specialty home stores can be an obvious place to start your curtain search. However, you'll still find abundant choices at discount stores like HomeGoods and Tuesday Morning. You might even score yourself a great deal on a designer set.
MasterClass has some thrifting tips that can lead to great finds. Often, items are donated when people don't have time to sell them when they're moving or done staging a home. Sometimes these curtains are barely used and can be snatched up for a fraction of the retail price. Ask what days new inventory hits the shelves for the best chance of finding your dream curtains.
Shopping online can put nearly endless curtain options at your fingertips. This is a good way to shop especially if you have a good idea of what you are looking for. You can search by color, size, and price range to easily narrow down the best options for your needs.
Neglecting to hang new curtains correctly and securely
You've bought the perfect curtains, and you're thrilled. Don't let your excitement lead you to hastily hang them incorrectly. Poorly hung curtains will look disheveled and damage your fabric and walls. When hanging your curtain rod, use a level to ensure a straight installation. Measure the distance from the rod to the floor to ensure your curtains will hang correctly. The brackets should be the same horizontal distance from each edge of the window, so your rod is centered.
Installing the brackets should be done carefully, especially if you are using heavy curtain material. If possible, mount the brackets into a wall stud. If not, use wall anchors to make screws more secure. Once they're securely hung, Martha Stewart suggests steaming your curtains to look their very best. Use a steamer or iron on the steam setting to remove wrinkles or creases. Be sure to check the care instructions to avoid damaging delicate fabrics. Then, enjoy the look of your new flawless window treatments.