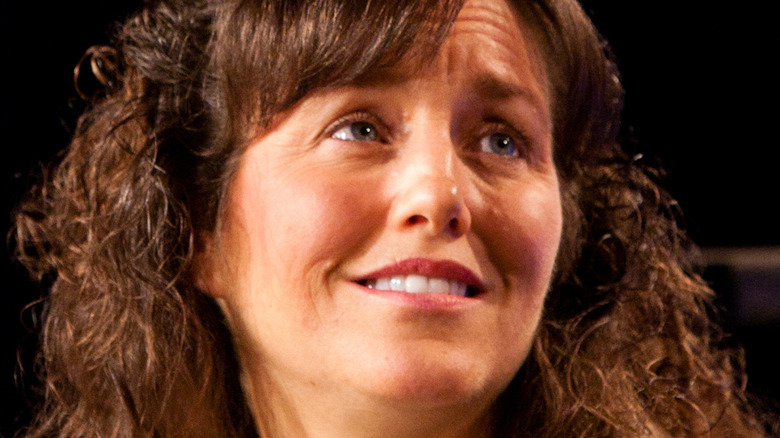 From the very beginning, the Duggar family has been mired in controversy. But before we get into all of that, some background. The Duggars first rose to prominence in 2004 when they appeared on "14 Children and Pregnant Again!," a special that aired on the Discovery Health Channel. Four years and five kids later, they landed their own TLC reality series, "19 Kids and Counting." As you can probably guess from the name, the show focused on an abnormally large family. Parents Michelle and Jim Bob Duggar are fundamentalist Christians based in Arkansas. While living under their roof, the Duggar kids are expected to follow strict rules such as adhering to a dress code, only dating with a chaperone, and abstaining from sex before marriage.
Such concepts are bound to be divisive, but the Duggars have proven themselves to be especially controversial over the years. The most serious scandals the family has faced to date are the alleged sexual molestation offenses committed by Jim Bob and Michelle's eldest son, Josh Duggar, when he was a teenager, per In Touch, and his indictment for allegedly possessing and downloading "child sexual abuse material," per KNWA FOX 24.
When they aren't dealing with Josh (whose arrest led to the cancellation of their most recent show, "Counting On," per Today), the Duggars are usually dealing with any number of other controversies that any of the family's 40-plus members might find themselves embroiled in.
Jill Duggar left the show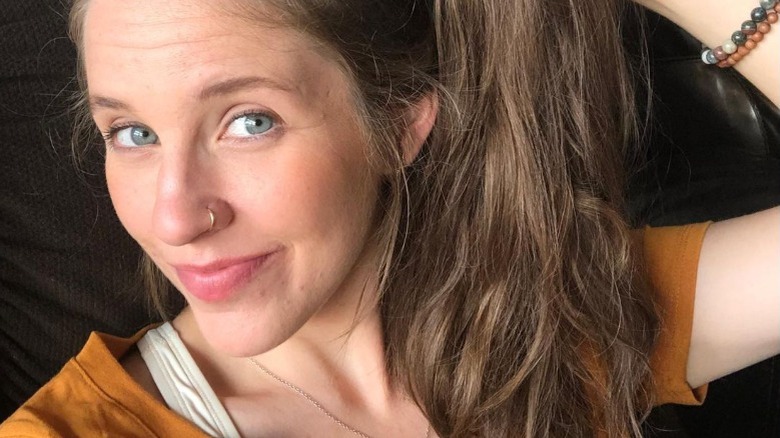 Of the many public controversies the Duggar family has weathered over the years, one of the most talked-about is undoubtedly the very public falling out between Jill Dillard (née Duggar) and her parents. The trouble started in 2017 when Jill abruptly quit "Counting On." She later told People that she had learned that her father, Jim Bob Duggar, was making up to $45,000 an episode, whereas she had never been paid a dime for her work on the show. In a March 2021 YouTube Q&A with her husband, Derick Dillard, she revealed that she hadn't spent time with her parents at their home in "a couple years."
By her own account, Jill is happy to put some distance between herself and her family. "We have to prioritize our mental, emotional health and all of that," she explained in response to a fan's question. "Our threshold — we like to call it — is just a little bit lower in this season of life for us with a lot going on in our own lives." Derick added that her childhood home is full of "triggers."
Since ditching her parents, Jill has been busy forging her own way. Unlike the uber strict religious rules she adhered to growing up, Jill has been known to drink alcohol from time to time, and she's broken the family dress code by wearing pants. She even sent her oldest son, Israel, to public school (her parents believe the Bible encourages homeschooling, per KLTV).
Derick Dillard's transphobic Twitter tirade
While Jill Dillard (née Duggar) reportedly departed TLC after realizing that there were massive discrepancies between her contract and her father's, it turns out that tension had already been brewing behind the scenes thanks to her husband, Derick Dillard.
Derick caused a stir in 2017 after he fired off a series of transphobic tweets. He took issue with TLC promoting programming that featured Jazz Jennings, a trans teenager. "I pity Jazz," he wrote. "4 those who take advantage of him in order 2 promote their agenda, including the parents who allow these kinds of decisions 2 be made by a child. It's sad that ppl would use a juvenile this way. Again, nothing against him, just unfortunate what's on tv these days." Derick was heavily criticized for misgendering Jazz and accused of bullying the teen, but he doubled down and continued to attack her.
TLC quickly denounced Derick's offensive tweets in a statement released on Twitter. The network also revealed that he had already stopped filming "Counting On" and would not appear in future episodes, but Derick insisted that he hadn't been fired. He targeted Jazz on Twitter again in 2018, but she didn't let his cruel words get her down. She told Us Weekly she considered him "irrelevant" and suggested he was behaving badly "for attention." In 2021, Jazz's TLC series, "I Am Jazz," was renewed for a seventh season, per Variety.
Josh Duggar got caught cheating
Josh Duggar has been at the center of legal and social controversy for years. The first time viewers became aware of his (many) issues was in 2015 when news broke that he was active on Ashley Madison, a website that connects married people with singles or other married people looking to have affairs. There was a minor scandal that year when the website was hacked and a list of users was released. You guessed it: Josh was on that list, per Gawker.
After the news broke, the Duggars shared a statement from Josh on The Duggar Family website. "The last few years, while publicly stating I was fighting against immorality in our country, I was hiding my own personal failings," it read. "As I am learning the hard way, we have the freedom to choose our actions, but we do not get to choose our consequences. I deeply regret all the hurt I have caused so many by being such a bad example."
In 2016, Josh scored one win when an adult film star named Danica Dillon dropped her lawsuit accusing him of assaulting her, per People. And through it all, his wife, Anna Duggar, has stuck by him. As recently as July 2021, when he was facing yet another round of serious allegations, a source told Fox News the couple was still committed to making their marriage work and that divorce would be a "last resort."
Jill Duggar and Derick Dillard started a sketchy charity
Jill Dillard (née Duggar) and Derick Dillard have earned a reputation as the most rebellious of the Duggar couples, and as such, they are no stranger to controversy. One of their most memorable scandals involved their allegedly "sketchy" charity, Dillard Family Ministries. After dozens of allegations, the nonprofit was officially shuttered in February 2018, per Radar.
The drama began in 2015 when Jill and Derick were accused of misusing charitable funds. The couple had asked fans for donations from $15 to $100 to support their missionary efforts without offering specifics on where they would be traveling or what exactly they would be doing, per Radar. They eventually revealed that they were living in El Salvador, but they made multiple trips back to Arkansas, including one that lasted a month. Per ET, this convinced many critics that they weren't doing any actual charity work, and some donors demanded a detailed account of how their funds were being spent.
In a 2017 post on The Duggar Family website, the couple announced they were returning home and shutting their ministry down. However, Derick later used a fundraising site to ask for $6,500 for vague North American missionary duties, as reported by In Touch. He raised a modest $125 before the fundraiser was shut down, per Radar. As of 2021, Jill and Derick haven't tried to elicit any more money, nor have they teased a return to the mission field.
Jim Bob and Michelle Duggar wouldn't let Jill Duggar do her job
The Duggars found themselves at the center of controversy yet again in 2015 when it was revealed that Jim Bob and Michelle Duggar had stood in the way of Jill Duggar following her passion. In 2013, Jill was training to become a midwife. "[The training] is hands-on apprenticeship style," she explained in an episode of "Counting On." "So we are really getting in there and getting to experience what midwifery and doula roles look like, hands-on." As part of that training, she was required to assist in births, and that's where the trouble began.
Jill's sister-in-law Susanna Keller (Anna Duggar's sister), had asked her to be present while she gave birth in 2013. "Jill was very excited to assist Susanna through the birth," an insider told Radar two years later. However, Michelle and Jim Bob were less than thrilled that Susanna was single. "They thought Jill shouldn't be exposed to an unmarried mother in that condition," the source explained.
It's not entirely surprising that Jim Bob and Michelle wouldn't want Jill around Susanna. After all, Susanna was close with the rest of the family and even appeared on an episode of "17 Kids and Counting." But then she decided to forge her own path and explore a less religion-oriented life. A source told OK! that the Duggars banned Susanna from appearing on their show again after she "broke away."
The Duggars held a fake food drive
By far, one of the most controversial undertakings of the Duggar family during the duration of their show was staging a reportedly fake food drive. While filming an episode of "19 Kids and Counting" in 2015, the family tweeted that they had organized a food drive that would take place in Springdale, Arkansas.
The trouble allegedly began when the Duggars and network producers realized that no one had actually shown up to the food drive. Instead, the store was full of fans who had come just to get a peek at the famous family. A witness at the store told Radar that they saw producers approach "a family of four" that was browsing clothing racks at the time. The producers allegedly asked them to pretend to be in need of food for the cameras. The source recalled how the family was given acting instructions and releases to sign. They were also filmed listening to a story from Jim Bob about how he was often hungry as a child.
The source went on to claim that the Duggars loaded food into the family of four's car, but after the cameras stopped rolling, they immediately removed the food. While the Duggars haven't spoken about the alleged fakery, in a 2017 TLC video, Josiah Duggar did admit that his family did some acting on their show, saying that even a simple action like walking through a door required reshoots on occasion.
Jed Duggar got political
Despite the many scandals surrounding his famous family, Jed Duggar decided he was in a good position to get into politics during the 2020 election cycle. He ran as a Republican in a state representative race in his home state of Arkansas. His political awakening was likely inspired by his father, who was once a state senator from the same state. Jed announced his candidacy on Instagram, informing potential voters that he was "Pro-Life" and "Pro Second Amendment." He was defeated by incumbent Democrat Rep. Megan Godfrey in what the Northwest Arkansas Democrat-Gazette described as "a traditionally Republican district." So his large family clearly wasn't big enough to help him at the ballot box.
Though he didn't win, he still made waves for his questionable campaign financing. About a month before the election took place, The U.S. Sun broke the news that Jed had reportedly "accepted $8,400 from a single donor" for his campaign. The problem? That's roughly three times the amount any single donor is legally allowed to give a political campaign in the state of Arkansas.
Perhaps the most embarrassing part of the entire situation wasn't that he broke the law but that the single donor was evidently much more supportive of Jed's candidacy than his family. Only a few family members gave the political hopeful any kind of monetary donation. His father donated just $300, nowhere near the limit. We imagine that was a tough pill for Jed to swallow.
Austin Forsyth made some bad business decisions
When Austin Forsyth joined the Duggar family, he was reportedly not welcomed by all. Soon after his wedding to Joy-Anna Forsyth (née Duggar), a source told Radar that some of the Duggars had reservations about the relationship. "He was immature, arrogant, and lacked experience," they said. If the Duggars were indeed concerned that Austin was in way over his head and not quite ready for big commitments like marriage, they were possibly proven correct when his allegedly shady business dealings made the news.
Now that "Counting On" is over, Austin has his income from flipping houses to fall back on. But unfortunately for the up-and-coming Arkansan businessman, he found himself in the midst of a renovation scandal in 2019. According to court documents obtained by The U.S. Sun, the owners of a $140,000 home, which they purchased from Austin in 2018, sued the reality star for failing to obtain "proper permits for the septic system." As soon as the couple moved in, they became aware of "an unmistakable foul odor of human waste emanated from their yard." Worse yet, the homeowners' dog allegedly got sick after "drinking 'water' in the yard."
Austin maintained that he wasn't "required to obtain a permit" for the septic system and, thus, was not willing to pay the $20,000 required for a new one. The parties involved eventually settled the matter without going to trial, per KNWA Fox 24, but the whole thing remains a stinky controversy for the Duggar family.
Jeremy Vuolo and Jinger Duggar talk openly about sex
As fundamentalist baptists, the Duggars expect their children to follow all kinds of rules, including abstaining from sex or certain types of physical contact before marriage. In the book "Growing Up Duggar," Jinger Vuolo (née Duggar) and her sisters compared premarital sex to "playing in the street" and getting "hit by one of the many semi-trucks that drive past our house." They also warned young women to protect their "purity."
On the "Behind the Scenes" podcast, Jinger's husband, Jeremy Vuolo, discussed the topic of "purity" from a married man's point of view. "Very early on, from the moment we were married, I wanted Jinger to be in with me on the battle for purity," he said, further explaining that he likes to keep Jinger abreast of his temptations, as that helps keep them in check. "It builds her trust. Because she begins to think, 'If he's struggling, he's gonna let me know, and I can fight with him," he continued.
How exactly does Jinger help? Well, in addition to providing a sympathetic ear, the couple has an arrangement in which Jeremy (who is quite active on social media) doesn't keep the apps for Instagram or Twitter on his phone. If he wants to post anything, he needs to use his wife's phone, thereby limiting "the temptation of the internet." Well, whatever works?
Joy-Anna Duggar rushed down the aisle
If you know anything about the Duggar family, it's that sex before marriage is a big no-no. That's why the rather, umm, rushed wedding of Joy-Anna Forsyth's (née Duggar) and Austin Forsyth raised a few eyebrows.
The 2017 wedding was originally scheduled for October, per The Knot, but was pushed up to May at the last minute. Now, it's entirely possible that Joy-Anna and Austin were just desperate to get down the aisle and didn't want to waste a lot of time and money planning an extravagant wedding. However, given the fact that they announced they were expecting their first child a mere three months after the nuptials, some fans thought it was more likely they had to push up the wedding lest everyone find out they didn't adhere to that all-important Duggar rule.
So is there any truth to the rumors? As far as anyone knows, no. Austin's brother-in-law, who spoke to Radar regarding the matter, backed the newlyweds. "I've heard those rumors, but they're not true," he said. "People are too nosy." Joy-Anna eventually put the rumors to rest for good by revealing that her due date was in February. As for Austin, he seemed relieved that the wedding date got moved up, regardless of the reason why. "I think the moment I said 'I do' was just a huge burden off my shoulders," he confessed in a TLC video. "Finally being married to her was just a tremendous weight lifted off."