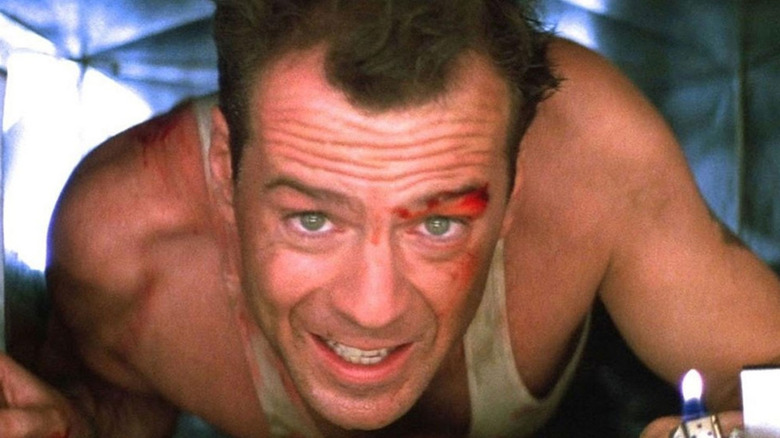 In 1988, director John McTiernan released a would-be blockbuster consisting of established actors, rising TV stars, longtime character players, and unknowns that would redefine the very concept of an action movie. A shot across the bow at indestructible action figures like Stallone and Schwarzenegger, here was an everyman the poster described as "alone, tired … " and who bled, cried and made self-deprecating allowances that felt a million miles away from John Matrix and Rambo.
Decades later, McTiernan's adrenaline-enabling tale of a New York City cop caught in a hostage situation remains an action movie classic, a perennial holiday favorite, and the film that launched Bruce Willis to international superstardom.
Perhaps as a combination of its re-watchability, unlikely seasonal relevance and canonized cinematic status, "Die Hard" is the sort of film people revisit over and over. So, even the faces in the cast with a handful of lines have become burned into our retinas, whether we remember them cracking jokes like Argyle, sweating imminent death like Takagi or simply being a dead body like Karl's brother.
From major players to henchman to supporting actors who only got a scene or three, many were propelled to bigger things by the success of the film, but none soared like the good guy and bad guy whose cat-and-mouse game fueled the film. So, gather up the cowboys on your ranch, make some fists with your toes and help yourself to a Nestle Crunch — it's time to read up on what the cast of "Die Hard" is up to these days.
Bruce Willis (John McClane)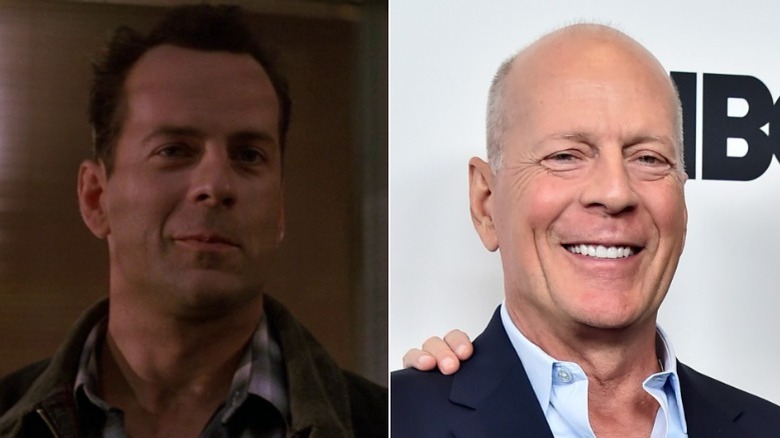 Bruce Willis was a television star when "Die Hard" came together, best known for his work alongside Cybill Shepherd on the romantic comedy mystery series "Moonlighting." There was much doubt as the film came together whether he'd be able to make the leap from small to big screen (keep in mind, back in those days, such transitioning was a rarity), but thanks to his charismatic everyman portrayal of John McClane, "Die Hard" proved to be a blockbuster, and Willis became one of the biggest movie stars in the world overnight.
More major movie roles soon followed, as Willis did everything from "Die Hard" sequels to action films like "The Last Boy Scout" and comedies like "Death Becomes Her" and voice work in the hit "Look Who's Talking" films. By the mid 1990s, Willis was getting even more daring with his choices, adding films like "12 Monkeys" and "The Fifth Element" to a versatile resume, then striking gold again with M. Night Shyamalan's breakout film "The Sixth Sense." Sure, he had some huge swings-and-misses ("Bonfire of the Vanities," "Hudson Hawk" and "The Color of Night" were regarded as massive failures that could have put a lesser star in movie jail), but by the end of the millennium, Willis was true Hollywood royalty.
After the turn of the century, Willis made some daring choices ("Sin City," a run on "Friends"), reunited with talented directors (Shyamalan's "Unbreakable" trilogy), continued to support indie filmmaking (the underrated "Assassination of a High School President," Richard Linklater's "Fast Food Nation"), appeared in some solid, too-quickly-forgotten dramas ("Hostage," "16 Blocks") and of course kept his star power shining bright with "Die Hard" sequels that helped obscure the misfires ("Perfect Stranger," "Surrogates").
After a few more worthwhile productions (2010's "Red," 2012's "Looper'), Willis appeared to accompany contemporaries like Nicolas Cage to the lucrative land of direct-to-video, appearing in nearly two dozen such films with largely interchangeable plots and titles like "Out of Death," "A Day to Die" and "Die Like Lovers." This late 2010s/early 2020s output earned a mix of disappointment and concern from some fans, and even caused the 2022 Razzie Awards to create a special "Worst Performance by Bruce Willis" category. Shortly after that nomination, the family of Willis revealed that he had been diagnosed with aphasia and was retiring from acting, resulting in the Razzies rescinding the dishonor and fueling a Hollywood conversation on the possible exploitation of aging superstars.
Reginald VelJohnson (Al Powell)
While Bruce Willis made the leap from TV stardom to movie stardom, his onscreen partner Reginald VelJohnson did the reverse, moving from films to a role as one of TV's most beloved dads. After launching his career with small roles in films like "Ghostbusters" and "Wolfen" and building to slightly bigger ones in things like "Crocodile Dundee," VelJohnson broke through in a big way as Sgt. Al Powell in "Die Hard." As McClane's man on the ground, he proved the perfect comedic and dramatic foil for Willis despite only sharing a brief scene with him, and people sat up and took notice.
The year after "Die Hard" was released, the sitcom "Family Matters" debuted, starring VelJohnson as put-upon father Carl Winslow. The show was a hit, ran for nearly a decade, and cemented VelJohnson's status as a recognizable face. In the years since, he has continued to work regularly in film and television, from films to voiceover work. His more recent credits include "3Below: Tales of Arcadia," "Lazor Wulf," and the streaming series revival of "Turner & Hooch," in which he reprised his character from the original film, David Sutton.
Bonnie Bedelia (Holly Gennaro McClane)
Bonnie Bedelia's screen career was already more than two decades old by the time "Die Hard" came into her life. After starting in theater at a young age, Bedelia began landing major roles as a teenager on television, including the soap opera "Love of Life." More roles soon followed, and by the 1970s she was starring in series like "The New Land" and the TV miniseries adaptation of Stephen King's novel "Salem's Lot." The 1980s brought more major films, including the acclaimed "Heart Like a Wheel" and, of course, "Die Hard," in which she played John McClane's tough, smart estranged wife, Holly.
Like the other major "Die Hard" stars, Bedelia's career got a boost from the film, and she followed it up with appearances in things like "Presumed Innocent," "Needful Things," and a brief appearance in 1990's "Die Hard 2: Die Harder." In the 2000s, she returned to TV roles via "The Division," "Parenthood," and "Designated Survivor." Now in her seventies, she's still working regularly, with recent projects like the TV series "Panic" and the upcoming films "The Noel Diary" and "The Hill."
Alan Rickman (Hans Gruber)
Most members of the "Die Hard" cast were at least somewhat established screen actors; that was not the case for Alan Rickman, a British actor working in theater when producers spotted his talent and offered him the role of the film's lead villain, Hans Gruber. Rickman took the part, and everything about him that didn't scream "action film" only seemed to make Gruber more compelling; the resulting performance yielded one of cinema's all-time great movie villains.
Rickman's work as Gruber opened the eyes of Hollywood casting agents, and soon producers all over the industry wanted to work with him. In the 1990s he appeared in everything from "Robin Hood: Prince of Thieves" to "Dogma," showing the range of his presence and distinctive voice.
In 2001, he hit yet another level of stardom when he was cast as Professor Severus Snape in "Harry Potter and the Sorcerer's Stone," a role he would continue to play for eight films across the next decade. In between, he appeared in films like "Love Actually," "Perfume," "Bottle Shock," and much more, shining brightly even in comedic films like "Galaxy Quest." He passed away on January 14, 2016 from cancer. His final film was Tim Burton's "Alice Through the Looking Glass."
Alexander Godunov (Karl)
Alexander Godunov is well remembered for a select few film roles, but he initially rose to prominence as a world-class dancer in his native Soviet Union. After defecting to the United States, the acclaimed ballet star made a name for himself beyond his Russian roots, touring the world with dance companies. When Hollywood came calling, Godunov was able to show his range beyond dancing, appearing in comedic roles in films like "The Money Pit," and of course, using his imposing frame and powerful eyes to sell the role of Karl, Hans Gruber's chief lieutenant, in "Die Hard."
Unlike many of his "Die Hard" co-stars, though, Godunov did not ride the rocket to greater movie stardom. He made a few more films, including "The Runestone" and "North," but his health began to decline in the 1990s, along with his career. Suffering from alcoholism in later years, his body was found in his home on May 18, 1995. He was just 45 years old.
William Atherton (Richard Thornburg)
William Atherton appeared in several film and TV productions of the 1970s, including Steven Spielberg's first theatrical release "The Sugarland Express," cementing himself as a piece of pop culture history in the 1980s.
In 1984, he played the key role of slimy EPA investigator Walter Peck in "Ghostbusters," cementing his legacy as a character actor who could play superior-feeling villains with a buffoonish edge. Four years later, he brought that same energy to "Die Hard" as Richard Thornbug, an ambitious TV news reporter who learns of the attack on Nakatomi Tower and seeks to report the story by any means necessary.
Though he was only a secondary villain, Atherton's Thornburg was such a memorable part of "Die Hard" that he was invited back for a role in Renny Harlin's underrated "Die Hard" sequel two years later, this time put on a perilously-low-on-fuel, circling plane with Holy Gennaro.
Atherton's career kept moving throughout the 1990s. His credits in that decade included "The Pelican Brief," "Saints and Sinner," and "Bio-Dome," and in the 2000s he landed roles in "The Last Samurai," "Desperate Housewives," "Life," and more. His career has since slowed down as he has entered his seventies, with his last major role was on the science fiction TV series "Defiance" in 2014.
Paul Gleason (Dwayne T. Robinson)
A character actor with a knack for playing stuck-up authority figures, Paul Gleason's screen career dates all the way back to the 1960s, when he logged roles on TV series like "Petticoat Junction" and "The Green Hornet."
He kept busy in the 1970s with everything from "Adam-12" to "Ike: The War Years," but his real pop culture breakthrough came in 1985, when he was cast as Principal Richard Vernon in John Hughes' "The Breakfast Club." As a tough-talking, ultimately ineffectual disciplinarian (and purported thief of Barry Manilow's wardrobe) in the film, Gleason stood out among his teen co-stars, striking a familiar note as a cocky, incompetent authoritarian. Three years later, he played a similar role in "Die Hard" as Deputy LAPD Chief Dwayne Robinson, once again getting showed up by a cooler character (in this case, John McClane).
In the years after "Die Hard," Gleason continued to work regularly in both film and television, logging roles in everything from "Murder, She Wrote" to "One West Waikiki" to "Loaded Weapon 1" and beyond. He was also always happy to revisit his pop culture legacy, appearing as a version of his "Breakfast Club" character in "Not Another Teen Movie" and more. He died of cancer in 2006 at the age of 67.
De'voreaux White (Argyle)
De'voreaux White began his screen acting career on television, logging roles in shows like "Little House on the Prairie" and "Hill Street Blues" and landing small film roles in projects like "The Blue Brothers." Things picked up in the late 1980s, as he landed roles in films like "Action Jackson" and "Split Decisions." Then came "Die Hard." As Argyle, the limo driver who picks McClane up from the airport then spends the evening in the Nakatomi Tower parking garage chatting on his state-of-the-art car phone, White stole his scenes, provided some great comic relief, and became a piece of pop culture history.
White followed up the success of "Die Hard" with a starring role in the sitcom "Head of the Class," which ran until 1991. After that, apart from the occasional role, he drifted away from acting, though he did make a brief return to cameo in the Comedy Central series "Workaholics," and to reprise his role alongside Bruce Willis for a 2020 Die Hard battery commercial. These days, White goes by his original last name, Sefas, and owns his own company in California, where he works in recovery to treat people with addiction issues. Oh, and if your friend's hot to trot, he also knows a few mama bears you can hook up with.
Clarence Gilyard Jr. (Theo)
Clarence Gilyard's acting career was jumpstarted by some major TV roles in the early 1980s, including recurring characters on "CHiPs" and Jim Carrey's short-lived TV sitcom "The Duck Factory." Then movies came calling, and Gilyard landed a supporting role in the Tom Cruise hit "Top Gun" before he got the part of master hacker Theo in "Die Hard." Hans Gruber had a lot of henchman with him for the Nakatomi heist, but Gilyard was perhaps the most charismatic, cracking wise and announcing "The quarterback is toast!" as he helped pull off the job.
Gilyard followed up "Die Hard" with two more major TV roles that helped cement his place in pop culture. In 1989 he began a run on "Matlock" alongside Andy Griffith, and in 1993 he followed it up with a co-starring role in "Walker, Texas Ranger," working with Chuck Norris for nearly a decade. In the years since his output has slowed a bit, but Gilyard's kept busy, reprising also appearing alongside Bruce Willis and White in the Die Hard battery commercial and starring in films like "Little Monsters," "The Sector," and most recently, "The Perfect Race."
Hart Bochner (Ellis)
Rivaled perhaps only by Michael Douglas as Gordon Gekko, Hart Bochner's smarmy Ellis came to embody a certain type of '80s yuppie, one so self-assured (and frankly, coked to the gills) that his over confidence and purported business acumen leads to a violent downfall.
Bochner emerged in screen acting in the late 1970s and quickly landed some high-profile projects. His pre-"Die Hard" work includes the miniseries adaptation of John Steinbeck's "East of Eden," the first "Supergirl" film, "Callahan," "The Wild Life," and more. But he really got noticed when "Die Hard" director John McTiernan cast him as Ellis, Holly McClane's colleague who thought he could have any woman he wanted, and talk down any terrorist he chose to negotiate with.
Bochner's career just kept right on rolling after "Die Hard" with roles in the miniseries "War and Remembrance," "Urban Legends: Final Cut," "Say Nothing," "Crossing Jordan," "The Starter Wife," and more. Most recently, he appeared in Nicolas Winding Refn's "Too Old To Die Young" and the acclaimed Hulu miniseries "The Dropout."
James Shigeta (Joseph Takagi)
Before acting, James Shigeta worked as a singer, performing at nightclubs and making the occasional television appearance. That exposure eventually led to film roles in the 1950s in projects like "The Crimson Kimono," and more film work soon followed. He worked steadily throughout the 1960s and 1970s, with roles in series like "Medical Center" and "Kung Fu," and films like "Lost Horizon," "The Yakuza," and "Samurai." By the 1980s and "Die Hard," he was a well-established and commanding character actor, making him perfect for the role of Nakatomi's Los Angeles chief, Joseph Takagi. Though his role in the film was small, he made a memorable impression.
Shigeta continued making memorable impressions in film and TV for the rest of his life, with post-"Die Hard" roles ranging from "Midnight Man" to "Renegade" to the voice of General Li in the Disney classic "Mulan." In the 21st century, his film and TV career slowed significantly as he moved into semi-retirement. He died in 2014 at the age of 85, his last role coming in the 2012 film "The People I've Slept With."
"He was so handsome, debonair," actor James Hong said at the time. In a touching tribute, critic Matt Zoller Seitz praised Shigeta's memorable "Die Hard" confrontation opposite Rickman, explaining that the scene shows that even a doomed man "about to die can steal back a bit of dignity by summoning their courage and refusing to be cowed."
"Look closely at Shigeta's eyes in that scene; they shimmer for a fleeting instant, as if showcasing an actual spark of life," he writes. "Takagi dies like a leader. He dies with honor, and his death is not just a plot point, because the filmmakers and the actor made you feel that Takagi stood for something."