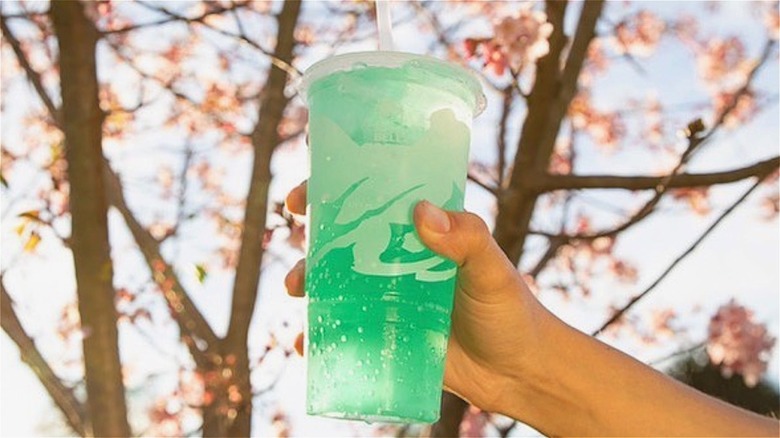 The Mountain Dew Baja Blast has a special place in fast-food culture. It has a cherished status that other drive-thru menu items can only hope to obtain. For Taco Bell, it's not so unusual to have such a popular product. The Baja Blast is one of many Taco Bell menu items which have a cult following, including the Crunchwrap Supreme, Cinnamon Twists, and Nacho Fries.
The Mountain Dew Baja Blast has a particularly epic reputation. Believe it or not, the drink has existed for nearly two decades (via QSR). It's been with Taco Bell even longer than Doritos Locos Tacos or the chain's breakfast menu. The drink's uniquely delicious blend of Mountain Dew and lime flavorings — and its vibrant teal hue — have helped the Taco Bell product to become a go-to order of diners.
That's not all to know about this beverage — which is certainly not the healthiest fast food drink in the world. Somehow, the Taco Bell beverage has stayed with us for years, holding on to its passionate fan base. Here is the untold truth of Mountain Dew Baja Blast.
The drink debuted in 2004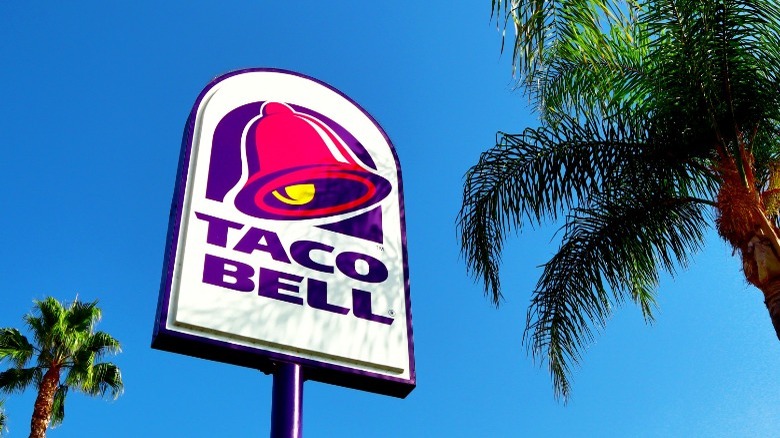 The Mountain Dew Baja Blast came about in 2004. QSR Magazine reported that the chain was looking to create a beverage that customers wouldn't be able to buy anywhere else. To do that, Taco Bell and Pepsi would need to create an entirely new beverage.
Recipe testers tried many sodas but decided that Mountain Dew was the best base ingredient. Reasons cited included how successfully Mountain Dew's flavor paired with Taco Bell's menu. The company also mentioned research that proved Taco Bell customers were 1.5 times more likely to drink that particular soda compared with an average consumer.
The Baja Blast would also help to reinforce Taco Bell's "Think Outside the Bun" slogan (which was later replaced by the "Live Más" motto, per Business Insider). The old slogan meant to separate the company from its competitors — like McDonald's, Burger King, and Wendy's. Baja Blast further cemented Taco Bell's unique image.
It was intended increase drive-thru beverage sales
As well as match the Taco Bell vibe, the Baja Blast was created specifically to increase drive-thru drink purchases. As an exclusive beverage, the Baja Blast was introduced as a new item you could only get at Taco Bell. That was likely to encourage drive-thru customers to get a drink last minute when they saw the chain offered something they couldn't get anywhere else.
Pepsi (the owner of Mountain Dew) and Taco Bell (the future home of the Baja Blast) were both drawn to the drive-thru. During the beverage launch, Pepsi told CNN Money that "two-thirds of [Taco Bell's] business is generated at the drive-thru." Releasing an exclusive drink based on one of the company's most popular sodas was likely to help Pepsi's sales.
On the Taco Bell side, drive-thru marketing tactics have long been an important company strategy. One of the most famous ones includes the Fourthmeal advertising campaign (via QSR). This phrase encouraged diners in the early 2000s to indulge in an after-dinner or pre-breakfast trip to Taco Bell. If they did, most customers would find Taco Bells closed for in-store dining, but open for drive-thru customers.
Baja California, Mexico inspired the name
Taco Bell chose the name "Baja Blast" because of Baja California, Mexico, according to Comicbook. Pepsi and Taco Bell executives were playing golf at a resort on the peninsula, trying to brainstorm ideas for their new soda collaboration. Since they were in Baja and they were having a blast, they decided to just call the drink Baja Blast. The drink's bright color is supposed to look like the water oof of Baja's coast, though we don't think that the ocean around the peninsula is quite as neon as Baja Blast. The different color helps reinforce the idea that Baja Blast isn't just regular old Mountain Dew.
The Baja Blast name also fits the cuisine, which the company describes as "Mexican-inspired" The flavor is also designed to complement Taco Bell's food. Like original Mountain Dew, Baja Blast is full of citrus, carbonation, and caffeination. Taco Bell Baja Blast switches up the Mountain Dew formula with a kick of tropical lime flavor that matches the chain's beach atmosphere (via QSR).
There are a few different flavors
There are two main versions of the Mountain Dew Baja Blast. You should be able to get these at any Taco Bell. The first flavor to know is the original. People love it. On Influenster, tasters wrote, "It has this great tropical flavor with fizz," and is the "best tropical drink ever."
The other version is Mountain Dew Baja Blast Zero Sugar. This beverage is meant to taste the same as the original. Some reviewers, such as The Soda Jerks, believed it was successful, writing "it actually exceeded my expectations." Others, like Polar Bear Cooks, tasted the Zero Sugar and wrote, "I'll definitely stick to regular Dews."
Two less common and newer Mountain Dew flavors within the Baja Blast lineup are Baja Flash and Baja Punch. Baja Flash is meant to taste like pineapple and coconut, and Baja Punch is flavored with pineapple, orange, and cherry, according to Food Business News. Additionally, the drinks come in striking new colors, with Baja Flash being bright yellow, and Baja Punch being bright orange. Both were released in 2021 (via Best Products). However, these flavors were limited-time, in-store releases for Mountain Dew. As of early 2022, Baja Flash and Baja Punch aren't on Taco Bell's drink menu. That means you won't be able to pair one of these with your gordita.
The sugar content is high, but the caffeine level isn't
Mountain Dew is not known for being nutritious. The beverage was previously banned in some countries for containing brominated vegetable oil, or BVO. Since at least 2020, Mountain Dew products no longer contain that ingredient, according to USA Today. But people are still wary of Mountain Dew for its sugar, caffeine, and use of artificial sweeteners.
Those that are concerned about the caffeine content should direct their attention elsewhere. Caffeine Content Hub reported that a small size holds only 72 milligrams of caffeine. Per Healthline, that's around the same amount as your average cup of coffee, which contains an average of 95 milligrams of caffeine per serving.
The sugar content is more concerning. In a regular 20 ounce bottle of regular Mountain Dew, there are 77 grams of sugar, according to Pepsi. Diet Mountain Dew has less than one gram of sugar, but aspartame, acesulfame potassium, and sucralose provide the sugary taste instead. Mountain Dew Baja Blast is slightly less unhealthy. There are 59 grams of sugar in a 16-ounce size, according to Taco Bell. There's also a zero-sugar version of the Baja Blast, but you're bound to run into the same questionable sugar replacement ingredients in this version.
The Baja Blast Freeze launched in 2013
Almost an entire decade after Taco Bell released the Mountain Dew Baja Blast, the company made a big change. In August 2012, the chain released the Mountain Dew Baja Blast Freeze. Essentially the drink was a frozen version of the original soda flavor. It was made with crushed ice (with a texture similar to that of a frozen margarita). The Freezes also weren't that different from the Frutista line of beverages, according to The Tritonian.
Reviews of the "Freeze" version of the Mountain Dew Baja Blast are typically overwhelmingly positive — especially when they are coming from a drinker who loves the original Baja Blast. One reviewer said, "It's fun to look at, and it even resembles a frozen margarita — what's not to like?" (via Fast Food Menu Prices). Another review of the Baja Blast Freeze in The Tritonian called it "arguably the best drink that has ever been sold at any fast food restaurant."
The menu item was the first of what would become of a line of similar "Freeze" drinks that remain on the Taco Bell menu to this day. Additional Mountain Dew flavors such as "Distortion Freeze" and "Typhoon Freeze" would be released later in 2013, though they're not currently available (via Brand Eating).
Bottles and cans arrived at stores in 2014
Following the premiere of the Mountain Dew Baja Blast Freeze, Pepsi finally bottled the product. According to a press release from April 2014, Pepsi announced it was dropping in-store versions of the Mountain Dew Baja Blast "for a limited time only."
Popularity was the driving factor in this product launch. There were over 30,000 Twitter mentions of the Baja Blast in the three years leading up to the release of the packaged beverage, according to the release. Also, Mountain Dew called it "the most requested flavor among the DEW Nation."
You likely won't come across cans or bottles of Baja Blast in stores today. That's because it typically gets released in smaller amounts for limited periods of time. However, the hardcore members of "DEW Nation" can find them online. One eBay seller is offering up a pack of six for $55. Another seller on Etsy has a single bottle available for $8. Don't worry — that doesn't mean you are necessarily buying sodas released in 2014. Pepsi has brought its Mountain Dew Baja Blast products to stores since then, including once the following summer, in 2015.
NASCAR vehicles have advertised the drink
Mountain Dew is known for its relationship with professional sports. It is a founding partner of the The Dew Tour, a snow-sports and skateboarding series of contests named for the soda drink. According to Hendrick Motorsports, the company has also "wrapped" — meaning decorated the exterior of — a few different NASCAR vehicles over the years. So it comes as no surprise that Mountain Dew decorated a few NASCAR competitors' automobiles with advertisements specific to the Baja Blast.
One such NASCAR sponsorship occurred in 2015 when Mountain Dew wrapped professional NASCAR driver Dale Earnhardt Jr's car. The Baja Blast logo featured prominently on the front of the vehicle. The base color was the Baja Blast's iconic teal hue. Earnhardt Jr. ended up using the car to compete in that year's Sprint All-Star Race, according to Hendrick Motorsports.
Later, in 2018, Mountain Dew did it again. The company decorated NASCAR driver Chase Elliot's car for the NASCAR Monster Energy Series race at the Bristol Motor Speedway, reports BroBible. The vehicle looked very similar to the 2015 one made for Earnhardt Jr. Both cars included the drink's catchphrase, "a tropical lime storm," (via JaySki).
The Baja Bungalow was a legendary April Fool's prank
2015 wasn't the last time that Mountain Dew brought its Baja Blast products to stores. In 2018, Pepsi even pulled a somewhat elaborate prank to tease the return of Baja Blast after a two-year-long hiatus.
On April 2 of that year, Mountain Dew shared a press release that said that eager fans of the Mountain Dew Baja Blast flavor would have to wait no longer: the bottled product would be available once again. However, the only place one could get it was at the "Baja Bungalow," a vacation rental. If things didn't sound strange already, they got even fishier from there. The release said "a 187,000,000,000,000,000,000-gallon saltwater tank w/ sharks, maybe crabs and weird things that touch your foot and freak you out" was one of the desirable amenities included in this bungalow (via Bloomberg).
According to Ad Week, the press release made it obvious that this was a prank. But social media was more confused. Marketing Dive reported that after creating a bit of buzz online, the original Craigslist post for the Baja Bungalow was "flagged for removal." On April 4, Pepsi finally cleared the air with another announcement (via PR Newswire). The company wrote, "We know you love a good April Fools' Day prank as much as we do."
Canada is the only other country that sells it
In 2018, Pepsi decided to make the drink international. In June of that year, Pepsi announced that the Baja Blast would become available at Taco Bell restaurants located in The Great White North. A company representative said, "Our fans have been passionately asking for this cult favourite and we're so excited to give them what they've been craving," (via PR Newswire). The drink is still available in Canada today, according to the menu.
The release was accompanied by a promotion that encouraged Canadian Taco Bell fans to dye their hair the drink's signature bright teal color. The brand collaborated with the hair dye company Manic Panic to create the custom color and even opened a couple of pop-up hair salons in Ontario that gave the Taco Bell faithful dye jobs for a limited time. A Taco Bell spokesperson said, "We can't wait for the sea of Baja Blast blue hair that's going to take over Canada!"
KFC tried to make its own Mountain Dew drink
Due to the ongoing popularity of the Mountain Dew Baja Blast at Taco Bell, other fast food chains tried to join in on the fun. KFC created its own proprietary Mountain Dew drink: Sweet Lightning. KFC released Sweet Lightning in 2019, according to Food & Wine.
In the launch, Mountain Dew owner Pepsi didn't seem to be pitting Baja Blast against Sweet Lightning at all. The company shouted out to the Taco Bell heavy-hitter in its announcement of the drink. Pepsi described the forefather as "the hugely successful Baja Blast which debuted at KFC's sister restaurant, Taco Bell, nearly a decade-and-a-half ago."
There's a lot more that connects these drinks other than their exclusive availability at specific fast-food chains. Like the teal color of Baja Blast, Sweet Lightning has a vibrant yellow hue that distinguishes it from typical Mountain Dew. Also, the flavor is original. Sweet Lightning tastes like honey and peach, unlike the typical citrus flavor of Mountain Dew, according to KFC. What's more, these peach and honey flavors are designed to complement the menu of KFC. The chain has described itself as "Southern-inspired", per PR Newswire. This version of Mountain Dew seems to be taking a hint from the tradition of sweet tea that typically compliments Southern comfort foods. Also like Baja Blast, the drink is still available on the chain's menu.
There is a Baja Blast lip balm
Baja Blast lip balm was brought to shelves just a few years ago. It was meant to be a nostalgic item, similar to the "food-flavored Lip Smackers of the 90s," according to Trendhunter. It created an opportunity — whether it was asked for or not — for fans of the Taco Bell drink to extend their love of the beverage to their skincare routine.
The chapstick hit shelves in early 2020. During the start of that year, people had more to worry about than this Taco Bell-inspired lip balm, but the chapstick was released anyway. Per Totally the Bomb, discount retailers like Dollar General or Dollar Tree sold it. Delish reported that users said it smelled like Mountain Dew Baja Blast — but didn't taste like it.
The product is still available for purchase today. Unlike store-bought Baja Blast cans and bottles, it seems to be less marked-up in online auctions. You can get the soda-inspired chapstick for $5 on Mercari.
There are even Baja Blast room scents
Mountain Dew didn't seem to be satisfied with just the Baja Blast lip balm. More inedible products inspired by the Taco Bell menu needed to be released. To fill that void, Mountain Dew dropped Baja Island: Summer Room Scents by MTN DEW. The line was a collection of room sprays that smelled like the beloved sodas. The product came in three flavors: the original, Baja Punch, and Baja Flash. All were made to mimic the flavor of the three drinks.
Mountain Dew also released the scents to promote Baja Punch and Baja Flash, which also dropped in 2021. Additionally, the product promoted the return of canned and bottled Baja Blast.
In a 2021 press release, Pepsi described the smells contained in these room sprays. "Baja Flash delivers the flavor you love with a tropical kick of pineapple and coconut, Baja Punch is a twist of punch with hints of orange, cherry, and pineapple," the drink company wrote. All the scents were meant to transform interior spaces into beach vibes, "transporting fans to Baja Island and surrounding them with the scintillating scents of a Baja Summer."
Drink shortages occurred in 2021
In 2021, Baja Blast's popularity became too much for Taco Bell. The company was one of many to be hit by supply chain issues during the second year of the COVID-19 pandemic. As a result, Taco Bell customers reported a Mountain Dew Baja Blast drink shortage. Per Eat This, Not That!, it wasn't the only fast-food chain to experience something like this. Chick-fil-A had trouble with its sauces and KFC had issues sourcing chicken breasts.
The Baja Blast shortage first came to light over social media. Worried fans who had trouble ordering the beverage posted on Twitter and Reddit in early 2021. They suspected something was very wrong.
This wasn't surprising. Baja Blast was one of many supplies that Taco Bell was running low on in 2021, per Food & Wine. Employees said the chain was intermittently running out of hot sauce, napkins, paper bags, sour cream, tortillas, and even Mountain Dew. Hopefully, a day like this doesn't come again.
Copycat recipes are available for making at home
Think you're not getting enough of Mountain Dew Baja Blast? Or maybe are just too lazy to go to Taco Bell? Well luckily, plenty of Taco Bell copycat recipes are available online.
Most do-it-yourself recipes for Taco Bell's Baja Blast involve a combination of a blue sports drink and Mountain Dew. One such copycat recipe from 4 Sons 'R' Us calls for three simple ingredients: blue Powerade, Mountain Dew, and any lemon-lime flavored soda. A similar one from Tornadough Alli asks for Mountain Dew, Sprite, and Mountain Berry Blast Powerade. This viral TikTok recipe also utilizes Blue Powerade to get the teal color of Baja Blast.
You can even make your version of Mountain Dew Baja Blast Freeze by adding crushed ice to any of the above recipes. This DIY one from Copycat calls for six ounces of ice. Our own recipe shortens the process by freezing the yellow and blue drinks into ice cube trays before crushing the ice into a smooth texture.
A boozy version is launching in 2022
Mountain Dew is adding a Baja Blast flavor to its line of alcoholic drinks. The company started teasing the news in 2021, but the drinks are supposed to become available for purchase in 2022.
The new line of drinks is part of a collaboration between Pepsi and the Boston Beer Company. You may have heard of this beverage maker before. The Boston Beer Company is the brand behind the popular Truly Hard Seltzer brand. According to CNN, Hard Mtn Dew: Baja Blast, will become the fourth flavor in the lineup, joining original, watermelon, and black cherry. All of the drinks are hard seltzers, meaning you get the fizz of Mountain Dew with the addition of alcohol. Each can will be 5% alcohol by volume.
An alcoholic version of Baja Blast seems destined for success. The original soda has maintained its popularity in the 18 years of its existence. Thrillist pointed out the drink's fan base is so loyal that they even make their own merchandise. We think the new hard seltzer won't have a hard time selling.