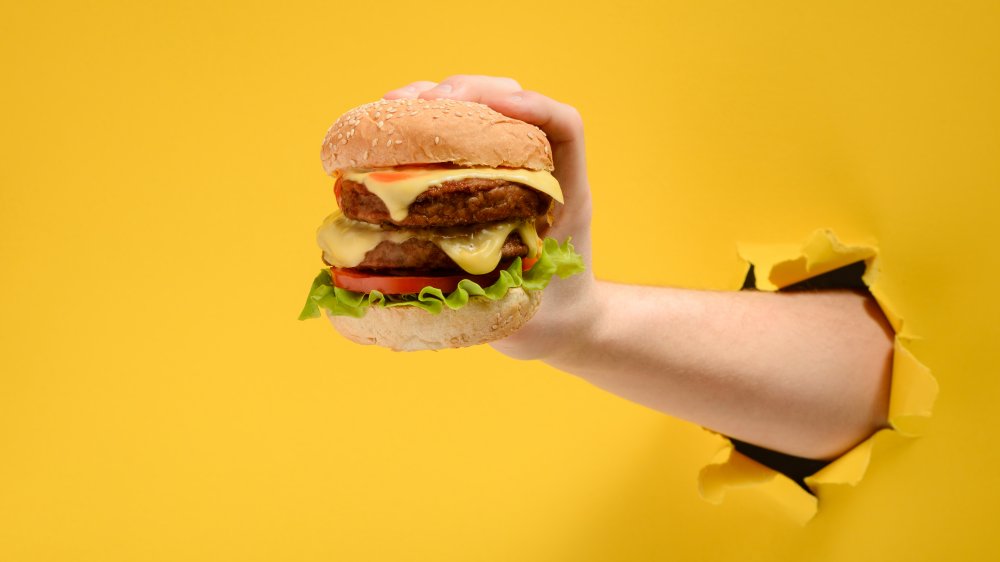 While hamburgers might have been invented in Germany, no one on either side of the Atlantic Ocean would argue against the fact that America has mastered the art of the burger. The nation as a whole has an infatuation with the burger that runs so deep that three of the top seven most prosperous restaurant chains in the United States are burger joints.
The possible toppings on a burger are only limited by your imagination. From mushrooms to guacamole, and from Swiss cheese to grilled pineapples, if you can think of it, you can find it on a burger at a restaurant in America. That said, not all chain burger restaurants in this country are worth trying out. Along with a bevy of spectacular burgers that can be found from sea to shining sea, there are burger-shaped debacles you'd be wise to dodge.
In this ranking, we've listed chain burger restaurants in order, starting with the absolute worst.
22. Sonic Drive-In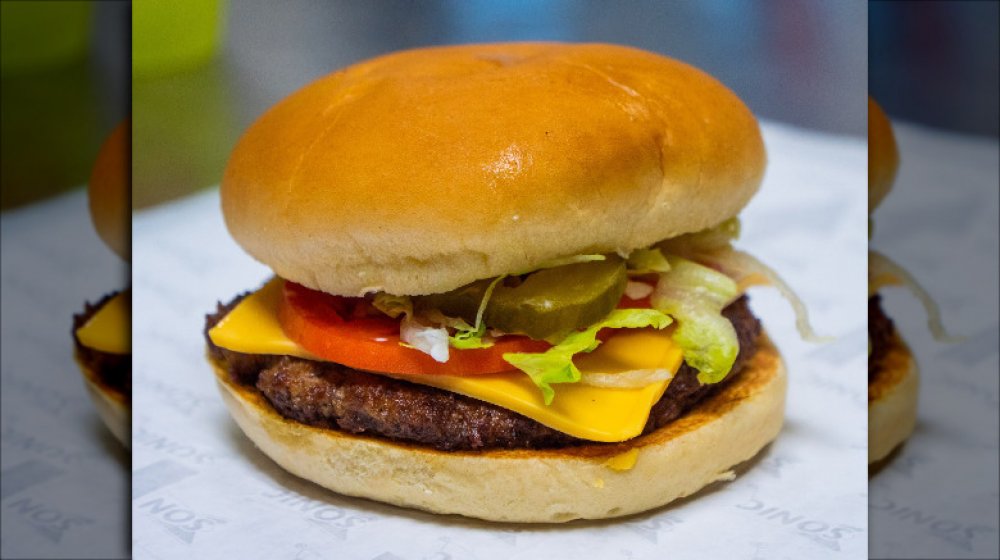 A trip to Sonic Drive-In is not a waste of time. They have many yummy items on their menu, from their iconic Cherry Limeade to their fantastic hot dogs. Other great choices include their onion rings and their spicy yet delectable Ched 'R' Peppers.
However, if you're headed to Sonic for a burger, you will have a bad time. A comment on Reddit likened their burgers to cafeteria food — and that's the perfect description. Sonic's burgers are so bland and so forgettable that you will be completely underwhelmed. By the final bite of your burger, you will be angry that you spent your hard-earned dough on something that wasn't any tastier than the mass-produced burger found at the closest elementary school.
If you're visiting Sonic, stick to their famous slushes, their scrumptious ice cream, or simple snack food like the aforementioned hot dogs and onion rings. If you're serious about acquiring a top-of-the-line burger, Sonic is clearly not the place to go.
21. Fuddruckers
If you visited Fuddruckers as a child, you likely have extremely fond memories. Remember submerging your burger with so much liquid cheese from their cheese pump that your mom got embarrassed? Remember all the games, all the televisions, and the comfortable atmosphere that so enthralled you when you were young? Yeah, those were some fun times.
Tragically, though, those times are gone. Fuddruckers isn't what you remember. In fact, this chain burger restaurant is in so much financial trouble that they may soon be forced to close their doors for good. The fantastic, juicy, made-to-order burgers of yesteryear have been replaced by sad, overpriced burgers that don't do your memories justice.
Don't let nostalgia convince you that a trip to Fuddruckers is a good idea. It's a far cry from what it used to be in its heyday. Years ago, Fuddruckers would have been in the top five or even the top three on a list like this. Now? This place is barely able to stay out of last place.
20. Dairy Queen
Dairy Queen is a lot like Sonic Drive-In in that it's great for what it is but shouldn't be the restaurant you go to when you want to eat a great burger. Dairy Queen has a ton of Blizzard flavors, and many of them are amazing. They also have other sweet treats including ice cream cones and sundaes that will make you smile from ear to ear. Go to Dairy Queen when your sweet tooth is begging for a dessert — but don't visit this restaurant when you have a craving for a burger.
At best, a Dairy Queen burger is a rubbery, disappointing sandwich that you'll try to forget as you eat your Blizzard. At worst, their burgers are a charred, soggy nightmare that might even get you sick.
The only good thing to report about the burgers at Dairy Queen is that they are indeed not made out of human flesh. While that's definitely a plus, you'll need to think of another satisfactory excuse for why their burgers are so bad if you make the mistake of ordering one.
19. White Castle
Pound for pound, White Castle burgers are decent. Unfortunately, they are just way too small. Their burgers, which they call "sliders" due to their puny size, will struggle to fill you up — even if you're not that hungry. You'll probably have to order five or six of these things to put a dent in your hunger, and dealing with all those sliders is more embarrassing than it is satiating. Skip the hassle and the awkwardness and just go to a better chain burger restaurant.
To White Castle's credit, it does try to make up for its shortcomings by offering about a dozen types of sliders. Sadly, the quantity of choices doesn't overcome the lack of substance. Considering the sliders are so small, there's only so much they can do to improve upon their original offering. That's why the best White Castle slider is either The Original Slider or the Cheese Slider, which is just The Original Slider with a slide of cheese added to the sandwich.
18. A&W
A&W has a history dating all the way back to 1919 when a guy named Roy Allen opened a roadside root beer stand in California. To this day, more than a hundred years later, this restaurant chain is known for its root beer. The chain has been offering burgers for decades, and A&W even claims to have invented the bacon cheeseburger, which has now become a ubiquitous part of American life.
While A&W has an impressive resume and should be proud of its longevity and accomplishments over the last century, all of that is ancient history. When it comes to the here and now, the burgers this restaurant offers are below average. For example, the Original Bacon Cheeseburger may have been a novel menu item decades ago, but today, this sandwich is lacking in beef, bacon, and quality toppings. Part of the problem is the burger's massive buns overwhelming every other aspect of the sandwich. In many situations, massive buns are a positive attribute. Unfortunately for A&W, it's not a positive on a burger that is struggling to stay relevant.
17. McDonald's
While no one would ever say McDonald's burgers are the best of the best, they do get some bonus points for being consistent. No matter where you are on the planet, you can order one of their burgers and be confident about what you will receive. Moreover, the Big Mac has been a national phenomenon since 1968. It's impossible to go through your existence as an American without at least having a couple of Big Macs along the way. The Quarter Pounder, which launched a few years later in 1973, is also an American institution in its own right.
While the consistency is admirable, the quality of McDonald's burgers simply can't compete with the competition. Thanks to that famous jingle, we know the many ingredients that comprise a Big Mac. However, despite all that is on it, a Big Mac has relatively little flavor — and certainly doesn't have the meaty goodness that other burgers boast.
Add in the unhealthfulness of some of their other burger options, and it's clear that McDonald's is unlikely to ever rise in a ranking like this one.
16. Rally's
When it comes down to bang for your buck, Rally's really delivers. Their burgers are inexpensive and adequate enough for you to be satisfied with your visit.
However, this chain burger restaurant comes up a bit short if you're simply judging their burgers for their quality without factoring in value. As good as Rally's burgers look, they lack the immense flavor found at competing restaurants. As an example, their Baconzilla looks like Wendy's Baconator and even has similar ingredients. However, the Baconzilla is not nearly as tasty. Likewise, as good as Rally's Big Buford looks, you need to keep your expectations in check when you order it to avoid being disappointed.
If you want a good deal, going to Rally's is a decent idea. If you want a good burger, go elsewhere. Note: If you've never heard of Rally's, you may know it as Checkers. Rally's and Checkers are owned by the same company and have identical menus.
15. Johnny Rockets
Since opening their first location in 1986 in Los Angeles, Johnny Rockets has been a popular destination for those who want an entertaining 1950s diner experience while enjoying a good burger. While this restaurant consistently provides the fun, eccentric vibe of a '50s diner, the quality of their burgers is much less consistent. Even if you've had a very tasty burger from Johnny Rockets, don't be too confident that your next visit will result in a burger of equal quality.
The late Anthony Bourdain found out first hand that Johnny Rockets doesn't always live up to expectations. While the celebrity chef and food critic ate some crazy things in his time, he pointed to an experience he had at Johnny Rockets as particularly troubling. Bourdain got a cold burger and some leftover fries during a visit that he described as "soul-destroying."
If you're willing to roll the dice, Johnny Rockets is an okay place to go for a burger. But if you get unlucky like Anthony Bourdain did, you'll be talking about your misfortune for years to come.
14. Carl's Jr.
If you're okay with a perfectly adequate burger, Carl's Jr. won't leave you disappointed. None of their burgers will especially wow you, and you shouldn't go out of your way to visit one of their locations, but Carl's Jr. has a long list of available burgers, and none of them will leave you disheartened.
Need help ordering at Carl's Jr? The Western Bacon Cheeseburger is so unique that it's something you should try while you're still in the land of the living. This bad boy features a beef patty, a pair of bacon strips, a slice of American cheese, a delightfully tangy barbecue sauce, and, most notably, onion rings within a sesame seed bun. While the Western Bacon Cheeseburger is still only average-ish, there's nothing else quite like it in the burger world.
Tip: Like Rally's and Checkers, Carl's Jr. and Hardee's are basically the same restaurant operating under different names. Thus, everything stated about Carl's Jr. and their burgers also applies to Hardee's.
13. Jack in the Box
Jack in the Box is a popular burger spot, particularly for those west of the Mississippi. For a newbie, ordering a burger at this place is a dangerous proposition. Some of the items on their burger menu are really good. However, others are a big disappointment.
The Sourdough Jack is a big winner. Along with a beef patty, you'll find bacon, Swiss cheese, a high-quality tomato slice, ketchup, and mayo on delicious sourdough bread. On the other end of the spectrum is the Ultimate Cheeseburger. This burger, which contains two beef patties and both American cheese and Swiss Cheese, isn't good at all. It has a mushy texture and a taste that somehow manages to be too savory. Plus, the melty cheese, buttery bun, and the presence of ketchup, mayo, and mustard make it a mess to eat. Do yourself a favor and skip it.
For a run-of-the-mill burger, Jack in the Box's Jumbo Jack won't do you wrong. It's not elite by any stretch of the imagination, but it's a safe choice for a noob.
12. Red Robin
After beginning life as a bar in the 1940s, Red Robin has grown into a chain restaurant in which burgers are front and center of everything they do. While they offer a pleasant sit-down dining experience and a number of inventive and tasty burgers, the fact that most of their burgers cost around $11 makes visiting a Red Robin an iffy decision value-wise. Many of their burgers taste good but not quite $11 good.
An example of the inventiveness of Red Robin's burgers is their Banzai burger, which apparently draws some of its inspiration from Japan. The beef patty is glazed with teriyaki sauce and is topped with grilled slices of pineapple along with cheddar cheese, tomato, lettuce, and mayonnaise. If you want to turn up the heat, opt for the Burnin' Love Burger that will immolate your taste buds with the help of fried jalapenos, a heaping dollop of salsa, and pepper jack cheese. While both of these burgers are really good, be prepared for some sticker shock at the end of your meal.
11. Burger King
The best thing about Burger King is that their burgers are all safely above average. That makes it nearly impossible to mess up your order, even if it's your first visit. Additionally, their beef has a flame-grilled flavor that is one of a kind and undeniably memorable. If you love that flame-grilled taste, Burger King could leapfrog over the competition and become one of your favorite two or three burger joints. On the other hand, if you find that flavor off-putting, you may actively avoid Burger King for the rest of your days.
The staple of Burger King's flame-grilled burger menu is the legendary Whopper. Compared to the Jumbo Jack from Jack in the Box, this burger is a step above. Beyond the flame-grilled taste, the meat is juicy, the bun is amazing, and the other ingredients are of high quality. If you want something heartier, the massive Triple Whopper with Cheese will fill you to the brim. Alternatively, if you want a sandwich that is more savory, the Bacon King with its six strips of bacon and four slices of cheese will successfully scratch that itch.
10. Fatburger
If you're east of the Mississippi, there's a good chance you've never seen a Fatburger, as a vast majority of their locations are in California. However, in the Golden State, it seems like everyone from hip hop stars to little children have only positive things to say about this burger chain. And while Fatburger isn't the cream of the crop, they certainly deserve their spot in the top half of this list.
The most famous burger at Fatburger is called, of course, the Fatburger. This voluptuous burger has a 100 percent beef patty, lettuce, onion, tomato, pickles, relish, mayonnaise, and mustard on a toasted bun. Interestingly, despite the name of this burger and the restaurant in which it is served, the Fatburger features lean beef. The original Fatburger has one-third of a pound of beef, and there are three larger versions. The largest is known as the Triple Kingburger, and it has an ungodly pound and a half of beef.
9. Steak 'n Shake
Steak 'n Shake is similar to Jack in the Box in that you really need to do your research so you know what to order. If you go in blind, there's a real chance that you will leave this burger restaurant with your tail between your legs.
In theory, the Western BBQ 'n Bacon Steakburger should be really good. This sandwich has two slabs of beef, bacon, American cheese, fried onions, and barbecue sauce. Sadly, the reality of the situation is you shouldn't order this burger because the barbecue sauce is way too sweet and has an artificial smoky aftertaste. Conversely, you'll be thanking the burger gods if you get your hands on the White Truffle Prime Steakburger. This glorious beast features a pair of Swiss cheese slices, perfectly caramelized onions, grilled mushrooms, and truffle aioli on a brioche bun that has been toasted. Additionally, Steak 'n Shake uses upgraded beef on this burger that's made with a combination of chuck and brisket.
8. BurgerFi
BurgerFi is quickly climbing the charts when it comes to having the best burgers around. Considering that their first location opened in 2011, it's impressive that they are already number eight on this list. As time passes, expect them to only climb higher and higher.
There's a lot to love about BurgerFi. First of all, BurgerFi claims that it only picks the top one percent of beef in the U.S. and that the beef has no antibiotics, growth hormones, or steroids — and science backed their claim. Secondly, they have one of the best meatless burgers in the fast food universe. Burger Fi's Vegefi Burger is so good that even the proudest self-avowed carnivores will happily devour it and enjoy every second of it.
When ordering from BurgerFi's menu, there's really no need to complicate things. The BurgerFi Cheeseburger is a classically delicious burger that you can't help but thoroughly enjoy.
7. Smashburger
You can't accuse Smashburger for burying the lede when it comes to their name, as their beef is literally smashed on a buttered and seasoned grill in order to create the delectable flavor of their meat. While they aren't the only chain burger restaurant to smash their beef, they've taken the practice to the next level and have made it the focus of their entire operation.
Like BurgerFi, Smashburger is a relatively new kid on the block. The chain was founded in 2007, and it already has more than 300 locations across 36 states. Beyond their smashing technique, Smashburger's success can be attributed to the fact that they have mastered just about everything on their menu. While the options are relatively limited, each and every item is really, really good.
If you want a burger with guacamole on it, you can't beat the Spicy Jalapeno Baja burger. In addition to beef and guac, this majestic muchacho has pepper jack cheese, chipotle mayonnaise, tomato, lettuce, and onion on an amazing chipotle bun that brings its own irresistible spice to the ballgame.
6. Wendy's
Considering that Wendy's is a fast food joint with more than 5,500 locations that can be found in every nook and cranny in the nation, the quality of their burgers is astonishingly high. Maybe it's because their burgers are square. More likely, the quality of their burgers is due to their practice of only using fresh beef that was never frozen at any point in time.
The creme de la creme when it comes to Wendy's burgers is undoubtedly the great Baconator. If you've never eaten one of these bad boys, you're missing out. It has half of a pound of their never-frozen beef, six slices of smoked bacon, two slices of American cheese, mayonnaise, and ketchup. The first time you eat one is borderline euphoric, especially if you're obsessed with bacon.
If you're not as hungry, Wendy's still has you covered. The Jr. Bacon Cheeseburger is as small as it sounds, but it's still scrumptious.
5. Shake Shack
Shake Shack has been around for fewer than 20 years, but their masterful burgers are impossible to ignore. Try one of their burgers, and you won't be surprised at all to learn that they've become so successful that they now have in excess of 275 locations around the globe.
Don't let their name fool you, as the milkshakes take a backseat at Shake Shack. Far and away, the best item on their menu is the ShackBurger. It has tomato, lettuce, and a yummy bun that's made out of a potato roll. However, it's the beef that's the star of the show. Shake Shack only uses Angus beef that's free of antibiotics and hormones and was raised on a pasture (not in a factory farm).
If you want something a little bit different at Shake Shack, the SmokeShack is exactly what you seek. This fancy burger has delectable bacon on it that was smoked over applewood. It also has cherry pepper slices to add just the right amount of heat.
4. Whataburger
When Whataburger was born in Corpus Christi, Texas, the impressive size of their burgers was the main selling point. While the size of their burgers will still impress you, it's the flavor that will have you reminiscing for days on end.
The magic begins with the standard Whataburger. It's comparable to the Jumbo Jack and the Whopper, only it's a way, way better than either one. A Whataburger comes with lettuce, tomato, pickles, onions, and mustard. It sounds relatively simple, but it's a fantastic burger that's so juicy and flavorful that it will keep your taste buds dancing. If you want to mix things up, go with a Double Whataburger or a Jalapeno & Cheese Whataburger that has enough jalapeno slices on it to make Whataburger's South Texas roots proud.
Speaking of Texas, if you ask anyone in the state about their favorite burger, the greatness of Whataburger would almost unanimously be discussed. And, really, who can blame Texans for adoring these great homegrown burgers?
3. Five Guys
The top three spots in this ranking are separated by a razor thin margin. All three chain burger restaurants have valid reasons why they deserve the top spot. When it comes to Five Guys, the freshness of the burgers and their obvious burger expertise make a compelling case. Going forward, it wouldn't take much for this chain to leap into first place.
While Wendy's is famous for never freezing their beef, Five Guys takes it a step further. Not only is their beef never frozen, they don't even have freezers on the premises! That's an impressive level of dedication to offering fresh food. Furthermore, while other burger places claim to be experts in the field, Five Guys chefs have the recipes down to a science so much so that they don't even use timers — and that's basically unheard of in this industry.
Add those two facts together, and you'll begin to understand why all the burgers on their menu are so spectacular. Oh, and it doesn't hurt that Five Guys also has phenomenal bacon. Their bacon is so good that you should even consider putting it in your milkshake.
2. In-N-Out Burger
You can confidently shout from the rooftops that In-N-Out Burger has the best burger in all the land, and you won't get much pushback. People may look at you like you're crazy for climbing onto a roof to scream about burgers — but there won't be many who decide to argue against you. In-N-Out Burger has stupendous options, from the humble Cheeseburger to the Animal Style burger with added grilled onions and pickles from their not-so-secret menu.
The key to In-N-Out Burger's success is the mastering of ratios. The ratio of the beef to the cheese and the ratio of the beef to the bun are both ideal and result in a delicious burger. While other burger eateries are plagued by too much bread or not enough beef, that's never an issue at In-N-Out Burger.
If you're on a keto diet, In-N-Out Burger deserves extra credit for making it easier to order a burger without a bun. Simply say you want your burger to be Protein Style and, voila, it will come wrapped in lettuce.
1. Culver's
For 2020, the Harris Poll found that Culver's reigns supreme in the burger restaurant category. After Five Guys took home this award in 2017 and then again in 2018, In-N-Out Burger got the nod in 2019. But 2020 is Culver's year — and we agree that this chain burger restaurant is now the best in the United States.
If you've never eaten a burger at Culver's, a smart way to think of this place is to consider it Five Guys but with superior toppings. From their buns to their meat and everything in between, you can count on Culver's to deliver top-notch ingredients that are bursting with flavor.
The most famous burger at Culver's is the ButterBurger. Don't be confused and think that this burger features a buttery meat concoction. The word "butter" in ButterBurger refers to the fact this burger comes on a buttered bun that has been lightly toasted.
If you want to up the ante, order the Cheddar ButterBurger with Bacon. This monster has twice the beef of the original ButterBurger plus smoky bacon and cheddar cheese from Wisconsin. You'll be blown away by the freshness and the authenticity of all the ingredients — and you too will be exclaiming to one and all that Culver's is now the home of the best burgers.