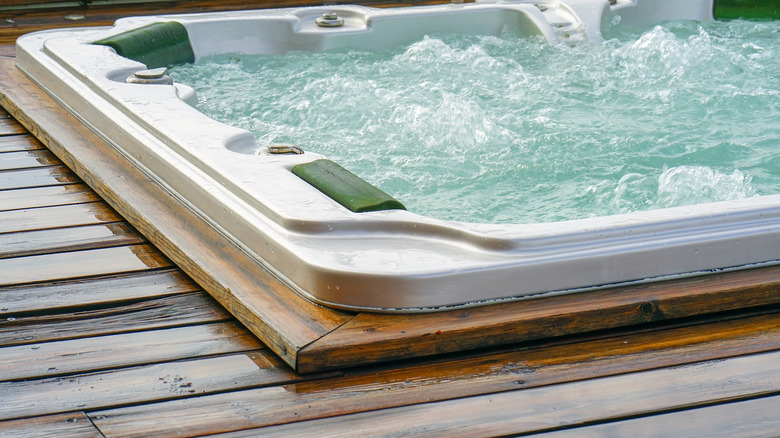 Are you in the market for a hot tub? Whether you're upgrading what you have or embarking on this purchase for the first time, you certainly want to avoid making a host of mistakes that are all too common for those investing in this backyard water feature. This is a pricey purchase, and one that will hopefully merit much use once it's installed and ready. With that being said, you want to carefully consider the wealth of options out there and find the hot tub that best aligns with your yard, needs, and budget.
If you're in pursuit of a hot tub, it's likely for good reason. After all, there are many benefits associated with owning and using a hot tub regularly. These include stress relief, muscle relaxation, better quality sleep, better cardiovascular health, and even an uptick in burning calories, according to Healthline. To ensure that you maximize these benefits, find the hot tub best suited to your needs by following this handy guide.
Not understanding jet count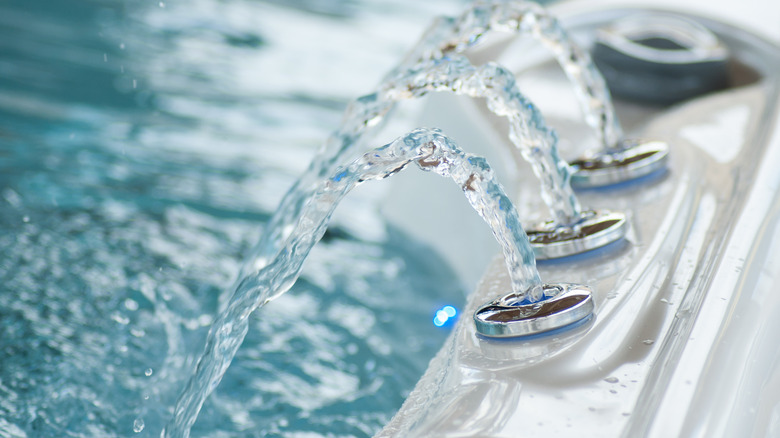 A very common mistake for individuals buying a hot tub is to not have a solid understanding of jet count before pulling the trigger on purchasing. When it comes to jet count, the common misconception is that more is better. But, that's not always the case. Think of it this way: like so many other things in life, quantity is not synonymous with quality. Jacuzzi explains that rather than number of jets, it's more about the placement of them that really creates a supreme spa experience.
As you prepare to buy a hot tub, think about the areas you want jets to focus on for your own experience. For instance, do you want a hot tub with full-body massage capabilities? Or would you rather invest in a hot tub with more concentrated jets for certain body areas, like your back or feet? Once you've zeroed in on what bodily areas you're most concerned with pampering, you can then take a look at the number and placement of jets in the different hot tubs you're interested in.
Not having the best spot for your new hot tub
Before you buy, you want to ensure you have the perfect spot ready for your new tub. Chances are, you're so excited about the prospect of having a hot tub in your yard that you haven't really decided where it will actually go. But, this is a very important step in the process, and it should be considered before you actually make your purchase.
As explained by HotSpring, there are a few different factors you should consider when choosing the right spot for your hot tub. First, you want to ensure that the spot you choose is realistic for the hot tub delivery people to get to. There should be a clear path that's wide enough to access the spot you're targeting. Structural support for your new water feature is also essential, since hot tubs are pretty heavy, once you add hundreds of gallons of water plus multiple adults.
It's also important for the area to have sufficient drainage. Your hot tub will need to be drained a couple times a year for regular maintenance, so a spot with reliable drainage is of paramount importance. Finally, you'll want to choose a spot that makes it easy to use and maintain your hot tub. It should be close enough to your home to be convenient to use, even in cold weather, and there should be plenty of space around it to allow you to easily clean and maintain your hot tub.
Not thinking about long term efficiency
A hot tub is a pretty major purchase, and you will want to ensure that your hot tub is going to last you a long time. That's why you need to be concerned with efficiency before making your final decision, as it can have a large impact on your utility bills. This is something that a lot of hot tub shoppers don't think about right off the bat.
There are some ways to ensure that you're investing in a hot tub that is sound from an energy efficiency standpoint, as explained by Master Spas. First, you will want to understand the type of insulation that the hot tub you choose has. Hot tubs with foam insulation can better retain their efficiency over the years. For instance, Icynene foam insulation is known to better withstand the test of time, while urethane-based foam can lose up to 50 percent of its insulating value within just two years.
The filter type and quality also helps with energy efficiency. You will want to ensure that the water filter system in your hot tub is of high quality, reducing the need to replace your water as often as you would with a weaker or less-effective filter.
Not understanding the cost of chemicals
Sometimes people fail to recognize that the cost of a hot tub isn't all upfront. It also costs a good amount to regularly maintain your hot tub and ensure that the water is properly cleaned and balanced. Mainley Tubs advises that even just the basic level of hot tub water care, which includes using bottled chemicals, costs at least $20 monthly. Of course, this depends on what water filtration system your hot tub uses, as well as other factors.
Family Handyman further explains the cost of cleaning your hot tub regularly and balancing the water with chemicals. Hot tubs use chlorine to stay clean, just like many pools do. Tester strips are a necessity to ensure that the pH, the alkalinity, the calcium, and chlorine levels of the water are all optimal. This is something that will be tested at least twice a week.
While this monthly cost may not break the bank, it's still something worth considering before you take the plunge on this purchase.
What about the cover?
Don't fall victim to this common hot tub purchasing mistake: Assuming the cover is included. While many hot tubs don't come with this element, it's extremely important to have one in order to protect this water feature as well as for the health and safety of your family. A hot tub cover keeps your family members, including children and pets, safe from slipping and falling into the hot tub. This could prevent accidents and drowning, according to The Cover Guy.
In addition to those important safety considerations, having a cover also contributes to the longevity of your hot tub, which is important considering what a large investment it is. A cover retains heat, which means that your hot tub doesn't have to work as hard to reach and retain optimal temperature. It also protects the surface of your hot tub from damage (as in, from things falling on it or knocking into it, which can scratch or dent the hot tub) and it helps to keep it clean. Not only will the water stay cleaner, but the filter won't have to work so hard and is less likely to get clogged with excessive dirt and debris.
Not asking about the electrical needs
The electrical needs to power a hot tub differ from one model to the next, which is an important thing to note. You may actually be surprised to learn that a hot tub has a wealth of electrical needs, so you'll definitely want to have a solid understanding of them before you make your final purchase.
According to Harrison Electric, different states and cities have varying codes that may dictate the way your hot tub is installed and operates when it comes to consuming power. You'll want to understand the voltage needed to operate the hot tub models you're interested in and what circuits, outlets, or other electrical equipment is needed to successfully operate this water feature.
Electrical standards are certainly not something you want to mess around with, especially when water is involved. For that reason, you may want to get a licensed hot tub electrician involved in the installation of your hot tub to ensure that every I is dotted and every T is crossed from an electrical safety standpoint.
Not checking the warranty
You want to be covered in case of any issues with your hot tub. For that reason, make sure you have a clear picture of the warranty before purchasing. Since this is a large monetary investment, it's worthwhile to look into this part of your purchase.
Alcoe notes that there are certain things you should really understand about your warranty at the time of purchase. First, take a look at what the length of coverage is. This could range from a year to a lifetime guarantee. Obviously, the longer the coverage goes for, the better.
Another thing to drill down into before purchasing your hot tub is what parts are covered under the warranty. Just because you have a warranty doesn't mean that every part of the hot tub is actually covered, believe it or not. Mechanical parts can be separate from the outside structure of the hot tub, which can all be different from the electrical aspects.
Another part of the warranty to understand is what services are covered. Occasional repairs may be needed to maintain your hot tub, so you'll want to know whether these technician visits will be covered in full, partly, or not at all by your warranty. As you examine this, pay particular attention to the length of time services are covered under the warranty, as it can differ from the amount of time part replacements are covered.
Not considering add ons
Have you ever seen a super tricked-out hot tub with all the bells and whistles? Well, many hot tubs don't come equipped with lights, speakers, and all of those awesome features. There are so many upgrades you can add to your hot tub at the time of purchase. You'll want to understand what models have what upgrades available and what it'll cost you.
Popular Mechanics advises that some hot tub upgrades are more common than others. One of these options is commonly a variety of colors for different aspects of the hot tub, even made to match your patio furniture to tie together the look of your outdoor oasis. Many other upgrades are available from a technological standpoint. For instance, integrated waterproof speakers, hot tubs that are compatible with mobile apps for convenient operation, or upgraded LED lights are all worth considering.
Additional upgrades exist to help elevate the operation of your hot tub overall. Enhanced water purification systems help your spa maintain a higher level of cleanliness, which is, of course, always desirable.
Failing to think about capacity
Understanding how many people will be using your hot tub and digging into the capacity prior to making your purchase is a must. After all, being able to accommodate all of your loved ones is a priority! Modernize Home Services notes that hot tubs typically fall between 5 to 9 feet in width and are usually between 29 and 39 inches in height.
However, you can think of hot tub size options as you do clothing sizes: Small, medium, and large. This will help you envision what size is right for how many people you want to accommodate in your hot tub, as small hot tubs seat two to four adults, medium tubs have room for four to six adults, and large hot tubs can seat upwards of seven people.
The shape of a hot tub also makes a difference in the seating arrangement. For instance, a diamond or square-shaped tub will naturally seat more individuals than a corner-oriented or triangular hot tub.
Not knowing average pricing
Don't get hosed on your hot tub purchase! Knowing the average prices by size and type is very useful going into the process. has some useful advice as to what you can expect price wise for your new water feature. They note that on the lower end, hot tubs cost between $3,000 to $5,000 according to Home Advisor. Mid-range hot tubs come in around $5,000 to $12,000, and the top-of-the-line models that have all the bells and whistles can run you up to an astounding $20,000 or more. Obviously, from the lower end to the higher end is quite a range.
The price of your hot tub will depend on several different factors. First, the general construction and materials of your hot tub will affect the price. For instance, if it's made to be an indoor or outdoor hot tub, if it uses saltwater, if it is to be installed in the ground or is above ground, and whether it's portable all alter the price. The size and brand of the hot tub you choose will also affect price, where obviously a larger hot tub will be more expensive and a more reputable brand will run you a prettier penny.
What about exterior cabinets?
Most people don't think about this feature on hot tubs prior to purchasing, but it's definitely something to consider. These are not cabinets in the traditional sense where you can store things inside of them, but they are meant to house the inner hardware of your hot tub in an aesthetically pleasing way. According to Jacuzzi, these cabinets have come a long way over the years. They used to be made of wood, but have since been upgraded. Now, they're made of synthetic materials that are of high quality, ensuring they won't rot or degrade over time, especially since they'll be repeatedly exposed to outdoor elements and water.
These upgraded cabinets are durable and UV-resistant, while also adding to the aesthetics of your hot tub. Their look mimics that of wood, but they require little in the way of maintenance. Hot tub cabinets are available in different colors, so you can choose one that suits your taste and matches the look you're going for in your backyard.
Not checking on filtration
Keeping your hot tub clean and sanitary is of utmost importance, so you'll want to understand this prior to buying. According to Brady's Pool & Spa Care, a lack of an effective filter would lead to a hot tub filled with contaminants. These come from two main sources: outdoor elements around the hot tub, like leaves or even dust, and from people who use the hot tub due to elements like sunscreen, makeup, or deodorant that comes off of them into the water.
Once these contaminants enter the hot tub, they can prompt a range of issues. From cloudy water to the formation of algae, these problems can render the water feature unusable. But a sound filtration system works to push the hot tub water through a microfilter. This process removes the contaminants from the water to keep it clean and sanitary. In most modern hot tubs, the filtration system takes place automatically throughout the day, making it effortless to keep your hot tub clean.
As you research hot tubs, also research the type of filtration system they each come with. This is one of the most important aspects of a hot tub, and not having a high-quality filter will lead to a hot tub that is more prone to issues, which will lead to more money spent on maintenance.
Do you need insulation?
Just like your home, hot tubs use insulation to hold in warmth. HotSpring explains that it's important for hot tub owners that live in a colder climate to ensure their tub has sufficient insulation. Doing so will drive down the cost of operating their hot tub in cold weather.
There are actually different types of hot tub insulation. First, some hot tubs have none. These models will need to be reheated to your temperature of choice for each individual use, and the water will not retain heat well even during use.
The next type of insulation is partial foam, where the insulation exists on the outer wall of the hot tub shell. This was the industry standard for quite some time, but it's actually not nearly as effective as alternate options of insulation.
Then, there is a thermal wrap or blanket. This is a reflective material that exists around the perimeter of the spa cabinet. This is meant to reflect heat back into the hot tub.
Full foam is the most effective form of insulation for your hot tub. Those that have this are more energy efficient, leading to lower utility bills. Full foam helps a hot tub retain heat and it boasts the added benefit of enhancing the structural support of the spa overall, making it the best choice if you're looking for a hot tub that will stand the test of time.
Not really exploring your options
There are so many out-of-the-box options for hot tubs, and you should really explore them all before making your final purchase, according to Style Motivation. From a hot tub that you can swim in to a wood-fired model, have you really examined which will check all of your boxes?
Most people think of a hot tub as being outdoors, but there's an option to have an indoor hot tub, too! This is a great option for people who have extremely long winters where they live, and to provide a heightened level of privacy as you indulge in your spa. If you have an in-home gym, this could be a good addition to allow you to tend to sore muscles after a workout.
Knowing your options, even those that are less conventional, can really help you choose the right hot tub for you and your lifestyle.