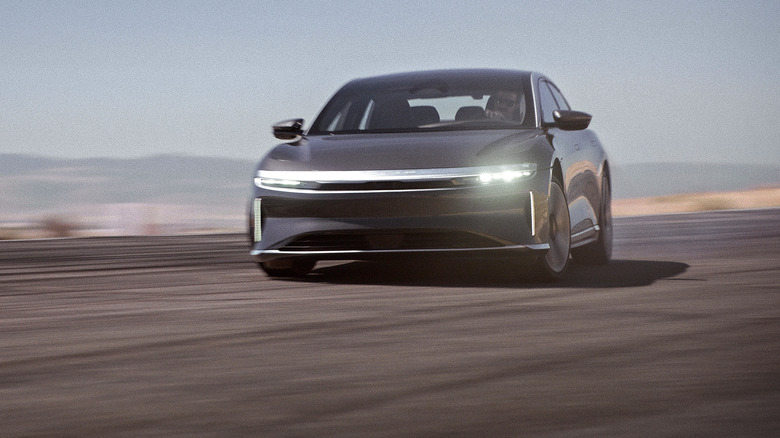 Electric cars are far more than just an environmentally friendly option these days. There is a clear high-end market for electric vehicles, which push specs, technology, and luxury to the limit. At the top of the luxury pile sits the Lucid Air, which has finally started arriving on the driveways of the people who pre-ordered it.
Lucid, which originated as a battery company, decided to take on Elon Musk's Tesla from the outset. In a relatively short space of time, Lucid has managed to release the luxury Air range of vehicles, which pushes both performance and battery capabilities to the limit. They've also managed to score some points over their closest rivals by appointing former Tesla Vice President of Vehicle Engineering, and Chief Engineer of their flagship Model S, Peter Rawlinson, as their CEO/CTO.
The Air has far exceeded the Model S in one key department and has a number of incredible features. Here's a look at the ten best features of what is arguably the best electric vehicle on the market today.
10. California-inspired sustainable fittings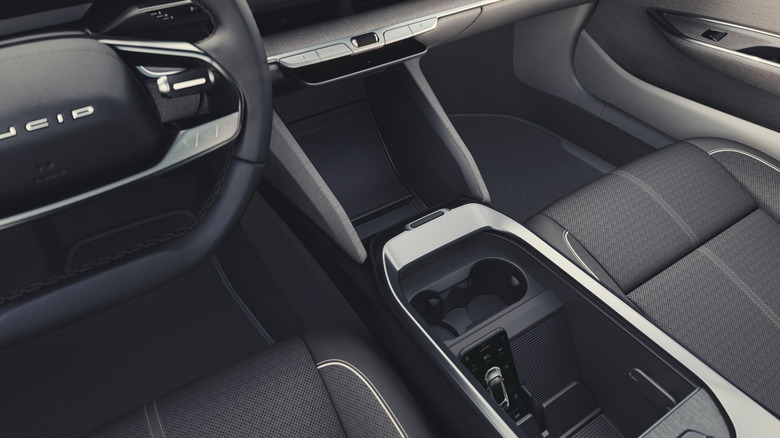 Depending on your source of electricity, it's entirely possible for the Lucid Air to be carbon neutral from the second you buy it. The car produces zero emissions, and the actual driving part isn't the only emission-free part of the Air. Lucid claims to be "pushing ahead with EV innovation that makes the most responsible use of the earth's resources." The company says its design options are inspired by California, the state in which the company is based.
That commitment includes the vehicle's interior, which features "sustainably sourced wood" from trees like eucalyptus, walnut, and red oak. The fabric lining certain sections is either a 100% recycled yarn, or a minimally-dyed alpaca wool blend. Then there is the leather, which comes from Scottish supplier Bridge of Weir. Bridge of Weir says it is the lowest carbon leather supplier in the world, producing just 1.1 kilogram of CO2 per hide processed. All of this makes a Lucid Air one of, if not the most, sustainable vehicle choices both inside and out.
9. Reclining rear seats are just one of many comfort features
The Lucid Air has been designed as a luxury vehicle, and that design goes beyond the materials lining the inside and outside of the car. Driving one may be fun, but passengers are in for a good time too. Alongside the kind of features you'd expect in a luxury vehicle, like heated seats and a massage function, Lucid has designed the Air with seats that make the most of the spacious interior and generous legroom.
Lucid claims that the seats' most unique optional extra takes inspiration from the skies in more ways than one. The "jet-style" rear seats will recline, giving passengers tremendous views through the car's canopy. In theory, this could go wrong — especially when the sun comes out. But Lucid has thought of that too and installed protective layers in the glass above which protect the car's passengers from both heat and glare.
8. A glass canopy covering the cockpit and spacious interior
The jet-like features don't stop with the rear seats. Lucid includes a "5k glass screen" in their "cockpit." The UHD screen is where all of the driver's instruments sit, so you can view your speed, mileage, remaining charge, etc. while feeling like a pilot. They've even christened the part that allows you to customize what appears on your display, the "pilot panel."
Another feature in this vehicle so fancy it has to take inspiration from private jets is the "glass canopy," which makes the already spacious interior seem even larger. Lucid achieved this large interior by finding ways to shrink aspects — like the car's power train components — without sacrificing performance. To put the whole thing into perspective, Lucid claims to offer SUV levels of interior space in what is essentially a mid-sized car — without compromising on storage room. Alongside the numerous compartments in the cabin, the Air also features a double-layer trunk and large "frunk."
7. Lucid's small motors and power train pack a punch
Despite being miniaturized to help maximize the car's interior space and storage room, the car's motors and power train still pack an enormous punch. Each of Lucid's two motors can generate up to 670BHP — all while weighing just 160lb and being roughly the size of an aircraft's carry-on bag. It is all part of what Lucid calls the "LEAP" or Lucid Electric Advanced Platform. The LEAP consists of two motors which Lucid claims are the most powerful in the world for their size and weight, alongside advanced silicon carbide metal-oxide-semiconductor field-effect transistors (MOSFETs) intended to minimize energy loss and give the vehicle an extended range.
The advances Lucid has made in motor and battery development will go beyond the Air. Peter Rawlinson, CEO and CTO of Lucid Motors, has said the advances will allow his company to "offer future models that achieve competitive range from proportionately smaller battery packs, thereby saving cost, weight, and space."
6. The Air offers almost Hypercar-level performance
Yes, the Lucid Air is a great choice for people with environmental concerns. You could hook one up to a field of solar panels, and it would be an incredibly green method of transport. But that shouldn't overshadow the fact that most of its specs put it on par with some hypercars.
The 1,111 horsepower is nothing to be sniffed at. The air also offers face-shredding acceleration levels, going from 0-60 in just 2.5 seconds. That's just 0.2 seconds slower than a Bugatti Chiron, at around 1/20th of the price. Lucid says that the Air will do a quarter of a mile in less than 10 seconds.
The only thing stopping a Lucid Air from competing with hypercars on all fronts is its top speed. It will max out at "only" 168 mph. Buyers also have to choose between performance and vehicle range; you can't have both. Or, more precisely, both can't be taken to their absolute limit on the same model. Although the top speed stays at 168 mph, no matter what version you choose.
5. Advanced driver assistance features
Dreamdrive, and the more advanced Dreamdrive Pro, are Lucid's driver assistance systems.
Dreamdrive is based around a network of 32 sensors consisting of 14 visible-light cameras, five radar sensors, four surround-view cameras, and several ultrasonic sensors. The Lucid Air Dream Edition and Lucid Air Grand Touring come with Dreamdrive Pro as standard; Pro includes all of the above alongside a laser range finder with an ultra-wide field of view. These sensors will help keep you in your lane while cruising on a highway or moving along with heavy traffic. They should also perform at their best in a variety of weather conditions.
Lucid is offering 30 driver assistance features, including automatic parking, auto-braking, and a bird's eye view when maneuvering the vehicle. Although self-driving cars may be a few years away, Lucid intends to offer a "pilot mode" with the air, which allows the driver to remove their hands from the wheel for an extended period under certain circumstances.
4. The Lucid Air comes with advanced safety features
That glass canopy may feel a bit fragile when you're cruising along at motorway speeds, but don't worry. The Air is manufactured with safety in mind. Lucid makes cars with a bonded aluminum frame, adding structural rigidity without piling on the pounds. The Air's interior benefits from nine airbags strategically placed to help cushion anyone traveling in the car from impact. The rear seats feature two anchors designed to secure child safety seats, and the glass surrounding the car is laminated, making it difficult to shatter.
The Air is also built for accident prevention. The battery pack is positioned to improve the vehicle's handling, which should help drivers avoid dangerous situations. DreamDrive is also there to help keep drivers out of trouble. Lucid says its software will make "split-second decisions" to keep the vehicle and its passengers safe. According to the manufacturer, the Air has been designed to exceed global safety standards.
3. Free Ultrafast charging
With gas prices on the rise, an all-electric car's cost per mile may already look like a good deal. Still, it would be even better if you could power your car for free, and that's what Lucid is offering customers who reserve an Air before June 2022. Those who receive the deal can charge their Lucid Air for free until 2025 at any of Electrify America's 750 charging stations, plus any of the 81 under construction stations that are completed before your free charging deal expires. The stations also have ultrafast 350 kW chargers that can provide a Lucid Air with 300 miles of range in just 20 minutes.
There's no "catch" here, and Electrify America's stations are evenly distributed throughout the US. That said, 750 isn't a large number when you're talking about something the size of a small parking lot compared to the entire continental United States, so some people will benefit more from this deal than others. This offer is unlikely to be around forever, but it may not end in June either. It has already been extended past its original December 2021 deadline (via Torque News). So, if you can't get your deposit down by June, keep an eye out; you may still be in luck.
2. 300 miles of range in just 20 minutes of charging
Range and recharging times are two of the biggest concerns about electric vehicles. If your conventional vehicle or crossover hybrid is low on gas, you can refill the car and be on your way in minutes. With an electric vehicle, you may have to spend hours recharging it. This isn't the case with a Lucid Air, which can give you 300 miles of range in as little as 20 minutes. To achieve those speeds, you do have to plug your Air into a DC fast charger capable of hitting the peak charging rate of 300 KW/h — and those aren't available in all locations.
Lucid says the Air's 900 volt plus electric architecture makes the fast charging times possible. Even if you're at a charging station that doesn't have the fast chargers necessary to get your Air back on the highway in 20 minutes, there is still tech there to make the best of it. The Air's Wunderbox Boost Charger detects the capabilities of a charging station before adjusting and boosting the incoming voltage to help deliver the quickest possible charge.
1. It has the longest range of any electric car
The best thing about the Lucid Air is the 520-mile maximum range the top-of-the-line model offers. This is the longest distance an electric car can currently travel on a single charge — by a long shot — and a testament to both Lucid's background and its commitment to battery development. To put that in perspective, under ideal conditions, you can drive a Lucid Air from New York City to Boston, then from Boston to within five miles of Philadelphia — all on a single charge. The extra range also means you have to recharge less often; couple that with the Air's lightning-fast recharge times, and you'll find your car may not be plugged in very often.
Tesla's current best effort and former long-distance electric champion, the Model S, comes in second place — but it isn't even close. Although it can manage a staggering 405 miles on a single charge, the Model S would still run out of juice 115 miles behind the Lucid Air. Lucid took the crown from Tesla in 2021 when the EPA finalized its estimates on the Air's maximum range.