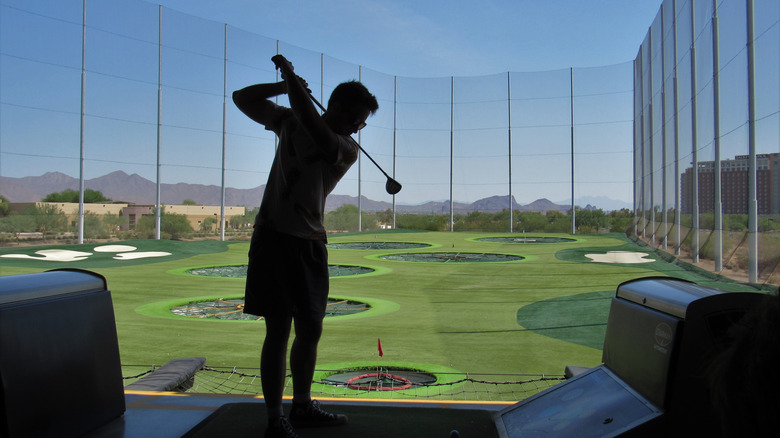 If you've frequented Topgolf, you know that getting together with friends and testing out your swing at one of its locations is a blast, even for those who have never picked up a club before. Topgolf may seem like a relatively new thing, but the company started back in 2000 in the United Kingdom, per the company's website. In 2012, the brand shifted to focus on entertainment venues, including its signature mashup of real-life and simulated golf. If you've never been to one, it's a pretty easy concept. There are various ways to play the game, but they all involve players taking shots at various targets on the green from an elevated bay. It's a simple premise, but a nice alternative to golf, especially for those who aren't very familiar with the sport.
Not unlike entertainment venues such as movie theaters and Dave & Busters, Topgolf also has pioneered its own unique food and drinks menu. The fun of Topgolf is the experience, which includes hanging out in its swanky modern venues and dining on what Thrillist commends as a menu built by chefs with foodies in mind.
Planning to visit one of the many Topgolf locations around the globe? Here are the menu items that are worth ordering.
Topgolf Wings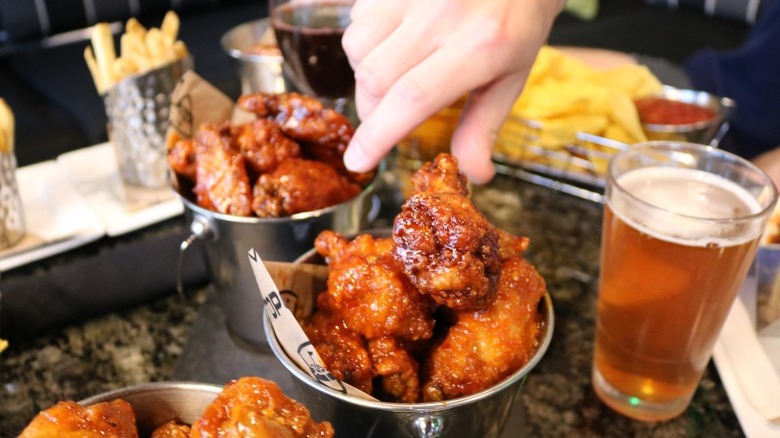 No food goes better with playing sports and drinking beer quite like chicken wings. Thankfully, Topgolf serves up plenty of crispy wings with sauces that will leave you making sure you don't waste a single drop. While the bone-in wings are always a solid option, the boneless wings are crispy and impossible to stop eating. A 2021 Yelp reviewer also suggests the boneless wings to future diners, as they're an undeniable hit. "Wings were top notch and the injectable donuts were a delight," one 2018 review reads.
It's hard to go wrong with Topgolf's sauce selection. Even a more basic option like buffalo is expertly executed on these chicken bites. We particularly like the sticky sweetness of the Asian sesame sauce, or a zesty classic like lemon pepper. For around $30, you can get a massive plate of three different wing flavors, which is perfect for sharing with a large group.
Warm Pretzel Bites
Another crowd-pleasing appetizer worth ordering for your Topgolf bay to share is a plate of the warm pretzel bites. These little nuggets are perfectly soft and salty, accompanied by gooey cheese sauce and a zippy horseradish Dijon mustard. Unlike some of the other options on the menu, soft pretzel bites are definitely not a dish that is exclusive to Topgolf. However, they deserve a shoutout because in a sea of forgettable pretzel appetizers at chain restaurants, this particular plate has no flaws, making it memorable.
We are also recommending the pretzel bites because they are an elevated counterpart to a protein-heavy dish like wings or chicken strips rather than your run-of-the-mill fries. A table full of shareable plates is part of what makes the Topgolf experience fun, and it's only right for this staple to be included. "The pretzel bites were a crowd pleaser," one Yelp reviewer wrote, and we couldn't agree more.
Cheesy Macaroni Bites
It's an unwritten rule that a trip to Topgolf must include at least one order of cheesy macaroni bites. It's exactly the appetizer you want it to be — creamy mac and cheese fried to a crisp and ready to be dunked in ranch or tomato sauce. It's one of the best options on the menu not only because it's delicious, but it also adds to the ambiance. It's a dish to share with your fellow competitors in between rounds, and something that everyone will love to try at least a bite of. More realistically, you'll probably be ordering a second round before you've even finished the first. They're really that hard to put down.
Unsurprisingly, this particular dish has gotten a lot of love on the internet. Take Newsday's food reviewer, for example, who wrote in 2021, "Improbably, its cheesy macaroni bites — sort of like arancini but filled with gooey mac-and-cheese — hit some joy trigger deep in the amygdala." That's a pretty profound thing to say about eating an appetizer — dare we say, that description also triggers the amygdala. They've gotten the thumbs-up on Yelp too, including one reviewer who declares the appetizer to be a must-try for first-time golfers.
Meatalian Flatbread
Topgolf's menu is all about elevated versions of bar classics, and its flatbread pizzas are a good example of that. These are shareable pies offered with a variety of toppings, including gluten-free options. One of the stand-out recipes is the Meatalian flatbread, which Topgolf's menu says originated from the brand's Tampa location. A 2018 review from USA Today commended an earlier version of the three-meat flatbread, writing, "The quality of the three meat toppings is high, with near-perfect toppings."
The flatbread comes topped with prosciutto, salami, pepperoni, pepperoncinis, and basil, so it's a spin on your typical meat lovers' pizza. The three different meats add a complex flavor to this pie that is cut by the acidity of the pepperoncinis and the freshness of the basil. It's not exactly a pick for vegetarians or people looking to cut down on meat, but it sure is a tasty indulgence if it sounds like something you would devour in between drives.
Fried Chicken Heat-Wich
If you're looking for something heartier to chow down on, Topgolf has a hefty menu of sandwiches that include your typical burgers and other handheld bar fare. For those who aren't afraid of a little spice, a must-try option is the Fried Chicken Heat-Wich. It's the brand's take on a spicy chicken sandwich that's crispy and bursting with heat.
One 2022 review on Yelp goes as far as to suggest a chicken sandwich instead of any of the burgers on the menu, as the customer thought it was the better sandwich. Another review also from 2022 proclaims that the sandwich is even more delicious than one might expect at first glance.
This sandwich is not for the faint of heart. Luckily, it includes some refreshing slaw on top to cut through the spice. The habanero ranch, though, is no joke, but it's so good that you won't even mind the burn.
Turkey Avocado Wrap
One might argue that most of the items we've included from Topgolf's menu aren't exactly the healthiest options, but that doesn't mean the menu only has fried food to offer. One fresh option for a meal is the turkey avocado wrap. This wrap is filled with slices of deli turkey, fresh avocado, matchstick carrots and cucumber, slices of tomato, pieces of lettuce, and a chipotle aioli that brings everything together. It's a filling option that's not packed with grease, and will act as great Topgolf fuel to power you through the rest of your game.
If handhelds aren't your thing, this wrap is also available in salad form that also makes it gluten free. The venue also has a salad menu full of flavorful options, some of which can be turned into wraps, so this is far from the only way to enjoy a veggie-heavy lunch or dinner while getting some swings in.
Cobb Salad
Speaking of salad, you can't get more filling than this ultimate cobb salad. Even if you're someone who rolls their eyes at the thought of ordering a salad, Topgolf's take may just be good enough to change your mind. This plate includes bacon pieces, hard-boiled eggs, grape tomatoes, avocado, cheddar cheese, scallions, and marinated grilled chicken on a bed of lettuce. A 2021 review from The Chieftain specifically commended the Topgolf take on a classic, writing, "Upon taking the first bite, the salad was rich and flavorful with a decent amount of dressing."
This may be another common offering for American pub-style restaurants, but this filling version fits in perfectly with Topgolf's menu at large. It may not be fried or smothered with cheese, but the salad is one dish that will leave you feeling full enough to play another round without bogging you down, so it's worth a try.
Cheese Fries
Cheese fries are a simple plate that are surprisingly easy to mess up. The problems facing this dish can be endless, including soggy fries, cold cheese, uneven topping distribution, and an overall lack of flavor. None of these cons can be used to describe Topgolf's take on this indulgent side dish. These cheese fries are crispy, served hot, and feature a mixed blend of cheese on top that will make your mouth water. Every potato sliver is perfectly coated in cheese, and there's a zesty ranch dipping sauce that makes for a perfect companion. Understandably, they are hard to put down. As one Yelp reviewer wrote, "Ordered a ton of apps, they were all pretty good, but those cheese fries were the biggest hit."
Cheese fries, when executed correctly, are a thing of wonder. It's impossible to eat just one and it's one of those dishes that's hard to ever say no to. If you're looking for a way to make this plate a little more filling, you can add bacon for an extra fee, because everything is better with bacon.
Injectable Donut Holes
Even if you've never been to Topgolf, you might be aware of their buzz-worthy donut holes with injectable fillings. In their glowing review of the dessert, USA Today quipped, "You shoot them up and then you shoot them down." The plate features cinnamon-sugar donut holes accompanied by your choice of two fillings. The options include raspberry jelly, chocolate sauce, and Bavarian cream, and you really cannot go wrong with any of them. You are not getting the full Topgolf experience if you don't top your trip off with at least one plate of these.
The concept of this dessert is obviously a home-run, but they are executed perfectly as well. As pointed out by one 2019 Yelp review, they come to your table warm and fresh, just begging for you to inject them with filling and devour in seconds. And if you order them during the month of April, part of those donut holes sales will go to the Make-A-Wish foundation.
Double Trouble Cookie Skillet
If donuts aren't your thing, Topgolf offers a downright sinful cookie skillet that is the ultimate crowd pleaser. This chocolate cookie is loaded up with vanilla ice cream, caramel sauce, and powdered sugar — so you know, just the thing of dreams for anyone with a particularly big sweet tooth. Once this plate reaches your table, it will be hard to hold back digging your spoon directly into it. It's one of those concoctions that everyone in your group will at least need to take one bite of, whether they normally consider themselves to be a dessert person or not.
This cookie is warm, gooey, and teeters on the line of being too rich, which we consider a good thing. It's not a plate to order for yourself — rather, something to collectively agree to indulge in at the end of a day of golfing among your fellow players. You all deserve it after a long day of simulated golf, and there's no better way to treat yourself.