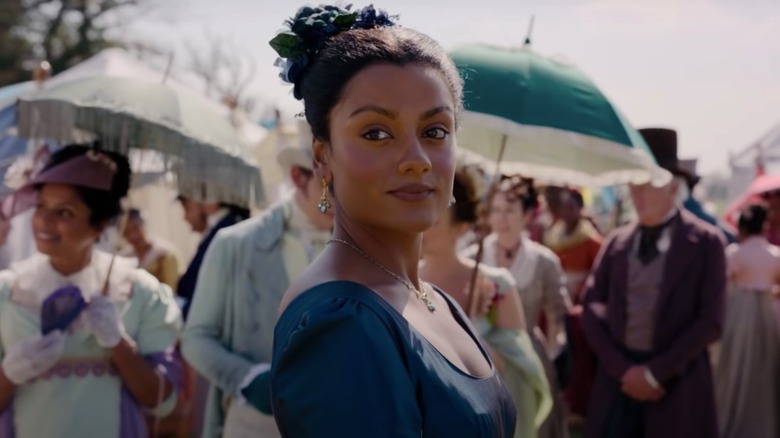 If, like us, you are still reeling from the spectacle that was the second season of Regency period drama "Bridgerton," then you've come to the right place! In just over a month after it premiered on Netflix, the eight-part release has broken records. "Bridgerton" Season 2 already outdid the success Season 1 garnered, becoming the most-watched English language series on the OTT platform with 627.11 million hours viewed (per Forbes). Clearly, it's never a bad time to bask in the glory of what is hands-down the hottest 19th-century romance.
Based on the book series by Julia Quinn, "Bridgerton" is part of a multimillion-dollar deal that Netflix inked with ace producer Shonda Rhimes (via The Hollywood Reporter). The thundering payoff on the first two seasons has assured "Bridgerton" a renewal of at least two more seasons, according to a statement by Netflix last year, Deadline reported. There are, meanwhile, eight novels in Quinn's series. So might we hold out hope for those many seasons? Only time will tell.
Until then, good people of the Ton, gather 'round as we promenade through some interesting secrets from behind the "Bridgerton" cameras.
Caution: Spoilers ahead!
Lady Whistledown is actually three women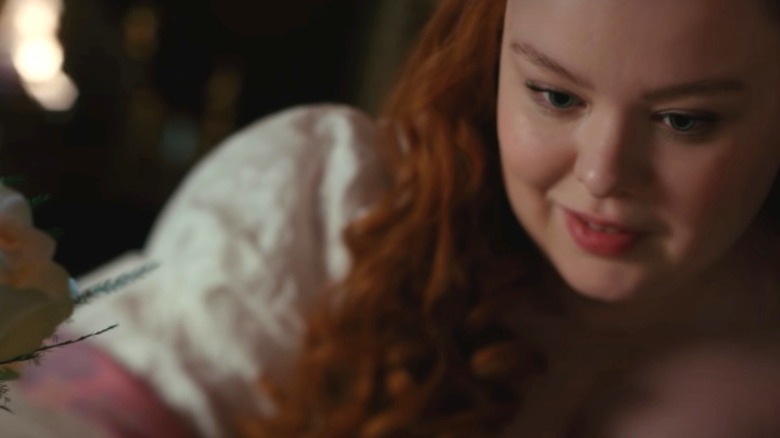 Dearest gentle readers, did you know there are three women holding up the enigmatic Lady Whistledown on "Bridgerton?" As per Still Watching Netflix, Lady Whistledown was based on a real-life writer — Mrs. Crackenthorpe — who authored the infamous scandal sheet "The Female Tatler" during the early 18th century. On "Bridgerton," the identity of the Ton gossip was among the most anticipated revelations of the first season. Who remained for the better part only a pen-wielding hand and an all-knowing voice was exposed as Penelope Featherington (played by Nicola Coughlan) during the finale, as the mystery came to a boil.
But it wouldn't have taken a genius to notice there existed a vivid mismatch between Penelope's voice and the much older-sounding articulation of Lady Whistledown's narrations. Off-camera, it was actually acting veteran Julie Andrews monologuing those juicy scandals! Showrunner Chris Van Dusen told OprahMag.com that Andrews was their top choice to play Lady Whistledown. "We offered her the part, sent her the scripts, not thinking anything would really come of it. But surprisingly she read the scripts and fell in love with them," he said.
The identity of the third woman is more obscure. In a behind-the-scenes video for "Bridgerton," actor Claudia Jessie (who plays Eloise Bridgerton) revealed an unnamed crew member who did the paintings on set was "also Lady Whistledown's hand." She continued, saying, "So any time you see Lady Whistledown writing, it's her hand."
Newton the dog wasn't always easy to work with
It was hard to look at anyone else when he was in the frame. We're talking about the furriest — and, dare we say, most handsome — member of the "Bridgerton" cast: Newton. The pooch belonging to Kate Sharma on Netflix's Regency-era drama travels all the way from India to London, giving off major main character vibes all through Season 2. As per Shondaland, the corgi playing Newton is named Austin, a 7-year-old good boy who loves his sausage treats more than anything else. Turns out, "Bridgerton" is not his first brush with British high society, though. The cuddly actor appeared on the CNN series "The Windsors: Inside the Royal Dynasty" as Queen Elizabeth's dog.
Much like in Julia Quinn's second novel "The Viscount Who Loved Me" from the "Bridgerton" series, Newton was a thorough ball of mischief on the show. Simone Ashley, who plays Kate, dished on the antics the little glutton got up to on set. "One of the buildings we filmed at, there was pebbles on the driveway. I'd have him on the leash and he'd just be eating the stones and pooping out stones in between takes," she told Entertainment Weekly. "Austin was not necessarily the best behaved dog," Charithra Chandran, who plays Kate's sister Edwina Sharma, added.
As for his arch-nemesis Anthony Bridgerton (played by Jonathan Bailey), whose now-famous fall in the lake scene Newton was responsible for, the two "didn't really click" even off-camera, Bailey said.
Bridgerton draws inspiration from Pride and Prejudice
If you noticed hints of "Pride and Prejudice" in its fellow Regency-era drama "Bridgerton," then you weren't mistaken. Turns out, the Netflix show — set in the same 19th-century timeframe as Jane Austen's seminal novel that inspired multiple films — contains quite a few odes to its predecessor.
The most obvious is the parallel between "Bridgerton" brother Anthony Bridgerton (played by Jonathan Bailey) and "Pride and Prejudice" brooder Mr. Darcy (played by many, among them Colin Firth). "Bridgerton" showrunner Chris Van Dusen admitted to a conscious overlap between these two characters, telling Entertainment Weekly, "I've definitely talked about my love for that 1995 BBC adaptation with Colin Firth emerging from the lake in his white shirt. That scene of Anthony going in relates to that."
Fans of the genre wasted no time in picking up on an easter egg that appears in the fifth episode of Season 2 and, as pointed out by Daily Mail, went wild for the wet-shirted Viscount. Any air of doubt about Anthony being a kindred spirit to Mr. Darcy was cleared away by Dusen, who confirmed to E! News that "Anthony is a version of Mr. Darcy." In a separate interview, Dusen also invoked the famous hand clench scene of Mr. Darcy, which many have likened to the (almost) finger-touching scene between Kate Sharma and Anthony on the series (via BuzzFeed). It's a tough call on which one's hotter!
Every intimate scene was carefully choreographed
"Bridgerton" is possibly the steamiest Regency drama out there, with its intimate scenes taking a daring bare-all approach. Ladders, gardens, by the lake — no place was off-limits for bursts of passion. For all the excitement that was generated within "Bridgerton" fan clubs, there was an intimacy coordinator behind-the-scenes who was bringing all that fiery yet simulated lovemaking to life — ethically and carefully. For Lizzy Talbot, who choreographed the sex scenes on "Bridgerton," it was all about preparation. As she recalled to Vulture, she asked the stars, "What are you comfortable showing, and what are you not comfortable showing?"
A key feature of intimacy throughout the episodes is the empowering push to pleasure from a female gaze. "I think that it's impossible to talk about female gaze without exploring issues of sex and power," director Julie Anne Robinson said of the first season to Deadline. Simone Ashley who shared some hot sequences with co-actor Jonathan Bailey on Season 2, told Glamour, "I felt very safe, especially in rehearsals," adding that she and Bailey "always checked in with each other and treated it like a dance rehearsal, like choreography."
But Talbot's role as intimacy coordinator extends far past just sex scenes. "We're there for kissing scenes. We're there for birthing scenes. We're there for bathing scenes," she told Glamour.
The background score has relevance to the plot
Every few scenes in "Bridgerton," you'll encounter a score that sounds similar to a pop song you have on your own playlist. The enchanting background score of the Regency drama adds contemporary touches through its music, which features the likes of fan favorites Harry Styles, Ariana Grande, and even Nirvana — only, their songs are rendered as regal-sounding, old-timey classical pop, as they would have sounded had they been composed in the 19th century.
Each featured track is apparently selected carefully to be meaningful to the plot running in the foreground. Music supervisor Justin Kamps, who worked on Season 2's score, said about Nirvana's "Stay Away," which plays when Anthony Bridgerton scours for a wife, "It's this frenetic sound, mimicking the stresses that are put on him. … It matches the standoffish way that Anthony's going about his life."
As noted by InStyle, fans are obsessed with the show's music as much as with the show itself, appreciating the way it streamlines high art and pop culture. One such number on the tracklist, which plays during Edwina Sharma's wedding prep, is the title from Bollywood film "Kabhi Khushi Kabhie Gham." It sent emotions soaring among netizens, according to Kamps. Kris Bowers, "Bridgerton" music composer, revealed the idea to include the song came from his assistant who told him "how, growing up, he heard this song all the time" (via Shondaland).
Bridgerton takes liberties – it's 'not a history lesson'
"Bridgerton" shouldn't be taken as historical truth because it is anything but. Though its setting resembles the time and place of 19th century Regency London, the show takes its creative liberties with retelling the past. "The show is for a modern audience, and everything on this show is filtered through a modern lens," Chris Van Dusen, series creator, told Town & Country. "We're re-imagining this world; it's not a history lesson and it's not a documentary."
The first detail to come under dispute after "Bridgerton" was released was its representation of a multiracial high society from which the concept of racial hierarchy seemed to be absent (via Oprah Daily). Some key characters from the aristocracy — the Queen, Lady Danbury, Duke of Hastings — are played by Black actors. While this was a decision welcomed by many — including Season 1 star Regé-Jean Page, who said, "With color-conscious casting, I get to exist as a Black person in the world." — some claimed that at the core of this revisionism was "escapism," as put by The New York Times. It's interesting to note that the characters' races, which kicked off many online debates and think pieces, weren't mentioned at all in Quinn's books!
Meanwhile, historians have noted some historically inaccurate wardrobe blunders, and fans had fun pointing out certain filming oversights showing modern inventions, like parking lines and manhole covers (per HelloGiggles).
The women didn't have an easy time with the costumes
Regencycore is making a regal comeback. The first season of "Bridgerton," which was released in 2020 and kept viewers enchanted as much by British high-society scandals as it did through extravagant Regency-era fashion. According to the fashion tech company Lyst, "Bridgerton" inspired an increase in demand for corsets, headbands, empire line dresses, and other fineries featured in the show. But before we obsess over "Bridgerton" bon ton any further, it's worth noting that these ensembles weren't always the most comfortable.
Actress Simone Ashley, who plays Kate Sharma in Season 2, told Glamour, "When you're in a corset, you can't put your shoes on. … I had a lot of pain with the corset, too, I think I tore my shoulder at one point!" Corsets are so tight they apparently make eating difficult — so much so that you may even end up getting sick, as Ashley said happened to her. Golda Rosheuvel, who plays Queen Charlotte, meanwhile, revealed it was a real task to answer nature's call with wearing her billowing royal garb. "Peeing is quite difficult," she told The Netflix Afterparty. "It takes about half an hour to go to the toilet," she added. A wardrobe that doesn't let you eat or pee? No, thank you!
There's a reason why the Kate-Anthony wedding wasn't shown
Kanthony fans, assemble! We need to talk about the one grievance many "Bridgerton" Season 2 viewers expressed: the omission of the Kate-Anthony Bridgerton wedding. The star pair of the Regency drama's latest season shared electric energy from the get-go, their relationship leaving audiences heart-eyed. So naturally, when Kate and Anthony (played by Simone Ashley and Jonathan Bailey, respectively) finally laid bare their feelings for each other, fans expected their love to culminate in a grander-than-royal wedding. (After all, for all the opulence we witnessed in the run-up to Anthony's almost-wedding with Kate's sister Edwina Sharma, that much was only expected.)
But what we got instead was a time jump of six months to when Kate and Anthony were already married and back from their honeymoon. It turns out the missing wedding, which left so many Kanthony shippers disappointed, was a conscious decision. "Bridgerton" creator Chris Van Dusen told TVLine, "Tonally speaking, we wondered how Kate and Anthony's wedding would compare [to the Edwina-Anthony wedding]. The Queen sponsored Edwina and Anthony's wedding, and she wasn't going to do it twice."
Cheryl Dunye, director on the final episodes of Season 2, further explained, "Two weddings in a show that were that spectacular, one could not do after the other."
The pall mall scene is a fan favorite from the books
The Pall Mall scene — which showed the Bridgertons and Sharmas engaged in delightful banter and a competitive croquet-like game — was a stand out in "Bridgerton" Season 2. Fans of Julia Quinn's books were particularly anticipating the sequence, which is among the most memorable ones from her novel "The Viscount Who Loved Me." As famous as the bit is today, it would surprise you to know that it almost didn't make it to the original story! "I was about 2/3 into the book when I realized that everything seemed to be happening too fast," Quinn revealed. "I realized I needed to add a scene in which Kate realized that Anthony wasn't such a bad guy, and the best way to do that would be to show him interacting with his family."
Makers of the show couldn't dream of skipping the Pall Mall scene, since, as creator Chris Van Dusen told Town & Country, "it's quintessential Bridgerton." Apparently, the cast enjoyed filming the Pall Mall scene as much as fans enjoyed watching it come to life. Phoebe Dynevor (who plays Daphne) described herself as the "worst player" but said the cast all "had a blast" shooting (via Netflix). The vote for best player unanimously went to Luke Thompson, who said, "I was terrible to start with, certainly. But if you take away the rules, I was hands down the best, I think."
The Bridgerton house is an homage to Princess Diana's ancestral home
The 19th-century British crème de la crème is the flavor of "Bridgerton" and so, even though it identifies as a fictional show, it mimics history. Indeed, a British royal family connection has been found in the popular Regency drama, going back to no other than one of the most popular nobles: Diana Spencer. The late Princess of Wales joined the royal family in 1981 through her marriage to Prince Charles, the eldest child of Queen Elizabeth II (via Britannica). Showrunner Chris Van Dusen revealed that there existed a silent homage to Princess Diana on "Bridgerton." He tweeted, "The interior of Bridgerton House was inspired by my visit to Althorp when I was developing the show. Elegance. Opulence. And that #staircase."
Althorp, an estate situated in West Northamptonshire, is the ancestral home of Princess Diana and was one of the places she lived growing up, according to Architectural Digest. The property has been in the Spencer family for five centuries.
Dusen's disclosure about the hottest series of the season didn't go missed by Charles Spencer, Princess Diana's brother who currently manages the Althorp estate. He responded, tweeting that Van Dusen's remarks are "such a compliment to those of my family who went before me, making [Althorp] what it still is today."
Queen Charlotte doesn't appear in the Bridgerton books
A key character on "Bridgerton" doesn't actually figure in the original books written by Julia Quinn: Queen Charlotte (via Vulture). The lack of presiding royalty in Quinn's novels is more than made up for by the significant screen time actress Golda Rosheuvel commands playing the Queen on the show. However, the character wasn't exactly created from scratch, since Queen Charlotte was an actual monarch from the pages of British history. Believed by historians to be Britain's first Black queen who hailed from African heritage, Charlotte married King George III in 1761, according to The Washington Post.
In that way, the Netflix show remains loyal to historical commentary on Charlotte, and Rosheuvel has commended the "clever" decision. "Putting that person at the top of the triangle, as a person of color, allows you to expand the boundaries," she told Insider.
In fact, so popular has Charlotte become that a spinoff series that exclusively focuses on her origin story is in the works at Netflix, per Variety. It will reportedly focus on her marriage and arrival in London as a royal of color and also feature her longtime friend Lady Danbury. As Shondaland announced on Instagram: "The Bridgerton-verse is expanding!" And we couldn't be more thrilled!
Some hairstyles were inspired by real-life celebrities
If you, like us, had the nagging feeling that Daphne Bridgerton resembled someone you were not quite able to place your finger on, it would please you to know you were on the right scent trail. Daphne, who is played by Phoebe Dynevor, may have looked so familiar because of her classic Audrey Hepburn hairstyle. Marc Pilcher, the Emmy-winning hairstylist who sadly passed away in October 2021, revealed the inspiration behind Daphne's micro-fringe plus bun look on Instagram in January '21: "My designs were derived from images of [Audrey Hepburn] in the 1950s film War and Peace. This film although made in the 50s was also set in the Regency period."
As for Queen Charlotte's towering wigs, Pilcher told Marie Claire he was "most proud of them." They were "a celebration of Afro hair and dreadlocks but in the silhouettes of the period," he said. Pilcher also modeled the look after a modern-day queen: Queen Bey. Pilcher revealed to Harper's Bazaar that the larger-than-life Afro donned by actress Golda Rosheuvel was inspired by Beyoncé's look in the 2002 film "Austin Powers." Fun fact: "That wig was literally five wigs sewn together," according to Pilcher.
As for Rosheuvel — who told Insider it took her almost two hours to get done with hair, makeup, and costumes — her favorite wig was the one that depicts Charlotte's natural hair.
There's quite a bit of VFX in Bridgerton
If you thought all of the opulent decor and imposing architecture in "Bridgerton" was real, think again. Though the Netflix show is shot at some opulent locations — including estates such as the Hampton Court Palace and the Castle Howard, as per The Tab — there were a few visual delights that were the work of visual effects (VFX). Visual effects studio One Of Us, which worked on "Bridgerton," enhanced details as wide as the cityscape down to the small symbolic bee (via Art of VFX). In fact, even parts of the Bridgerton house exteriors, as well as interiors as they are shown when Eloise Bridgerton is out smoking on the swings, were digitally created using green screens.
In a press release, One Of Us said it was a challenge to accurately portray Georgian London, as it was historically (via Befores & Afters). "The two finest houses on Grosvenor Square are home to the two principal families. Filmed at separate locations many miles apart, the goal was to bring the two buildings to face each other across the square," they said, adding that even the expansive garden at the center of the neighborhood was "fully CG." Who'd have thunk?
Some sets were reused for different scenes
If there's anything more bewitching than the steamy romance and ostentatious wardrobes on "Bridgerton," it's the grand sets — each more dramatically embellished than the last. But, while many of us were busy taking in all that combined splendor, the makers of the show pulled a fast one and apparently recycled a few sets for different sequences. Per Architectural Digest, a huge studio near London was the location for 54 studio sets used on the second season of "Bridgerton," which were repurposed frequently. This, in addition to "86 different location sets," the outlet reported, noting that "Bridgerton" shoots both on site as well as on set.
Talking with Elle Decor, production designer Will Hughes-Jones revealed many sets even spilled over from Season 1 into 2. "We had redundant sets like Daphne's dressing room, which we 'swung' into new sets for this season. That room became the Sharmas' accommodation at Aubrey Hall, as well as Anthony's room in Aubrey Hall very much later," he said. Season 1, which reportedly flaunted over 250 sets built from scratch, also featured repeat appearances. The Wilton House estate was all at once Queen Charlotte's royal chambers, Lady Danbury's library, and the house of the Duke of Hastings (via House Beautiful). Of note, the location can also be spotted in the film "Pride and Prejudice" and the Netflix series "The Crown."