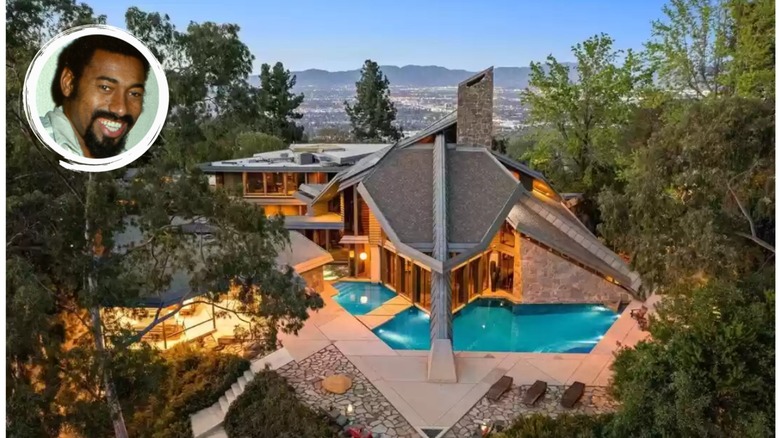 If you've ever dreamed of living in the digs of a former basketball legend, then this is your chance to snatch up a truly one-of-a-kind piece of real estate. Although it's not uncommon for pro athletes to have awe-inspiring homes, the famous former mansion of NBA Hall of Famer Wilt Chamberlain is really something to behold, and it's back on the housing market for an astonishing $14.9 million. During his 14 year career that spanned the 60s and 70s, the seven-foot-one center went on to set multiple scoring records that are to this day still unbeaten, per NBA. Of the many highlights of his illustrious career was his outstanding performance against the New York Knicks in 1962, where he single-handedly scored 100 points in four quarters of play.
Now you can own a unique piece of the legend's life and walk amongst his custom-built Los Angeles home, which has some qualities that — just like moments in his career — could never be duplicated. Let's take a look at what exactly makes this home so special.
Custom-built to fulfill the legend's dreams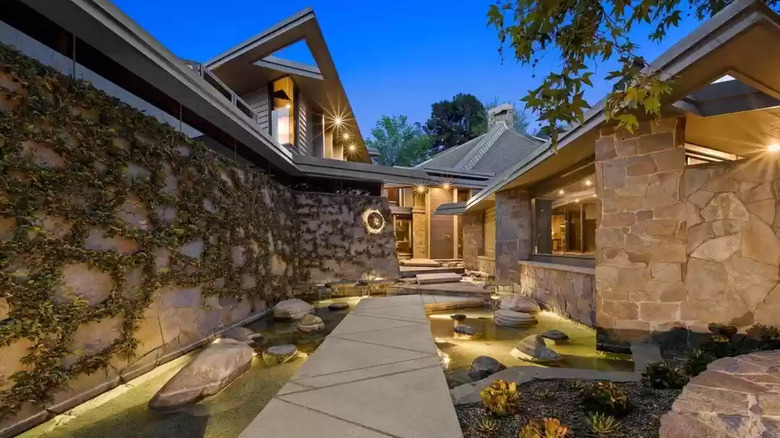 Located on just over two-and-a-half acres of prime real estate in the gorgeous community of Bel-Air, is this mansion oasis. Built by architect David Rich who actively worked with Wilt Chamberlain in order to bring his vision to life. According to the Robb Report, the property was originally used as an "anti-aircraft missile site during the Cold War" before Chamberlain bought it. Price utilized materials such as trees from Bouquet Canyon in order to build the home, which blends concepts inspired by famous architect Frank Lloyd Wright and highlights the incredibly scenic surroundings.
The sprawling 9,395 square foot mansion winds up a private lane to the top of a hill that overlooks the Stone Canyon Reservoir. Although the property is within driving distance of downtown Los Angeles, you will a part of nature as the home is surrounded by redwoods and natural vegetation. The stone walls of the triangular-themed home — which was dubbed "Ursa Major" after Chamberlain's nickname "The Big Dipper," according to Forbes — were made from locally sourced rock and helped to create the "brutalist" concept of mashing tight-angular construction amidst the raw-nature around.
A pool that can never be re-created
Much like many historical moments that Wilt Chamberlain had during his legendary basketball career, there are some features to his former home that can most likely never be re-created. Along the drive up the path to the secluded residence, you are faced with sparkling pond features that are perfectly lit amongst the natural light of the surrounding area. Once you reach the home, you find that it is almost completely ensconced by plants and water, making it seem as though the home is floating on water.
Encompassing the stone and steel of this massive mansion is a large swimming pool that almost reaches into the living room area of the home, which according to listing agent Zac Mostame, via Realtor.com, "would be impossible to build today due to building codes." Also, if you are really looking to make an entrance, one of the other features that make this property pop is its massive 2,000 pound, 14-foot doorway, which is definitely a sight to behold. But what other gems await the inside of this rare home.
Inside Wilt Chamberlain's former mansion
The custom-built home was obviously designed with the seven-foot Wilt Chamberlain in mind. As soon as you pass through the front doors, you are greeted by a five-story living space with wall-to-ceiling windows that take in all of the beautiful views of the wrap-around pool and natural landscape. With over 200 tons of stone used, it is definitely the prominent look around the home as it is perfectly smoothed for the flooring and ruggedly featured throughout the walls, per Realtor.com. Modern renovations gave rise to updated kitchen appliances, a fully purposed media room, and a specially designed redwood sauna.
However, some of the original features of the home may have been more suited to Chamberlain's life as an overactive bachelor. He had a water bed that stretched the full length of a room, a mirrored ceiling that overlooked his bed which had the capability to open up to a skylight with the push of a button, as well as a bathtub that was made from "18-karat gold tile," and sunken into the foot of his bed, according to the Washington Post. Although the home may not have all the sultry accents it once had, it still has all of the wonders of a house that was built with a rare vision.