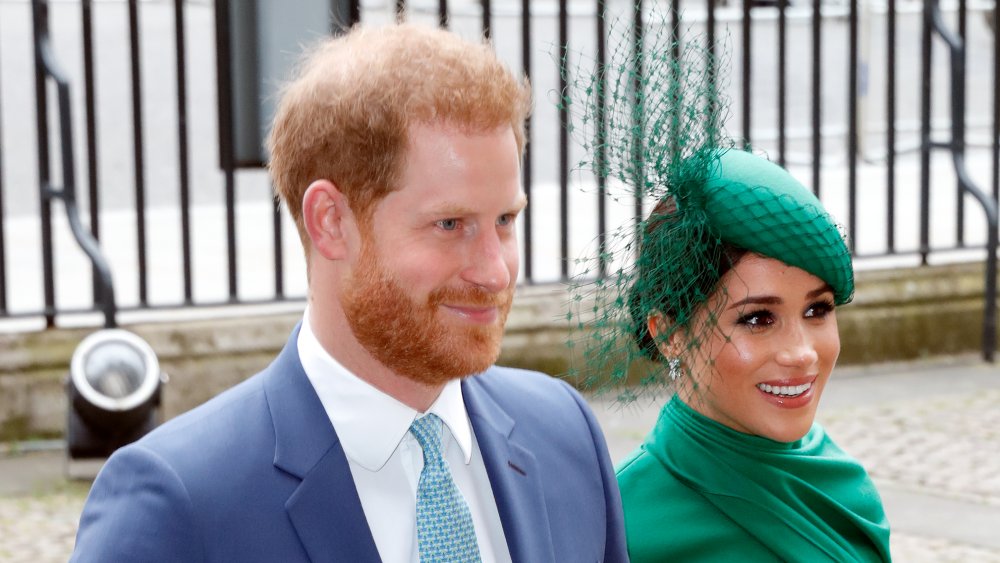 Prince Harry and his wife, the former American actress Meghan Markle, have been put through the ringer in the last few years. Their recent departure from Kensington Palace sent shockwaves through England and made much of the British press lose credibility. And it's not like Prince Harry, despite his powerful position in England, hasn't experienced his fair share of hardship over the years.
But through it all, one thing's been constant, as it is for us all: food. From homemade comfort foods like mac and cheese and cottage pie to both British and American fast food, Prince Harry is as big an eater as any of us (although he's cut back on unhealthy foods since his days of bad boy bachelorhood). As it turns out, a lot of Prince Harry's typical meals aren't too different from ours. We dove into the Duke of Sussex's royal food preferences so that you, too, can eat like a prince.
Prince Harry eats roasted chicken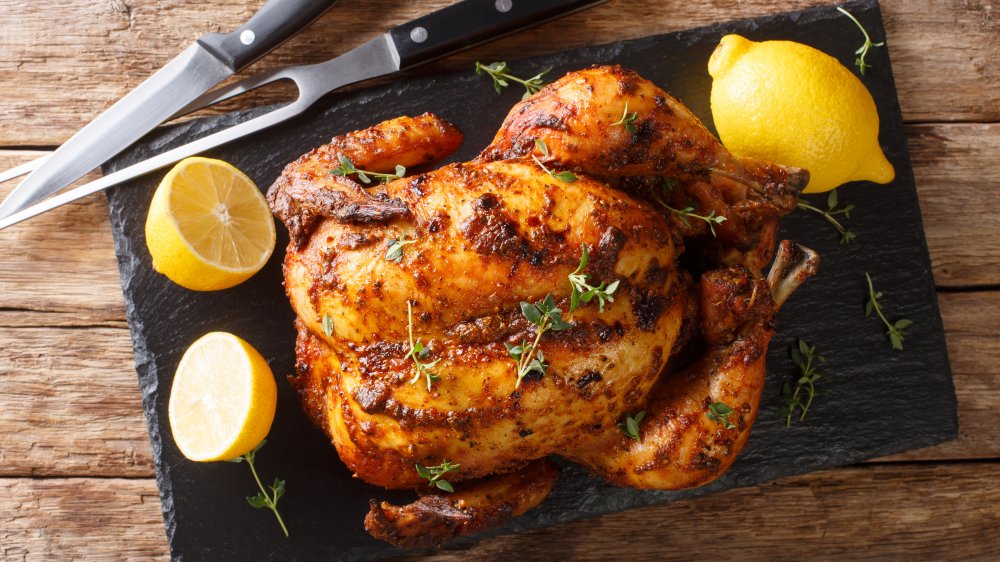 In 2017 in their English cottage, Meghan Markle and Prince Harry were enjoying a cozy night in. Not yet the transgressive power couple they're known as now, it was "just a standard typical night for us," Prince Harry told the BBC shortly after the two announced the news of their engagement. "What were we doing, just roasting a chicken, and …?" Markle recalled. "Trying to roast a chicken," she said, after Harry's playful correction.
The chicken itself was rumored to be an Ina Garten recipe notorious for magically transforming couples to newlyweds — it's nicknamed engagement chicken.
"There is nothing as delicious (or as impressive) as a perfectly roasted chicken," Markle said in a 2017 interview with Good Housekeeping. "If you have an Ina Garten-level roasted chicken recipe, it's a game-changer."
Clearly, it was for her! Whether or not the couple was successful in their attempts to make the perfect roasted chicken, a simple chicken changed their lives forever. "Without me, it never would have happened," Garten joked in an interview with Willie Geist on TODAY. "It's a powerful chicken," Geist agreed.
Prince Harry eats healthy foods like kale and quinoa, per Meghan's request
Before Prince Harry was introduced to Meghan Markle by a mutual friend, the Duke of Sussex didn't have the healthiest eating habits. He had a reputation for being the royal family's designated bad boy and spent his time drinking and partying to his heart's content.
But since meeting Markle, he's made some drastic changes to his diet. Gone is the pizza and fried chicken of his youth. With Meghan by his side, he's now eating kale and quinoa — and learning to cook it, too.
According to Andrew Morton, the members of the Royal Family "eat to live rather than live to eat." Markle, on the other hand, is a passionate foodie with a (now defunct) wellness blog who "loves cooking, exploring new foods, and experimenting with fresh flavors."
People Magazine reported the couple "both felt amazing leading up to the wedding. And he couldn't have done it without her support."
Prince Harry eats banana-flavored everything
When Darren McGrady cooked for Queen Elizabeth II; Diana, Princess of Wales; Prince William; and Prince Harry over the course of 15 years, the renowned chef often found himself cooking banana-flavored desserts for the Princes, then just young boys. It may seem a somewhat strange preference (as opposed to, say, chocolate desserts), but the young Princes couldn't get enough.
"They loved banana flan, anything with banana really, banana ice cream," he told HELLO! in 2016. Interesting choice for little boys, but those dishes do sound delicious.
While his brother's appreciation of these sweet desserts faded over time (Prince William allegedly prefers a chocolate biscuit cake), Prince Harry still loves the fruity taste of bananas in all kinds of sweets. Lucky for him, Meghan Markle is no stranger to banana-flavored desserts — in fact, one of her most popular recipes is a banana bread (it's fate!) with ginger and chocolate chips included, making it a uniquely delicious recipe — fit for a prince!
Prince Harry eats In-N-Out Burger
Prince Harry and Meghan Markle, who recently bought a nine-bedroom, 19-bathroom home in Montecito, California, are settling in nicely to their new American lives. According to Entertainment Tonight, the couple has stopped at In-N-Out Burger a few times for burgers and shakes — as well as a few items off the secret menu.
Apparently, the two were driving from Los Angeles to their home in Santa Barbara when they got hungry and decided to stop. The In-N-Out employees were shocked and excited when they saw the Royal couple pull up at the drive-thru — and who wouldn't be? It's not every day that the Duke and Duchess of Sussex show up at a random fast food joint in the middle of your shift asking for a burger, animal style.
It's safe to say the British Prince has fully embraced his new life in the United States — fries and all.
Prince Harry eats crispy bacon
When Prince Harry was young, a trip to Disney World changed his life forever — or at least his breakfast. According to the Chef Darren McGrady, who cooked for the Royal family for fifteen years, at just eight years old, Prince Harry was an expert on bacon.
McGrady told Food & Wine that one morning after the family had returned from a trip to the States, "Prince Harry said to me, 'We had it in America at Disney World, and it's so crispy you can snap it. You have to broil it first, and then you have to put it in some paper towels and place it in the microwave for a minute.' And I thought, yeah, OK, thank you, you little brat, teaching me how to cook."
But as it turned out, the young Prince was right. His advice yielded bacon that was extra crispy, which was just how he liked it. Once McGrady knew the secret, he never stopped cooking bacon this way — and Prince Harry never stopped eating it.
Prince Harry eats at The Rum Kitchen
Before Prince Harry and Meghan Markle met, the Prince could occasionally be spotted at a now-defunct Notting Hill restaurant (though other locations remain open). The Rum Kitchen serves — you guessed it — rum-based cocktails and Caribbean-inspired food, from jerk chicken to curry mutton, a spiced slow-cooked lamb served with rice, peas, and roti.
In 2013, Prince Harry was spotted dining at the Rum Kitchen with then-girlfriend Cressida Bonas. The restaurant's extensive drink list, careful food preparation, and island vibes make it obvious that this is a place fit for a prince! Everyone needs an island vacation every once in a while, and though we imagine a trip to the Caribbean is feasible for the Prince of Sussex, we commend him for supporting a local restaurant. He had to brave the paparazzi, but after a few shots of rum and some time on the dance floor, we suspect it was worth it.
Prince Harry eats at Byron
Byron, a popular hamburger restaurant in the UK, was allegedly one of Prince Harry's go-to spots when he lived in Kensington Palace. He was rumored to frequent the casual dining spot in his late twenties and was once spotted there with his girlfriend at the time, dancer Cressida Bonas.
When Daily Mail reported the sighting in January 2014, they pointed out that a Byron's burger cost at least £9.25 — adding fries is an extra £2.95. Apparently, this particular dining spot was a favorite of Chancellor George Osborne, who received widespread blowback when he posted a photo of himself working with a burger by his side. Critics said his attempt to seem down-to-earth was just a failed publicity stunt — average, working-class people eat Big Macs, not "poshburgers."
But apparently, Prince Harry, either because of his handsomeness or simply his higher status than the Chancellor, escaped such criticism — or maybe the beard he sported at the time just made him more relatable.
Prince Harry eats … not pizza
Prince Harry has come a long way since his days of getting stripping in Vegas and drunkenly telling "eye-wateringly rude jokes" (via Daily Mail). Gone are his days of being the Royal bad boy. He served in Afghanistan, he married Meghan Markle with whom he has a young son, and most importantly, according to Food & Wine, he doesn't even eat pizza anymore.
On a trip to the United States in 2017, Prince Harry joined Michelle Obama for a visit to a Chicago classroom. While there, one of the students insisted that Prince Harry try a slice of deep-dish pizza before he left town. That's when Prince Harry admitted he's not a big fan of pizza anymore, much to the dismay of anyone who's ever had a pizza-based Prince Harry fantasy (we see you).
"I don't even eat pizza anymore," he told the group. But don't worry, there's still hope. "But I had pizza last night. We had deep dish and thin crust."
Prince Harry eats Sunday roast
Prince Harry and Meghan Markle's tell-all new book, Finding Freedom, co-written with Carolyn Durand and Omid Scobie, contains all kinds of secrets about the Royal couple's scandalous (and very public) love story. But the best part of the book is all the juicy details about Prince Harry and Meghan Markle's royal cuisine. According to Mercury News, the authors describe the pair's dining habits in great detail — perhaps food is the love language for these two.
For example, when Markle wanted to surprise Prince Harry on one of his visits during their early days of long-distance courtship, she would cook him a traditional British Sunday roast for lunch. A Sunday roast is, as Spruce Eats claims, a part of the British identity. This traditional Sunday meal is comprised of beef, a side of veggies, and yorkshire pudding (via BBC Good Food). Naturally, this is Prince Harry's favorite food, and now that Markle is a member of the Royal family, she loves a good Sunday roast too. "There's never a wrong time for a roast," she says.
Prince Harry eats cottage pie
Prince Harry can be a bit of a traditionalist when it comes to food. Some of his favorite foods are classic British cuisines, from yorkshire pudding to cottage pie, the latter of which has been Prince Harry's preferred comfort food since he and his brother were young.
Darren McGrady explained to Delish that cottage pie is "a traditional nursery dish" made with ground beef and mashed potatoes, topped off with a layer of cheddar cheese. After a week away at school, the boys would return to Kensington Palace to enjoy their favorite homemade comfort foods.
"This was a real treat for them to come home to," McGrady said. "Some steaming hot cottage pie with that melted cheese on the top."
The authentic cottage pie recipe was created as a way to use up the leftover meat from a Sunday roast (via Spruce Eats). But if you've already polished off the roast, freshly ground beef works just as well — and we're willing to bet the Royal family didn't often eat leftovers.
Regardless of how it was made, cottage pie was one of the young Princes' favorite foods. McGrady said that when the boys were home, if the dish wasn't on the menu, "they'd come in and say, 'Can we have some cottage pie, please, for dinner?'"
Prince Harry eats nanaimo bars
One of Prince Harry's favorite desserts is a food that comes from his wife's former home — but Harry loved nanaimo bars long before he began making frequent visits to Canada to visit Meghan Markle. Nanaimo bars are a popular Canadian dessert named after a coastal city in British Columbia. They are made by layering chocolate and custard over a cracker crumb crust.
According to Darren McGrady, the former chef for the Royal family, the Royal family began eating nanaimo bars after the Queen visited Canada in 1983. McGrady said he used to make nanaimo bars for Princes Harry and William and their friends at Kensington Palace.
And Prince Harry still loves this dessert — Daily Mail reported that the Duke and Duchess of Sussex were served nanaimo bars at an event at Canada's London-based high commission. Apparently, "at the end of the night they even asked if they could take a plate of it home with them."
Prince Harry eats Nando's chicken
The Duke of Sussex has reportedly been known to frequent a popular UK fast casual restaurant called Nando's. Both William and Harry are fans of Nando's famous chicken, but, as reported by Express, Prince Harry's typical Nando order might disappoint the chain's diehard patrons.
Nando's is best known for its hot chicken, a dish with African roots. As The Guardian reports, you can order Nando's chicken four different ways: extra hot, hot, medium, or lemon and herb. Our precious Prince Harry opted for the mildest option — a double chicken wrap with lemon and herb sauce. It appears that a hint of spice is too much for the Duke of Sussex.
But regardless of how you may feel about Prince Harry's Nando's order, he seems to be as devoted to the chain as anyone. When he met Robert Brozin, the co-founder of the hot chicken joint, he told him he loved Nando's — but not as much as his bodyguard.
"This man here is your biggest fan, he's introduced me to Nando's," Prince Harry said. Maybe he at least appreciates the heat of a real Nando's hot chicken.
Prince Harry eats mac and cheese
When Princes William and Harry were young, they were like most boys — silly, energetic, and big fans of mac and cheese. Former Royal Chef Darren McGrady shared the recipe on YouTube, claiming that it's easy to make at home.
"All you need to put in there is butter, flour, milk, cheddar cheese, parmesan cheese, and salt. Don't tell me you still use those packet mixes."
When McGrady cooked mac and cheese at Kensington Palace, the boys often ate it with roast chicken and broccoli on the side. Sometimes, instead of having mac n' cheese with the roast chicken, McGrady would serve mashed potatoes and gravy, but he claimed the mac and cheese was the boys' favorite.
Prince Harry's mac and cheese is an easy recipe that anyone could master, especially with the Royal Chef's help. Just because they're Royals doesn't mean they don't eat like us!
Prince Harry has cake — and he eats it, too!
When Prince Harry and Meghan Markle got married, their choice of wedding cake was "a refreshing and modern choice," according to pastry chef Bea Vo (via Eater). The couple chose a lemon and elderflower cake for the big day, which was a departure from traditional Royal wedding cakes.
But since that fateful day, the Royal couple has been made to suffer through some brutal media attention. In January 2020, CNN reported that Prince Harry and Meghan Markle would be taking a step back from their duties in the royal family. Since the couple's engagement, the British media frequently denigrated Markle, to the point that she ended up suing the Mail on Sunday newspaper (via BBC) for their "ruthless campaign," (via CNN) as Prince Harry called it.
Many of these UK media giants accused the Duke and Duchess of having their cake and eating it too.
"You know, you are either a member of the royal family or you're not," Arthur Edwards, a photographer for the Sun tabloid told the National Post. But despite the blowback they've received from both the media and the royal family, Prince Harry and Meghan Markle seem to be doing just fine — we hope that cake tastes good.