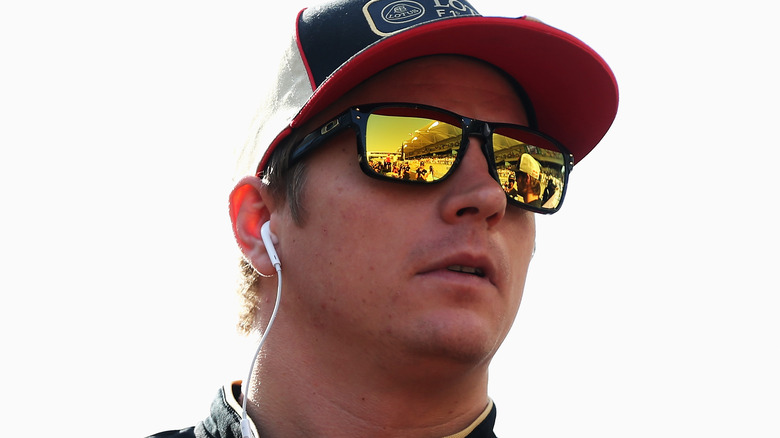 The ultimate goal for every Formula 1 team on the grid is to win. Sure, it's not always a realistic goal for teams at the bottom of the standings — but in that case, their real goal is often to scrounge up some championship points wherever they can find them. Aside from the two or three teams each season that expect to be on the podium each and every race, no team would ever complain about netting championship points by securing a top 10 finish. Well, almost.
The members of the formula racing team Lotus F1 found themselves in an unusual position during the 2012 and 2013 seasons when one of their drivers, 2007 World Champion Kimi Raikkonen, nearly rendered them bankrupt. According to Fox Sports, the financial bind that Raikkonen inadvertently placed upon his team largely contributed to his decision to move to Ferrari ahead of the 2014 season — the same team with which he won his world championship.
Kimi Raikkonen's early career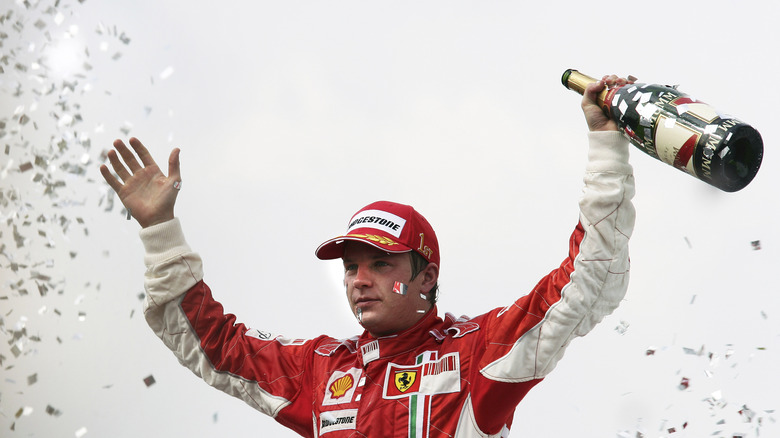 Kimi Raikkonen is known to fans as "the Iceman," a nickname that works on multiple levels. He hails from frigid Finland, is known for his fearless driving style, and, more often than not, is a man of few words in interviews. For Raikkonen, there is seemingly no need to talk — he lets his work on track handle that.
This was how Raikkonen made his Formula 1 debut in 2001 with the F1 team Sauber. According to the Formula 1 website, Raikkonen already had a pair of British Formula Renault championships on his résumé but had only competed in 23 car races since graduating from go-karts. Sauber was impressed with a test he did with them in 2000, but his signing still shocked the paddock. Despite this, Raikkonen quickly impressed fans and colleagues alike and was subsequently signed to McLaren, one of the front-running racing teams at the time. Per Racing Reference, Raikkonen secured his first victory in 2002 but never actually claimed the title while with McLaren.
Following the first retirement of F1 great Michael Schumacher, Raikkonen left McLaren to fill Schumacher's seat at Ferrari ahead of the 2007 season. That year, Raikkonen found himself in a title fight against two drivers who had since joined the line-up for his old team: Lewis Hamilton and Fernando Alonso. But ultimately, Raikkonen came out on top after the final race of the season, during which he managed to eke out a one-point championship lead.
Raikkonen's respite from F1
Kimi Raikkonen hoped to repeat as Formula 1 World Champion in 2008, but it wasn't meant to be, with the honor being claimed by his title-rival from '07, Lewis Hamilton. However, that same year, Raikkonen and teammate Felipe Massa managed to snag a constructor's championship for Ferrari (via Ferrari).
Raikkonen's performance was starting to decline after nearly a decade in Formula 1, and it seemed as though he was less focused on the sport than in previous years. Ferrari offered him a deal that bought out the remainder of his contract, which he accepted, freeing him up to try pursuits outside of Formula 1.
Raikkonen tried his hand at American stock car racing and appeared in a pair of races, but he spent most of 2010 and 2011 in rally cars, where he competed in the World Rally Championship. According to Motorsports Stats, he finished 10th in the drivers' standings both seasons. His focus then shifted back to Formula 1, as ahead of the 2012 season, a new opportunity materialized.
Lotus returns to Formula 1
The first team to appear in Formula 1 using the Lotus branding was Team Lotus, which made its debut in the 1950s. Known for their British racing green (and later, black) and gold liveries, the team managed to notch 74 victories, according to Motorsport Stats. A big reason for the team's success was their propensity to introduce fresh, cutting-edge concepts, according to the Lotus website. But despite multiple world championships to their name, the team entered a decline through the 1980s until they folded in 1994.
The Lotus name was ready to return to Formula 1 for the 2012 season in the form of Lotus F1. Somewhat confusingly, this team had nothing in common with the original Team Lotus other than Lotus branding. This incarnation is colloquially referred to as "Team Enstone" after the town in the U.K. where it's headquartered because the team has gone through several names since it made its 1981 debut as Toleman. Later, the team was known as Benetton, then Renault, until finally, it was Lotus F1 (via F1 Experiences).
For the 2012 season, the team made a splash by signing Kimi Raikkonen, a driver with world champion pedigree, to pair with Swiss-born Frenchman Romain Grosjean (via Race Fans). It was an exciting pairing, with Grosjean being a highly touted up-and-comer, while Raikkonen was a proven veteran looking to make his return to the pinnacle of motorsport. What Lotus didn't realize was that woven into Raikkonen's hefty contract was a clause that nearly sent the team spiraling toward bankruptcy.
Raikkonen's point bonus
The details of Formula 1 driver contracts are often kept secret, but it is widely known that they often contain performance incentives. A driver may earn bonuses for podiums, wins, or even world championships. These bonuses are designed to give the driver something to chase, and in the case of Kimi Raikkonen's Lotus deal, he had a bonus for points.
According to Planet F1, Raikkonen and Lotus agreed to a €50,000 bonus for each world championship point that Raikkonen earned with the team throughout his two-year deal. Why exactly Lotus F1 was willing to dangle a carrot like this in front of him is unknown, but given the outcome, the team likely expected their car to be finishing outside the points more often than not.
According to Racing Reference, in his final two seasons with Ferrari — in a car that would've been considered far more competitive than the Lotus E20 he drove in 2012 — Raikkonen scored 75 points in 2008 and 48 in 2009 for a total of 123 points. Lotus likely assumed that after two years away from F1 and in a car that wasn't a Ferrari, there was probably no chance that Raikkonen could touch those totals, so this was a reasonable bonus incentive with no negative repercussions. Oh, how wrong they were.
Kimi Raikkonen's massive points haul
In 2012, Lotus had developed a faster car than most — including themselves — expected, and Kimi Raikkonen used its speed to take a stunning 207 points with seven podium finishes, including a victory at the Abu Dhabi Grand Prix (via Racing Reference). For the less math inclined, that equates to a season bonus of €10,350,000, and that's on top of a significant base salary.
While he didn't eclipse his 2012 point totals, Raikkonen did score a whopping 183 points in 2013, and that was after sitting out the final two races to undergo neck surgery (via Bleacher Report). This gave him a two-year point total of 390 points, which was worthy of a €19,500,000 bonus. According to Formula 1 journalist Heikki Kulta, this sum was far greater than Lotus expected when they initially included the bonus in Raikkonen's contract, and it nearly bankrupted the team.
2013 was Raikkonen's last season with Lotus, at which point he made a return to Ferrari before finishing his career with Alfa Romeo from 2018 to 2021. According to Fox Sports, Raikkonen later said his reason for leaving the team despite their success together was that they didn't pay him. "But the reason I have left the team is purely from the money side," he said before the 2014 season. "I haven't got my salary." Lotus F1 remained in the picture until the team's name was changed to Renault before the 2016 season. The team still operates in Formula 1, where they currently compete as Alpine.