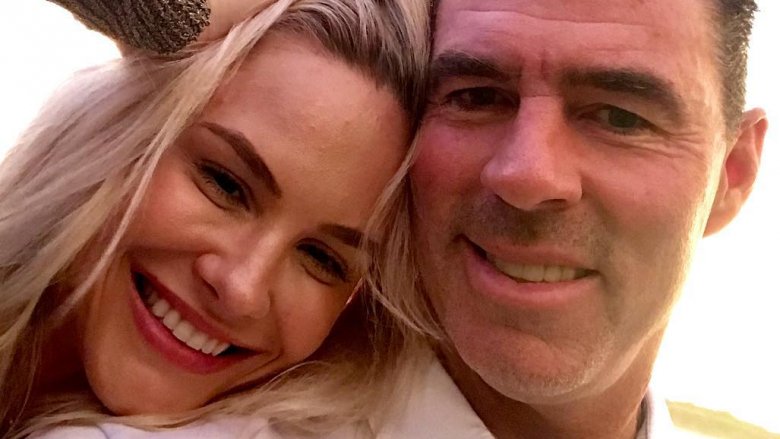 Meghan King Edmonds first appeared on the Real Housewives of Orange County shortly after her October 2014 wedding to former professional baseball player, Jim Edmonds. The newlyweds allowed cameras to follow along as she simultaneously battled it out with her co-stars and attempted to conceive their first child via IVF.
As the show progressed, their marriage appeared to be cracking when Jim became more focused on playing golf than being by his wife's side during her doctor's appointments. With his contentious personality causing discord in their marriage, rumors began to emerge that instead of planning the arrival of their miracle baby, the couple's marriage was well on its way to falling victim to the reality TV curse.
Still, they welcomed their daughter, Aspen King Edmonds, in November 2016, followed by twins, Hart King Edmonds and Hayes King Edmonds, in June 2018, but the new additions haven't made their relationship any less weird. Though she announced she was leaving the Bravo show in January 2018, we still can't look away from their marriage in all of its unorthodox glory, from her strained relationship with Jim's kids from previous marriages, to cheating allegations.
Here are all the strange things about Meghan King Edmonds' marriage.
A post-babies trip to mend their marriage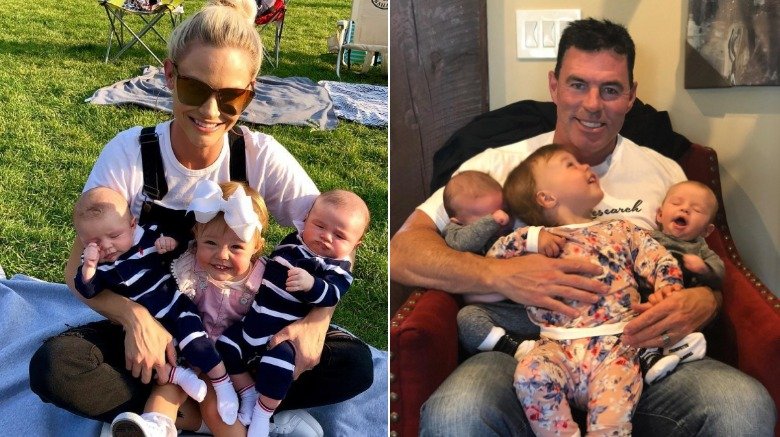 In less than two years, Meghan King Edmonds went from being a stepmom to Jim Edmonds' four children from previous marriages, to giving birth to three children of her own. Being catapulted into motherhood wasn't easy on her, and it took a toll on the duo's marriage, as well.
In a blog post dated October 2018, Meghan announced she and Jim would be going on their first trip together since having their daughter Aspen King Edmonds in November 2016. And it was a much-needed getaway, according to the former reality star.
"We've become complacent in our lives and have taken each other for granted. We are constant fixtures in our marriage that are often ignored and we need shining and buffing. We need US back… and the sad part is that we never even realized 'we' were missing," she wrote.
Of course, every marriage goes through changes, and with a total of seven kids in the mix, the Edmonds' family dynamic isn't exactly simple. But it still can't be a good sign that Meghan and Jim are feeling so disconnected from each other less than five years after saying "I do," right?
Give her a glass of water because she's thirsty for his attention!
While undergoing IVF treatments, Meghan posted a graphic photo of herself to her Instagram account as she administered one of her shots. In the photo, her head is leaning back, and it appears that she's in intense pain.
Though our hearts broke for the former RHOC star and the physical and emotional pain she had to endure in order to conceive, an insider told Radar Online that Meghan was simply acting out. Why? Because the woman was on a mission. "She's obsessive about the IVF because that's a way for her to get attention," the insider told the website. "She wants the attention and he [Jim]'s not giving it to her." Whoa.
Of course, "insider" claims to tabloids should always be taken with a grain of salt, but if their alleged marital tensions were real, that could explain Meghan's off-the-wall, public antics. And how strange is it that she had to go that far just so her husband would acknowledge her existence? Mind boggling.
It's either baby or no me!
Jim Edmonds had undergone a vasectomy sometime after conceiving his fourth child from a previous marriage, but he also had some of his sperm frozen. You know, just in case.
Meghan King Edmonds told People magazine that though Jim took the steps to freeze his sperm for a rainy day, he was reluctant to move forward with IVF treatments. So, she had to give him an ultimatum. "I think I said 'Baby, or no me at all,'" she told the publication. Well, that's one way to get what you want!
Her demand is helping us see this marriage in a new light, and it's starting to make a lot more sense why he wasn't as enthusiastic about the whole process, with a source telling Radar Online that Jim had "checked out" of the marriage at one point. "Obviously he just doesn't seem excited about having another kid," the insider said. "He was done having kids."
Meghan even took to her Bravo TV blog to discuss how Jim's attitude had affected her. "I was really disappointed in Jimmy's lack of sentiment throughout my IVF process. And honestly, there were moments I was questioning if getting pregnant was even the right choice," she wrote.
She gave her hubby an ultimatum and then she was disappointed when he wasn't completely on board with the process? Make it make sense!
A FaceTime conception
If the aforementioned incidents in their marriage weren't strange enough, things got even worse when Meghan King Edmonds conceived their daughter. And get this: her husband couldn't even bother to show up to the appointment when Meghan was implanted with their two embryos, one of which they sadly lost.
Meghan's former RHOC co-star, Vicki Gunvalson wrote in her Bravo TV blog: "To me [Jim] just seems so disinterested. I know that will change once he holds his baby, but during this process he looks so removed." When Gunvalson is the voice of reason, then you know something isn't right!
Meghan's mom attended the appointment instead, which Meghan was uber-grateful for. "How many people get to say that their mom was there when they got pregnant?!" she wrote on her official Bravo TV blog. Yeah.
Though Jim wasn't physically present, he was there digitally. Meghan wrote, "And my FaceTime with Jimmy was really special because even though he wasn't able to be there in person, I'm glad he was able to be included in the moment."
So. Very. Strange.
Was she his mistress?
Being a part of a reality TV cast means all your business is put out on front street. And this is something Meghan King Edmonds found out the hard way during her time on RHOC. After a falling out with cast member Kelly Dodd, the former friends got involved in a nasty text message feud where Dodd accused Meghan's husband, Jim Edmonds, of having a mistress. Yikes.
During an interview with Daily Pop (via E! News), Dodd took the allegations one step further. "It's like, I don't pinpoint her stuff out when she was having an affair with Jimmy when he was married to [Allison Jayne Raski]," Dodd told the show's hosts in reference to Meghan allegedly being Jim's mistress when he was married to his second wife.
A source rebuffed the claim to E! News, saying, "For people to insinuate that Meghan had an affair with Jim is completely bogus. Jim's second wife, Allison, was not romantically involved with Jim whatsoever when Meghan and him met."
Jim also denied the rumor in a follow-up interview with E! News. "I think it's ridiculous first of all and second of all, we have a family and to sit there and say that [Meghan] was my mistress is beyond crazy," he said. "This is the first time I've ever said anything to anyone but I just can't deal with the bulls**t lies anymore. "
We don't know who to believe in this tangled web of salaciousness!
Was he cheating during her pregnancy?
During her time on RHOC, not only was Meghan King Edmonds accused of being Jim Edmonds' mistress, but her co-star, Kelly Dodd, also dropped another bombshell. This time, she accused Jim of being a big ol' cheater during that same aforementioned private text message exchange she had with Meghan.
In response to Dodd's newfound cheating allegations, Meghan texted Dodd (via People magazine): "We are pregnant for God's sake, Kelly." After allowing Dodd's words to sink in, Meghan finally tackled the issue head-on, saying during one of the show's interviews, "I don't really give a s**t because I know it's not true."
There's a good chance Dodd was just being petty, as she later admitted, "I have a really really hard time controlling myself. When someone presses my buttons, I'm going to press the button right back." However, some thought Jim's lack of attentiveness during Meghan's pregnancy was a major red flag, so they automatically assumed that his behavior was enough to back up Dodd's cheating allegations.
Their marriage is in jeopardy, can't you tell?
The way Jim Edmonds was depicted on episodes of RHOC led many to believe their marriage was hanging on by a thread. It didn't help that Meghan King Edmonds had always been open about the struggles in their relationship, as well as the stress that was placed on them while they were trying to conceive via IVF. Having the cameras around all the time didn't help matters either, which Meghan described her time on the show as "VERY stressful and emotionally taxing" in a blog post.
The divorce rumors picked up steam, and the rumor mill was so out of control, Meghan took to her Instagram to post a photo of herself, Jim, and a furry friend all smiles on a boat ride. She captioned the photo, in part, "Our marriage is in jeopardy can't you tell? "
Well, anyone can put on a smile and pose for a picture, right? And combined with all of the other weird occurrences surrounding them, is it really surprising that this couple's seemingly strange marriage eventually faced divorce rumors as well?
His 'needy' kids ruined her vibe
Coming into a relationship with a partner who already had four kids from previous marriages was no easy task for Meghan King Edmonds. "We've been inseparable ever since our first date. But there's much more to weigh than our love for each other, since he has children," she explained to StepMom magazine (via Bravo TV). "I had to ask myself if my love for him was strong enough to take on the challenge of becoming a stepmom — because I knew there would be tough times."
Tough times were ahead indeed. During one such incident, shortly after they began dating, Meghan was helping Jim Edmonds look after his two youngest children, Landon Edmonds and Sutton Edmonds, who were 7 and 4-years-old at the time. Meghan said she felt "holed-up in a secluded house" with Jim and the kiddos, but she didn't stop there. "The kids were at needy ages and it just felt like way too much," she said.
Wait. Did she just call his kids "needy." Oh jeez.
She tried to turn things around by saying after that initial bump the road, she jumped into being a step-mommy without any hesitation. "This is special because they really do feel like my children and I love them as if they are my children," she said. Nice recovery?
More stepmom problems
When Meghan Edmonds met Jim Edmonds' daughter, Lauren Edmonds, for the first time, it didn't seem like she made much of an impression. "At the time I met Lauren, she was already very comfortable in her role as a college student and as a girlfriend to her wonderful boyfriend," Meghan told StepMom magazine (via Bravo TV). "She was very independent, sure of herself and probably viewed me as 'dad's nice friend.' Nothing more. Nothing less."
And as for his daughter, Hayley Edmonds, well, there was reason to suspect that she wasn't too fond of Meghan at all. Hayley posted a loving tribute on Instagram and included pictures "the people who I share my life with" … and Meghan didn't make the cut. Ouch!
To make matters even worse, when Meghan was pregnant with her first child, daughter Aspen King Edmonds, she told the Daily Dish that Jim's youngest kids were "excited" to meet their new half-sibling. But then she added: "My older two stepdaughters, I think, could care less. Hayley's 19, Lauren's 23 now. And [Lauren] is planning a wedding and she's like, 'Whatever.'"
Welp, so much for being a big happy family.
He acted like a 'stereotypical guy' during her pregnancy
After going through her fertility treatments, in addition to the devastating loss of one of their embryos, Jim Edmonds' blasé attitude was more than noticeable on television screens. Come to find out, his nonchalant demeanor was way worse than viewers could've even imagined. During an appearance on Watch What Happens Live, Meghan said, "The whole getting pregnant part [Jim] was like, 'Oh, you know … like whatever. What's going on?' and [being a] total stereotypical guy."
Despite raising eyebrows with her candid confession about Jim's funky attitude, Meghan ensured her fans that Jim had finally warmed up after their daughter, Aspen King Edmonds, was conceived. "But now that I am pregnant he's always talking about the baby, and 'How's the baby? Can you feel the baby?' And it's really sweet now that I'm actually pregnant. I think he just needed it to materialize a little bit more."
Based on the former athlete's Instagram account, he really does appear to be a doting father to all of his children, and that makes us happy. But it wasn't like Meghan's pregnancy was his first rodeo. Their daughter, Aspen, was his fifth child. Fifth! How could he not know how to at least act like a supportive husband to a pregnant partner with that kind of fatherhood experience under his belt? If that's not strange, we don't know what is.