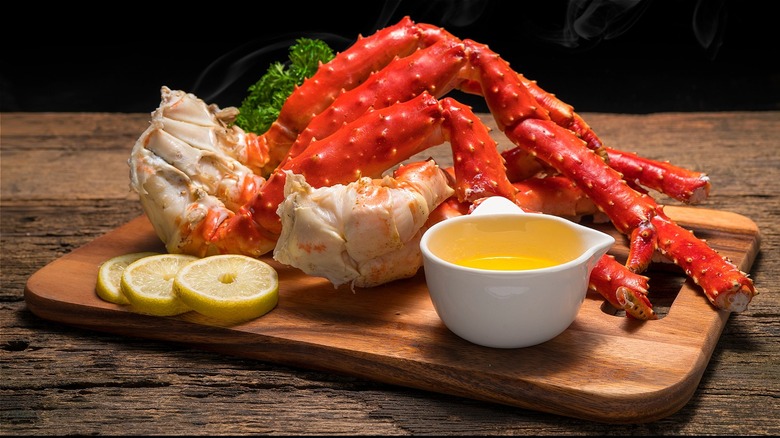 Eating crab legs is a strenuous endeavor, and much like other shellfish, there's work to be done before you can dig in. To start off, the legs have to be separated. Then, they need to be broken using a special tool. Once the interior crab meat is exposed, a long fork (or your hand or mouth) has to be used to extract the goods.
There are plenty of places in the U.S. that make the process of eating crab legs well worth it. Alaskan king, snow, Dungeness, blue, and stone crabs are the most popular varieties you'll find in America (via Cameron's Seafood). When picking a restaurant to eat crab, you'll want to be as close to the shoreline as possible because that's where the crabs are. However, you can also eat them further inland at reputable eateries that are experienced in importing fresh seafood.
Whether they are steamed, boiled, or broiled, crab legs are saltier, slightly sweeter, and less fishy than other seafood, according to Eat Delights. If you can stomach the look of long shellfish parts on your plate, crab legs might end up being your new favorite food. Whether you're looking to try them for the first time or explore new restaurants where you can get several buckets' worth, here are the absolute best crab legs in the U.S.
Cajun Seafood – New Orleans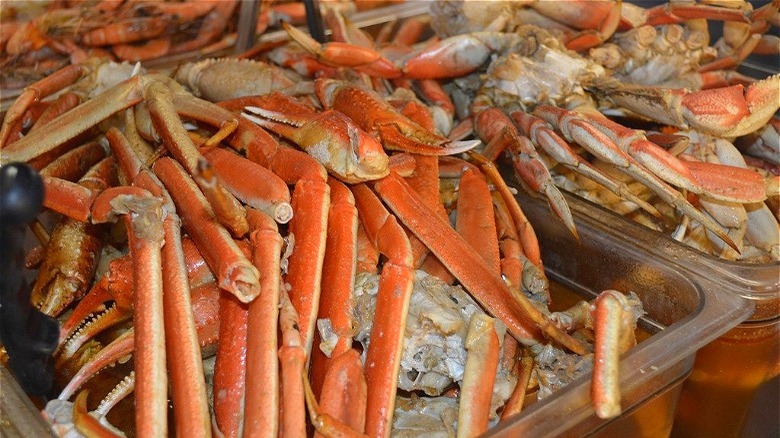 Like other classic Louisiana seafood boil restaurants, crab legs at New Orleans' Cajun Seafood chain are served in a plastic bag. It's a pretty common tactic according to Escoffier, as it makes it easy to toss the crab legs in seasoning and fat, keeping them juicy and flavorful. Per the menu, you can get a bag of crab legs at Cajun Seafood containing either blue, snow, or Dungeness crabs.
The restaurant's Tripadvisor reviews focus on the crab legs, even though many different forms of seafood are served. "I'd order from here again, and grab a couple of pounds of crab legs while I'm at it," one person wrote. Another outstanding Yelp review described that the crab legs were made with skill, perfectly cooked, and seasoned so well that no additional dips were needed for flavor.
As for the exceptional seasoning, you can expect any of the following flavors at Cajun Seafood: garlic, paprika, Old Bay, lemon juice, hot sauce, onion, and other spices commonly used in Cajun crab boil recipes. Cajun blends can incorporate a number of ingredients such as black and white pepper, basil, oregano, cayenne, and thyme (via Gourmet Sleuth).
Charleston Crab House – Charleston
Charleston Crab House consists of not one, but three different restaurants located in the city. That's three times as many places to eat crab legs. Per the menu, your opportunity to eat crab legs at this chain comes by ordering one of the restaurant's self-proclaimed world-famous steampots.
The Crab House Crabpot features both Alaskan snow crab and Dungeness, plus shrimp, mussels, Andouille sausage, corn, and potatoes. The restaurant also sells steampots with your choice of Dungeness or Alaskan snow crab with the same non-seafood sides. All of these options are topped with Old Bay seasoning and garlic butter, ensuring your crab legs will be flavorful.
According to the Charleston Crab House reviews, whatever is going on in this restaurant kitchen is making guests pretty happy. On Foursquare, one patron shared that they were, "The best crab legs I've had in a long time." Meanwhile, a Tripadvisor review from a satisfied diner raved, "Amazing seafood! Crab legs were out of this world!"
Six Feet Under Pub and Fish House – Atlanta
Six Feet Under is a small chain with two sit-down seafood restaurant locations in Atlanta, Georgia. Curiously, diners will find Canadian snow crabs (and their legs) on the menu. Evidently, these are not caught on Georgia's coastline — where you can, in fact, catch crabs, per USA Today — but Atlanta isn't a coastal city anyways, so we'll let it slide.
Among the options at Six Feet Under, you can order a dish of snow crab legs with garlic butter, or add Andouille sausage, corn, and potatoes. If you're bringing a group, the Six Feet Under Steamer for two to four people comes with crab legs, mussels, shrimp, and oysters.
Andouille sausage (which you'll find here and at other crab houses) is a Cajun food staple made of spiced pork (via The Spruce Eats). The sausage has ties to both Acadian and Creole cuisine, and it's even a key ingredient in Cajun gumbo and jambalaya. Its meaty smoky flavor easily complements the delicate sweet flavors of the crab, making the two a classic pairing.
On Tripadvisor, the reviews of Six Feet Under tend to conclude with positive exclamation points. One patron described them as the, "Best crab legs we have eaten in a very long time!" Another said, "They have the biggest crab legs I have ever eaten, and the prices are great!" Yet another diner wrote, "I always order the crab legs, great price and always plenty of food!"
Hot N Juicy Crawfish – Washington, DC
Our nation's capital is not far from the blue crab capital of America, Chesapeake Bay, which guarantees some excellent restaurants to get your crab fix. One of the top spots is Hot N Juicy Crawfish, where you'll find crab legs too.
According to the menu, Hot N Juicy provides several ways to feast on crab legs. You can buy whole crabs or legs by the pound, and both snow crabs and king crabs are available. Snow crabs — named after the white color of the meat when cooked — are known for being smaller and less tender than king crabs (via This Fish). Both types will provide you with the opportunity to feast on one of the most delicate, sweet, and tender kinds of seafood out there.
Hot N Juicy also sells Dungeness crabs (named after a river in the state of Washington where they live, per Charting Nature) or blue crabs. The latter species is only available during blue crab season, which runs from April to December (via Michelin Guide).
Locals seem to love D.C.'s Hot N Juicy. One fan wrote on Tripadvisor: "Absolutely hands-down the best seafood restaurant! […] Corn on the cob and crab legs are to die for!!!" Another happy diner shared that "everything was so fresh & tasty from the king crab legs to the fried catfish."
Shaking Crab – Newton, Massachusetts
The Shaking Crab is a casual seafood chain where you can feast on crab legs. The restaurant originally opened in Newton, Massachusetts, near Boston, and per its website, there are now locations in New York, New Jersey, Rhode Island, Connecticut, and other states. The Shaking Crab's ability to expand should speak to its positive reputation as a popular seafood restaurant.
The opportunities to eat crab legs at The Shaking Crab are endless, and the top menu options include ordering a boiled seafood bag. Crab lovers can eat king, snow, and Dungeness varieties. The crabs are mainly served as individual legs or in clusters, which Quality Seafood Delivery explains typically include a shoulder, claw, and three legs that are connected by body meat. There are tons of combo packs and you can order an entire tray filled with seasoned crabs, shrimp, corn, potatoes, lobster, or whatever pleases your group — because The Shaking Crab is the type of place to visit with friends.
You can even customize your seasonings and sauces, choosing between spiciness levels and options like garlic butter, cilantro lime, or Cajun. Per Boston.com, since opening in 2015, the Newton location regularly has long wait times. Inside, it's a busy mess — but that's the fun part. Tie up your bib and pull on some plastic gloves before digging through the plastic seafood bags to get to your crab legs.
L.P. Steamers – Baltimore
Baltimore, Maryland, is a great place to eat your share of crab legs. The city is connected to the Chesapeake Bay, a waterway known for its blue crabs. Before they are cooked, the crabs have blue patches on their legs, claws, and shell (via National Wildlife Federation). But don't be surprised by your meal at L.P. Steamers; as with other crustaceans, once they've been cooked, blue crabs turn bright orange (via Mental Floss).
Per The Baltimore Sun, L.P. Steamers is a nearly 30-year-old institution with a rustic seaside atmosphere and amazing crabs. In fact, the legs are described as "the best French fries you've ever had." Alison Bartowski reviewed L.P. Steamers' snow crab legs and local Maryland crabs in The Johns Hopkins News-Letter, highlighting the delicious flavors.
The menu features snow crab legs, which are most commonly found in Alaska and Maine, as far as U.S. areas (via Alaskan King Crab). Even though the legs served at L.P. Steamers may not be of the popular Chesapeake Bay variety, they are excellent served with plenty of butter and Old Bay seasoning.
Humpy's Great Alaskan Alehouse – Anchorage
Humpy's Great Alaskan Alehouse is a cheerful Anchorage locale serving beer and seafood. According to the menu, Alaskan king crab legs are on offer, sold individually or by the pound, and served with grilled asparagus, French bread, steamed white rice topped with teriyaki sauce, and butter. Luckily for diners, crab legs can be added to any order at Humpy's.
As a spot known for its beer as much as its food menu, Humpy's has its share of attention on the alcohol review website Beer Advocate. However, beer lovers still turn their attention to the crab legs, recommending them along with the fish and chips.
Humpy's also owes some of its fame as a crab leg spot thanks to the television show "Man v. Food." Per the restaurant's website, the food challenge is still offered to customers today. If they can successfully eat four pounds of Alaskan king crab, seven crab nuggets, 14 inches of reindeer sausage, side dishes, wild berry crisp, and ice cream within one hour, diners are awarded a t-shirt that says, "I got crabs at Humpy's." It's worth knowing that it costs $250 to attempt the challenge. But hey, the fame and glory waiting at the end could be worth it.
Franciscan Crab Restaurant – San Francisco
The Franciscan Crab Restaurant is a San Franciscan eatery where you can devour some delicious crab. Per the menu, Dungeness crab legs are served in a few different formats: a half crab, whole crab, or crab feast. Dungeness is an appropriate type of crab for this Bay Area establishment, as catchers can still find the species in waters near San Francisco, according to Fisherman's Wharf. Although Dungeness is named for its Washington state homeland, this crab is found all the way down the West Coast at certain times of the year (via Food Republic). That crab-filled coastline includes San Francisco, where the Franciscan Crab Restaurant is located.
To round it out, most of the dishes come with the restaurant's secret garlic sauce. On Tripadvisor, crab lovers voice their approval for the Franciscan's entrees featuring crab legs. According to one reviewer, the locally-sourced crab was a highlight and their new favorite. Thanks to the restaurant's preparation they noted, "If you've eaten crab legs and been frustrated by their lack of meat, this is the crab you've been missing in your life!"
The Crab Hut – San Diego
The Crab Hut is a small chain of San Diego restaurants known for crab legs. Per the restaurant website, there are three locations in the Southern California city: one in the Kearny Mesa neighborhood, one in Mira Mesa, and one located in Downtown San Diego. In the Boils section of The Crab Hut's menu, you'll find both king and snow crab available by the pound. As is traditional in boiled seafood recipes for these crabs, you'll mostly get legs and claws. But that's not all; it isn't called The Crab Hut for nothing. There are also combinations where you can add potatoes, corn, Andouille sausage, and multiple kinds of seafood to your boiled crab order.
The restaurant has excellent reviews across the internet. On Foursquare, diners write that the "King crab legs are amazing." On Tripadvisor, a patron who ordered a crab legs combo commended the portion sizes and flavors. Probably the most poetic of them all, a Yelp reviewer ponders, "Chicken wings, crab legs, and some drinks. What else can I ask for? More crab legs maybe?"
The Crab Pot – Seattle
If you live in Seattle and you want to start eating more crab, The Crab Pot is an obvious place to start. One of three West Coast locations owned by the little chain, the Seattle establishment is particularly hard to miss, as it's located in Miner's Landing at Pier 57. This tourist and dining area advertises Pacific-style restaurants and gives a special shout-out to clouted restaurants like The Crab Pot.
Crab legs come in many forms on The Crab Pot's menu, but the best way to eat them is by ordering a Seafeast. For an assortment of items, try The Alaskan, The Westport, The Eastport, The Pacific Clambake, and more. The Crab Pot says the Seafeasts are their specialty, describing the meals as, "giant steamed buckets of seafood that are dumped directly onto the table." Snow crab, king snow crab, and Dungeness crab are all on the extensive menu. The crab legs have been called tasty and excellent by diners who've reviewed The Crab Pot on Yelp, but you had best taste for yourself to be sure!
Glacier Brewhouse – Anchorage
Alaska's seafood industry is much larger than that of any other state (via Statista), and crabs are a central part of the sector. King, Dungeness, and snow crabs are all caught in Alaska, according to Alaska Seafood. If you're ever in the north and make it to Anchorage, an excellent place to get your fix of fresh crab legs is the Glacier Brewhouse.
The brewery restaurant is known for its excellent beer and seafood. Gayot wrote that one of the most popular menu items is the crab legs, which can be enjoyed in a surf and turf dish along with a prime rib. Per the online menu, you can also get a plate of Bering Sea king crab legs for lunch. The seafood and vegetable dish consists of 1.5 pounds of freshly steamed Alaskan king crab legs, served with melted butter, roasted potatoes, and grilled asparagus.
King crabs are known for being larger and more flavorful than snow crabs, meaning you likely won't leave hungry. However, they are also famous for being expensive, due to a limited harvesting season that lasts only a few months. Also, catching the crabs can be dangerous. Remember "Deadliest Catch"?
Crab House at Pier 39 – San Francisco
Crab House at Pier 39 in San Francisco is another seafood restaurant where the crab legs are flowing. The eatery serves Dungeness crab which is commercially caught in the Bay Area each crabbing season, as Eater explains. The restaurant is located in a shopping and dining area near Fisherman's Wharf, a tourist attraction known for its seafood, especially its Dungeness crab (via Fisherman's Wharf). A popular way to serve the local crab is with sourdough bread, another food item that San Francisco does well (via Visit California).
At Crab House 39 you can get a half crab, whole crab, a crab and a half, two whole crabs, or a crab feast. This selection doesn't even begin to cover all the times that crab appears on the restaurant's menu, but these entrees are the most popular way to eat the legs.
On Yelp, diners highly recommend Crab House at Pier 39: "My favorite place for crab in San Francisco. They got crab chowder, crab enchiladas, crab everything! But of course, the best thing on the menu is the king crab legs." Meanwhile, a Tripadvisor patron gave this piece of advice: "Like Crab — EAT HERE. Ordered 3 lbs crab legs […] Easy to eat. Sauce GREAT. Be sure to get the bread to sop up the sauce!"
Shaw's Crab House – Chicago
Chicago may be on Lake Michigan, but there aren't any edible crabs in that huge body of water. Still, there are plenty of local restaurants specializing in this particular kind of crustacean. That's all due to the efforts of Chicago eateries that fly in fresh crabs on a regular basis, per Eater. One of the best places to get them is at Shaw's Crab House.
According to The Infatuation, king crab is the specialty at this loved and well-established Chicago institution. Due to its status as an epic sit-down seafood joint, it's no surprise that they've chosen to import king crab, the priciest of all. Nonetheless, people all over Chicago recommend this restaurant, despite its high prices and imported fish.
One Yelp reviewer who reviewed Shaw's Crab House wrote, "Best Alaskan king crab legs EVER. Soft, succulent, and perfect with drawn butter." Another said, "The best parts of this meal were the crab legs and the cocktails" (via Yelp). According to the current online menu, you can sample the crab legs in two different ways. Try The Signature, a surf and turf dish of steamed Alaskan red king crab and petite filets. There's also the Surf & Surf, which Shaw's describes as South African lobster tail with steamed Alaskan red king crab legs.
Hemenway's – Providence, Rhode Island
As Cape Days asserts, New England certainly has its share of blue crabs. The shellfish can be found in Rhode Island, allowing many Providence restaurants to highlight the local crustaceans, according to Narrow River. Hemenway's in Providence takes advantage of the area's seafood reputation, however, the eatery brings in Alaskan king crab (from more distant waters) for its diners.
Per Hemenway's dinner menu, you can get a half-pound of Alaskan King Crab for $50, or a full pound of crab for $95. That means you'll end up with extra-large crab legs on your plate, but they might still be attached to their owner. With prices like that, you're going to want to be ready to splurge. Also, since you're paying for the whole crab, not just the legs, the portion might not be shareable. In fact, according to Alaskan King Crab, a single crab leg can range from half a pound to two pounds in weight. So don't expect several king crabs to end up on your plate if you order this option at Hemenway's.
Despite the high prices, this Providence restaurant is still well-liked by patrons. Yelp is full of outstanding reviews of the crab legs at Hemenway's. Diners have remarked that "the king crab legs were sweet and very meaty," adding that it's their favorite meal at Hemenway's.
The Barking Crab – Boston
With Boston's reputation as a seafood town, it's no surprise that there are plenty of restaurants serving up crab legs. A top spot is The Barking Crab, located near the waterfront area of the Seaport and Financial districts. On Tripadvisor alone, there are over 2,000 reviews of the restaurant averaging four out of five stars. One patron enthusiastically summed up the experience by saying, "We wanted crab legs! We got crab legs! 4lbs! It was messy but excellent."
On The Barking Crab's menu, you'll find Dungeness, king, and snow crab available. Prices aren't listed since crab costs fluctuate, but you'll be told the current market share price when you arrive. Depending on which crab option you choose, you might end up with more than just the legs — which might be exactly what you're looking for.
Per Condé Nast Traveler, expect a no-frills environment and casual vibe where the seafood is often paired with a round of drinks. The Barking Crab is more of a seafood shack than a white tablecloth restaurant with expensive Alaskan king crab legs served to you on a silver platter. But for some Boston tourists — and locals — that sums up the perfect crab-eating atmosphere.
The Crab Shack – Tybee Island, Georgia
The Crab Shack is located on Tybee Island near Savannah, Georgia. Many Southern vacationers head to enjoy the island's sandy beaches each year (via Explore Georgia). Within this relaxed environment, The Crab Shack flourishes with its motto, "Where the elite eats with their feet." Crab is the main event here and the crustacean appears in every entree item on the menu. Choose between snow crab, Alaskan king, blue, or Dungeness crab among the many opportunities to eat meaty crab legs.
A Tybee Island tourism website recommends the eatery, highlighting the Captain Crab's Sampler Platter which includes crab legs and assorted shellfish. Apart from local reviews, the restaurant is even given a positive appraisal by Condé Nast Traveler: "The food is well-cooked, well-flavored, and comes out of the kitchen lightning-fast."
Out of 30 Tybee Island restaurants recommended on Tripadvisor, The Crab Shack is ranked at number five. The restaurant's crab legs seem to be partly responsible for that ranking. One satisfied diner praised the crab legs and their delicious flavor. The same impressed vibe carries through on Yelp, where a customer wrote: "We ordered the king crab legs and they were amazing! Update…we went back the very next day, my husband and the kids wanted the crab legs, again! I was crab legged out!"
The Angry Crab – Chicago
The Angry Crab is a restaurant in Chicago, Illinois, that crab leg lovers have to visit. Per the menu, the restaurant serves snow crab legs or king crab legs, plus you can order a whole Dungeness crab (which is typical, since its legs are smaller, meaning less meat. This is the type of seafood restaurant where you can choose your spices and sauces. Then, wait for your seafood to arrive at the table in a boiled bag.
The Infatuation highly recommends the restaurant and its king crab legs are among the menu options highlighted. Plenty of diners on Yelp agree, and one customer said, "This is a real restaurant with Louisiana flavor! Love it so much, especially for the spicy king crab legs!" We don't know what spices or sauces they chose, but it's fair to say you should proceed to order with caution if you're someone who doesn't do well with spice. Another gave specific instructions to get the snow crab legs and avoid wearing fancy clothes since the experience is messy.
The Darling Oyster Bar – Charleston
The seaside town of Charleston in the Charleston Harbor has easy access to waterways where anyone can go crabbing (via Crabbing Hub). Blue crabs and stone crabs are two species native to coastal South Carolina, and as such, you'll find crab on the menu at local seafood restaurants. Like other places serving crab, these establishments don't always stick to the regional varieties but use their town's reputation as a crabbing spot to serve up whatever crab they like.
The Darling Oyster Bar most notably offers crab legs in one very unique way: as part of a seafood-filled cocktail. As The Infatuation describes, "the Bloody Mary comes with shrimp, hushpuppies, a king crab leg, and a lobster claw all sticking out the top." According to The Darling's Instagram account, crab legs are also served as part of a seafood tower and raw bar. Customers love the selection and in a Tripadvisor review, one patron called the raw bar's crab legs "superb."
If that isn't enough crab for you, there are various options running throughout the rest of the menu. Supplement your order of crab legs with crab cakes, blue crab tagliatelle, and a lobster and king crab roll.
Oceana Grill – New Orleans
Per Louisiana Seafood, the state is the number one supplier of blue crabs in the country. Thanks to New Orleans' location close to several fish-filled waterways like Lake Pontchartrain, there are excellent opportunities to catch blue crabs, according to Louisiana Direct Seafood. At Oceana Grill, you can take advantage of New Orleans' access to plenty of blue crabs.
The seafood gumbo at Oceana Grill comes filled with crab legs, which is a delicious way to enjoy them as part of a flavorful stew. On Tripadvisor, patrons rave about the dish's stunning appearance: "When this dish is brought to your table the crab legs are hanging out of the side which just adds to the presentation."
If you can't get enough, Oceana Grill's menu offers the option to add fried soft-shell crab to your seafood platter, Cajun pasta, and assorted dishes. Soft-shell crab is typically a blue crab that has recently shed its old armor, leaving a soft edible shell (via HuffPost). When this occurs, the part that covers the crab legs also sheds, leaving behind a soft-shell encasing, per Ucluelet Aquarium. Thanks to this easy menu add-on, you can taste crab in various stages of its development.
Simon & Seafort's Saloon & Grill – Anchorage
Nicknamed Simon's by the locals, Simon and Seafort's Saloon & Grill provides guests with a picturesque dining experience, including stunning panoramic views of Cook Inlet, Mount Susitna, and the Alaska Range (via Landry's).
The menu showcases crab legs as an add-on or side dish rather than as a main course. Among the options, you can order Alaskan golden king crab legs — a type of king crab that is smaller, cheaper, and more widely available throughout the Pacific Ocean (via Alaskan King Crab). Diners at Simon's can purchase more than a pound of the stuff for a bit over $100, which is quite pricey considering it's a side dish.
The other crab option is a more modest $14 and consists of king crab with Béarnaise sauce. New York Times Cooking describes Béarnaise as similar to mayonnaise or hollandaise. The outlet explains that typical recipes incorporate tarragon, butter, vinegar, shallots, lemon juice, and egg yolks. Serving the crab legs with a creamy, French dipping sauce is another element that distinguishes Simon's as more of a fine dining restaurant instead of a casual boiled seafood shack.
Cabezon Seafood – Portland, Oregon
Per the Oregon Department of Fish and Wildlife, the most common types of crabs you'll find in the state are Dungeness and red rock crabs. Cabezon in Portland serves the Dungeness variety in its cioppino dish, an Italian-American tomato-based seafood stew created in San Francisco (via Taste Atlas). Although there are also shrimp, fish, clams, and mussels in this dish, the legs tend to stand out according to Tripadvisor reviewers. One Cabezon patron wrote, "The cioppino was so incredible with a wonderful broth. Be sure to ask for bread to soak up all of it! Loved the Dungeness crab legs," and the sentiment was echoed among other comments.
According to Eater, Cabezon is also known to incorporate Dungeness crab into several of its specials. You won't necessarily see crab legs as a stand-alone menu item, as it isn't the place to get a platter of crab legs and a side of butter to yourself. However, Cabezon provides the opportunity to sample the legs in a new light, as part of a flavorful seafood stew.
Joe's Stone Crab – Miami
Joe's Stone Crab is a Miami institution, and it's not just your typical boiled seafood house. According to the restaurant's website, founder Joe Weiss claims to have discovered the fact that stone crabs are edible in the 1920s, almost a decade after opening. With a crab restaurant as old as that, we can only admire its early start in the crab-catching business.
Whether or not Joe's was the first to serve stone crabs, the crab business in Florida has since bloomed. According to the Florida Fish and Wildlife Conservation Commission, the Florida Stone Crab Fishery covers 99% of the country's stone crab harvest.
On the menu, you can order King Crab legs, served chilled or grilled with roasted garlic oil. The specialty at Joe's Stone Crab is crab claws, but whoever said that claws weren't legs? You can order them chilled, cracked, and served with mustard sauce, or alternatively baked escargot style with herb butter and toasted baguette. Per Eater, you can expect to wait a long time for stone crab at this famous restaurant located in South Beach.
The Optimist – Atlanta
The Optimist is a seafood restaurant in Atlanta, opened by Ford Fry, a chef and restaurateur who is responsible for a dozen eateries in the South. Not all of his restaurants are seafood-forward though, making The Optimist a unique opportunity to sample the hype surrounding this chef and his take on seafood.
According to the online menu, you can't order a bag of boiled crab or a side of legs at The Optimist. However, you can try any of the Plateaux (seafood towers) options that come with Jonah crab. Oysters, shrimp, ceviche, and other seafood items also come with the platter. Jonah crab is native to the East Coast from Canada down to Florida, according to the National Oceanic and Atmospheric Administration. Jonah crabs are smaller than snow crabs or king crabs, but much like Dungeness or stone crabs, you can still eat the legs (via Animal Pictures Archive).
Although crab legs are not the main event at The Optimist, Atlanta diners still take a liking to them. One Tripadvisor comment said, "We started with the Refuge plateau and the King crab legs were great." Another diner testified that the king crab legs were "fantastic."
J's Oyster – Portland, Maine
Crab legs are also a standout seafood dish at this Portland, Maine establishment. According to J's Oyster's menu, you can order the Alaskan King Crab Dinner to sample the legs. The dish also comes with steamed clams and corn on the cob, served seasonally. Fall months may be the best time to enjoy both the corn and crab, as the former can be harvested from May to September (per Food Network), while Alaskan king crab is typically caught during fall and winter, peaking from October to January (via Alaska Department of Fish and Game).
Diners won't be sampling the local crab by ordering Alaskan King Crab at J's Oyster, as the crab species native to Maine include red crab, Jonah crab, and rock crab, according to Wholesale Maine Lobster. Regardless, the crab legs at J's Oyster have many fans. On Tripadvisor, one person wrote, "I had the seafood casserole and my husband tried the king crab legs. Everything was excellent!" Meanwhile, on Yelp, one diner asserted, "You really can't go wrong with the Alaskan King Crab Dinner." According to a 2021 post on J's Oyster's Instagram, crab legs were removed from the menu — at least temporarily — due to wildly inflated costs. But that's not to say they aren't already back or poised to return.