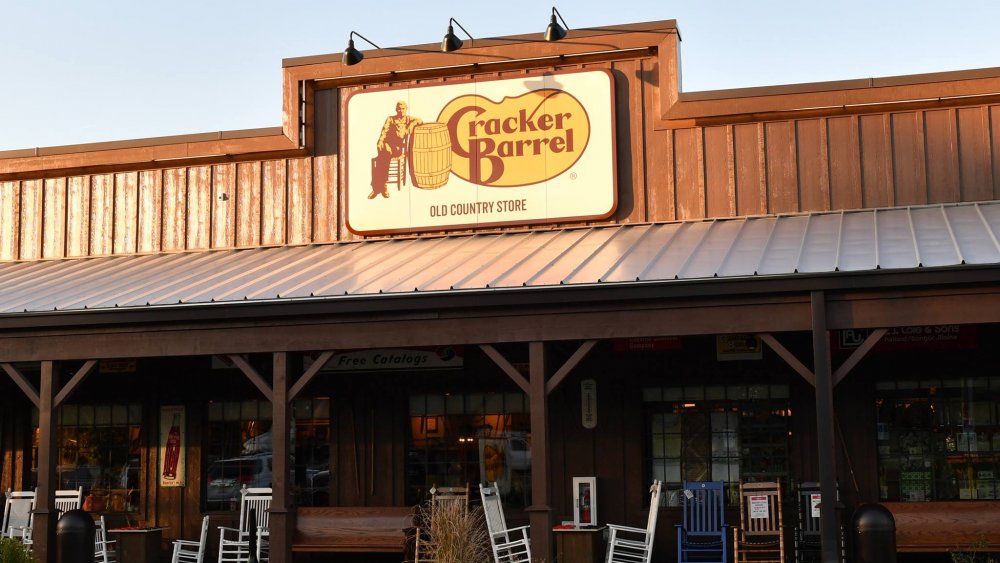 Founded in Tennessee in 1969, Cracker Barrel has become a roadside attraction in of itself, growing to over 600 locations in over 40 states across the country. Maybe, it's the gentle rocking of their iconic, American-made porch chairs, or the familiar decor adorning their walls, but there's just something about Cracker Barrel that has us heading off the highway for a slice of comfort (and maybe some pie). Looking past the extremely generous portions they're serving up, Cracker Barrel has become an industry leader, carving out their own niche in the market while building upon the classic ideals of life in the South. On a visit, you can expect a homey atmosphere, their signature offerings of classic comfort food, and a dollop of Southern hospitality.
You'll have to first make it past the general store, deemed their Old Country Store, where you can find a treasure trove of anything from apparel and candy, to exclusive music albums from your favorite country/gospel artists. There's nothing random about this. According to The Motley Fool, retails sales from the general store account for a fifth of the company's total revenue. That's a lot of cast iron skillets sold! While the world has been a buzz about their latest announcement of the addition of booze in certain markets, we're here for the eats. It's time to put down the triangle peg game, because we're bringing you the best things to order at Cracker Barrel.
Cracker Barrel's Country Fried Steak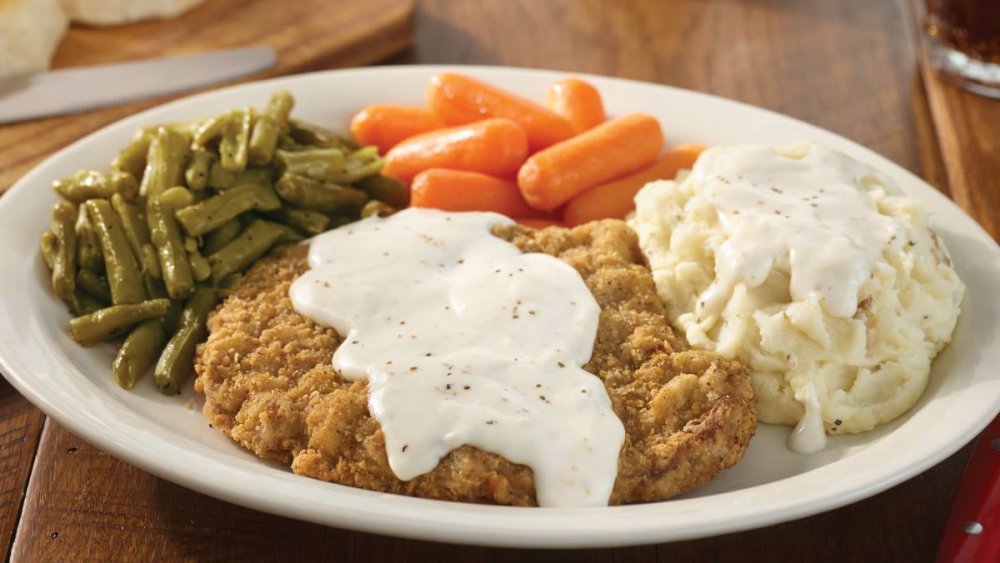 If you're homesick for mama's cooking, few things satisfy your craving for down-home goodness more than chicken fried steak. We pretty much get all the feels when it comes to frying just about anything found in the kitchen. While fried chicken seems to take all the glory, chicken fried steak is the dark horse that deserves our attention. The history of the dish offers much debate, but according to The Culture Trip, we can likely thank the European settlers who came to America. When German and Austrian expats landed in Texas, they brought along with them recipes from their homeland, including wiener schnitzel. Based on affordability and availability, it's thought that they likely grabbed cheap cuts of beef, resulting in what we now know as chicken fried steak.
What stands out about Cracker Barrel's version, called Country Fried Steak, is they've really nailed the meat to breading ratio. The USDA Choice steak (which happens to be surprisingly tender for its price point) is coated in a perfect blend of flour, egg, and just the right amount of seasoning. This dish may push your maximum sodium count for the day, but it's so worth it. Stretchy pants are not included.
Cracker Barrel's Chicken n' Dumplins
While on the topic of poultry, it's been reported that Cracker Barrel sells over 11 million orders each year of another popular dish, their Chicken n' Dumplins. What is now affordable fare found on nearly every menu that celebrates Southern cooking, the dish did not start out that way. According to Wide Open Eats, when it first made its way to dining tables across the United States in the latter half of the 1800s, it would be what we would now describe as a delicacy. During this time, the pre-industrialized farming era, chicken was pricey and often passed over for cheaper cuts of meat, such as veal and chuck roast.
Thanks to availability and affordability, these little pillows of goodness now have us fondly recalling trips to our Grandma's house, not financial hardships. Cracker Barrel's version is slow-cooked and hearty, with tender chunks of all-white meat chicken. While you may be familiar with some recipes that call for an almost biscuit-like dumpling, their's features a flat version of the carb that almost mimics a noodle. The two items are married together in holy matrimony amongst creamy, rich chicken broth.
Cracker Barrel's Broccoli
Okay — stick with us on this one. A side of oil-drenched broccoli may not necessarily sound appealing. While the vibrant green vegetable is basically the epitome of starchy health, it's not the first thing we're going to grab when hitting up a chain restaurant. Chock full of fiber, potassium, and vitamins a through z, this healthy-ish side offering at Cracker Barrel also packs the flavor thanks to their signature seasoning blend. They have yet to disclose just what this seasoning combo is comprised of, but we have found it to be the perfect level of garlicky goodness with just enough salt.
At only 40 calories a serving, this side will also leave room for the true stars of the show, their delectable main dish options, like roast beef and meatloaf. Other sides clock in at a whopping 450 calories for a loaded baked potato and over 300 calories for cornbread dressing. This calorie conscious delight is also featured in the chain's popular Wednesday only offering, Broccoli Cheddar Chicken. Upon scouring the internet, we were even able to track down a fantastic copycat version of the recipe thanks to the Spicy Southern Kitchen, perfect for evenings Thursday through Tuesday. We never thoughts we'd be saying this but please pass the broccoli.
Cracker Barrel's Sugar Cured Ham
Ham has long been a staple in mankind's diet dating back to B.C. days with the now familiar dry-cured meats of Europe (think Italy's prosciutto and Spain's jamon). Be it a holiday ham on Easter or Christmas, a classic playground-friendly ham and cheese sandwich, or a beautifully curated charcuterie board, where would we be without the fatty goodness? In the early 1600s, adventurous colonists arrived in North America bringing along with them both practical and cherished items. Lucky for us, pigs also happened to be one of those beloved items.
Now, you'll never have to choose between salty and sweet again thanks to Cracker Barrel's Sugar Cured Ham. The age-old battle of sugar versus sodium comes to rest here with a perfect balance in another one of their staple dishes. While country ham tends to rely heavily on the salt in its curing process, sugar cured ham has a hint of salt while leaning toward the sweeter side of the spectrum. It's a winner, winner ham dinner for us.
Cracker Barrel's Macaroni n' Cheese
Universally known, yet often poorly portrayed, macaroni and cheese is really the pinnacle of comfort food. We're talking perfectly al dente noodles, butter, and cheese coming together in a baked bliss. The French have excelled in this combo, but Americans know how to continually reinvent this versatile dish. Even in its most basic, blue box form, pretty much anyone with a pulse can't seem to get enough of it. It's American's favorite side dish, which comes as no surprise considering the sheer volume of dairy we devour each year. The war of elitism in food continues on, but our desire for macaroni and cheese simply can not be ignored.
Cracker Barrel's version features elbow macaroni noodles and their signature, yet undisclosed, cheese blend. The combo is baked together in an oven just long enough to result in an extra creamy product that features the perfect amount of crispy cheese patches on top. Nothing fancy here. In this day and age where you could indulge in a shaved truffle topped aged white cheddar mac and cheese that will set you back a mortgage payment, we'll gladly accept this near-perfect presentation of the iconic American dish in its most basic and natural form.
Cracker Barrel's Meatloaf
No two words have ever sounded less appealing together than meat and loaf, but, alas, the dish known as "meatloaf" has become a staple in many homes. The ketchup-soaked ground beef (or turkey) could not sound any more unappetizing, yet packs a bounty of flavor and a well-storied history. According to Bon Appetite, this culinary wonder may date back to Medieval times where they found a successful way to prevent meat scraps from going to waste. It has since made its way to the forefront of the American palette alongside the greats, like hamburgers and hot dogs. The savory dish may even be to thank for full bellies during one of America's toughest times — The Great Depression.
The combination of ground meat and bread lives on as a menu staple at Cracker Barrel restaurants. While there are endless versions to be found, what makes their version so unique is the use of one common household item in place of breadcrumbs. Their recipe actually calls for Ritz Crackers. Made fresh in-house each day and finished off with a ketchup topping just before baking, the result is both tender and moist, making it one of the most sought after items. It's so popular, in fact, it's even known to sell out.
Cracker Barrel's Sunrise Sampler
If you have a hankering for pancakes in the late afternoon, you are in luck. Cracker Barrel offers up its full breakfast menu all day long. While they serve over 50 million of those hot cakes a year, our tastes are often less vanilla when it comes to breakfast fare. Let us introduce you to the breakfast version of the meat and three, Cracker Barrel's Sunrise Sampler. Two farm fresh eggs are served with their signature hashbrown casserole, fried apples, grits, and a meat sampler. This is not just any meat sampler, this is your opportunity to try out some of Cracker Barrel's most popular meats and includes thick-sliced bacon, smoked sausage, and country ham. It doesn't end there: your breakfast adventures also comes with buttermilk biscuits, sawmill gravy, butter, and jam.
They are even known to carry a special seasonal version, called the Holiday Sunrise Sampler. This limited run item, usually available around Christmas, comes with double-glazed cinnamon drop biscuits. Clearly with this favorite, we prefer to not count our calories for the day.
Cracker Barrel's Double Chocolate Fudge Coca-Cola Cake
Unlike the aforementioned broccoli and meatloaf, we can bet we are not going to have to sell you on this one. Why end your meal with the standard apple pie or chocolate chip cookie when a Double Chocolate Fudge Coca-Cola Cake is on the menu? The dessert begins with a made daily, by hand, double chocolate fudge cake. This isn't your ordinary boxed chocolate cake (although we do not discriminate against those). Cracker Barrel's cake is the creme de la creme of all versions and is made with actual Coca-Cola. Incredibly decadent as it sounds, the fun doesn't stop there. Finally, it is served warm and topped with a scoop of creamy, vanilla ice cream.
According to Yahoo, both cake and ice cream top the list of America's favorite desserts, making this unique pairing a sure-fire winner on your next visit to Cracker Barrel. You can have your cake, and eat it, too (with ice cream, of course!). We won't judge you if you'd like to skip over the chicken pot pie and head right for the dessert.
Cracker Barrel's Hashbrown Casserole
While we've scoured the internet for the perfect recipe, there's really nothing quite like the Hashbrown Casserole from Cracker Barrel. Readily available as a soggy breakfast option at most fast food spots, their version offers just the right amount of crunch. Thanks to Cracker Barrel's all-day breakfast, be it morning, noon, night, afternoon, or really anytime, there's just something about the combination of shredded potatoes, chopped onions, colby cheese, and their signature seasoning blend that all works in perfect harmony once popped in the oven. It's even available in a bacon n' egg combo or in a sweet potato variety with pecans and brown sugar.
We're going to fill you in a little secret for your next visit. Order their Loaded Hashbrown Casserole. What exactly does loaded mean? In this next-level interpretation of the classic dish, they will finish it off on the grill, top it with crispy bacon, and even throw on some more ooey, gooey melted colby cheese.
Cracker Barrel's Sunday Homestyle Chicken
Whether from the East or West Coast and all points in between, Sunday dinners are a cherished, American tradition. While in Italian-American homes it's all about the sauce, at Cracker Barrel, Sunday Homestyle Chicken is the name of the game. According to The Daily Meal, we have the Scottish to thank for inventing this deep-fry method of cooking chicken we so commonly refer to today simply as fried chicken. Once reserved in America for special occasions, the now worldwide famous dish has made its way to many menus and in many forms. Thanks, in part, to the likes of fast food chain giants like KFC, Popeyes, and Chik-fil-A, we have finger lickin' access to Nashville style hot chicken and fried chicken sandwiches that have taken the internet by storm.
Cracker Barrel offers two versions, with one being only available on the most coveted day of all, Sunday. A variation of the classic southern fried chicken, Cracker Barrel's Sunday Homestyle Chicken includes two boneless chicken breasts. The chicken is hand-dipped in Cracker Barrel's secret buttermilk batter and fried, resulting in super juicy deep-fried perfection. It also happens to be so much less work than the bone-in variety and we're all for a lazy Sunday.
Cracker Barrel's Mashed Potatoes with Sawmill Gravy
You may not be privy to this information, but there are actually a plethora of gravy variations out there. Sure, you may be most familiar with brown and mushroom varieties commonly found dressing turkeys on high holidays, but this quintessential American staple can be found in various forms in restaurants throughout the world. Cracker Barrel offers the classic brown gravy, but we think you should shoot for their lesser-known Sawmill Gravy.
According to The Spruce Eats, the origin of the term "sawmill gravy" comes from the early days of, you guessed it, sawmills. This gravy is a combo of meat drippings, milk, seasoning, and cornmeal that results in a bit more of a gritty texture as opposed to traditional gravy's silkiness. Cracker Barrel's version is thick and creamy, seasoned to perfection with the flavors of glorious pork fat shining through. The resulting texture is a wonderful compliment to their already solid mashed potatoes. If you're in the breakfast mood, you can also order sawmill gravy with your side of biscuits.
Cracker Barrel's Country Ham n' Biscuit Side
While we're on the subject, if Cracker Barrel does one thing right, it has got to be their biscuits. They've even dedicated an entirely new restaurant chain concept to the flaky pastry. Cracker Barrel knows how to bring home the biscuit, and they bring it to us in seemingly endless variations. Their signature biscuits come complimentary alongside nearly every option on their menu. Accompaniments you may ask? You can dip, dunk, and spread however your heart fancies with sawmill gravy, preserves, jam, and butter. As they say, that's all the fixins.
Our favorite way to indulge in the South's most iconic pastry is their side Country Ham N' Biscuit. Available as part of their Breakfast All Day menu, you can up the ante of your meal, or just enjoy it as a light snack. A fresh, buttermilk biscuit is halved and filled with a nice slap of their Country Ham. Differing from their sugar-cured ham, this one is hickory-smoked and hand-rubbed with their special curing mixture. The resulting slice of ham adds a bite of salt to balance out the buttery-ness of the biscuit. The Country Ham has become so popular you can even order a whole ham off of their website and have it shipped directly to your door.
Cracker Barrel's Country Fried Shrimp
Maybe we have Forrest Gump to thank for it, but it seems that Americans can't get enough of shrimp. Broiled, steamed, blackened, and butterflied, there are never-ending possibilities when it comes to whipping up our favorite crustacean. In fact, we have been known to occasionally indulge in literally never-ending shrimp thanks to Red Lobster's Endless Shrimp promotions. According to Slate, once shrimp farming became a thing around the world in the 20th century, rising production led to more affordable prices, hence the popularity. What was once a luxury, can now be purchased for a meager several bucks a pound and we are certainly not complaining (although fishermen may).
What happens when you combine our favorite under the sea treat with America's preferred method of cooking? Insert, Cracker Barrel's Country Fried Shrimp. A copious amount of shrimp is coated in sweet buttermilk breading and deep-fried to a golden brown. Completing the meal are their hushpuppies, these deep-fried balls of batter are a match made in heaven for any seafood dish. We're talking a literal boatload of food with this one.
Cracker Barrel's Sweet Tea
We're about to get to the bottom of just what all the fuss is about sweet tea in the South. It's just water, tea, and sugar, right? Wrong. According to the Food Network, tea became super popular right around the same time as the prohibition took effect in the South. No longer able to grab for a glass of the stiff stuff, people sought comfort in a sobering, yet delicious glass of iced tea. Southerners are fiercely passionate about their tea and you'll never spot them stirring sugar into it. Proper sweet tea is only sweetened mid-process while it's still hot. Nowadays, you'd be hard-pressed to find a home in the region without a collection of tea pitchers, some even have family heirlooms passed down generation after generation.
Freshly brewed in-house since 1969 (and in proper Southern form), Cracker Barrel's Sweet Tea is stored refrigerated at all times, and only served over ice, not chilled by ice to limit the possibility of a watered-down mess. Beloved by customers, it is available as you dine in by the refillable glass, or in half gallons to-go. Looking for a little variety to spice up your life? Try one of their thirst-quenching flavors, like a peach tea that's blended with a fruit puree. Southern charm and sweet tea are pretty much the epitome of a visit to Cracker Barrel.