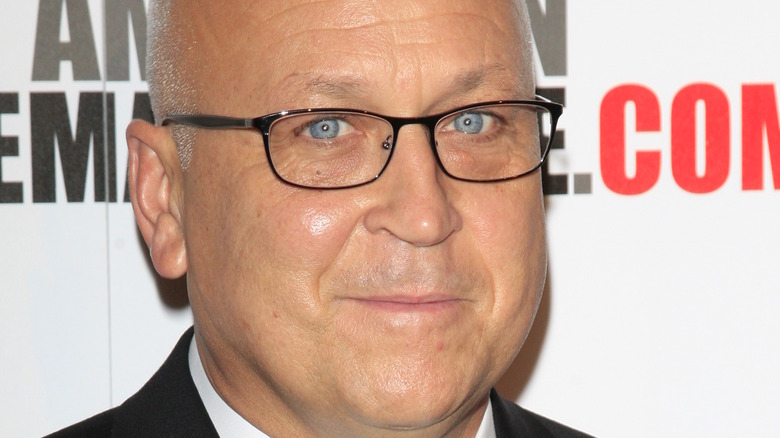 No last name has a bigger association with the Baltimore Orioles franchise than Ripken. Cal Ripken Sr. and sons Cal Ripken Jr. and Billy Ripken spent decades in the organization, with the elder Ripken serving in a number of capacities, from player to player-manager in the minors to manager of the big league club.
According to the Society for American Baseball Research, Ripken Sr. was born in Maryland and eventually even managed both his sons at the major league level, a first in Major League Baseball history. "We just happen to be in the same business at the same time. Maybe years from now, when I'm reflecting upon things in my rocking chair, I'll smile about all this, but for now, they're just a second baseman and shortstop on my ballclub," Ripken Sr. said at the time.
In 2012, It came as a major shock when Vi Ripken — the matriarch of the Ripken family son ingrained in not just the Baltimore Orioles but also the state of Maryland — was the victim of two separate crimes in just 15 months (per CBS News).
Cal Ripken Sr.'s career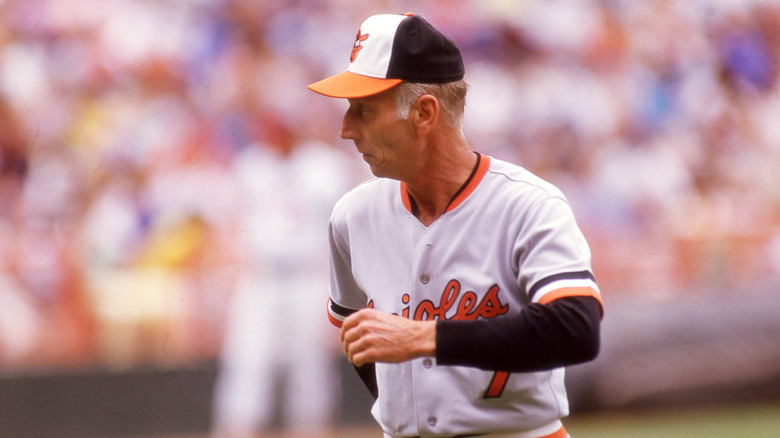 According to the Society for American Baseball Research, the Ripkens' history in Maryland baseball goes back one generation further than Cal Sr. His family on his father Arend's side was from Germany, while his mother's side came from Ireland. Arend Ripken liked to play pickup baseball and was tragically killed in a car crash in 1944. His sons — Ollie, Bill, and Cal — must have inherited his love for the game because they all went on to play for the semi-pro Aberdeen Canners.
Cal Ripken Sr. eventually dropped the "semi" part of semi-pro and became a full-time professional ballplayer in 1957 as a member of the Phoenix Stars in the Arizona-Mexico League. That same year he married his wife, Violet, who went by Vi. In 1958, Ripken joined the Baltimore Orioles organization after impressing them by catching for one of the farm system's hardest-throwing pitchers. He spent the next few years bouncing around to different minor league clubs, and in the early '60s, he started his managing career after becoming a player-manager for the Orioles affiliate in Leesburg, Florida.
The Ripkens in Baltimore
Cal Ripken Sr. became an Orioles coach in the '70s and even filled in as the team's skipper on occasions where manager Earl Weaver was unavailable — typically after he was ejected from games. According to the MLB, he got some practice managing the team as Weaver was ejected 96 times in his career, which amounts to about once every 26 games.
In the 1980s, Cal Ripken Sr. was given a shot to manage the Baltimore Orioles full-time. There's nothing particularly significant about a coach and long-time minor league manager getting a crack at the big leagues, but what was significant were two players on his roster during the 1987 season: his sons, Cal Ripken Jr. and Billy Ripken (via Society for American Baseball Research).
Both Ripkens went on to have great careers as Major Leaguers, with Cal Ripken Jr. setting the record for the most consecutive games played by breaking Lou Gehrig's iron man streak in 1995. Cal Ripken Sr. was present to see his son break Gehrig's record and lived long enough to see the streak end at 2,632 games in 1998 but sadly died the next year. In his later years, Ripken Sr. and his wife often traveled to Orioles spring training. He was also active in the community, running baseball camps and supporting the Special Olympics.
The kidnapping of Vi Ripken
Given that the Ripkens were Maryland royalty, the 2012 kidnapping of Vi Ripken was nothing short of shocking. According to the Associated Press, Ripken later told a neighbor that she was in the garage of her home in Aberdeen, Maryland, one morning when a man approached her. At gunpoint, he blindfolded her and made her get into her own car, a 1998 Lincoln Town Car, per The Baltimore Sun. The unknown abductor then drove her around for hours.
Her disappearance was only reported to the police 12 hours later. She later told a neighbor that her abductor stated he only wanted her car and money but still required the then-74-year-old Ripken to go with him, providing her with food and even cigarettes while keeping her captive in her car. Nearly 24 hours later, a neighbor returning home from work noticed Ripken — who was still tied up — waving a sweater from the window of her car, which was now parked not far from her home. The neighbor called the police, and Ripken was freed. According to Sportscasting, the case has never been solved despite Cal Ripken Jr. offering a $100,000 reward for information leading to the kidnapper. He believes that the kidnapping was premeditated, though Vi Ripken later said that the abductor never mentioned baseball or the name Ripken.
Vi Ripken escaped from an attempted carjacking
Just over a year later, Vi Ripken found herself in yet another harrowing situation. According to CBS News, Ripken was in a bank parking lot when she was approached by a man. The assailant then pulled a gun on her and demanded the car. However, Ripken hit the car alarm on her key, which caused the man to flee. She then went into the bank and told them what happened.
Fortunately, unlike with her 2012 kidnapping, a suspect was arrested in connection with the attempted carjacking after authorities used security footage to identify the attacker. Thirty-three-year-old Jesse A. Bowen was charged with the attempted carjacking as well as a slew of other charges, according to the The Baltimore Sun. Baltimore Police acknowledged how unusual it was for someone like Ripken to be victimized on two separate occasions, but they believed that the two incidents were unrelated and that the 2013 attempted carjacking was a "crime of opportunity."
Vi Ripken died in 2021
Vi Ripken died in 2021 at the age of 82. "Mom was an incredible woman who touched so many people throughout her lifetime. The void that she leaves in our lives cannot be filled, but what she gave us has shaped who we are today, and our memories of her will last the rest of our lives," a statement from her surviving family read (via the Associated Press).
The Baltimore Orioles — the team her family's name has become virtually synonymous with — released a statement after her death saying, "The Orioles mourn the passing of Vi Ripken, beloved matriarch of the Ripken family. We send our condolences to Cal, Billy, Ryan, and their entire family during this incredibly difficult time."
According to The Baltimore Sun, before her death, Ripken spent years living in Aberdeen, Maryland and frequently attended games for the Aberdeen IronBirds, a minor league baseball team that plays their home games at Ripken Stadium.