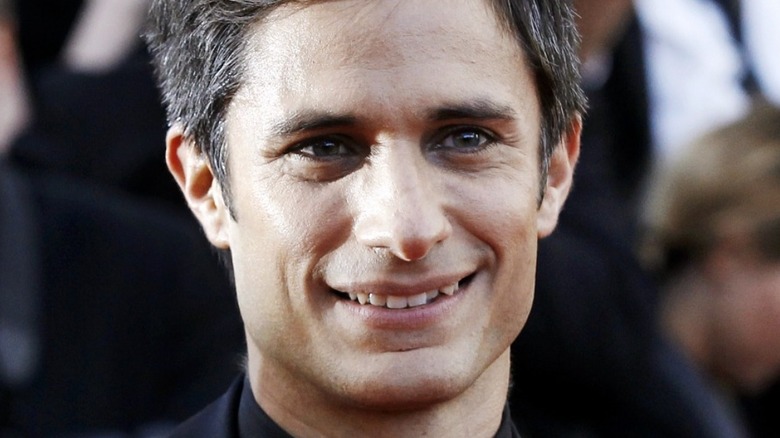 Gael García Bernal first emerged as a movie star in the early 2000s with back-to-back roles in the iconic films "Amores Perros" and "Y Tu Mamá También." These films not only launched his career right out of acting school, but also changed the course of Mexican cinema, reigniting a rich film history and introducing Mexican films and filmmakers to the international stage. With his work in these movies, García Bernal quickly established himself as one of the best young actors of his generation.
While most actors in his position would have quickly headed for Hollywood, García Bernal chose not to. Instead, he focused on working on smaller, thoughtful projects, many of which were set in his native Mexico. He also branched out into producing and directing, focusing on movies and television projects that centered around socio-economic and political themes. Over the last twenty years, he has built an eclectic and thoughtful resume, and he shows no signs of slowing down. Continue reading to follow the stunning transformation of Gael García Bernal.
Gael García Bernal was born into an acting family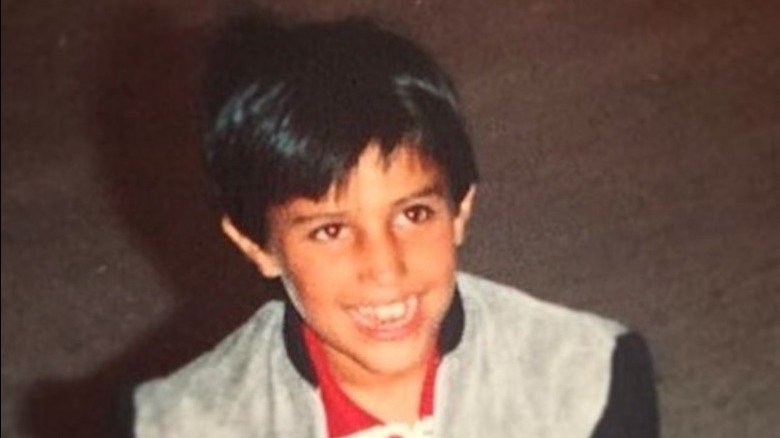 Gael García Bernal was born in Guadalajara, Mexico on November 30th, 1978. His parents, Patricia Bernal and José Ángel García, were both actors, and he started following in their footsteps at a very young age – he played the baby Jesus in a Nativity pageant when he was only a year old. His parents separated when he was young, and his mother remarried cinematographer Sergio Yazbek.
García Bernal described both of his parents as "theater actors" in an interview with The Guardian, and while they did work primarily in theater, both have many credits in Mexican film and television. García worked as both an actor and a director; he directed the long-running Mexican television drama "La rosa de Guadalupe." Bernal continues to work as an actress; her long resume features television shows such as "Secretos de familia," "Así en el barrio como en el cielo," and "Silvia Penal … frente a ti."
He began working as a teenager in Mexican telenovelas
Gael García Bernal lived primarily with his mother and stepfather in Mexico City, and started working as an actor when he was young. At the age of 10, he was cast in his first telenovela: "Teresa," starring Salma Hayek. García Bernal told the Irish Times, "I grew up feeling that Salma was already a huge star. That's how it was for me. She has always been a person who if she walked into a room, everyone would vote for her for president."
A few years later, his work in telenovelas would have him cross paths with another future star and lifelong friend. In 1991, García Bernal was cast as Daniel on the drama "El Abuelo y yo," and he met his future co-star, friend, and business partner Diego Luna. García Bernal appeared in all 90 episodes of the show, while Luna only worked on 15 episodes, but the pair quickly became friends. They continue to collaborate and work together to this day.
At 16, García Bernal was cast in the short film "De tripas, corazon," playing a timid teen. The short was nominated for Best Live Action Short Film at the 1997 Academy Awards, foreshadowing the young actor's future prestigious work.
He left Mexico to study at the Central School for Speech and Drama in London at age 17
Gael García Bernal began studying philosophy at the prestigious Universidad Nacional Autónoma de México (UNAM) at age 17. In an interview at the Toronto International Film Festival, he said, "I wanted to do everything I could to not be an actor," even though he already had several years of professional acting work under his belt. However, there was a student strike at UNAM in 1997, which ended his studies. He decided to travel to Europe, and ended up in London.
It was there that he auditioned for the prestigious Royal Central School for Speech and Drama, and was accepted on a scholarship. García Bernal was the first Mexican student ever admitted to Central School, which is widely considered to be one of the best British acting schools. Speaking at the Doha Film Institute, García Bernal said of his time at Central School: "They deconstructed me. I came in thinking I knew it all, I had a lot of prejudices, thought I knew better and there was nothing I was going to be taught. I was really wrong, like most of us are."
He lied in order to miss acting school to film his first big movie
The Royal Central School for Speech and Drama, like most British acting schools, had strict rules of conduct, and did not allow students to miss class, even if they were working as actors professionally. So when Alejandro González Iñárritu cast Gael García Bernal in his film "Amores Perros" and García Bernal realized he would miss a week of school to film in Mexico, there was a problem.
Fortunately, González Iñárritu came up with a solution. García Bernal told The Guardian that González Iñárritu "said that a relative [of his] was a director of a hospital and he would be able to get me a medical certificate to say that I had contracted some big tropical disease on my last visit to Mexico." The fib worked, and the school let him return even though he was a week late to resume classes. In "Amores Perros," García Bernal has a very short haircut, and that haircut helped sell the story when he returned to school. While García Bernal didn't regret figuring out a way to film the movie and also return to school, he sheepishly recalled, "My movement teacher told me to take it easy and my classmates sent get well cards to me in Mexico, so it was embarrassing."
Gael García Bernal immediately followed up Amores Perros with another massive hit
"Amores Perros" premiered at the 2000 Cannes Film Festival, and Gael García Bernal received many accolades for his performance as Octavio, a young man who is in love with his brother's wife. The film was nominated for the Oscar for Best Foreign Language Film, and its success catapulted García Bernal to fame just as he was finishing acting school.
Mexican director Alfonso Cuarón had worked as an editor on "Amores Perros," and knew he wanted to cast García Bernal in the movie he was about to direct, "Y Tu Mamá También." The film follows two teens as they go on a raucous road trip through Mexico, with the political backdrop of the collapse of the PRI, the political party that had long governed Mexico. García Bernal starred as Julio, and his real-life childhood friend Diego Luna played his fictional best friend Tenoch. The film was a huge success in Mexico and all over the world, premiering at the Venice Film Festival in 2001 and earning a nomination for the Academy Award for Best Original Screenplay in 2003.
He played Che Guevara in 2004's The Motorcycle Diaries
While Gael García Bernal probably had his pick of leading Hollywood roles following his back-to-back performances in "Amores Perros" and "Y Tu Mamá También," he instead focused on more thoughtful and demanding projects in Latin America. In 2004, he played famous revolutionary Ernesto "Che" Guevera in "The Motorcycle Diaries."
The film follows a young Che Guevera and his friend, Alberto Granado (Rodrigo de la Serna), as they take a long motorcycle road trip through South America, starting in Buenos Aires, driving up through Chile, and ending in Peru. The voyage ignites Guevera's political consciousness, but the film just focuses on the road trip, only hinting at the revolution he would later lead in Cuba. García Bernal was widely praised for his nuanced performance, and was nominated for a BAFTA for his work in the movie. The film also won the BAFTA for Best Film not in the English language in 2005.
The same year he played multiple roles in Pedro Almodóvar's Bad Education
Gael García Bernal worked with legendary Spanish director Pedro Almodóvar in his 2004 film "Bad Education." Like many Almodovar films, the plot of "Bad Education" is twisty, and different characters have different memories, so it's not always clear exactly what is real and what is fiction, nor is that the point.
In the film, García Bernal plays Ignacio, who as an adult seeks out his friend from childhood, Enrique, to share a story he wrote about the sexual abuse they suffered at the hands of priests when they were in school. Ignacio goes on to become a drag queen named Zahara later in life, and García Bernal played Zahara as well. In fact, he plays several other characters in the film — Ignacio's younger brother, Juan (though, spoiler alert, it's revealed that Ignacio actually is Juan), and a struggling actor named Angel. García Bernal also had to nail his Castilian Spanish accent for the film.
It seems like his hard work in playing these roles all at once paid off. The film opened the Cannes Film Festival in 2004, and Roger Ebert described the movie in his review as "an ingenious toy that is a joy to behold."
Gael García Bernal made his English-language debut in 2005
Gael García Bernal is a fluent English speaker, but it wasn't until he was several films into his career that he made a movie in English. That film was "The King," in which he played Elvis Perez, a recently discharged Navy officer who goes looking for his father who abandoned him when he was a child. William Hurt played his father, David Sandow, who is revealed to be a pastor at a megachurch in Texas. "This film talks about faith and redemption and talks about it in a bigger sense," García Bernal shared in an interview with Female First.
The dark film builds to a violent climax. While it got good reviews, the film was perhaps not quite as well received as García Bernal's earlier work, but it was still an impressive English-language debut for a very young actor.
He and Diego Luna founded Canana Films that same year
Longtime friends Gael García Bernal and Diego Luna decided they wanted to form their own production company in 2005, and while they had years of experience working in the industry, they needed a fair amount of help. García Bernal recounted in an interview with The Guardian that he and Luna "were learning how to set up and run a company. … We didn't even know how to keep a car running, we didn't know how to do anything." They got help from their producer friend, Pablo Cruz, and founded Canana Films in 2005.
Canana's first major project was creating the Ambulante Festival to showcase Mexican documentaries. García Bernal said that he and Luna recognized there was a lack of distribution infrastructure for documentary films in Mexico, so they set out to figure out how to change that. Canana partnered with Cineoplis and the Morelia Film Festival to showcase several documentaries, including their friend Eugenio Polgovsky's film, "Tropico de Cáncer." Since then, Canana has expanded from documentaries to also include feature films, such as Pablo Larraín's 2012 film "No."
He reunited with Alejandro González Iñárritu for 2006's Babel
For the first time since his film debut in "Amores Perros," Gael García Bernal worked with Alejandro González Iñárritu in 2006 to make "Babel." Similar to "Amores Perros," "Babel" tells multiple stories that cross different socio-economic classes and are all connected by an act of violence. García Bernal plays Santiago, the brother of a Mexican woman named Amelia who works as a nanny in San Diego. Amelia takes the children she nannies across the border to Tijuanna to attend the wedding of her son, but Santiago gets drunk at the wedding and causes a clash with Border Patrol when they are trying to return to the United States.
The sweeping film also starred Brad Pitt and Cate Blanchett as American tourists in Morocco, and opened to widespread acclaim. The film screened at Cannes, where González Iñárritu won the Best Director Award. The film was also nominated for seven Academy Awards, including Best Picture, Best Director and Best Original Screenplay.
The next year, Gael García Bernal directed his first film, Déficit
Already an accomplished actor and producer, Gael García Bernal made his directorial debut in 2007 with "Déficit." The film developed out of an idea for an anthology television series called Ruta 32, with a different story set in each different state in Mexico. The television series was never purchased, but García Bernal adapted one of the stories into the plot for "Déficit," which takes place in the state of Morelos, south of Mexico City. García Bernal also acts in the film, which explores class differences in Mexican culture and society, a topic he has turned to frequently in his work.
When asked why he wanted to try directing by an audience member in an interview with the British Film Institute, García Bernal answered, "When you are an actor, you just have to open your eyes and you start to learn a lot about how to survive on set and what's important and how to tell a story. Directing is really about putting yourself out there, to be slapped in a way. You know that in the kitchen, you're gonna get burned. It's very scary but very exciting as well. If you have something to say, you have nothing to lose and you probably learn from the experience."
In 2014, he returned to television to star in Mozart in the Jungle
Gael García Bernal returned to his television roots for the role of Rodrigo de Souza in one of Amazon Prime's first television projects, "Mozart in the Jungle." The show follows members of the fictional New York Symphony, including an oboe player named Hailey, played by Lola Kirke. Rodrigo is the symphony's conductor; the role is loosely based on real-life conductor of the Los Angeles Philharmonic Gustavo Dudamel. The show even filmed part of an episode during a LA Phil concert at the Hollywood Bowl, where García Bernal briefly stepped in and conducted for the cameras.
For the role, García Bernal and the other actors had to learn to convincingly pretend to play their classical instruments and to conduct. García Bernal told Deadline, "I have a few friends that are in the classical music world so they helped me a lot with it fortunately. … They're really helpful and they're really good at letting us amateurs know how to fake it, or feel it, rather." Clearly García Bernal played a convincing conductor: He won the Golden Globe for Best Actor in a Musical or Comedy TV Series in 2016.
Diego Luna and Gael García Bernal founded another production company in 2018
Gael García Bernal and Diego Luna stepped away from Canana Films in 2018, but their friends and co-producers Pablo Cruz and Arturo Sampson stayed with the company and continue to produce films, including 2019's "Miss Bala." This was not the end of García Bernal and Luna's producing career, however, because they quickly started another production company, La Corriente del Golfo.
When the company was formed, Luna told Variety, "The beauty of telling stories for a living is that we are constantly reflected in them and simultaneously forging our own. … Thanks to the friendship we have always shared, Gael and I are undertaking a new path that is one of creative freedom and shared ideals." La Corriente del Golfo creates a wide variety of socially minded projects, including movies, television shows, and podcasts. One of their earliest projects was Garcia Bernal's second film as a director, "Chicuarotes." More recently, they created the roundtable discussion series "Pan y Circo," hosted by Luna, for Amazon Prime, and "Ema," a Spanish-language film from Chilean director Pablo Larraín.
He will join the Marvel Universe in 2022
Gael García Bernal has always tended to work on smaller, more artsy film projects, but he hasn't totally eschewed Hollywood. He voiced Hector in the 2017 Pixar film "Coco," and his next Hollywood project will undoubtedly be his biggest one yet. According to The Wrap, García Bernal will star in a "werewolf-focused" Halloween special for Marvel Studios, to air on Disney+.
As Marvel keeps all of their development news top-secret, what exactly the show is remains unclear. The Wrap theorized that García Bernal would be playing Werewolf by Night, which is actually a name used by two different characters in the Marvel Universe. Deadline also reported that the character would be Werewolf by Night, and said that actress Laura Donnelly would join García Bernal on the project. Deadline speculated that she would be playing Vampire by Night. Fans will just have to wait and see when the special is released later in 2022.