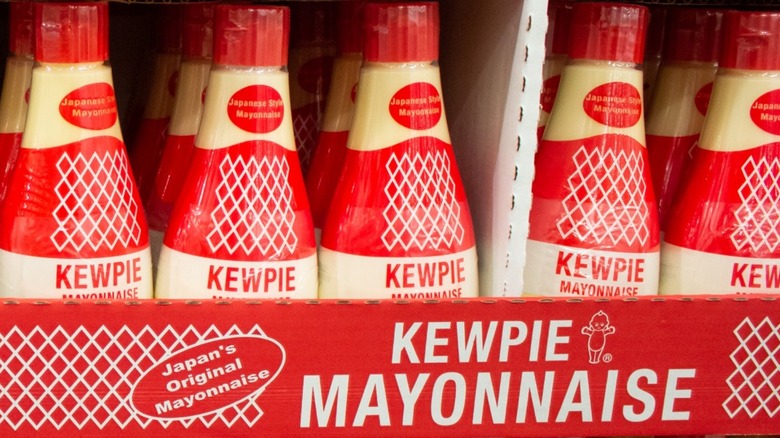 When it comes to mayonnaise, you might love it or hate it, but it is still the most popular condiment in the United States, according to a report by Quartz. Maybe your choice mayo is Hellmann's, a deli classic, or the Southern staple Duke's which can be injected into chocolate cake recipes. Most likely you have one brand that you stick with, but when was the last time you ventured away from your usual and explored distant mayo horizons?
The Japanese sensation of Kewpie mayonnaise is unlike any other mayo, and it's time you gave it a try. According to Japan Times, Kewpie is the country's most popular brand and can be found in nearly every household. The flavor is distinct from American mayo, partly due to variations in the base ingredients. Nutritionwise, Bite My Bun tallies the totals and notes that the two come in pretty close, with Kewpie being just a teeny bit lighter in calories and fat. Because of its unique flavor, Kewpie is more versatile and can be used in a variety of dishes that may otherwise not pair well with American or even European brands.
Step outside of your mayo comfort zone, and get ready to discover the ins and outs of the Kewpie brand from Japan.
Kewpie was founded in Japan nearly 100 years ago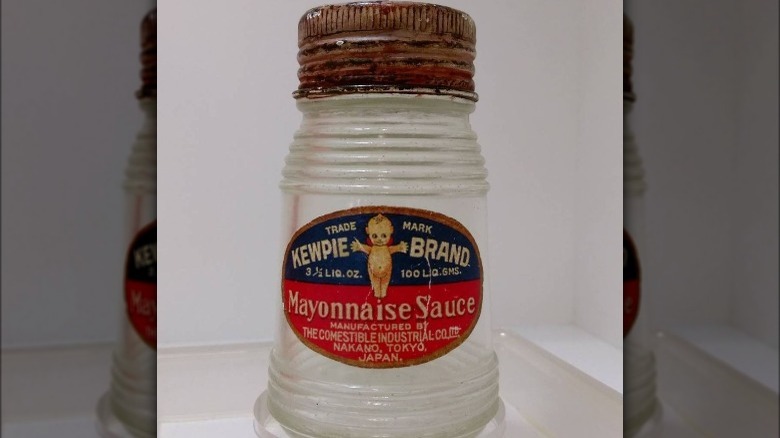 Kewpie was Japan's first manufactured mayonnaise in 1925, and prior to then, the country didn't even use the saucy condiment. The company founder, Toichiro Nakashima, introduced mayo to Japan after visiting the U.S. His goals for mayo's integration into Japanese cuisine were "improving the physique of Japanese people" and providing a new, quality sauce for everyone to enjoy (via Kewpie Shop).
At the time, Japanese cuisine didn't include the typical foods mayo is accompanied by in the U.S., so Nakashima decide to focus on promoting its use with traditional favorites such as fish-based dishes (via Japan Times). Nakashima founded the Shokuhin Kogyo Company, Ltd. in 1919, which produced various sauces and canned food items (per Kewpie). The company eventually expanded, and with the introduction of Kewpie mayonnaise bottled in glass jars featuring the notable cartoonish baby doll image, it was soon able to gain recognition.
Its mascot really is the classic Americana doll
The Kewpie doll, a cutesy cherub-like baby, was created in 1909 by American illustrator Rose O'Neill and first published in the Ladies' Home Journal. According to Timeline, O'Neill originally drew the Kewpie doll "to teach people to be merry and kind." She used the Kewpie, a name based on Cupid, in posters for the National American Women's Suffrage Association. The image was eventually made into physical dolls in 1912 and skyrocketed in popularity throughout the 1920s, becoming a piece of true Americana.
The Kewpie brand has been using the doll as its logo mascot since it began mayonnaise production in 1925. It's not entirely clear why Nakashima chose the Kewpie doll, but per the company's website, it was likely due to the fact that it was popular at the time. Business was smooth for the company with the cute little mascot, but it ran into some controversy in the late 1990s.
According to AP News, Kewpie faced a copyright lawsuit from Kazuo Kitagawa, the owner of a doll museum and toy shop who claimed that he had the rights to the doll. However, the QP (Kewpie) Corporation owned a decades-long trademark and pointed out that there are many types of Kewpie dolls. The issue was resolved and Kewpie mayo bottles are still adorned with the adorable figure.
Production paused during World War II but Kewpie quickly recovered
Production of multiple goods at Nakashima's company, including Kewpie mayonnaise, had to cease due to the onset of World War II which created a scarcity of many essential ingredients (via Kewpie Shop). However, shortly after the war ended, Nakashami's business resumed its canning production and began new ventures into the market of canned vegetables by 1950. Kewpie mayonnaise kept rising in popularity in Japan once manufacturing restarted, and in 1957 Nakashimato's company was officially named Kewpie KK, or QP Corporation in honor of the sensational product.
In 1958 it made the switch to the familiar plastic squeeze bottle that every Kewpie lover is familiar with today (via Funding Universe). The stand-up squeezable bottle was created to preserve every ounce of freshness by sealing it off from oxygen. According to Tensuke, two different styles of caps can be affixed to each bottle — a narrow tip is recommended to make topping decorations and a star shape with a wider tip makes it easier to dispense more mayo with an attractive 3D swirl.
The ingredients set it apart
Typically, mayonnaise is made using emulsified eggs, vinegar, oil, and sometimes spices. This binding process incorporates the ingredients and creates an extra creamy texture. According to Kewpie, its mayonnaise uses the standard ingredients but features a few tweaks that make it unique. For starters, the Kewpie recipe uses egg yolk instead of the whole egg, which produces a richer flavor and darker color. Additionally, it contains vinegar and salt to preserve the product, vegetable oil, and spices (via "Book of Kewpie Mayonnaise"). As for the vinegar, Pogogi reports that Kewpie uses apple cider or rice, which sets the flavor apart from standard mayo recipes that use distilled vinegar.
If the rich taste is too much, Pogogi reports that a Mild Type of Kewpie mayo is available, made with whole eggs like American versions (via Pogogi). According to MSG Dish, Kewpie developed a product that didn't contain MSG, the secret ingredient responsible for the mayo's satisfying umami flavor, to satisfy the American market. However, the result was not as flavorful as the original, and Bon Appétit recommends sourcing Kewpie mayo directly from Japan for the real deal.
It's a secret weapon for many US-based chefs
Chef Tyler Akin from Le Cavalier in Delaware prefers Kewpie mayonnaise for its sweeter taste and balanced acidity (via Real Simple). Many other U.S. based chefs praise the mayo, whether they use it in their cooking or simply appreciate its one-of-a-kind flavor. Real Simple adds that American TV personality and chef Andrew Zimmern finds Kewpie mayo to be a versatile condiment that pairs perfectly with seafood pancakes and fried pork cutlets.
Meanwhile, Thrillist reports that Los Angeles chef Niki Nakayama enjoys Kewpie mayo's unctuous texture, and notes that "it can be used as a standalone condiment just for the flavor." If you're on the fence, try it with fried chicken and you'll see what Nakayama means. Some chefs even like to swap in Kewpie as a binding agent in American classics such as hamburgers (via Thrillist). Finally, renowned Chicago chef Mari Katsumura prefers using Kewpie mayo due to its extra punch of flavor. She suggests using the staple Japanese mayo "sparingly" since the taste is bolder than typical American mayos (via Salon).
You can take a tour of the Kewpie factories
According to Kewpie, it began tours of its factory in 1961. At the time, local schools wanted students to experience a variety of field trip locations, and Kewpie was open to providing educational visits. The tours are called "Open Kitchen" because Kewpie considers the factories to be an extension of consumers' own kitchens. The company estimates that 100,000 people come to one of the four facilities around Japan each year.
If you're planning a visit, Japan's Travel Manual recommends visiting the factory in Kobe City, which is located by the beautiful Osaka Bay. Tours are free by reservation on weekdays and typically last about 90 minutes. The facility features sections dedicated to Kewpie Corporation's history and its selection of food products. There is even a taste-test kitchen where visitors can sample Kewpie's mayonnaise, dressings, and other products. And of course, it wouldn't be complete without a souvenir shop.
Kewpie has a mayonnaise museum
If the Kewpie mayonnaise factory tour piqued your interest, the entertainment doesn't stop there. Kewpie has its own museum dedicated exclusively to its best-selling mayonnaise. According to Good Luck Trip Japan, Mayo Terrace is located in one of the former Kewpie factories in Sengawa, Tokyo. Like any traditional museum, Mayo Terrace is full of interactive displays, historical exhibits, and more taste-testing opportunities. The entrance hall is even designed to look like a giant Kewpie mayonnaise bottle (via Kotaku).
Be forewarned that the guided tour is only presented in Japanese. However, per Japan Travel, admission is free so it's worthwhile to pass by whether you speak Japanese or not. The tour is also offered for free via a virtual Zoom meeting with a tour guide. Online guests get to learn about recipes made with Kewpie mayo, which makes up for not being able to taste-test products on-site.
It recently went viral on TikTok
Late in 2021, TikTok creator Emily Mariko shared her recipe for a healthy and mouth-watering salmon and rice bowl. The dish consisted of leftover salmon, avocado, sushi rice, kimchi, and seaweed squares, drizzled with various other toppings including sriracha and soy sauce. However, it was the Kewpie mayonnaise that took center stage. According to HITC, Mariko's video went viral and almost immediately triggered an uptick in Internet searches for the famous Japanese sauce. Eater reported that Google searches skyrocketed and the high demand caused U.S. stores to experience major shortages in their Kewpie mayo inventories.
Mariko is based in the U.S. and has a hefty following of nearly 10 million on her TikTok profile, where she mostly shares food videos. Thanks to her salmon and rice bowl video which acquired over 22 million views, the Independent writes that Kewpie mayonnaise became a "foodie fascination."
It has plenty of other products and ready-made foods
You might be surprised to know that the Kewpie Corporation makes baby food. According to the company's website, it first started producing baby food in 1960 in order to provide quality and premium early-childhood nutrition for various tastes. Its products, which feature no artificial preservatives or colors, are available in jars, convenience cups, and pouches and include everything from breakfasts and snacks to desserts. Other specialty food products, as per Food Navigator, include ready-made foods for elderly care, healthy options, and therapeutic foods that are geared for people of all ages who require a specific type of nutrition.
In 1958, Kewpie became the first company to manufacture dressings in Japan, which it continues to sell across the globe. Some of the current flavors on offer are French, Italian, soy sauce, sesame, lemon, and more. Kewpie even makes pasta! The ready-made products feature noodles to boil and sauce packets that don't even need to be heated — just squeeze it on top. The Kewpie product page encourages consumers to pair the pasta dishes with seafood and vegetables for a complete meal.
There is a Kewpie Egg Corporation
Kewpie Egg Corporation is exactly that — a corporation with the purpose of processing eggs and distributing both fresh and ready-made egg products. The company's ethics are based on contributing to the world's food culture and health "through great taste, empathy, and uniqueness." According to Reuters, the products include eggs in liquid, solid, frozen, baked, and dried forms, as well as egg salads, spreads, and more.
In 2021, Kewpie developed Hobotama, a plant-based egg alternative made with soy that has a texture and flavor similar to scrambled eggs. Food Diversity reports that the product was created for widespread use in schools, hotels, and restaurants. The outlet adds that Kewpie also has an egg-free mayonnaise called Egg Care. If you're looking for ways to use the plant-based egg imposter, Kewpie offers some ideas such as using it to top a plant-based burger, adding it to a breakfast plate, and even incorporating it into a jumbo egg salad sandwich.
You can put Kewpie mayo on almost everything
Kewpie is a great shortcut to homemade condiments because it's genuinely so versatile. The Takeout suggests adding the Japanese mayo on top of yakisoba noodles, incorporated into fried shrimp and chicken dishes, deviled eggs, or even as a replacement for butter on a toasted sandwich. Even if you're not too savvy in the kitchen, you can easily swap any other mayonnaise with Kewpie in simple dishes such as tuna salad, Caesar dressing, or drizzled on top of your favorite sushi rolls for an extra punch (via Kitchn).
Kewpie provides numerous recipes to make the most of this creamy sauce: Try it on avocado toast, mixed in a shrimp salad, combined with bacon bits and garlic and stuffed in mushrooms, and of course in a classic Japanese egg sandwich. However you use your everyday mayonnaise, you can confidently substitute it with Kewpie for a punch of flavor.
Its sales and market reach in other countries is impressive
We know that Kewpie is the best-selling mayonnaise in Japan and it's definitely no longer under the radar in the U.S., but what about the rest of the world? According to the Kewpie product lineup, the brand currently has subsidiaries in six other Asian countries including China, Malaysia, and the Philippines, one in the U.S., and others across Europe. In 2016, the corporation bought Mosso Kwasniewscy, a Polish food company and one of the top mayonnaise brands in the country (via Gama Consumer).
Sales for Kewpie products have continued to fare well across its global markets. In 2020, Statista reported a slight decrease in total sales, but they still totaled more than 530 billion Japanese yen (over $4.6 billion USD). 2021 saw an increase in overall sales by more than 16 billion yen, or about $139 million USD, which included a surprising decrease in North American sales but a rise in overseas market sales. The fluctuations were caused by a general increase in the cost of raw materials such as edible oil and eggs, according to Kewpie's financial reports.
Mayonnaise cafés? Kewpie has those too.
In the past few years, Kewpie has opened pop-up cafes across Japan, simply named the Kewpie Mayo Café. The purpose of the cafes, other than being a fun and interactive way to easily introduce the product via made-to-order meals, is to encourage consumers to recreate these mayo-friendly eats at home (via The Culture Trip). The cafes first popped up in the busy district of Shibuya in Tokyo and the city of Nagoya. Vice states that "a restaurant pop-up is a true testament to the popularity of any product," and Kewpie mayo definitely lives up to this acclaim.
Mega mayo fans get to enjoy a wide array of salads, spreads, pasta, and dessert. You read right: A custard-mayonnaise dessert features on the menu. Cosmopolitan describes more specialty menu items such as a tuna and mayo pizza, mayo chicken with gratin, and shrimp pasta topped with eggs sauteed in mayo. It sounds like a Kewpie mayo lover's dream.
In 2019, Kewpie celebrated its centennial with limited time cafes in various Japanese cities, as per a press release. Diners were greeted with an oversized Kewpie doll mascot for a photo op and treated to an array of inventive, mayo-based dishes.