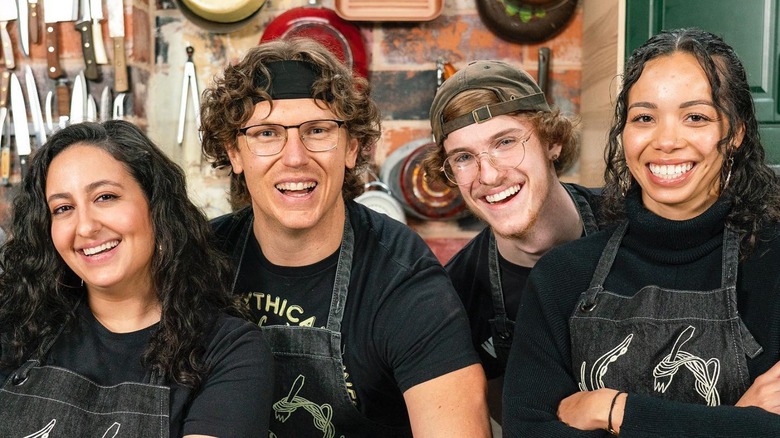 If you've ever caught an episode of the YouTube web show Good Mythical Morning, you've more than likely come across one of their numerous food-centric videos. Turns out that, with all of the things that hosts Rhett and Link have dared to eat, there was a team of chefs and creators working behind the scenes to make it all happen.
Mythical Kitchen, which spun off from Good Mythical Morning in 2020, gladly takes accountability for making some of the most outrageous foods ever. If you take a look at their YouTube channel, you'll find an extensive library of their work, ranging from mouth-watering In-N-Out Animal Style Mac N' Cheese, $374 Panda Express Orange Chicken, and Cinnamon Toast Crunch made into a gourmet meal.
Running a web show and podcast is no piece of cake, but it's just another test that the Mythical Kitchen would take on and turn upside down by remaking that cake with chili cheese hot dogs — of course, they've done that already (via Instagram). This show continues to be a favorite because of its stellar crew, innovative ideas, and all the love from the millions of loyal fans. This is the untold truth of Mythical Kitchen.
Mythical Kitchen was developed from Good Mythical Morning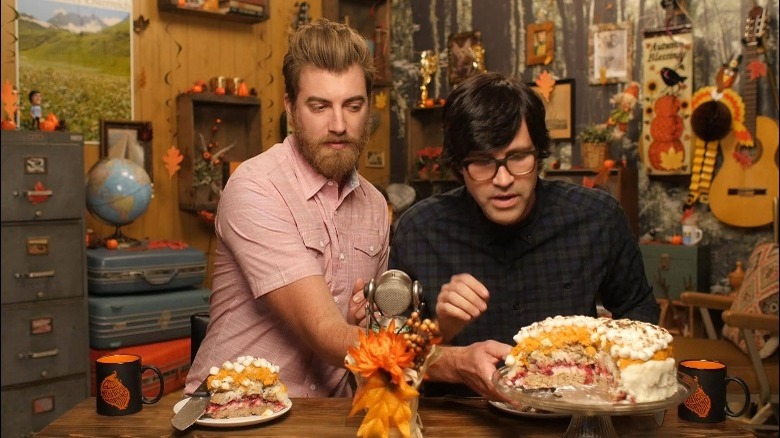 The journey of Mythical Kitchen began with Good Mythical Morning. Created and hosted by Rhett McLaughlin and Link Neal, the show has amassed millions of subscribers and an empire of other internet content that includes podcasts, an original series, and acquisitions of YouTube brands outside of their own. Rhett and Link have told Bleeding Cool that Mythical Kitchen is the project they are most excited to see flourish.
Good Mythical Morning's "Will It?" series is a fan favorite because it involves an array of eccentric culinary spins that are centered around a particular food item. In the episode "Will It Taco?" the charming duo explores whether or not certain ingredients would revitalize the classic meat-filled taco, such as chicken pot pie, sushi, and even non-food products like baby shampoo (via YouTube). The show has featured other food-centric games such as "Discontinued Snacks Taste Test", "Blindfold Taste Test", and "International Taste Test" (via Medium).
However, viewers didn't get to see how most of the on-air foods were created. The minds behind the kooky combinations have since developed Mythical Kitchen into a realm of its own, including chef Josh Scherer and a small team of culinary creators.
Mythical Kitchen is led by chef Josh Scherer
Josh Scherer can take almost any ingredient and flip it into an innovative and edible creation that few people would ever expect to be appetizing—yet somehow he can make any skeptic curious enough to want to try. One time, as per The Takeout, he took food products from the 7-Eleven convenience store and recreated Gordon Ramsay's version of Beef Wellington, a dish that's already tricky to make.
Scherer was named one of Forbes' Top 30 Under 30 in the Food & Drink category in 2022 and it's easy to see why. Throw anything onto Scherer's countertop and he's up for the challenge. Scherer can even find ways to utilize the globally-adored Pokémon in various recipes, as Foodbeast reports. But don't be alarmed, because Mythical Chef Josh normally takes an educational spin on whatever he's cooking up. In this case, he relates the fictional creatures to the real plants and animals they're similar to and which are commonly consumed. Some of his examples include the Pokémon Psyduck (a duck), Bellsprout (a squash blossom), and Cloyster (an oyster).
Scherer learned to cook by watching Food Network
In 2021, Scherer told Mashed that he was raised in a single-parent household where no one really knew how to cook, so he took the task into his own hands after avidly watching a spate of Food Network shows. His love of cooking was inspired by big-name chefs such as Rachael Ray and Bobby Flay, to be certain. But his favorite Food Network chef? The mayor of Flavortown himself, Guy Fieri. Scherer argues that Fieri reformed the food scene with his popular show "Diners, Drive-Ins and Dives."
According to Movie Cultists, the first hot meal Scherer made by himself was a grilled cheese sandwich when he was just six years old. By the time he was 11, he had begun cooking meals for his father and brother. In his interview with Mashed, he told us how his California upbringing also had an impact on his expansive, self-taught food education, with exposure to diverse foods from Vietnamese to Mexican cuisines. It was in college, where he had excelled in athletics and studied writing, that Scherer was fully recognized for his culinary talents. In 2017, his first cookbook was published, "The Culinary Bro-Down Cookbook", which stemmed from a food blog that he ran at the time (via Maxim).
The Mythical Kitchen team is well-versed in the culinary industry
A small crew that works alongside Scherer to produce original recipes and corresponding videos. As per the Mythical Kitchen Instagram, the brigade de cuisine consists of a multitude of talented creators, including Nicole Enayati, Trevor Evarts, and Vianai Austin. Enayati is a chef, online personality, and producer of both Good Mythical Morning and Mythical Kitchen. In 2020 she authored her own cookbook, "Bake Up! Kids Cookbook" which features 60 fundamental recipes and tutorials crafted exclusively for young bakers.
Evarts is also a producer with Mythical Entertainment and has roots in Culinary Education (via LinkedIn). He also began his own podcast, "Trevor Talks Too Much" where he and a variety of guests discuss and debate just about any topic, from food to films to the perfect Pop-Tart.
Vianai Austin joined the Mythical Kitchen crew in late 2020 and, according to her LinkedIn profile, is the current Associate Culinary Producer at Mythical Entertainment. She has a background in media as well as having worked as a chef with a Los Angeles-based restaurant company.
Mythical Kitchen produces numerous food-fun series
The meals dished out on Mythical Kitchen all have a sense of purpose, whether it's to revamp an age-old fast food favorite or take on a Frankenstein-esque spin on wickedly weird, and sometimes borderline gross, culinary combinations. Scherer and his Mythical Kitchen crew have a way of turning something conventional into a meal that is quirky yet extraordinary. TV Tropes notes that the channel features several series across a range of food topics such as "Fancy Fast Food" in which the crew rehabilitates bland fast food offerings into new and expensive adaptations. For example, Scherer and special guest Mindy created a high-end version of Jollibee's Jolly Spaghetti. The final product cost $840 and included 24-carat edible gold dust for a pinch of elegance (via Hypebeast).
The series "Past Food" involves recreations of discontinued and nostalgic food products and restaurant menu offerings. Apart from the more offbeat foodie entertainment, Scherer hosts a more informative series called "Meals of History" where he recreates historical dishes with the assistance of Emily Fleming, another member of the Mythical crew.
Mythical Kitchen is still part of Good Mythical Morning
According to Business Insider, branching their flagship Good Mythical Morning show off into specialized creative teams was important for Rhett and Link in to avoid the specter of burnout. The shift has paved the way for them to expand prodigiously, with about 80 employees across their different brands. However, while many of those brands operate fairly independently, Mythical Kitchen continues to be very much involved in the production of Good Mythical Morning, creating each and every homemade plate that crosses the desk of Rhett and Link.
In a recent "Will It?" episode on Good Mythical Morning, Scherer explains how he created eccentric quesadilla variations he then presents to Rhett and Link, such as quesadillas made out of instant ramen noodles, birthday cake, and even sushi. One commenter on the video suggests that Scherer make a cookbook that includes the recipes in the "Will It?" series. It's safe to say that the thousands of likes on the comment indicate hearty agreement from fans of Good Mythical Morning and Mythical Kitchen alike.
Mythical Kitchen's recipe for success is as unique as their endeavors
Humor, authentic cooking skills, transforming the ordinary into extraordinary, and no hesitating are just some of the methods to the madness of Mythical Kitchen. They use fun but educational content to make viewers keep coming back (via Observatory of Educational Innovation). Some examples include episodes in which the crew explored what Titanic passengers ate and the first meal eaten on the moon.
Scherer's goal is to challenge viewers' perceptions of ingredients, especially when it comes to using unusual parts of an animal, such as a male turkey's, ahem, private parts (via Foodsided). Think about it like Fear Factor, of which Scherer was a fan. There, contestants often ate gross, yet perfectly edible, foods to win challenges. While Mythical Kitchen often pushes viewers to rethink their assumptions, in other videos, some foods appear to be created just to make everyone, including Rhett and Link, hilariously gag.
The Mythical Kitchen YouTube channel is set to grow
So Mythical Kitchen has a talented and dynamic team of chefs and content creators who use humor and genuine culinary knowledge to great success. But how is that reflected in their viewership? According to Social Blade, the Mythical Kitchen YouTube channel has 1.93 million subscribers as of early 2022 and has acquired well over 230 million total views since the channel launched in 2019.
The most viewed full-length video on the YouTube channel is currently "$456 McDonald's McRib Taste Test" from the Fancy Fast Food Series. In the video, Scherer, alongside Good Mythical Morning creator and host Rhett McLaughlin, goes on a quest to completely overhaul one of McDonald's most famous, yet limited, menu items — the McRib sandwich. They consider what works with the sandwich and what doesn't, starting with swapping out McDonald's use of pork butt for authentic, flavorful rib meat. As of now, it's been viewed more than 3 million times. For fans of short and sweet videos, the official Mythical Kitchen TikTok has accumulated over one million followers and has racked up a hefty 14.6 million likes.
Mythical Kitchen's viewers are highly engaged
The community section on the Mythical Kitchen Facebook has attracted a great deal of fan-tested recipes and other foodie-inspired thoughts. One fan tagged Mythical Kitchen in their rendition of a Fiesta Pork dish that was featured on the show, noting how they riffed on the original recipe. Another fan whipped up Scherer's breakfast protein egg bars. The feed is packed with an array of successful fan-made dishes and, of course, plenty of suggestions for the Mythical Kitchen crew to make their own cookbook.
A Reddit discussion among Good Mythical Morning fans likewise praises the cooking series, its podcast, and highlights fans' admiration for the engaging culinary crew. User ChwatBot says that they enjoy Mythical Kitchen for all that it includes information about the cultural practices and historical backgrounds that stand behind a particular food. Another calls Mythical Kitchen "absolute gold," saying they appreciate how Scherer takes uncommon ingredients and makes them into a delectable meal.
Mythical Kitchen owns the podcast "A Hot Dog Is a Sandwich"
If you're on the go and unable to watch any of the Mythical Kitchen videos — or maybe you just prefer to listen while running errands or chilling at home — then crew has that covered for you. They have their own podcast, "A Hot Dog Is A Sandwich," which began airing in early 2020. Some of the episodes include thought-provoking discussions on whether or not culinary school is really worth attending, if TikTok is ruining the world's relationship with food, and plenty of features with special guests. Hosted by Scherer and Enayati, the debates that surround food controversies make for friendly banter, though the questions can be tough. Is crunchy or smooth peanut butter better, they wonder? Can cereal technically be classified as a soup? Is Chipotle overrated? And which cooking tool is the most useless thing taking up space in your kitchen?
Reviews on PodParadise for "A Hot Dog Is A Sandwich" are mostly positive, with listeners noting the audio show's informational yet easy-going conversations as a particular positive. The podcast releases a 40-minute episode every Wednesday.
The crew helped create some illegal snacks
Mythical Kitchen, staying true to its position on the wilder side of food, collaborated with art collective MSCHF to produce some very illegal chips. Well, kind of.
Actually, Illegal Chips are perfectly lawful, though the flavors are inspired by controversial history. According to Tubefilter, the limited-release chips are made with synthetic flavorings meant to mimic foods prohibited in the United States. The three flavors of chips are: Fugu Poison Blowfish, Horse Meat, and Casu Marzu, a cheese that's created with the assistance of maggot larvae. Yum?
The chips themselves are totally safe to consume, though they obviously don't taste like a typical Cheeto or Lays potato chip. The Horse Meat and Fugu flavored chips are even vegan, while the Casu Marzu variety is vegetarian (via TribLive). And, yes, they were designed to taste good. Seriously! According to Hypebeast, there are bold flavor notes of onion, thyme, soy sauce, white cheddar, and more throughout the trio. They are deliciously savory and unique, all while providing the illusion that you're snacking on something you really shouldn't.
They challenged Gordon Ramsay
How would you feel if famed potty mouth and chef Gordon Ramsay roasted a meal that you made? Or a cooking method you'd developed? When it comes to chef Ramsay, his insults directed at the foodie community may be colorful, but it's obvious they're all in good fun.
As per Foodbeast, Scherer and the Mythical Kitchen were victims of Ramsay's wrath on TikTok. Scherer had posted a video of his Ramen Grilled Cheese that was made with (you guessed it) ramen noodles and "plastic cheese", which resulted in a short-lived yet chummy back and forth exchange between himself and Ramsay.
On the other hand, would you ever dare to turn the tables and lambast Gordon Ramsay? That's exactly what Scherer did via a YouTube video titled "Gordon Ramsay Is The Real Idiot Sandwich." He ripped apart Ramsay's awkward recipe for an Ultimate Grilled Cheese, pointing out how the cheese didn't even melt because of Ramsay's high-heat cooking method and use of olive oil. Over on Delish, Scherer took things a step further and shared his perfect grilled cheese recipe with chipotle bacon jam and an array of delicious cheeses available at most grocery stores. His cooking method uses butter and uses a low temperature to distribute heat more evenly. This melts the cheese beautifully and gets a nice, golden toast on the outside of the bread. Ramsay has yet to respond.