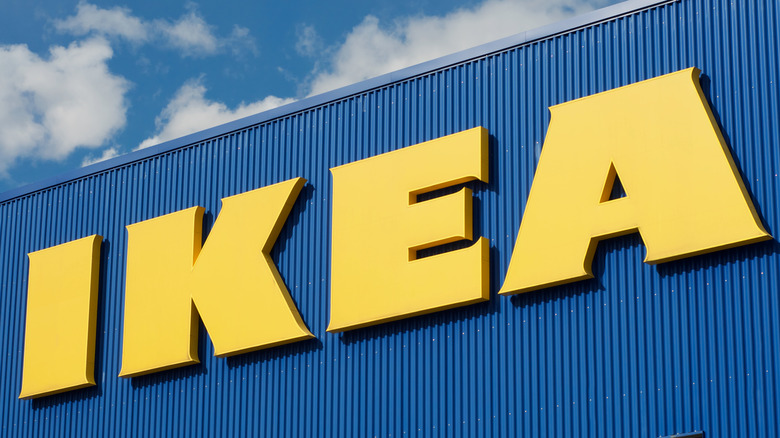 Ikea is a favorite of college students and budget-friendly shoppers everywhere. Known for chic, affordable homewares, the superstore is the best thing to come out of Sweden since ABBA and the Skarsgård brothers. However, a trip to Ikea can inspire some pretty mixed reactions among shoppers. Some might consider a visit to the winding labyrinth of the Ikea showroom a perfect idea for a first date, while others will only go in if dragged kicking and screaming.
But, even the latter often emerge with a treasure or two to build at home (if they can get past the infamous Ikea instructions). And, while there are some things shoppers can do to make a trip to Ikea more worthwhile, there are some others that can't be overlooked. For all its fun furniture and inexpensive homewares, there are just some things you should never buy from Ikea. To that end, here are all the items to skip when shopping at the Swedish superstore and why you should avoid them.
Wooden bed frames from Ikea can break easily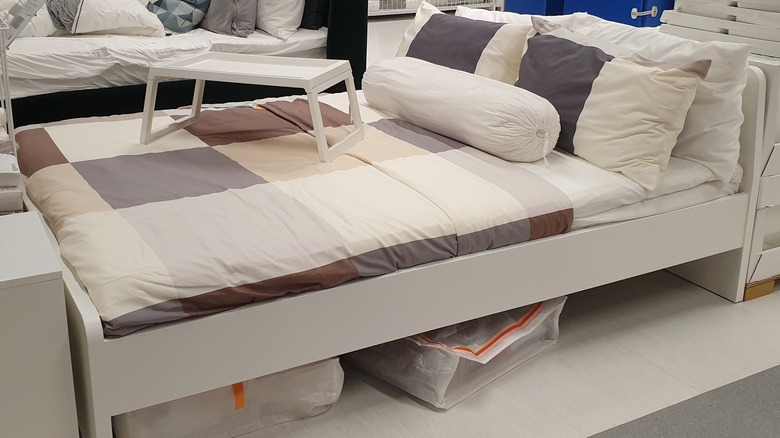 Wooden support beams are often not strong enough to support the weight of most adults, let alone the weight of a mattress and box spring as well. So while wooden bed frames from Ikea are low cost, stylish, and environmentally friendly, most adults will need a bed with a metal support beam to keep things together in the long term for a good night's sleep. Reddit is full of negative reviews from customers recalling that their bed split, cracked, or snapped during light use. In fact, even our own writers have experienced the wooden support beam of an Ikea bed breaking during their first night's sleep, jolting them awake.
If you have a wooden bed from Ikea, you can try to reinforce it on your own (via My Slumberyard) but even then, Hombli says you still might experience the common problem of the wooden slats falling through, which makes lifting up your mattress to adjust them a weekly, if not daily occurrence. If you're going to buy a bed from Ikea, get one with a metal support beam, but even then, be careful.
Ikea's bed linens can be uncomfortable
Nothing is better than settling down into a comfy bed after a long day. While individual tastes can vary, most would agree that bed linens (like sheets, pillow cases, and duvet covers) should be soft and relaxing to cuddle up in. And while Ikea's bed linens come in vibrant colors and fun patterns, their visual appeal is often undercut by reviews of rough, scratchy material that wears thin in attempts to soften it. It's because of this that Ikea bed linens tend not to appear on many experts' lists of best sheets, like The New York Times.
Although most reviewers do appreciate the lower pricing offered by Ikea, they do mention on the BERGPALM product page that "the sample was much softer than the item" when getting it home, or that "the fabric is rough to touch" after spending some time with the DVALA (per Ikea). While washing new linens on an extra hot setting with a dose of fabric softener is often a good way to break them in before the first use, because Ikea items are so inexpensive, this practice might just cause them to wear out faster.
Glass top tables from Ikea can spontaneously shatter
Glass top tables from Ikea follow the classic minimalistic look the store is famous for. They come in many colors and dimensions, making them an affordable alternative to designer brands. However, while the tables might seem like the perfect finishing touch for your living room, they can actually pose a serious safety risk. In fact, multiple consumers have filed reports of the glass shattering spontaneously, even in products not covered by safety recalls.
Ikea released a statement recalling the GLIVARP table line amid laceration concerns in 2018, but consumers have had problems with items outside the recall that "shatter out of the blue" as recently as 2021, according to reports by the United States Consumer Product Safety Commission (CPSC).
The GLIVARP line is no longer available in the U.S., but is for sale as a "last chance to buy" item in UK markets (via Ikea UK). Because of past problems, it's best to keep an eye on other glass tables from Ikea (like the VITTSJÖ line) just in case, lest you come home to a shower of glass.
MALM dressers are top heavy and can pose a high risk
Please be advised that this section mentions the death of children.
The MALM dresser line is possibly the most famous item you should never buy from Ikea, as unfortunately multiple children have been killed in accidents involving the top-heavy range, according to Newsweek. The MALM dresser scandal and subsequent recall is the largest Ikea has ever seen. When first reported in 2017, the CPSC made a sobering announcement that there had been 186 reports of accidents, 91 of which involved children.
Those who purchased the dresser, sold from about 1985 to June 2016, were offered either full refunds (no matter the condition) or a free anchoring kit to secure the unit safely to the wall. According to the Financial Post, Ikea went on to settle with the families of those impacted for $50 million dollars, and absorbed millions more in recall costs. While the MALM line is still sold at Ikea locations worldwide, consumers with small children (or even pets) in their homes should be careful when purchasing and installing this piece, just in case.
Ikea's particle board furniture can be toxic
Ikea is famous for low cost, easy-to-assemble furniture. One of the ways the Swedish superstore keeps its costs so low is by making use of particle board in furniture, as opposed to the more traditional options of fiberboard or plywood used by other furniture retailers. Well, the reason particle board is so inexpensive is because it's made using the leftovers from the lumber process. This means that lumber yards take all the extra items they have around and press them together, using glue to create new material.
While it's a great use of leftovers, the final product is often a weaker wood than its predecessors. However, not only is particle board less durable than the alternatives, meaning the furniture doesn't last as long and is more prone to severe damage by normal wear and tear, but it also can be toxic, per Simplicity Sofas. This is because during its creation, most manufacturers use formaldehyde resin, which can go on to release formaldehyde gas, if only in small amounts.
Particle board appears in most Ikea furniture items, but a famous example is the BILLY bookcase line. When selecting items, use caution and always read the manufacturing information, lest you make a common Ikea mistake.
Ikea mattresses reportedly fail sleep testing
Maybe you didn't wake up on the wrong side of the bed this morning — maybe you woke up in the wrong bed altogether. When putting together your first home, it's tempting to use Ikea as a one stop shop for every single room, from the couch to the kitchen plates and everything in between. But some things should really be purchased from a specialty store, because the one thing you don't want to risk is a good night's sleep.
Ikea mattresses are less expensive than most leading national brands, but it comes at a cost, as they consistently underperform during third-party quality testing from industry leaders like Sleep Like the Dead. If you're going to spend nearly $700 on a mattress (as is the case with the queen sized HJELLESTAD option), you won't want to wake up with a sore back or be the owner of a sagging mattress after only a few months, as many reviewers have complained on the HJELLESTAD's review page. While it might feel nice during an in-store test, a mattress is one of the things you should never buy from Ikea because of the long-term risks.
Glassware from Ikea has also been known to shatter
Picture this: You're having dinner with your friends, or maybe a romantic date night with your partner. You're having a couple of drinks in your Ikea glassware. You set it down between sips, when suddenly, it shatters — apropos of absolutely nothing.
Unfortunately, this is reportedly the reality for many who have purchased glassware from Ikea, thinking they scored a great deal, but instead score some extra dinner clean up and a possible injury. Much like the glass top tables that shatter completely on their own, the CPSC reports that it is aware of multiple incidents of glassware from Ikea spontaneously exploding.
While glass can shatter if it comes into contact with boiling liquid (a note to all those who want to make their own iced tea), the problem with the POKAL glassware is that it claims to be for both hot and cold liquids; however, the problem occurs even with iced beverages. Because of this, it's better to stay away.
There have been recalls on Ikea's renewable plastic dishware
Ikea has made strides in improving the eco-friendliness of its dishware, which is something to be respected. In fact, Ikea reports that it has a very strong corporate stance on sustainability and tries to use renewable materials and reduce manufacturing waste where possible. However, one of the most recent Ikea recalls concerns the safety and durability of its PLA (polylactic acid or polylactide) material dishware, an alternative to traditional plastic.
Ikea recently released a statement regarding the HEROISK and TALRIKA bowls, plates, and mugs. While the inexpensive items come in bright colors, like salmon, teal, and sunshine yellow, they aren't the perfect dish to bring to your next picnic, as they can easily become brittle and snap, leaking hot food and liquids onto consumers — hence the recall. While Ikea has other items made of this same material that look just as cute, it's best to avoid even the non-recalled items at this time, as reports of safety concerns about them might not be far behind.
Food from Ikea has had mislabeled allergens
Let's face it: after navigating the labyrinth of the Ikea showroom, all most of us want to do is head over to the onsite cafe and enjoy a delicious meal of the famous Swedish meatballs. However, if you have a food allergy or sensitivity, it's best to double check before purchasing any food from Ikea. This is because the store's recall history tells an unfortunate story of mislabeling allergens. And, while the snacks from Ikea are certainly known for being tasty, they aren't worth an allergic reaction, however mild. Popular items with mislabeled allergens include PASTAÄLGAR and PASTAÄLGAR FULLKORN pasta; the elk-shaped noodles had undeclared soy content, making them potentially deadly to some consumers.
If you have a nut allergy, it's best to avoid all chocolate from Ikea, as a 2016 recall from Ikea indicates that it might not be the best at labeling allergens like hazelnut or almond; the list of impacted chocolates is quite long. As consumers with allergies and food sensitivities, we do our best to read packaging carefully to understand the ingredients and mitigate our daily risks. However, at Ikea, take all labels with a grain of salt (unless you're allergic!) as they might not be entirely accurate.
The LACK table is filled with cardboard
When purchasing furniture for your home, it's important to ensure that everything fits into the space in a way that you enjoy. A popular way to fill any awkward spaces is by using end tables, and the range at Ikea is both affordable and, if we're being honest, pretty stylish as well. But there is just one problem: the quality. For example, the funnily-named LACK table is popular with Ikea customers for being an inexpensive, sustainable option for those looking to furnish their homes.
However, a Reddit user exposed the true meaning behind the table's sustainable "100% recycled honeycomb structure paper filling" as per the LACK product description: Turns out, it's just cardboard. While this is surely a creative way to reduce, reuse, and recycle, many Redditors agreed that paying $10 for a cardboard table was a bit steep. They also called into question the sturdiness of the table. If it's filled with cardboard, you would have to be particularly careful about what you stored on it. What if you had a TV on top and it collapsed? Definitely a scary thought, making it something you should never buy from Ikea.
LEGITIM chopping boards are reportedly flimsy
Stocking your first kitchen can be overwhelming. Additionally, the temptation to put one of everything from Ikea's home goods section into your cart and call it a day is high, simply because for less than $100, you might be able to get your hands on everything you need. But there are some things that are worth spending a little more on for safety's sake. For example, the LEGITIM chopping board might seem like a cheap choice for a starter kitchen at first glance, but there's a reason for the $3 price tag: Simple, everyday use will destroy it, according to multiple user tests at The New York Times.
To that end, you'll be back at Ikea to buy a new board before you know it — and you'll likely have dulled your knives by cutting into it (and possibly the counter below which is a huge deal if you're in a rental and trying to get your security deposit back eventually), making them worse for wear as well. It's just not worth it.
Cheap knives from Ikea can be dangerous
We just said it, but we'll say it again: There are some things that are worth spending a little more on for safety's sake, and this is especially true of knives. The University of Rochester reminds us that a dull knife is a dangerous knife. And while Ikea knives are definitely a bargain, they can dull quickly, which turns them into a major safety hazard. There are almost 1.2 million emergency room visits in the United States each year due to accidents with kitchen knives, as noted by Cook'n.
The last thing you need is for a simple dinner prep to land you in the emergency room. If you invest in a good set of knives, you are at less risk of an accident as they dull less quickly. If you buy any of these kitchen Ikea knives, you'll need to consider the added expense of a sharpener as well in order to keep them safe and up to code. While these simple dinner knives from Ikea might be okay, it's best to avoid the kitchen knives and invest in a better quality set.
Ikea appliances are going extinct
Ikea is the ruler of home décor, inexpensive furniture, and if we're being honest, fake plants. If you don't have a green thumb, but want to create a more organic feel, the selection of Ikea plants is quite simply marvelous. But what it hasn't quite mastered yet is high-quality appliances. In fact, Ikea used to carry an extensive range of dishwashers and ovens. The idea was, we think, if customers were outfitting the rest of the kitchen in the store, they might as well go all the way and install these things, too.
However, things didn't go so well. In fact, items from the Ikea appliance stock consistently scored so low on Consumer Report's recommendation list across all scoring categories that most models are now listed as "no longer available" or "under limited distribution" on the Ikea website, and are even harder to find in store. With records like these, it's best to be wary of all future attempts at appliances from Ikea and stick to more specialized stores.