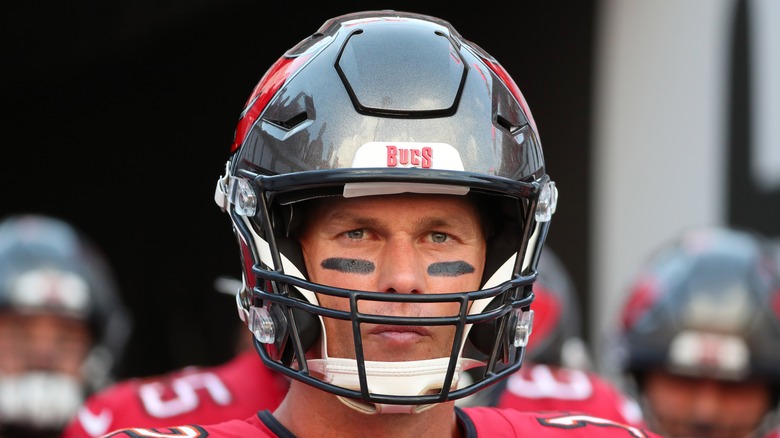 Tragedies are terrible by nature, but they are inevitable, and fortunately people are evolutionarily primed to find the good in them. According to study in Communication Research, even watching tragic movies can bring about feelings of happiness and gratitude. Tragedy gets our attention, heightens our awareness, and can give us a sense of direction, either individually or collectively.
In sports, the "good" in tragedy is usually a change in values or practices that leads to increased safety for players, fans, or other people involved with the game. A stadium collapse might mean new building standards. A fight between fans might mean increased security at games. Luckily, the NFL hasn't had to deal with those particular tragedies (if you discount the collapse of the Dallas Cowboys practice facility in 2009), but the league has seen plenty of other incidents that altered its trajectory for good. From broken bones and lost lives to tragedies that affected the whole nation, here are times that the NFL was forever changed.
Broken Spine Leads to New Tackling Rules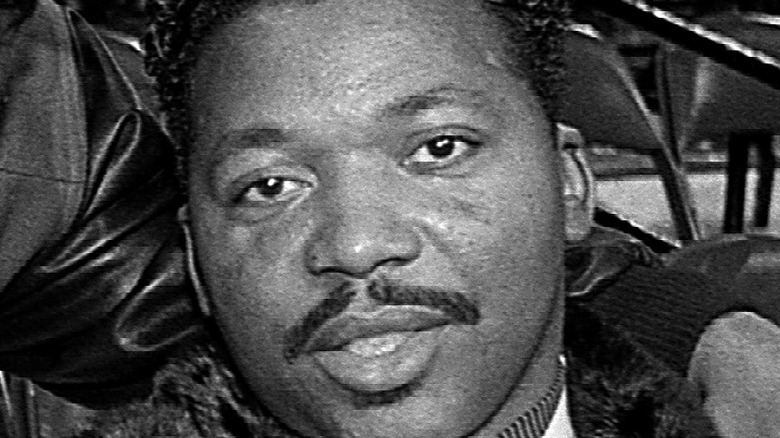 A standout wide receiver for the New England Patriots, Darryl Stingley's promising NFL career ended in 1978 when he suffered a broken neck after being recklessly tackled by the Oakland Raiders' Jack Tatum, as per ESPN. At the time, a flying tackle of a defenseless player was just a part of the game –- despite the fact that Tatum routinely executed the technique with enough violence to earn himself the nickname "The Assassin." In the wake of Stingley's injury, the NFL went on to drastically change the rules around tackling defenseless players. According to The Washington Post, a year later the NFL ruled that wide receivers couldn't be touched five yards on the line of scrimmage, while also making it illegal to ram an opponent with a helmet.
Big hits are still part of why fans love the sport, but even the league itself has repeatedly stated a desire for defenders to use more "fundamental" tackling -– in other words, wrapping up ball carriers instead of trying to lay them out on every play (via NPR). In the modern game, players who make dangerous tackles (even though there's a fine line between excellent and dangerous tackling) can face suspensions as well as fines amounting to tens of thousands of dollars.
Stingley never walked again after the collision with Tatum. Instead, he spent the next 29 years in a wheelchair until his death in 2007. As sad as that is, there are presumably hundreds of players who benefited from the tragedy in the years since as a result of the NFL's continual push toward better protection and increased player safety.
The Carson Palmer Rule
Former USC Trojans quarterback Carson Palmer was taken by the Bengals as the first overall draft pick in 2003. By 2005, Palmer was setting fire to Cincinatti and bringing new life to the franchise, leading the Bengals to their first winning season in 15 years. On a pass attempt in Cincinatti's playoff game against the Steelers, Palmer set a team record by completing a 66-yard play to Chris Henry. In an incredibly wry twist of fate, it would be Palmer's only play of the game, and last of the season (via Cincy Jungle).
After Palmer threw the ball, defensive tackle Kimo Von Oelhoffen fell into his knee, tearing his ACL and MCL, and dislocating his kneecap. ESPN covered speculation over whether Palmer's career was ended, and although he did find moderate success in the league following his comeback, he was never quite the same. With quarterbacks Ben Roethlisberger and Brian Griese also suffering knee injuries the same year, it was in the 2006 off-season that the NFL took the cue and made hits below the knee illegal, as per "Strong Arm Tactics," by John Maxymuk.
Hines Ward Shatters a Jaw With a Blindside Block
Carson Palmer's and Kimo Von Oelhoffen's encounter wasn't the only time that the Bengals-Steelers rivalry got physical enough to warrant an NFL rule change. 2008 began like a highlight reel for the Bengals' rookie linebacker Keith Rivers, who recorded 10 tackles in his first-ever NFL game. He put together a strong campaign for Defensive Rookie of the Year, but that ended in week seven against the Steelers.
As NFL.com details, during one play, all-time Pittsburgh great Hines Ward locked onto Rivers, who was chasing down another Steelers receiver near the sideline. Ward came in hot and took Rivers out with a massive blindside block that left the linebacker on the turf for several minutes. Ward didn't just knock Rivers out of the game, he knocked him out of the season with a shattered jaw.
Ward didn't see a problem with the hit, but the NFL disagreed and rewrote the rules around blindside blocking as a result. From then on, the so-called Hines Ward rule became a part of the game, and blockers were banned from landing blindside blocks against the head or neck area of an opponent, as per the Post-Gazette.
Roy Harrison Breaks Two Legs, Invokes NFL's Wrath
Deservedly or not, elite safety Roy Harrison had a reputation as one of the NFL's dirtiest players (via ESPN). While playing for the Dallas Cowboys, Harrison frequently used a horse collar tackle, pulling defenders to the ground by the inside of their jersey collar or shoulder pads. When he tackled Baltimore running back Musa Smith in 2004, Smith's right leg was twisted beneath his body, resulting in a compound fracture that took two seasons to rehabilitate, as per Bleacher Report.
Later in the season, Harrison's Cowboys faced the playoff-bound Philadelphia Eagles. In that game, Harrison executed another dangerous horse collar tackle, this time against Terrell Owens, one of the league's top receivers. Owens went down with an ankle injury, and although the severity wasn't clear right away, as per the Washington Post, Eagles fans soon had to swallow a bitter pill after finding out that the wide receiver had fractured his ankle and sprained a ligament, reports ESPN. Two legs broken in quick succession, with the same mechanism of injury, was enough for the NFL. After the season ended, owners voted to ban the horse collar tackle for good (via Seattle Times).
The Awful Death of Korey Stringer
Korey Stringer died of complications due to heat stroke following practice during the Minnesota Vikings' 2001 preseason training camp, as per USA Today. Stringer was a league-leading offensive lineman who had been to the Pro Bowl the prior year, and by all counts, was also a kind and gentle person, despite his ability to physically dominate on the field. Sports Illustrated reported that Stringer was known to have stopped to help a stranger with a flat tire, and to have given away his Pro Bowl appearance salary to a youth football organization on a whim. For those reasons, the football world was deeply saddened to learn of his death. Weighing around 330 pounds at the time of his death, Stringer posthumously inspired an open discussion around the culture of bulking up.
Stringer wasn't the only football player to die of heat stroke in the summer of 2001. Two college-level players in Florida, Devaughn Darling and Eraste Autin, tragically died during their college's offseason training camps that year (via SBNation). The combined effect of all these cases was more than enough for the NFL to introduce heat stroke prevention measures, including availability of cold immersion tubs, and begin requiring team doctors to be present on the sidelines of every team training, reports ESPN. In addition, the Korey Stringer Institute was later founded, in partnership with the NFL, to provide advocacy, research, and support in the prevention of sudden for athletes and others.
Pat Tillman Changed How We Look At NFL Players
Pro athletes often follow the money, and it's hard to blame them. Most of us, given the chance, would probably do the same thing. Pat Tillman wasn't most. After two seasons with the Cardinals, Tillman turned down a $9 million contract offer from the Rams, choosing instead to stay with the team that had drafted him, reports NBC. A year later, Arizona freed up enough salary room to offer the strong safety several million dollars, but in the wake of 9/11, Tillman had decided to instead enlist in the United States Army, according to History.
Already having given up millions in pay, Tillman made the ultimate sacrifice in 2004, when he was fatally wounded by friendly fire in Afghanistan. The Arizona Cardinals and Arizona State University, where Tillman attended, both retired his jersey number, notes SI. The Cardinals also named an area at their new stadium the Pat Tillman Freedom Plaza (via ESPN), and both the team and the NFL continue to sponsor the Pat Tillman Foundation, through which hundreds of service men and women have been granted scholarships and development opportunities.
According to Grantland, NFL legend Barry Sanders once said that if he could change anything about football, it would be the way people put athletes on a pedestal. This strikes at the heart of Pat Tillman's legacy. His story, more than that of almost any other NFL player, draws a clear line between great athleticism and true heroism.
Sterling Sharpe's Broken Neck
Five-time Pro Bowler Sterling Sharpe played in the NFL for seven seasons as a Green Bay Packer. To call him successful would be an understatement –- to date, Sharpe is one of only seven players to achieve a "Triple Crown" as a receiver (leading the league in receptions, receiving yards, and receiving touchdowns), as per SI.
There's no telling what he would have gone on to do if his career hadn't ended in December of '94. As the Washington Post originally reported, a head-to-head collision with Atlanta Falcons safety Brad Edwards injured Sharpe's neck, necessitating surgery and cutting short an incredible tenure in the league. Largely as a result of Sharpe's injury, the NFL voted in the 1995 off-season to write a number of rules about helmet-to-helmet contact.
Unlike Darryl Stingley, Sharpe recovered from his spinal injury and went on to work for the NFL Network as an analyst. His legacy not only includes an impressive stint as a pro football player but also the fact that helmet-to-helmet contact has since been in the spotlight, and the resulting rules changes have undoubtedly made an impact on the long-term health of countless players.
Junior Seau's Suicide
Junior Seau was an amazing football player – 10-time All Pro, 12-time Pro Bowler, Pro Football Hall of Famer, and 1990s All-Decade Team selection. He was also the NFL's Man of the Year in 1994 and was chosen for the league's 100th Anniversary All-Time Team.
Those distinctions matter because they illustrate how well known and respected Seau is to this day. When fellow former NFL safety Dave Duerson shot and killed himself in 2011 (via the New York Times), those who knew him certainly mourned. But when Seau took his own life in exactly the same way a year later, the entire world of football reeled.
When it was discovered that Seau had suffered from advanced chronic traumatic encephalopathy (CTE), as had Duerson, the conversation around concussions suddenly took center stage. As covered by NPR, Seau had no official history of concussions, which raised a number of questions about both medical screening and NFL culture.
In a lawsuit, Seau's family members claimed that the league knew about the long-term dangers of concussions but hid them from players (an out-of-court settlement was reached, according to SI). The settlement came on the heels of a larger payout by the NFL, covered some 20,000 former players discovered with CTE.
If you or anyone you know is having suicidal thoughts, please call the National Suicide Prevention Lifeline​ at​ 1-800-273-TALK (8255)​.
On-field Death Opens the NFL's Eyes to Health Dangers
It's almost shocking that in over 100 years of league play, the NFL has seen just one death on the field. The player who earned that tragic honor was Chuck Hughes, a wide receiver and special teams player with the Detroit Lions, who died on October 24, 1971, in a game against the Chicago Bears. Hughes was just 28 when, as the New York Post recounts, he fell to the ground between plays and could not be revived.
His autopsy revealed that Hughes died not as the result of physical contact but from a blocked artery that led to cardiac arrest. Afterwards, the NFL installed defibrillators in stadiums, as per Yahoo, and got serious about screening and prevention, requiring, among other things, that potential draftees undergo thorough medical exams. The extensive screening process now in place is undoubtedly far from perfect, but it gives players, fans, and league officials a certain peace of mind that precautions have been taken, and will hopefully prevent anything like Chuck Hughes' death from happening again.
Bledsoe's Fall, Brady's Rise
Drew Bledsoe wasn't just an okay player. An NCAA record holder, first overall draft pick, and NFL passing yards leader, he was signed to the richest contract in NFL history at the time in 2001 (via the New York Times) –- $103 million over 10 years. Two weeks into that season with the Patriots, a hard tackle concussed him and sheared an blood vessel, causing internal bleeding, and leaving Tom Brady to take over as Bills quarterback.
The injury (thought to be a career ender, according to SI) was tragic not because the Patriots were suddenly left hanging, but because Bledsoe had always played right on the cusp of greatness, as if he was just one circumstance away from becoming the quarterback he was truly capable of being. Sadly, fans never got to see that. Sadder still, Bledsoe never got to be that. Even though he did pull off an almost shocking comeback and would go on to play decent football for the Bills and Cowboys, it wasn't the story anyone had hoped for him. The stats he ended his career with were impressive and left fans wondering all the more so, what if?
In the meantime, Tom Brady's career skyrocketed from Bledsoe's little-known backup to the face of the NFL. The Ringer explains just how much Brady has meant to the league, and how football hasn't been the same in the wake of his success.
The terrorist attacks of September 11
No one needs a refresher on the tragedy of September 11th, 2001. But while many football fans might remember that the NFL canceled upcoming games after the attack, fewer know how the league was affected in the long term.
NPR explains how a Senate report from 2015 detailed approximately $7 million of taxpayer money making its way from the Department of Defense budget to the NFL and other sports leagues to sponsor something that the report's authors called "paid patriotism.'" What exactly was paid for isn't obvious, but it included things like holding swearing-in ceremonies on the field for armed service members and for special performances of patriotic songs like "God Bless America."
According to NPR, Congress banned paid patriotism in 2015, but by then, the NFL had become a major platform for patriotism and activism more broadly. In 2016, it turned into a national conversation, with Colin Kaepernick's decision to sit for the national anthem as the focal point. When other players followed suit, some fans saw it as the height of patriotism, while many others thought it was the opposite. Either way, using the NFL's visibility to bring attention to other issues had become a trend that no one, including the league itself, had the power to stop, and it continues to this day.