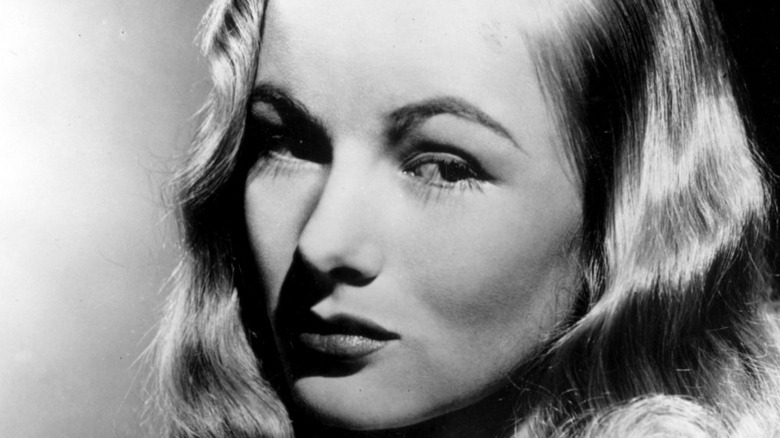 Actress Veronica Lake, a popular movie star of the 1940s, went through so much in her short lifetime. She married four times, had three children, and made more than 25 films before giving up on Hollywood (via The Sun). Lake was only 51 years old when she died of hepatitis and kidney failure at a Vermont hospital in 1973.
Born in Brooklyn in 1919 (some sources say 1922), Lake was originally named Constance Frances Marie Ockleman, according to The New York Times. Her personal troubles began early in life. She was only a child when she was diagnosed with schizophrenia. Her mother signed her up for acting classes as a form of therapy for her. Lake's life was also marked by a family tragedy when she was only 10 years old. Her father, Harry E. Ockleman, worked aboard an oil tanker as a second mate, and he died in an accident in 1932, per The Sun.
Lake developed a serious drinking problem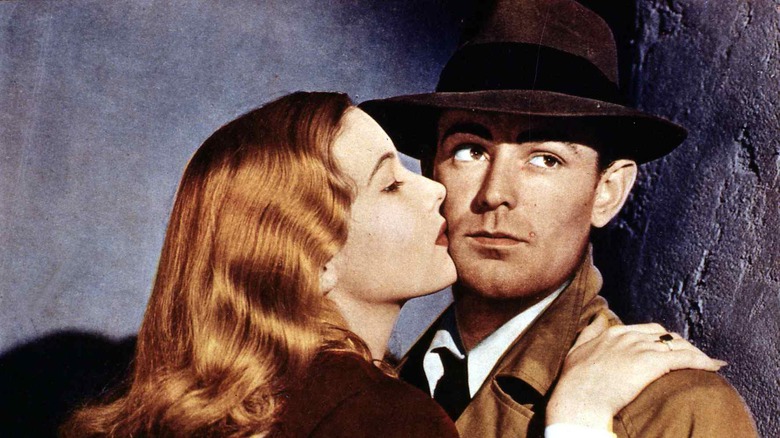 After her mother remarried, Lake lived in Lake Placid, New York, and Miami, Florida (via the Los Angeles Times). She was only a teenager when she was discovered by a talent scout in Miami, and, before long, she was off to Hollywood with her mother and stepfather to pursue a film career, according to The Sun. There she took the name Veronica Lake, and she started out in small roles in 1939, per IMDb.
Lake made it big with such films as "Sullivan's Travels" with Joel McCrea (1941) and "This Gun for Hire" (1942) with Alan Ladd (above). Her trademark hairstyle of having her long blonde hair cascade over one eye — often called a peek-a-boo style — inspired countless women to do the same. What didn't appear on screen, however, were her personal struggles. According to Closer Weekly, she was drinking heavily. This may have been her way of trying to deal with her mental illness, but, no matter the reason, it had a lasting impact on her health.
If you or anyone you know is struggling with addiction issues, help is available. Visit the Substance Abuse and Mental Health Services Administration website or contact SAMHSA's National Helpline at 1-800-662-HELP (4357).
Lake escaped Hollywood after career collapse
By 1950, Lake's career opportunities dwindled and she made a few television appearances before giving up on Hollywood, per IMDb. She also had gone through one short marriage to art director John Detlie, which only lasted from 1940 to 1943, and her second marriage was on the rocks (via Turner Movie Classics). Together she and Detlie had two children, but one died shortly after birth, according to the Los Angeles Times. She and film director Andre de Toth (above) tied the knot in 1944 and had two children during their marriage, which was on the rocks in 1951 when the pair officially separated. This was also a time of financial crisis for the couple, as they declared bankruptcy that same year. Their split was finalized in 1952.
Lake's third marriage, to music publisher Joseph A. McCarthy, lasted from 1955 to 1960, per Turner Movie Classics. After that, Lake moved back east, where she worked as a cocktail waitress for a time. As she explained to the Los Angeles Times, "And when it became clear to me that the only way to survive was to get out, I left." But what she couldn't get away from was her own issues with substance abuse, which would contribute to her untimely death.
Veronica Lake got sick while getting fourth divorce
Years of hard living seemed to catch up with Lake. Reporter Sue Cameron interviewed the former popular World War II pinup girl in 1970, and she was surprised by Lake's condition. Cameron expected to meet up with a glamorous celebrity, "But there sat a woman who looked like a cleaning lady. … You could see she was very damaged," she explained to Fox News. Lake looked decades older than her 47 years, according to Cameron.
Lake tried once more to find happiness, with her fourth husband, Robert Carelton-Munro, according to the Herald-Tribune. He was a retired British naval officer. She also attempted a return to the spotlight, doing some theatrical work in England and releasing an autobiography, "Veronica," in 1971 (via The Virgin Islands Daily News). But by 1973, she seemed down and out again. Lake was staying in the Virgin Islands as she worked on getting her fourth divorce. It was there that her health took a terrible turn.
Veronica Lake's health quickly declined
Lake became ill on St. Thomas, one of the U.S. Virgin Islands, and she decided to go to New York for treatment (via The Virgin Islands Daily News). From New York, she went to a hospital in Vermont. She first stayed at the Will Rogers Memorial Hospital, but she was later transferred to a facility in Burlington because the first place didn't have what was needed to treat Lake's illness, per The Sun. Apparently the former star had an advanced case of hepatitis.
It was unclear how long Lake had been sick. Hepatitis is a disease in which the liver becomes inflamed, according to MedlinePlus. Symptoms include fever, abdominal pain, vomiting, joint pain, nausea, and fatigue. A form of the disease known as alcoholic hepatitis can be brought on by heavy drinking. By the time of her hospitalization, Lake had been estranged from her children for years, per the Herald-Tribune. Her only visitors were Burlington locals who heard that she was in the hospital (via The Sun), and she even signed autographs for the staff. But on the night of July 6, 1973, a doctor realized that Lake also had a problem with her kidneys. She was in renal failure, an issue that reportedly had been missed while she was being treated for hepatitis.
Veronica Lake died alone and broke
Lake died, alone, on July 7, 1973, in Burlington, Vermont. The once successful film star was in poor financial shape at the time of her passing, and she had few friends in her life, according to The New York Times. The news of her death was released to the press by her friend and former publicity agent William Roos, per The Sun. He also helped organize a memorial service for her in New York City, but few people turned up to say good-bye to the once-glamorous star. None of her former husbands came to the service. And she died in such economic hardship that wasn't even money for her son Michael to fly in to attend. He had to get a loan to make the trip.
After her death, Lake was cremated and her ashes stayed at a Vermont funeral parlor for several years over an unpaid bill. Finally a friend covered the debt and had ashes sent to Roos and Dick Toman, per The New York Times. Some of the ashes were spread at sea near Miami, but a portion of the ashes reportedly turned up decades later at a store in Phoenica, New York.