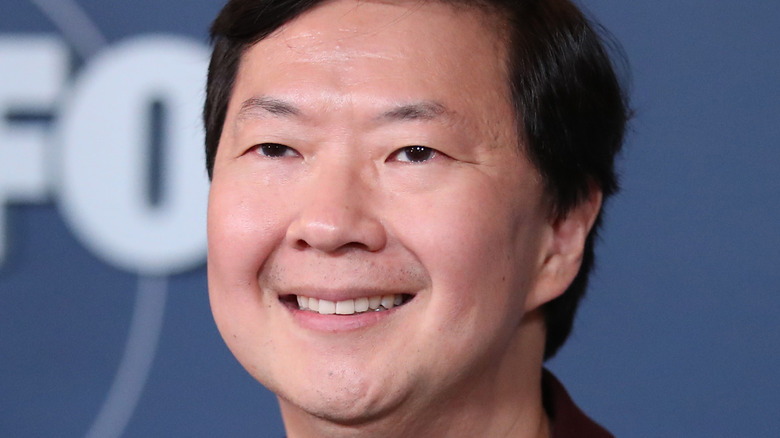 Most people may know actor Ken Jeong as the scene-stealing Mr. Chow in the "Hangover" franchise, the hilarious Spanish teacher on "Community," or, perhaps, from his appearances on "Crazy Rich Asians" and "Fresh Off the Boat" (via IMDb). He's also created, produced, and starred in his own ABC show, "Dr. Ken." More recently, he's a judge on NBC's hit singing competition show "The Masked Singer" alongside Jenny McCarthy Wahlberg, Nicole Scherzinger, and Robin Thicke.
But these major television and film roles aren't the only impressive feats on Jeong's extensive and impressive resume. In addition to being an actor, the multi-talented Jeong is also a successful stand-up comedian, producer, and writer — not to mention a licensed physician with a medical degree! Yes, really. If you're wondering what else there is to know about the talented Ken Jeong, you're in for a few surprises. Keep reading for some little-known facts about the Korean-American doctor-turned-actor.
Ken Jeong's roots in comedy started with a high school mock beauty pageant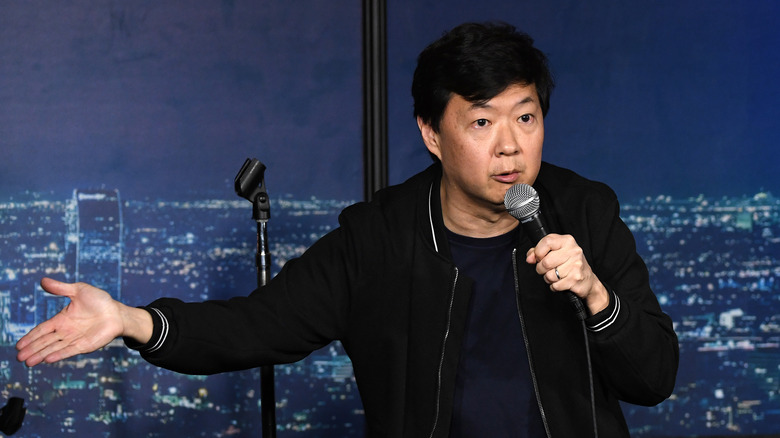 Born to South Korean immigrants in Detroit, Ken Jeong grew up and attended high school in Greensboro, North Carolina. It seems as if he was destined for success from the start, as the self-described "popular geek" very much excelled in academics (via The Washington Post). Before graduating at the early age of 16 years old (yes, 16!), Jeong participated in numerous extracurriculars including competing for the Quiz Bowl team, playing violin in the orchestra, and participating in student council (via Greensboro.com).
However, it turned out that his talents weren't the only highlights of his high school career. According to The Washington Post, Jeong also participated in a mock male beauty pageant to appoint the next "Mr. Buccaneer" at his high school, where the then-16-year-old reportedly posed in his swim trunks for the swimsuit competition. "That was where I discovered my own comedy bug," Jeong told NPR. "I was posing like Arnold Schwarzenegger and just doing all these things and I got a standing O. And, I ended up singing a Lionel Richie song, The Commodores' 'Three Times a Lady' on piano, and that got another standing O."
Though Jeong ultimately finished as runner-up in the competition, we now know where his hilarious comedy roots originated.
He was once a very 'intense' and 'hardcore' doctor
Few Hollywood actors can boast a medical degree along with their Hollywood awards, but for Ken Jeong, balancing his medical career with his comedy hobby was a regular pastime. After earning his medical degree from the University of North Carolina at Chapel Hill, the actor practiced medicine for several years in Los Angeles — all while pursuing stand-up comedy on the side, regularly performing at L.A.'s famed Improv and Laugh Factory comedy clubs (via NPR). "Internal medicine was my specialty, basically general practice with an emphasis on adult medicine. During the day, I was a doctor. At night, you know, I was a comic," he told NPR. "And it was really just to let off some steam. It became like golf, you know, in many ways. Most doctors have golf as a hobby. Mine was doing comedy."
In fact, the star was reportedly so serious about his job as a doctor that you could barely tell he was a comedian during his off-time, telling NPR that he was "super serious" and "hard-core" as a trained physician and even often "barked orders" at the nurses. "I was so intense as a doctor," he told People. "And I was always stressed out, patients were surprised I did stand-up comedy on the side."
Ken Jeong quit medicine the day after he finished filming Knocked Up
After practicing medicine for several years, Ken Jeong's big break came when he was cast in the 2007 movie "Knocked Up," opposite Katherine Heigl and Seth Rogen, where he had a small but fitting role as Dr. Kuni (via IMDb). According to Hollywood.com, Jeong decided to quit practicing medicine the day after he wrapped up his part in the hit comedy.
Additionally, it was all due to the encouragement of his wife, Tran, that pushed him to leave medicine to work in entertainment full-time (via NPR). "I had filmed 'Knocked Up' during a vacation week. My wife was like a good college coach telling the star player it was time to go pro. She knew I had the secret ambition to want to act full time. I just didn't know if I could do this full time," Jeong told Journal of Medicine. "It was really my wife's confidence in me that encouraged me to do this full time. I owe my whole career to her."
Ken Jeong's medical degree has proven useful in his acting career
Though Ken Jeong no longer practices medicine, it turns out that his medical degree has proven very useful, even in his Hollywood career. In addition to being cast as a doctor in his first breakout role in "Knocked Up," Jeong also used his real-life medical experience as inspiration for his ABC sitcom, "Dr. Ken," which aired from 2015 to 2017 (via TV Insider). Jeong not only took on the role of lead actor — playing a brilliant doctor with a questionable bedside manner — but also served as creator, writer, and executive producer of the show.
And it turns out that Jeong's medical degree can come in handy in other instances, too. According to CBS News, the doctor-turned-actor once rushed to assist a woman having a medical emergency in the middle of his stand-up comedy set in 2018. Reportedly, Jeong was in the middle of performing at the Stand Up Comedy Club in Phoenix when an audience member started having a seizure. Jeong quickly rushed to the woman's aid, even staying with her until she was transported to the hospital.
The actor hid some Easter Eggs in The Hangover as a 'love letter' to his wife
Many may best know Ken Jeong for his iconic role as the mobster Mr. Chow in "The Hangover," but a lesser-known fact is that the actor actually got the call for the 2009 hit movie right when his wife, Tran, was undergoing chemotherapy treatment for breast cancer (via ABC News).
Speaking to ABC News, Jeong discussed what it was like to be filming the movie during a tough time for his family — and revealed that he had actually snuck in some Vietnamese phrases into his character's dialogue as a way to honor some inside jokes with his wife, who is Vietnamese-American. "I would ad-lib actually. I'm Korean and I was speaking Vietnamese in the movie and, like, I say, 'kai chee' (Vietnamese for 'chicken die') and all these things to get my henchmen to get out," he told the outlet. "There were these inside jokes between me and Tran. I would sprinkle that all throughout the movie … it's like the weirdest love letter to your wife in a very filthy movie."
He has twin daughters
In 2017, Ken Jeong talked to People about being a father to his twin girls, Alexa and Zooey, who were born in 2007. "There is something special and different about being a father to twin daughters. There's something to be said that now I have not one, but two 'Daddy's little girls,'" he revealed. "It really is just kind of double the sweetness." He also shared that his daughters have different interests and that he and his wife encourage them to each be unique.
Where the girls do seem to agree, however, is how they feel about their dad. Even though Jeong is famous, he revealed on "The Ellen DeGeneres Show" in October 2020 that his daughters don't think he's cool. "My daughters, they're at that age right now … where they mute you on Twitter and block you on Instagram," he joked. "So that's where I'm at with my kids at this point — not cool at all."
The comedian once had a podcast with Joel McHale
Fans of "The Masked Singer" have no doubt seen Ken Jeong's banter-filled interactions with frequent guest judge Joel McHale, with whom Jeong co-starred on the sitcom "Community" for six seasons. In fact, the two frequently team up for the sake of a good laugh, but they also teamed up during their COVID-19 quarantine in 2020 to develop a podcast called "The Darkest Timeline" where they discuss the pandemic, their time on "Community," and pretty much anything else they can think of.
Jeong credits McHale for the creation of the 25-episode podcast. As he told Variety, "If it wasn't for Joel I would never have even thought about trying to do a podcast. It's still one of my favorite things I've ever done, because … We just did it ourselves, we funded it ourselves and to be honest, we were doing it for ourselves."
Ken Jeong had a cameo in an MCU movie
Marvel movies are absolutely full of cameos, so much that you may have missed the one in 2019's "Avengers: Endgame" made by Ken Jeong. When Scott Lang (Ant-Man) returns from the Quantum Realm only to find himself locked in a storage unit, it's Jeong's security guard who sees Lang's plea for help on the security cameras and suspiciously escorts him out of the building. It's a brief cameo, but the perfect wink for Jeong fans — not to mention that the book he's reading, J.G. Ballard's "The Terminal Beach," includes the short story "End-Game."
It's not all that surprising to see Jeong in "Avengers: Endgame," given that the film's directors, the Russo brothers (Joe and Anthony), via IMDb, were executive producers on the sitcom "Community" in which Jeong played Ben Chang. Jeong's time on "Community" also had him working with Captain Marvel herself, Brie Larson, and Yvette Nicole Brown, who also had a role in "Avengers: Endgame" as the government agent who shares an elevator with Tony Stark (Iron Man) and Steve Rogers (Captain America) before alerting security that something is amiss.
He puts in work to keep his medical license current
While Ken Jeong may no longer spend his days practicing medicine — instead favoring his job as an actor and comedian — he is sure to maintain his medical license in California, which has enabled him to do things like help the aforementioned fan at his comedy show. According to his current license, which is good through 2024, he's not completely retired from practicing: He puts in anywhere from one to nine hours each of telemedicine, research, teaching, administration, patient care, and "other" duties.
Even though that's not an astounding number of hours of medical practice each year, there's more to keeping his medical license current than just paying a fee. According to the Medical Board of California, a current medical license can only be renewed if the physician has completed a minimum of 50 hours of Continuing Medical Education every two years. So, while Jeong may not practice medicine daily, he still puts in the work to stay up-to-date on the most current medical standards.
The doctor-turned-entertainer debunked myths about the COVID-19 vaccine
With his continuing medical expertise and celebrity exposure, Ken Jeong is the perfect candidate to help Americans stay updated about current issues in medicine — and that's exactly what he's been doing in the wake of the coronavirus pandemic.
Early on in the pandemic in May 2020, Jeong appeared virtually on "The Ellen DeGeneres Show" to answer questions about COVID-19, including ways to reduce stress and boost immunity during the pandemic. Then, once the COVID-19 vaccine became widely available, Jeong appeared on "The Late Late Show with James Corden" to debunk myths about the vaccine and address misinformation. He told Corden, "I think that there's so much misinformation out there and not just by extremists. There is just so much confusion."
Jeong has also spent time on Twitter encouraging people to stop listening to people who aren't trained medical professionals. In response to a quote by Joe Rogan explaining he isn't a medical professional, Jeong tweeted, "I am a doctor. I'm a respected source of information. Get vaccinated."
He walked off The Masked Singer set because he felt disrespected
As a judge on "The Masked Singer," Ken Jeong couldn't hide his frustration when former New York City Mayor Rudy Giuliani was revealed in the April 20, 2022, episode. Jeong was rendered speechless when Giuliani was unmasked, ultimately walking off the stage in apparent disgust.
Many fans weren't totally surprised because reports had leaked months earlier that Giuliani was a contestant and that both Jeong and Robin Thicke had walked off stage upon his reveal. Still, once fans saw the reveal themselves, many took to Twitter to share their support for Jeong and dismay at Giuliani's casting.
While, as of this writing, Jeong has yet to speak publicly about the incident, an insider told People that Jeong walked offstage because of Giuliani's role in COVID misinformation. "Ken has been incredibly vocal about how the previous administration handled many things but especially COVID-19 and has found a lot of what they've said not only wrong but dangerous," noted the source. "To get someone who helped to spread misinformation and call into question the accuracy of our election and democracy to appear on his show was going to set him off."