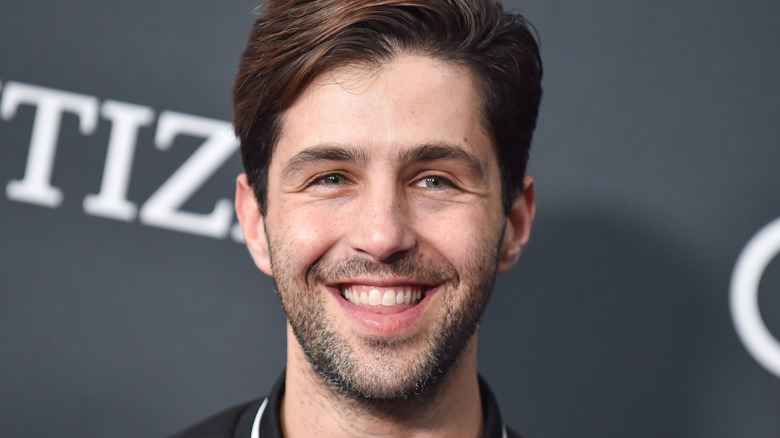 We may receive a commission on purchases made from links.
No Nickelodeon sitcom has quite been able to compare to "Drake & Josh." Between the clever jokes, stellar cast, and the brothers' quick transition from acquaintances to best friends, there's a lot to love about this teen dramedy, and there's a reason it stuck around for so long. Many consider "Drake & Josh" one of the best series that Teen Nick had to offer, and although shows like "iCarly" have gotten a recent revival, the one folks have been holding out for the most is the Drake Bell and Josh Peck series. While it sadly doesn't look like the fan-favorite Teen Nick series will be revived any time soon, Josh Peck has continued to make a name for himself long past his time as a teen icon.
Since "Drake & Josh" went off the air, Peck has been up to quite a bit. Between feature films, television series, social media fame, a podcast, and even a memoir, he's got a lot going for him. Whether you know him best from his work on Nickelodeon, his incredibly popular Vines, or maybe one of his feature film roles, Josh Peck has made it no secret that he's more than just his work as an actor, and we can't help but love and appreciate him for it. Come with us as we discover what Peck has been up to since his time on Teen Nick.
Started a career in voice acting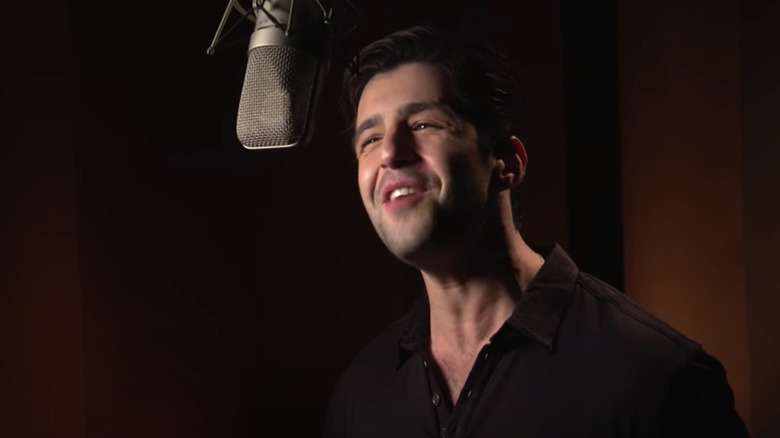 Immediately after "Drake & Josh," Peck landed some pretty iconic voice-acting roles that only further accelerated his career. The biggest of these was his role as Eddie the possum beginning in "Ice Age: The Meltdown" and through the rest of the "Ice Age" franchise. Appearing in six different "Ice Age" productions, including four feature films, two television specials, and various video games. Peck has become a staple of the series. He also took on the role of comic book vigilante Casey Jones (among various other parts) in the "Teenage Mutant Ninja Turtles" from 2013 to 2017 as he helped the turtles in their battles against Shredder, the Foot, and other classic TMNT villains.
Peck also took on voice-acting roles in films like "The Angry Birds Movie," "Gnome Alone," the English version of the Chinese movie "Fantastica: A Boonie Bears Adventure," and the role of the alien Sparks in the live-action film "Aliens in the Attic" alongside J.K. Simmons and Thomas Haden Church. He also lent his vocal talents to a bunch of different animated series, including "Codename: Kids Next Door," "What's New, Scooby-Doo?," and the Adult Swim classic "Robot Chicken."
Starred in a few feature films
Peck smartly used "Drake & Josh" as a springboard for his career, appearing in more and more feature films as the years went on. However, Peck didn't just stick to comedy and instead stretched his legs in the 2012 remake of the '80s action film "Red Dawn," where he starred opposite Chris Hemsworth. Surprisingly, he's pretty convincing as the teenage renegade, proving that he can adequately handle more dramatic roles. Peck didn't let himself get boxed into the action genre, as he also starred in the coming-of-age film "The Wackness" alongside Ben Kingsley, the comedy "What Goes Up" with Hilary Duff, and the horror-thriller "ATM."
That's not all. Peck also landed roles in the Judd Apatow produced comedy "Drillbit Taylor," the 3D dance film "Battle of the Year," the Western thriller "The Timber," the black comedy "Take the 10," and Christopher Nolan's 2023 film "Oppenheimer" as the American physicist Kenneth Bainbridge. He also starred in the Sci-Fi anthology film "Doors," which focused on "four different takes on the appearance of mysterious alien portals." One thing's clear — Peck is a busy guy!
Became an influencer and a Vine legend
Feature filmmaking isn't all Josh Peck made himself known for over the years. In fact, he became internet famous when he began releasing comedy sketches on the now-discontinued social media network, Vine. Peck's iconic Vines have made their way into the meme culture collective and are just as loved today as they were then. Although Vine was shut down in 2017, Peck continued his work as an internet comedian and social media influencer via other social accounts, namely his YouTube channel.
Peck also frequently collaborates with David Dobrik and other members of his "Vlog Squad" and is occasionally featured on their YouTube channels. Peck's own YouTube channel includes unboxing videos, him and his friends trying new food, his wife Paige O'Brien, and other random challenges. While his online work might not be the most well-known part of his career, he's certainly gained his own faithful social media following.
Worked with John Stamos
After years away from television work, focusing more on feature films and Vine sketches, Josh Peck landed the role of John Stamos' TV son on the short-lived Fox series "Grandfathered." The show follows a middle-aged bachelor (Stamos) who successfully runs a restaurant empire only to discover that he has not only a son (Peck) but a granddaughter as well. As Stamos' character Jimmy begins to look at the important things in life, he slowly gets to know his son Gerald and his grandchild. Unfortunately, the show only ran for one season, but this comedy duo kept working together in spite of their short-lived series.
Stamos went on to appear regularly on the "Full House" revival series "Fuller House," of which Josh Peck made two different appearances (and even got into it on-screen with his former TV dad). Beyond that, Stamos co-wrote the short film "Ingenue-ish," which featured Peck in a starring role, and the two of them have also appeared alongside each other in David Dobrik's "David's Vlog." They also appeared together on Peck's podcast "Curious with Josh Peck."
Created his own podcast
Like seemingly every celebrity, Josh Peck also had his own podcast, "Curious with Josh Peck," where he interviewed celebrities about their lives. Not only has John Stamos appeared on "Curious," but a host of others, including political commentator Dave Rubin, "Scrubs" alum Zach Braff, "Jackass" legend Steve-O, and so many more — some who you might know, others who you definitely won't.
Peck's podcast is a good time and often offers an eye-opening look at the "normal" lives of people we wouldn't otherwise think of as normal. As he and his guests partake in casual conversations, it's clear that "Curious with Josh Peck" is meant for just your average joe who just wants to know a little more about what others think, believe, and do. Although there hasn't been a new episode of the podcast since 2020, plenty of the conversations are still worth a listen and remain relevant no matter how long ago they were recorded.
Returned to television
After "Grandfathered" ended in 2016, it took Peck a while to get back on the television horse, at least in a recurring capacity. Yet, in the 2020s, Peck made his way back to the TV spotlight and, after some guest appearances, has become a more constant force on television. In 2021, Peck starred in the Disney+ "Turner & Hooch" revival series of the same name. While the original film starred Tom Hanks as Detective Scott Turner, the short-lived Disney+ series starred Peck as Turner's son, the U.S. Marshal Scott Turner Jr., who solved crimes with his canine partner, Hooch. Peck thrived in this comedic role, but even that wasn't quite enough to keep the series on the air.
Thankfully, Peck soon landed a recurring role on Hulu's "How I Met Your Mother" spin-off series titled "How I Met Your Father," where he played an elementary school principal named Drew. As Hilary Duff's love-interest, Peck showed an interesting range but was eventually written off when Duff's character Sophie unceremoniously broke up with him. However, his departure opened up Peck's schedule to work with his old "Drake & Josh" co-star Miranda Cosgrove on the second season of her Paramount+ "iCarly" revival series.
Published his own memoir
Drawing from his time as a television actor, feature film star, social media influencer, and human being, Josh Peck wrote a memoir titled "Happy People Are Annoying," which was released in March 2022. In the book, Peck gets pretty candid about his battle with weight loss, drug addiction, and his transition from bachelor to being a husband and a father. Not only that, but "Happy People" also touches on his time in the TV industry and how it made him struggle with his self-worth. With plenty of positive ratings on Amazon, Peck's memoir is described as "full of surprising life lessons for anyone seeking to accept their past and make peace with the complicated face in the mirror."
According to US Weekly, the book reveals countless previously untold details about Peck's life. These include heartbreaking admissions about his childhood and even interesting explanations about his relationship (or rather, lack thereof) with his former "Drake & Josh" co-star Drake Bell. As it turns out, Peck and Bell weren't incredibly close off-screen, and their friendship wasn't all that people cracked it up to be. Regardless of Peck's past, it's clear that he's making the best of his present and hoping for a positive future.