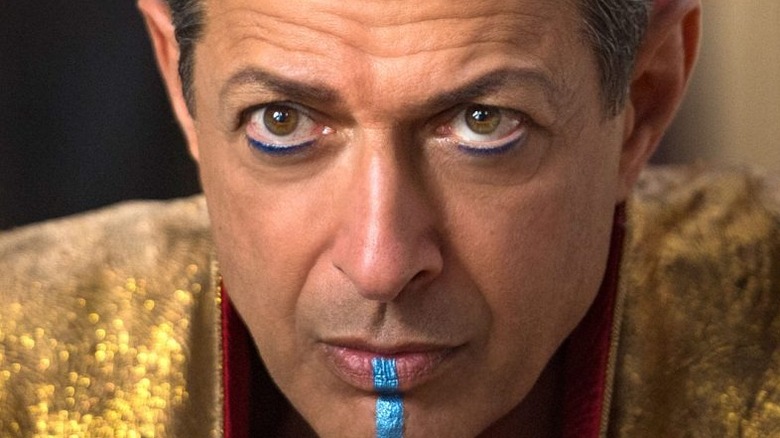 Still going strong with an acting career that began nearly half a century ago, Jeff Goldblum has appeared in some pretty phenomenal films over the years. A valued Hollywood commodity for quirky line deliveries and personality flourishes capable of covering up the holes in an underwritten character, he's proven capable of portraying a wide array of characters across just about every genre. From horror and comedy to action, drama and sci-fi, he's done it all and done it well.
From Robert Altman's "Nashville" and "California Split" to Lawrence Kasdan's "Silverado," Wes Anderson's "The Life Aquatic with Steve Zissou" to the underappreciated "Igby Goes Down," the Pittsburgh-born Hollywood vet has brought memorable style and swagger to small parts in big ensembles. When you have over 100 screen credits to your name, of course not every one is going to be a pearl. But when you come to the top of the heap, it's an impressive mountain to climb; with that in mind, here is a breakdown of Goldblum's very best films.
15. The Mountain (2018)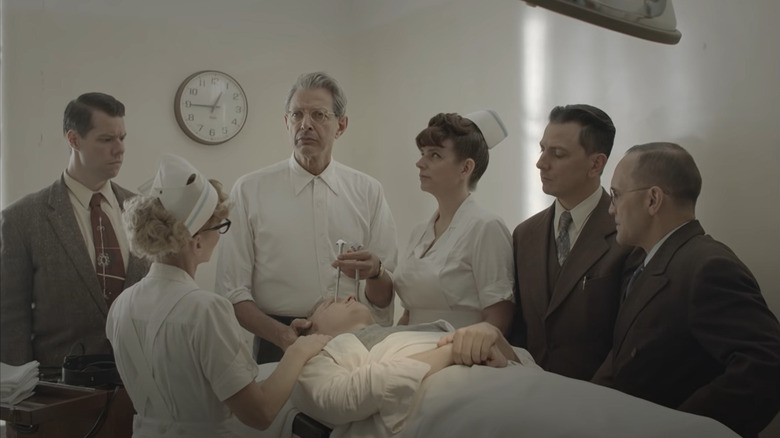 A dark, eccentric indie from an acclaimed film festival darling director, this drama feels more like the sort of film you'd expect Goldblum to go see in the theaters than to actually star in. But this all-too-rare, late-career foray into somber territory served as proof that Goldblum still has the dramatic heft when he needs it.
Set in the 1950s, "The Mountain" explores a tragic chapter in American medical history, casting Goldblum as a doctor whose tendency to lobotomize patients is intertwined with a family's tragic happenstance, resulting in him traveling the country with the son of a former patient (played by Tye Sheridan).
The film gets a bit muddled at times, but if you're a Goldblum fan you won't want to miss his performance. "The star is almost too ideally cast in a more sober spin on his mad-scientist persona," wrote Variety in its review from the Venice Film Festival. "[He is] applying signature gonzo tics and phrasing to the role of a brain doctor with more than a few screws loose himself."
If you're in the mood for a sobering look at forgotten history, Goldblum elevates "The Mountain" into a worthwhile watch.
14. The Adventures of Buckaroo Banzai Across the 8th Dimension (1984)
Arguably the most eccentric film in a decade known for them, W.D. Richter's off-the-wall masterpiece of cult craziness has a plot as proudly convoluted and unexpected as the name implies.
Peter Weller shines as the titular hero, a combination neurosurgeon, physicist, test pilot, rock star and interdimensional guinea pig who fights crime and rocks out alongside an eclectic back-up band of "Hong Kong Cavaliers" including Perfect Tommy (Lewis Smith), Reno Nevada (Pepe Serna), Pinky Carruthers (Billy Vera), the endlessly loyal Rawhide (Clancy Brown) and newcomer "Dr. New Jersey," aka Jeff Goldblum in a cowboy outfit.
Banzai and crew soon discover that by driving his car through a mountain, he's angered a race of aliens from the eighth dimension who have been secretly amassing an army in the one place on Earth that just so happens to be most like their hellish homeworld: New Jersey. Overflowing with
enough material to fill out a normal film trilogy, the flick brings along such notables as Christopher Lloyd, Ellen Barkin, Dan Hedaya, Vincent Schiavelli and John Lithgow — along with an ultimately unfulfilled closing-credits sequel tease so amazing it could make Marvel jealous.
13. Independence Day (1996)
Some might argue that this is Goldblum's most famous role, and if you were around in the mid-'90s for the phenomenon that was Roland Emmerich's summer blockbuster, you likely wouldn't debate the point.
"ID4," as it came to be known, brought the veteran actor back from the brink after several years of "Vibes" and "The Great White Hype"-aided career depths, which always seemed to be there to sour Goldblum's "Jurassic Park"-like breakthroughs. With scene after scene of cataclysmic, world ending explosions interspersed with cheesy dialogue, the original "Independence Day" still serves as an endearing guilty pleasure.
Paired alongside an impressive cast that included everyone from Bill Pullman to Randy Quaid to Vivica A. Fox to Will Smith in his breakout role, the flick depicts an unknown alien race descending upon Earth, deploying massive saucers above major cities worldwide, the combined governments of the world scrambling to find a solution. The trailer's visual of the White House being blown up, honestly, created such a stir that it likely sold $100 million in tickets alone.
Goldblum's character of David Levinson relies on his expertise in satellite technology to discover the attack plans of the aliens, then remains a valuable element in mankind's desperate battle for survival.
12. Earth Girls are Easy (1988)
Jim Carrey and Damon Wayans starred alongside Goldblum in this irreverent 1988 comedy, viewed as a flop at the time, but which has since gone on to claim a loyal cult following. With a raunchy premise, an '80s attitude and some decent sci fi laughs, if you've never given "Earth Girls" a chance, it might be worth a look.
On Earth, a young manicurist named Valerie (played by Geena Davis, Goldblum's wife from 1987 – 1991) is watching a relationship with her boyfriend fall apart. Goldblum is the lead in a trio of furry space aliens whose ship is on a collision course for the third rock from the sun, crashing in Valerie's backyard. The first meeting of human and alien has Valerie falling in love with Mac, all while trying to keep the rest of the gang out of trouble as they attempt to understand human culture.
11. The Big Chill (1983)
Lawrence Kasdan's generation-defining classic not only called out all the children of the '60s who'd turned their back on the dream, but did it while announcing a new generation of stars (Glenn Close, William Hurt, Kevin Kline and kinda sorta Kevin Costner), all to one of the greatest movie soundtracks of all time.
"The Big Chill" follows a group of friends 15 years after their college glory days, reuniting for the unfortunate funeral of a friend who has committed suicide. Taking the time to catch up and see how each has handled their respective transitions into "adulthood," it becomes clear that none of them are living the lives they envisioned, and they come together to lean on, learn from and even consider giving the greatest gift of all.
Goldblum plays a magazine journalist who harbors loftier ambitions and begins seeing the reunion of friends as an opportunity to tell a grand tale about his generation. In some ways, his could be considered a supporting role considering the screentime given to Kline, Tom Berenger and others — but the point of his character is that he has always felt on the outside looking in, and Goldblum's exclusion from many of the film's big moments only helps him paint that picture.
10. Igby Goes Down (2002)
Another dramatic comedy that plays off the less heartwarming aspects of society, "Igby Goes Down" is, in essence, a retelling of Salinger's "A Catcher in the Rye" via the titular Igby (Kieran Culkin), a 17-year-old who wishes to escape the clutches of his brutish, controlling family.
Hopping between cities and burning bridges every opportunity he gets, Igby is finally thrust into the care of his wealthy New York City godfather (Goldblum), a smooth-talking well-to-do who nonetheless may not be the best role model, as Igby finds himself in the company of some unsavory characters.
Soon after moving to the city that never sleeps, Igby's life goes from irresponsible to reckless, becoming involved in one lopsided relationship after another. An underrated gem, "Igby" boasts dark, comedic moments that channel Hal Ashby and harken back to a cinematic tone rarely seen on this side of the turn of the century. Whether you're in the market for good Goldblum or simply a good movie, it's worth a watch.
9. The Prince of Egypt (1998)
A retelling of the Book of Exodus, this Dreamworks would-be blockbuster sought to showcase the life of Moses, from birth through his leading the Hebrews out of Egypt and receiving the Ten Commandments. Jeffrey Katzenberg was known to push for an animated take on 1956's classic "The Ten Commandments" during his tenure at Disney, so when he launched the studio alongside Steven Spielberg and David Geffen in 1994, one of his first moves was greenlighting (with a massive crew of 350 people) the traditional animation/CGI hybrid.
Of course, this is Goldblum in voice only, portraying Aaron, the brother of Moses. But much like 2021's "Boss Baby 2: Family Business" decades later, the film gives audiences a chance to focus in on Goldblum's mannerisms, ticks and undeniable charms without the distractions of his physicality, and in a way that makes the performance its own unique reward. In essence, Goldblum's voice is a cartoon character unto itself.
"'It addresses a different place in the moviegoer's mind," Roger Ebert wrote in a glowing review of "Egypt" at the time of its release. "One where vision, imagination and dream are just barely held in rein by the story."
8. Deep Cover (1992)
Most likely the best Jeff Goldblum movie you've never seen, this directorial effort from beloved character actor Bill Duke casts the star alongside Laurence Fishburne in a tour-de-force performance as a cop haunted by his troubled past, fraught with a family history of drug addiction and failure.
As the title implies, Fishburne's DEA agent Russell Stevens excels at blurring the line between hero and villain to get the job done, but that distinction seems to be getting less and less clear every day. Assigned to an LA undercover unit, he finds himself embroiled in the criminal underworld.
Working against him is an eccentric drug trafficker (Goldblum); Stevens is forced to get on his good side to climb to the top and try to take down the entire drug empire in one blow. It's an interesting entry in Goldblum's filmography that further proves his talent across a wide range of roles, thanks to how effectively he depicts a man who's been in the cocaine business just a little too long.
7. Le Week-End (2013)
Far from the planet-hopping adventures and disaster schlock of some of his earlier films, "Le Week-End" would feel out of place among Goldblum's other oddball performances if you didn't take into consideration the envelope-pushing roles he has interspersed throughout his filmography. It's worth tracking down.
Set in Paris on a married couple's 30th anniversary, "Le Week-End" values realism over laugh lines, unfolding a tightly knit relationship drama between a pair of aging lovers (Jim Broadbent and Lindsay Duncan), and the challenges they face multiple decades into their marriage.
Goldblum shines as the good friend who is both the catalyst of their relationship troubles and possibly the only one who can help them see it through. Sweet and full of heart, this small romantic film is a love letter to a beautiful city and the sort of romance it hopes to rekindle.
6. The Tall Guy (1989)
While Goldblum has been known to stretch his comedy chops over the years, the Richard Curtis-scripted "The Tall Guy" ranks as his best flat-out comedy, even if it is more rom-com than straight com.
This late '80s British flick casts Goldblum as a comedian's assistant with a nasty habit of upstaging the star (Rowan Atkinson); when a series of allergic reactions land him in the hospital, he becomes smitten with one of the nurses on staff (Emma Thompson), beginning a wild love affair.
In its review, the LA Times called Goldblum "The best physical comic actor in the movies," high praise that was put to the test in some of the film's zanier sequences. The review added: "Jeff Goldblum has been in better movies than 'The Tall Guy,' but he's never been funnier."
Roger Ebert, in a three-and-a-half star review, praised the film's zany originality.
"I get so weary of movies that assume I, and my fellow moviegoers, know nothing," he explained. "The last third of 'The Tall Guy' turns into a hilarious sendup of the modern musical, when [Goldblum's character] Dexter somehow gets cast in a musical version of 'The Elephant Man.' This production, called 'Elephant!,' must be the funniest deliberately bad play in a movie since Mel Brooks' 'Springtime for Hitler' in 'The Producers.' Thank God they didn't decide no one in the audience had ever heard of 'The Elephant Man.'"
5. Invasion of the Body Snatchers (1978)
While most folks thinks of Goldblum as an actor who came of age in the '80s and '90s, he managed to provide substantial color and charm to small roles in several great films of the '70s — playing a thug who sets off Charles Bronson in the original "Death Wish," appearing in a handful of Altman classics, and filling out this Richter-scripted, Philip Kaufman-directed remake of "Invasion of the Body Snatchers" alongside Donald Sutherland, Veronica Cartwright, and even Leonard Nimoy.
Whereas the Don Siegel original was as discomforting as it was a clever takedown of McCarthyism, Kaufman's updating became a commentary on the post-Watergate '70s, as fellow neighbors had become less trustworthy than the government itself. Much like George Romero's zombies, the "Body Snatchers" films work because the theme of aliens invading and stealthily replacing us with "pod people" succeeds because it can be grafted on to almost any societal terror of the day; a decade later, John Carpenter would tap into many of the same themes to take on '80s consumerism with "They Live."
Goldblum's character is one of several frantic humans trying to unravel the truth about how far-reaching the invasion has become. With a bleak ending and disturbing visuals that still hold up today, the "Body Snatchers" remake remains solid nightmare fodder.
4. The Grand Budapest Hotel (2014)
The works of Wes Anderson are unlike the films of anyone else, each (well, post "Bottle Rocket") bearing an unmistakable style and sense of whimsy. His loyal stable of stars — Bill Murray, Jason Schwartzman, Willem Dafoe and on and on — have also become a sort of familial traveling troupe as the years go by, with Goldblum frequently joining the fun.
The star's unique on-screen eccentricities were an ideal fit for "Budapest," cast as deputy Vilmos Kovacs, an attorney whose shocking announcement spurs a priceless art heist and murder mystery, all surrounding the titular ostentatious hotel. Through a series of twists and turns, the film keeps you guessing and looking for all its small details, with Goldblum a key part of the action until … well, let's just say his character's ultimate comeuppance can be hard to finger.
"Kovacs is all business," the site Hollywood Genes praised of Goldblum's performance in a role named for beloved cinematographers (and Hungarian refugees) Vilmos Zsigmond and Laszlo Kovacs. "He speaks in legal jargon, is too busy to crack a smile, and dresses in an assortment of gray suits. Whatever desk he finds himself standing behind seems to have a stack of papers on top of it, as if it were anticipating him or attracted to him."
3. Jurassic Park (1993)
As iconic today as when it was upon release, this Steven Spielberg adaptation of Michael Crichton became a standout film of its decade. A big part of that success was Goldblum as the brilliant, quirky, oddly sexy mathematician Dr. Ian Malcolm, who specializes in chaos theory and a puzzling inability to fasten any of the buttons on his shirt.
The role has since become something of a meme machine, as lines like "life finds a way," "[insert name] were so preoccupied with whether or not they could that they didn't stop to think if they should," and of course, his feces-minded declaration becoming nearly as prominent in 21st century social media feeds as Kardashians and selfies.
"[Goldblum's] function in the story is to lounge about uttering vague philosophical imprecations," Roger Ebert said in his review. "Because the movie delivers on the bottom line, I'm giving it three stars. You want great dinosaurs, you got great dinosaurs."
Like life itself, Goldblum's character has found a way to endure throughout the ongoing "Jurassic Park" series, and will return for "Jurassic World Dominion."
2. Thor Ragnarok (2017)
Jeff Goldblum's long career as an actor proves he's capable of a wide range of roles, from unhinged doctors to hairy space aliens. You'd be hard pressed to argue the fact that he has a knack for playing some of the more eccentric characters on the silver screen, and nothing puts that more on display than his force-of-nature performance as the Grandmaster in Taika Waititi's "Thor: Ragnarok."
Easily one of the more bizarre entries in the Marvel Cinematic Universe, the film draws inspiration from the "Planet Hulk" storyline from the comics, diving head first into the junk filled planet of Sakaar. While Thor, Loki, and the Hulk are the film's leads, Goldblum's character steals the show with his pitch-perfect performance as the planet's ruler, hosting extravagant gladiatorial battles and generally just being an unapologetic hedonist.
By the time Thor and the rest of the film's heroes are plotting their escape from the planet, you've almost forgotten that the threat of Asgard's destruction has been looming in the background the entire time, serving as a testament to how immersive the film is — and how Goldblum's out-of-left-field antics create a delightful vacuum that pulls in everything in its orbit.
1. The Fly (1986)
David Cronenberg's remake of a sci-fi cornerstone managed to become one of the best in both his own filmography and Goldblum's as well.
Cast as Seth Brundle, a gifted scientist who's hubris proves to be his undoing, Goldblum's unsettling performance has haunted viewers for generations. The body horror in the film, and the anguish of a sweaty, near-naked Goldblum in scene after scene grappling with the after-effects of mistakenly combining his DNA with that of a common house fly, are not easily forgotten — which, ultimately, is what every movie should strive to be.
Although this Goldblum classic is far more bleak than lighthearted trips through dino parks and the eighth dimension, it can't be understated how effectively he brought this bizarre role to life. Even if that life is a vomit-inducing half human, half fly affront to nature.
"[Goldblum] brings his unique brand of charm to the film. Brundle is at once awkward and endearing, whether explaining why he wears the exact same outfit every day (he got the idea from Einstein) or waxing lyrical about teaching his computer: 'to be made crazy by the flesh," wrote the blog "Little White Lies" in praise of the film upon its 30th anniversary. "At first he's all ego, relishing his newfound athleticism and power. Because this is the '80s, he shows off through gymnastics and arm wrestling. Then, as he slowly morphs into what he calls the 'Brundlefly,' he spins through horror, disgust, denial, attempts to cure himself, and acceptance, before he ultimately takes a violent turn for the film's final act."