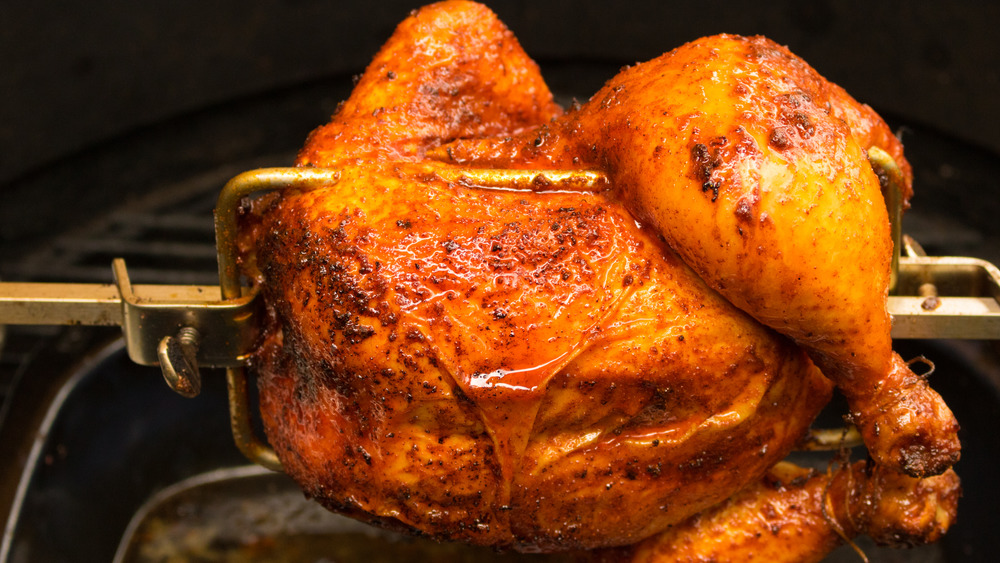 Chicken has become Americans' favorite source of protein, and we eat more of it than any country in the world.
In fact, the National Chicken Council says that the average American ate 93.5 pounds of chicken in 2018 — and that number continues to rise. Part of the reason for that growth is the country's expanding love affair with rotisserie chicken. In fact, figures from 2017 put the number of rotisserie chickens sold in the United States per year at a whopping 625 million, many of which are sold at grocery stores all across the nation.
Rotisserie chicken exploded in popularity starting in the 1990s. That's when Boston Market, then known as Boston Chicken, became a mainstay for many families that wanted to pick up a quick (but healthy) meal to feed their family on their way home from work. Soon, motivated by not wanting to lose customers, grocery stores took note of the growing desire and the rotisserie chicken boom began.
Today, you can find hot and fresh rotisserie chicken in every nook and cranny of just about every American city. However, they are not all created equally. Here is our ranking of the best grocery store rotisserie chickens, ranked in order from worst to best.
13. Walmart rotisserie chicken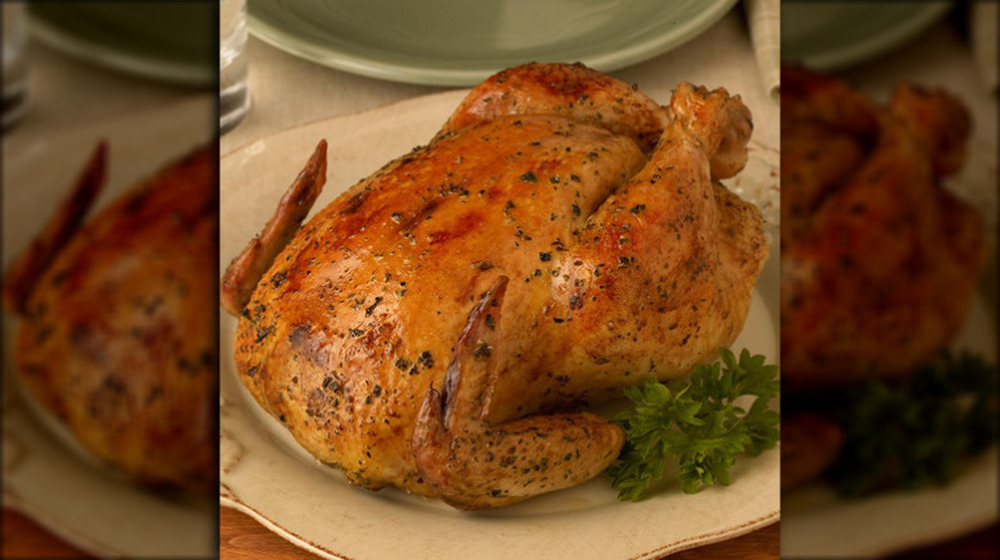 Like many items at Walmart, the only good thing about their rotisserie chickens is the fact that it's cheap. You can usually get one for less than $5 — or even less if you time it right. But if you care about anything other than the price tag, you should stay far away.
First of all, the rotisserie chickens at Walmart are always fatty, and no one enjoys taking a big bite of chicken and being forced to swallow a mouthful of chicken fat.
Secondly, you'll never know the true status of your chicken until you get home. Sometimes, they are overcooked and the meat is dry. At other times, and even more distressingly, a Walmart rotisserie chicken can be undercooked. You don't want to slice into it and be met with pink, uncooked meat. The convenience factor will be out the window if you're forced to pop the bird into your oven in order to finish cooking it.
Finally, maybe to mask some of their shortcomings, Walmart puts a ton of salt on their chickens. Much more than rotisserie chickens at other grocery stores, in fact. They also have a lemon pepper version, but that one is almost always overseasoned, so do yourself a favor and stay away from that one as well.
12. Whole Foods rotisserie chicken
You will really want to like the rotisserie chicken you buy from Whole Foods, as their chickens are organic, free-range, and free of hormones. However, there's one big problem: they don't taste good. Or, more specifically, there isn't much taste at all.
Whole Foods rotisserie chickens are like biting into an old, worn out piece of rubber. There's a slight chicken smell — but that's about the extent of the chicken flavoring you can expect.
Another problem with the rotisserie chicken at Whole Foods is the cost. Considering some grocery stores use rotisserie chicken as a loss leader to draw in customers, you can almost always find good deals. However, that's not the case at Whole Foods — even after Amazon bought the company and lowered the prices of their rotisserie chicken.
Thus, unless you really value the fact that their chicken is organic and responsibly raised, you should go elsewhere for rotisserie chicken that actually tastes good.
11. Kroger rotisserie chicken
The largest supermarket chain in the United States, Kroger is basically the Walmart of grocery stores. That comparison holds true when it comes to their rotisserie chickens, too. While their chicken is cheap (with coupons, you can sometimes find them for less than $3), it's also not anyone's idea of quality.
Like the Walmart rotisserie chicken, Kroger's version can sometimes be overcooked or undercooked. And while they don't seem as salty and their chicken is less fatty, their rotisserie chicken can sometimes actually be too skinny. While chicken fat is gross, it's also frustrating to be searching for meat inside of a bony bird. The meat you do find will taste better than the Walmart version — but sometimes that meat can be scarce.
Another thing to watch out for is freshness when shopping for a rotisserie chicken at Kroger. If you aren't careful, you can buy an old chicken. Always check the date before putting it into your cart.
10. Stop & Shop rotisserie chicken
Stop & Shop has tasty rotisserie chicken, for the most part. The meat is juicy, flavorful, and will usually leave you with a smile on your face. Their birds are also nice and chunky.
There is a problem, though, and it's the skin of their rotisserie chickens. At Stop & Shop, you'll either find that the skin is too slimy, or too burnt — and both of those are enough to ruin any rotisserie chicken. This flaw really is a shame because otherwise, the rotisserie chickens here would be much higher on the list.
If you really want a rotisserie chicken from Stop & Shop, don't buy their original flavor. They usually have an alternate flavor depending on the time of year, like their Applewood Smoked rotisserie chicken. Their limited edition chickens tend to have better tasting skin, which makes all the difference.
Stop & Shop stores can be found in the northeastern part of the country. They have 415 stores spread across New York, New Jersey, Massachusetts, and Rhode Island.
9. Fairway Market rotisserie chicken
Some of the best rotisserie chicken that can be found in the United States used to come from Fairway Market. Unfortunately, they changed things up recently with their recipes and how they cook the birds — and now it's just not the same.
Their rotisserie chicken is still edible, for sure, but all the flavors are just much more generic than they used to be only a couple of years ago.
Fairway Market's decision is especially disappointing due to all the options they have when it comes to rotisserie chicken. You can find Latin Style, Herb, Lemon Garlic, and other flavors. You can also opt to pay more and go with an organic chicken. If you're in the store already, it's worth picking up a rotisserie chicken — they're not horrible — just don't expect it to taste the same if you haven't purchased one in a while.
Of the available flavors, you can't go wrong with a Latin Style rotisserie chicken. It's unique and some of that Latin flavor will help drown out your sadness that Fairway Market rotisserie chicken isn't what it once was.
8. Safeway rotisserie chicken
Safeway's rotisserie chicken may surprise you. While they call it a Traditional Whole Roasted Chicken, there's nothing traditional about the taste. It actually has a sweet, orangey flavor — almost to the point that it tastes like orange chicken you'd order at a Chinese restaurant. Why would that be the case? Look at the ingredients and you'll notice that Safeway's "traditional" rotisserie chicken has brown sugar, white sugar, corn syrup solids, and citric acid.
While this is a tasty rotisserie chicken option, don't be surprised by the sweet flavor that will hit your taste buds on your first bite. If you like a sweet, citrusy flavoring, you'll love the birds at Safeway. But if you just want a chicken that tastes like chicken, go somewhere else for a truly traditional taste. And if you're picking up a rotisserie chicken for later use in casseroles and other dishes, know that the flavor of this one might not meld to well with some of those recipes.
You don't have to worry about getting an old rotisserie chicken at Safeway, because they clearly label the time when the chicken was prepared. It's worth your time to look through all the options and get the freshest chicken possible.
7. Publix rotisserie chicken
There is a lot to like about the rotisserie chickens at Publix. They have a wide variety of options, the price is reasonable, and their birds are always hot and fresh. However, two things hold Publix from rising higher in the rankings.
First of all, they are often sold out unless you happen to be there at the right moment. Not having access to them regularly definitely takes them down a notch on our list.
Secondly, they offer a BBQ flavor rotisserie chicken that is, frankly… disgusting. The barbecue sauce they use is overbearingly sweet and has an artificial smoke aftertaste that ruins it. If you want a barbecue flavor, buy a regular chicken and then add your favorite grocery store barbecue sauce once you have it home.
But on the positive side, the other types of rotisserie chicken available here are all tasty. In additional to the original, Publix has Lemon Pepper, Maple Bourbon, and Mojo. If you don't know which one to select, go with the Mojo version, which is highlighted by a delightful combination of lime and garlic flavors.
Since these birds from Publix are such a hot commodity, your best bet is to actually call them up and order ahead. Their deli will let you know when your rotisserie chicken is ready to be picked up.
6. Smart & Final rotisserie chicken
If you like your rotisserie chickens big and chunky, Smart & Final is where you should shop. They sell Jumbo Oven Roasted Chicken that is overflowing with meat. There's no risk of being stuck with a plate of skin and bones if you shop at Smart & Final.
Flavor-wise, these birds are middle of the pack. The meat isn't extraordinarily juicy, but it also isn't detrimentally dry, either. It's also good to know that their rotisserie chicken is always fully cooked, so you won't have the unfortunate surprise of cutting into pink chicken meat. The bottom line when it comes to Smart & Final chicken is you'll get a lot of really good, but not great, meat with a quality that you can depend on.
If you're in the eastern part of the country, you're out of luck as Smart & Final's 300 stores are in California, Arizona, Nevada, Oregon, Washington, Utah, Idaho, and Montana.
5. ShopRite rotisserie chicken
If you're looking for a healthy option when shopping for rotisserie chicken, head to ShopRite. Their chicken is hormone-free, cage-free, and fed a vegetarian diet.
On top of all that, the chicken actually tastes really good. While their Original is flavorful enough to recommend, ShopRite really shines when it comes to their Barbecue version. It's not too sweet and not too smokey, with just enough barbecue goodness to have you licking your fingers. You won't even need to dip it in barbecue sauce, as it's perfect as-is.
ShopRite partners with Perdue Farms, one of the most well-known names in poultry and a company with revenue topping $6 billion, so you can be confident in their birds. The partnership has created one of the best rotisserie chicken options on the market. Unfortunately, this chicken can be difficult to find, as ShopRite only has locations in six states: New York, New Jersey, Pennsylvania, Maryland, Delaware, and Connecticut.
4. Sam's Club rotisserie chicken
While Sam's Club is owned by Walmart, don't be confused and think that their rotisserie chickens are the same quality. The rotisserie chicken you find at Sam's Club blows Walmart's abomination out of the water. The chicken here is really tasty, the flavors pop, and the consistency is something you can always rely on.
Sam's Club first marinates their chicken and then seasons it with Lawry's Seasoning. The final step for their rotisserie chicken is roasting it until the skin is perfectly golden brown. If your favorite part of rotisserie chicken is eating off the skin, Sam's Club is where you should go to get yourself a plate of delectable chicken skin. The rest of the people in your home won't be upset, as the meat retains a lot of the flavor.
To make matters better, Sam's Club actually uses poultry that is hormone-free, steroid-free, MSG-free, gluten-free, and has no artificial colors or flavors. Plus, the cost of their rotisserie chicken is always very competitive — usually about the same price as Walmart's, but around twice the size.
3. WinCo rotisserie chicken
If all you care about when it comes to rotisserie chicken is the juiciness of the meat, WinCo is going to be your paradise. In WinCo's often-overlooked deli section, you can find rotisserie chicken of various flavors. Not only are all the flavors worth your money, they are all extra, extra juicy.
If you don't know which flavor to go with, try the Garlic Pepper. Don't worry, neither the garlic nor the pepper takes away from the flavor of the chicken — they simply combine to add just the right amount of kick to your meal.
While WinCo is definitely a no-frills store — in fact, they don't even accept credit cards — don't assume that the blandness of their stores will mean their rotisserie chicken is equally as bland. It's actually the opposite.
WinCo operates 126 stores in California, Arizona, Nevada, Idaho, Oregon, Montana, Oklahoma, Washington, Utah, and Texas. If you live near one, you owe it to yourself to try their rotisserie chicken at least once — just make sure you bring enough cash.
2. Sprouts Farmers Market rotisserie chicken
Sprouts Farmers Market's rotisserie chicken have a freshness that can't be beat. Maybe it's their humanely raised chicken that is antibiotic-free and hormone-free. Maybe they just know how to lock in the freshness during the cooking process. Regardless of the cause, the result can be tasted in every bite of their chicken.
While Sprouts Farmers Market has a handful of flavors, the two that are head and shoulders (or beak and wings, if you will) above the rest are the Herb Seasoned Roasted Chicken and the Unseasoned Roasted Chicken. The herb flavoring is immaculate in the former, while the latter is the perfect chicken to buy if you simply want your chicken to taste like chicken — or if you are using the meat in another recipe and you don't want any added flavoring.
Sprouts Farmers Market can be found in 21 states and they now have 335 stores. While still a relatively small chain, they can be found all around the country — from California to New Jersey and from Washington to Florida. Your closest location may be a drive for you but their chicken is worth every mile.
1. Costco rotisserie chicken
When it comes to rotisserie chicken, Costco is king. They've become a favorite of people all across the nation. In fact, Costco sold 91 million rotisserie chickens in 2018 alone. That's quite the jump from ten years ago when they sold half that number. They've mastered every step of the process and the results speak for themselves. Costco's three-pound birds are big enough to feed a whole family, and tasty enough to satisfy even the pickiest of eaters.
Not only are the birds at Costco big and tasty, they are pretty inexpensive. When other competitors have raised prices on their rotisserie chickens in recent years, they have stayed committed to their $4.99 price tag. You just can't beat their value. In fact, Costco loses money on their rotisserie chickens, but that doesn't bother them one bit because they know those chickens are tasty enough (and cheap enough) to get you in the door to load up on other things.
Heading into the future, Costco isn't slowing down when it comes to chicken. They are, instead, ramping things up. They are opening a $450 million chicken complex in the state of Nebraska to ensure that their quality stays high and their prices stay right at $4.99 — and not a penny more.