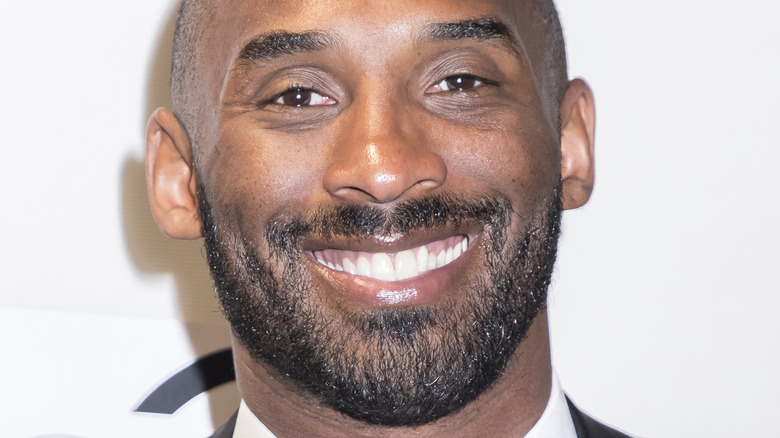 Two of the most talented NBA players of all time, Kobe Bryant and LeBron James wasted no time establishing their legacies after joining the league when they were just teenagers. Bryant played for the Los Angeles Lakers for 20 seasons, wrapping up his time on the court in 2016. James, meanwhile, started his professional career with the Cleveland Cavaliers. He then headed to the Miami Heat before joining the Lakers two years after Bryant's retirement.
Since both men's skills have often been dissected and compared by sports pundits, it seemed to spark competition between them, something fans probably noticed whenever they faced each other during regular-season games.
But what was Bryant and James' relationship really like, both on and off the court? Did Bryant envy the 6'9" forward for being the newer, younger basketball sensation once he came into the league? Was James gunning for Bryant's records and did he want to replace him as the NBA's It guy? For this one, we'll get into how they really got along, what they said about each other, and how Bryant's death in 2020 affected James.
Was Kobe Bryant's shooting style a sticking point?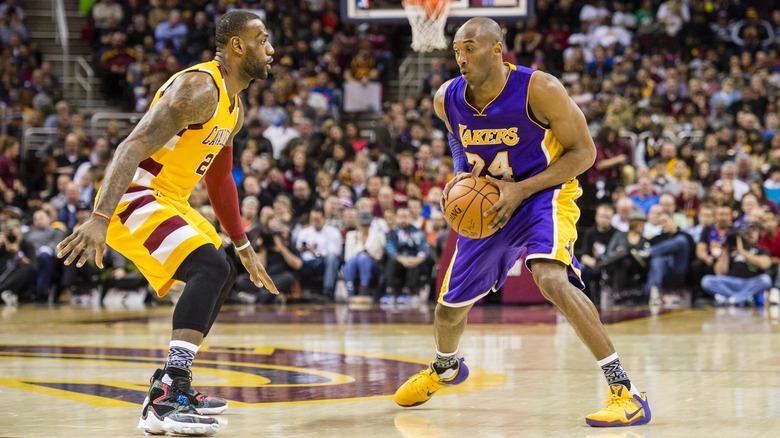 Sadly for many NBA fans, Kobe Bryant and LeBron James never got to play on the same All-Star team. However, they did play on Team USA together and won Olympic gold medals in 2008 at the Beijing Games and in 2012 at the London Games. But according to Ian O'Connor's "Coach K: The Rise and Reign of Mike Krzyzewski," James apparently had a problem with how many shots Bryant took when they were on the Olympic team in 2008. And apparently, he spoke to former Team USA coach Mike Krzyzewski about it.
"Everyone knew it," wrote O'Connor, per CBS Sports. "They know when another player is being selfish. Players can police themselves, but in this instance, as LeBron was coming out of the game, he said to Mike, 'Yo, Coach, you'd better fix that motherf******,' as he walks by. He was talking about Kobe."
O'Connor's book was published in February of 2022, so Bryant didn't have the opportunity to confirm or deny his claim. James hasn't said anything either but if his gripe about Bryant's shooting is true, it didn't seem to affect their relationship off the court, which we're about to get into.
Kobe Bryant said he'd win in a one-on-one
Just imagine a one-on-one game between LeBron James and Kobe Bryant. Some might expect the match-up to be an all-out war since it would be James' power against Bryant's finesse. Even so, Bryant seemed pretty confident he'd be able to beat James quite easily. So confident, in fact, that he told reporters at a 2010 Q&A at the London School of Basketball King James wouldn't stand a chance if the two were to face off on the court.
"I win," said Bryant. "That's what I do. One-on-one is, that's easy for me. Playing one-on-one is, that's how I grew up playing. That's like my thing and Lebron is more like a Magic Johnson, per se. He's a great passer and plays an all-around game. At the core of me, I'm a one-on-one player … I do that in my sleep."
When James stopped by the London School of Basketball, naturally, the one-on-one question came up again. In short, the future Hall of Famer said he's not a one-one player and is more about making his team better. But at the same time, James refused to say that he'd be defeated because it's not his style to bet against himself. He also made it clear that this hypothetical battle would never happen.
Did Kobe Bryant doubt LeBron James' competitiveness?
According to sports analyst Doug Gottlieb, Kobe Bryant once said that LeBron James didn't have the same killer instinct that he and Michael Jordan did. It's said that number 24 made the comment when James was joining the Los Lakers in 2018. Of course, the stories about Jordan and Bryant being ultra-competitive are well-documented. And for the record, Bryant didn't say that James lacked a deep passion to win, he just didn't think the former Miami Heat star could deal with negative criticism from Lakers fans.
"LeBron was coming to town. It was already done, and he said to me unequivocally, 'LeBron does not get, know, or understand LA and he's not built for it the way I'm built for it,'" Gottlieb said Bryant told him. According to Gottlieb, the five-time champion went on to state, "I took negativity and it fueled me." He believed the same could not be said about James.
"He's not the savage competitor that me and Mike are. I'm the type of killer that wants to kill you and your whole family," Bryant went on, according to Gottlieb. "LeBron just wants to be loved, wants to play ball, wants to win games. But he is not the killer that me and Mike are." James never responded to Gottlieb's claim, probably because he doesn't have much to prove due to all of his NBA accomplishments. Jordan never weighed in either.
Kobe Bryant said he was 'close' with LeBron James
Just because two friends don't document their closeness on social media, it doesn't mean they don't have a solid relationship. Take Kobe Bryant and LeBron James, for example. Bryant once said they were incredibly tight, which a lot of people probably didn't know at the time. The Philadelphia native revealed that he and James were close and spoke often to NBA writer Mark Medina, who tweeted about it in 2016.
Some might find it interesting that Bryant admitted to being super chummy with James because he was known to be a loner, with basketball being his best pal. Evidently, Bryant seemed to play up his reputation, even joking on a 2018 episode of "Jimmy Kimmel Live!" that he was totally friendless. "I hate people," he said with a smile.
Bryant and James' friendship was ever-evolving. As ESPN's Ramona Shelburne said following Bryant's death, "I think the hardest part for LeBron is that he and Kobe had started to develop the relationship that both of them had always wanted to have. They started to get much closer this year."
Kobe Bryant inspired LeBron James
There's no doubt that both LeBron James and Kobe Bryant were basketball prodigies when they played in high school. For one, Bryant scored a total of 2,883 points by the time he graduated from Lower Merion High School in Ardmore, Pennsylvania, per NBC Sports. He also racked up awards and had his number 33 jersey retired. Division 1 schools eventually came calling, but Bryant opted to head straight to the NBA, becoming the 13th overall pick.
James has a similar background since he was recognized as the best high school player in the United States while attending St. Vincent–St. Mary in Akron, Ohio. He scored 2,646 points in his high school career and made the cover of Sports Illustrated in his junior year. The publication dubbed him "The Chosen One," just to give you an idea of how much attention surrounded James' skills when he was still a kid. Also, like Bryant, he went straight to the NBA after high school and was the number one draft pick. In 2016, James said it was Bryant who inspired him to make the leap into the NBA and no one else.
"As a kid growing up, man, watching [Kobe], watching a kid come straight out of high school is something that I kind of admired," James told retired NBA player Chauncey Billups. "I was like, 'If he can do it, then maybe I can be one of the guys that do it, too.'"
They praised each other's style of play
Iron sharpens iron, is what some people say. Meaning, that two people who both have strong qualities can make each other better, stronger, and more effective in whatever they're trying to accomplish. That's what Kobe Bryant and LeBron James said they did for each other while speaking to ESPN in 2009. They also praised each other's style of play.
"We both have the same passion, we just show it in different ways. He takes off like he's jumping off a trampoline off of one leg," said Bryant about James. "It's the most ridiculous one-leg takeoff I've seen. Afterward, James commended the Black Mamba's ability to dribble, stop on a dime, and shoot in someone's face.
"His mid-range jumper is by far one of the best that we have, if not the best that we have in our league," explained the four-time NBA champ, who said that he studied Bryant's skills while growing up. But it wasn't just their style of play the two spoke about, they talked about each other's personalities. Bryant said that James was a naturally funny guy. He then said the sheer level of respect they have for each other allows them to play at a high level whenever they go toe-to-toe in games. Makes sense, right?
Kobe Bryant stood up for LeBron James
Anyone who stands at the top of their field has probably experienced criticism from those who feel whatever praise they get is undeserved. Kobe Bryant was on the receiving end of that type of talk, so he knew just how to respond to an NBA fan who tweeted, "lbj has yet to prove he can win a championship without 2 other superstars."
The tweet was sent in 2015 after LeBron James played for the Miami Heat with Dwyane Wade and Chris Bosh, winning the championship in 2012, and again in 2013. Eventually, Bryant responded to the half fan, half troll and stuck up for James. The Black Mamba also gave that person a brief NBA history lesson.
Basically, Bryant said that James is far from the only player to have help winning a championship and he pointed out other NBA greats — including himself — who aren't one-man bands. "Lbj doesn't need to prove that," Bryant tweeted. "I had Shaq + Pau Mj had Pip Magic had Worthy + Kareem etc AND we all had great teammates. Apparently, that fan had not watched a lot of NBA games before James won those two championships with the Heat.
Kobe Bryant's last IG post was about LeBron James
In just 24 hours, LeBron James would go from celebrating to mourning. On Saturday, January 25, 2020, James passed Kobe Bryant on the NBA's all-time scoring list while Kobe and his 13-year-old daughter Gianna Bryant were at that game. Afterward, James spoke about the achievement and why it was so special to him. "I went to ABCD camp and he came and talked to all the kids that was there and I happened to be one of the kids that was there," James told a Spectrum SportsNet reporter. "I was just listening. I was just trying to soak everything up I could."
Then the very next day, Kobe, Gianna, and seven others died in a helicopter crash in Calabasas, California. Just hours before the accident, Kobe congratulated James on Instagram while posting a photo of himself with the Ohio native. "On to #2 @kingjames! Keep growing the game and charting the path for the next. 💪🏾," wrote Kobe. The Instagram post would be Kobe's last.
Yes, it's true the late Laker legend was known to be a fierce competitor but that didn't stop him from being happy for James, which he spoke about with reporter Mark Medina. "You should be happy for the person that comes after you to be able to surpass things that you've done," Kobe explained. "It's kind of juvenile to think or to behave any other way."
LeBron James was 'devastated' by Kobe Bryant's death
After Kobe Bryant died in a helicopter crash on January 26, 2020, the NBA legend's teammates, friends, and loved ones shared their condolences, grief with the world. Among the social media posts was an Instagram post from LeBron James. The caption was paired with a series of photos of the two on the court, several of which show Bryant cheering on James as he played.
"I'm Not Ready but here I go," James started his message. "[I'm] sitting here trying to write something for this post but every time I try I begin crying again just thinking about you, niece Gigi and the friendship/bond/brotherhood we had! I literally just heard your voice Sunday morning before I left Philly to head back to LA. Didn't think for one bit in a million years that would be the last conversation we'd have … I'm heartbroken and devastated my brother!!" From there, James promised Bryant that he'd carry on his legacy of high hoops play before saying he just couldn't write anymore.
A year later, James told ESPN he was still grappling with the loss. "I try not to put myself back in that headspace, because it's just too dark, for not only myself but for our organization and for everyone that's involved in it," he said.
A heartfelt speech about Kobe Bryant
The first game the Los Angeles Lakers played after Kobe Bryant's death was on Friday, January 31, 2020. A few days before, the team postponed their game against the Los Angeles Clippers because of the helicopter crash. As the Lakers' leader, LeBron James took it upon himself to speak to the crowd about Bryant, while sharing his own feelings.
"I look at this as a celebration tonight," said James. "This is a celebration of the 20 years of the blood, the sweat, the tears, the broken-down body …the determination to be as great as he could be. Tonight we celebrate the kid that came here at 18 years of age, retired at 38, and became probably the best dad that we've seen over the last three years. Tonight is a celebration."
James then reiterated what he said in his interview after passing Bryant in scoring and also what he wrote in his first Instagram post after the crash: That Bryant inspired him to chase greatness and he wants to carry on his success for Laker fans. It was a speech that left James and probably everyone watching at home in tears.
LeBron James regrets not meeting with Kobe Bryant
When LeBron James decided to join the Los Angeles Lakers in 2018, he was supposed to sit down with Kobe Bryant to get advice on how to navigate the pressures of playing in L.A. Surely, it was a topic that Bryant had expertise in since he played for the franchise for two decades. But sadly, that meeting never came to fruition. In an interview with Yahoo! Sports, James said he regretted not carving out time to meet with Bryant.
James continued, "I do remember when I decided to come here, he sent me a text right away and said, 'Welcome, brother. Welcome to the family.' That was a special moment because at the time, Laker faithful wasn't [that excited about me coming to L.A.]."
James also talked about what he would've discussed in that meeting with Bryant. One topic, besides how to play in L.A., was the 2009 Eastern Conference Finals when James' former team the Cleveland Cavaliers lost to the Orlando Magic. If the Cavs would've won that series, James and Bryant would've faced each other in the NBA Finals. James said if he and Bryant had that conversation, he would've apologized to him for not giving fans the chance to see them play against each other.