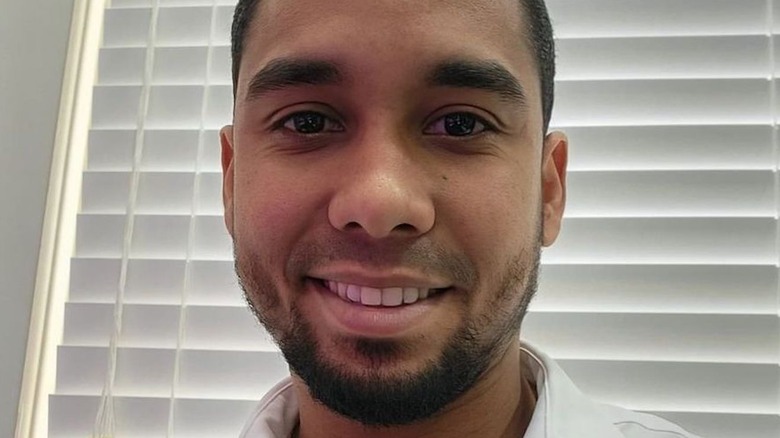 "90 Day Fiancé" may be full of fake storylines, but that hasn't stopped fans from tuning into the show and all of its spin-offs season after season. This includes the drama-filled "The Family Chantel," which premiered in 2019. The show's ratings have been in the millions, even if some critics have begged TLC to ditch the series. However, it seems the network isn't listening to the haters, because "The Family Chantel" was renewed for Season 4 in 2022.
Part of the show's success is undoubtedly linked to the cringe-worthy tension and explosive fights that have been known to happen between Pedro Jimeno and Chantel Everett's families. What's more, there has also been plenty of feuding within each family and it's difficult to look away when things get so messy. And while Pedro may think that Chantel's fam is more disrespectful than his, his sister, Nicole Jimeno, and mother, Lidia Jimeno, have been giving the Everetts a run for their money. As fans will know, Nicole hasn't exactly been kind to her big brother and he hasn't been shy about criticizing her either. They've butted heads plenty of times in recent memory, but is it just for show or are these two siblings destined to grow apart? Here is the truth about Nicole and Pedro's off-screen relationship.
Nicole and Pedro have different views when it comes to their dad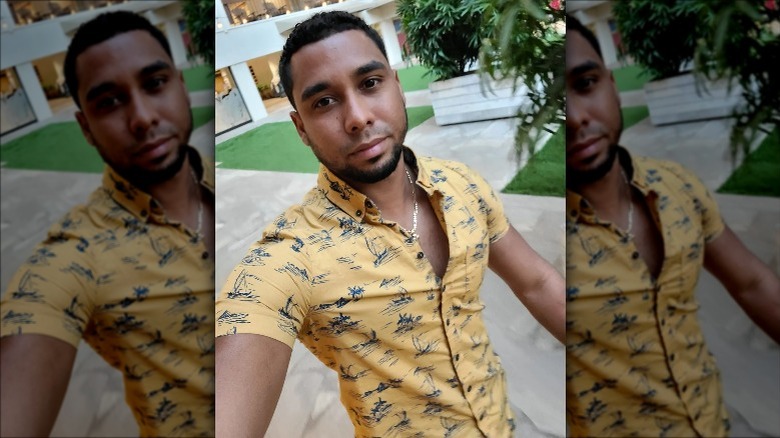 Fans who watched Season 3 of "The Family Chantel" will know all about Pedro Jimeno's hunt for his estranged father. As Pedro explained, his mother had an affair with a married man and, when he was young, his dad would only come around at night and wouldn't see him. Pedro was sure that was because "I was a f***ing mistake." Despite being hurt, he continued searching and met a cousin in New York. She admitted her family had no idea his family existed and shared that his dad, Pedro Sr., had two other sons: Junior and Jonathan. She called Pedro Sr. a great family man and Pedro questioned why he never had the same happy upbringing. He later admitted his dad supported them financially, but argued giving money and gifts didn't make him a great guy. "I need more than that," he said, airing his frustrations. "What about feelings, connections, relationships?"
Pedro went looking for that connection in the Dominican Republic, while his sister took a different approach. Not only was Nicole disinterested in finding their dad, she also refused to accompany Pedro when he met Junior and Jonathan. She argued there was no point forcing a relationship with them and asked why they never reached out first. Interestingly, fans have discovered the sibling drama may have been staged, as they found a photo of Nicole, Pedro, and Chantel posing with Junior and Jonathan back in 2014.
Did Nicole purposely try to ruin Pedro's marriage?
If there's one thing "The Family Chantel" is famous for, it's drama! Particularly when it comes to Nicole Jimeno interfering with her brother's relationship. Their unending feud took off during "90 Day Fiancé: Happily Ever After?" when Chantel Everett accused both Nicole and her mom, Lidia Jimeno, of taking advantage of Pedro Jimeno's money. Both parties lost their cool, but Nicole appeared to be purposely antagonizing her sister-in-law, so much so that when Chantel mistakenly thought Nicole called her a "b****," Nicole said she had — simply out of spite. Nicole's offensive escalated when she showed Chantel a video of Pedro dancing suggestively with her friend, Coraima Morla. Rather than apologizing, she maintained that she and Coraima did nothing wrong because Pedro was unhappy and deserved a better partner. Not letting the subject go, she later told Chantel, "Pedro had sex with Coraima."
Nicole was dubbed a show villain, but was her behavior on purpose? Chantel's Dominican friend, Obed Corporan, sure thought so. "They did something like, similar to me so I know how bad they are and she needs to know what she got into with Pedro and his family," he explained. As for Chantel, she no longer wants anything to do with Nicole. "We don't like each other," she told People in 2021, adding, "Nicole has proven to me time and time again that I can't give her any more chances, unfortunately."
Despite the drama, Pedro is protective of Nicole
Nicole Jimeno may enjoy stirring the pot when it comes to her brother's personal life, but that hasn't changed the fact that he'll always be a father figure to her. Showing just how protective he can be, Pedro Jimeno interrogated Nicole's new boyfriend, Alejandro Padron, during "The Family Chantel" Season 2 and things got heated. Going into protective big brother mode, Pedro questioned Alejandro about his true intentions and warned him about hurting his sister. The meetup then took a turn when Alejandro revealed he was still married. Soon after, Pedro and Nicole spoke about the bombshell revelation with Entertainment Weekly. As Pedro explained, he felt betrayed Nicole didn't tell him and he couldn't get over the fact that "she promised me she would never make the same mistakes our mother made." Meanwhile, Nicole argued she didn't see any parallels between herself and their mom. "My father was a liar and he was never forthcoming," she said. "I think that's much worse."
Despite their disagreements, Pedro made it clear he'd never stop protecting Nicole when he again met Alejandro during Season 3. First, Pedro accused Alejandro of putting his sister in danger by flying her to New York during the pandemic. Then the pair got into a heated argument, which escalated into a messy fistfight, as Pedro brought up his married status and Alejandro insisted he back off. "What you want me to do, walk away?" Pedro asked, proclaiming, "Hell f***ing no."
Some fans think Pedro and Nicole are secretly married?!
Talk about a wacky fan theory! Some viewers are convinced that Pedro and Nicole Jimeno aren't siblings at all, instead believing they're a married couple. As In Touch explained, the theory first started during "90 Day Fiancé: Happily Ever After?" Seasons 3 and 4, when Chantel Everett's parents worried Pedro had married her so he could move to the United States, earn money, and support his family in the Dominican Republic. "We just find it quite strange that Pedro is sending the equivalent to your cost of living back to Lidia and Nicole," Karen Everett told Chantel. Adding fuel to the fire, longtime Jimeno family friend, Obed Corporan, told Chantel he thought the relationship was a sham orchestrated by Pedro's family. "It was a setup," he proclaimed, alleging, "They arranged Pedro to meet you and you to fall in love with him."
In the end, Chantel's parents hired a private investigator to get the truth. This led to Karen questioning why Pedro was so protective of Nicole and why he'd offered to bring her to the U.S. and share a hotel room with her. "Nicole seems to behave as if Pedro is her boyfriend," Karen mused, per In Touch. "It makes me wonder what kind of relationship that is." Nicole eventually addressed the theory on Instagram, saying she doesn't understand it. "People are very crazy and really, when those comments came up, I felt [it was] extremely wrong," she said.
Pedro's not shy about calling out Nicole
He may be protective of his little sister, but Pedro Jimeno has no qualms about putting her behavior on blast. After discovering that Nicole Jimeno's boyfriend, Alejandro Padron, was still married, Pedro called her out, slamming, "You're a liar and you really like hiding things." He then called her "shameless," said he couldn't believe she was following in their mother's footsteps, and went so far as to brutally warn her that Alejandro was sure to cheat on her, too. Pedro also publicly criticized Nicole during a June 2020 episode of "90 Day Fiancé: Self-Quarantined" (via In Touch) when he accused her of abandoning their mother in the Dominican Republic during the pandemic. Nicole had flown to the United States to visit a friend when COVID-19 hit and she stressed it wasn't her fault. "I didn't do this to my mom on purpose; I didn't know this was all going to happen," she argued.
Jump to 2021 and Pedro actually called the cops on his sister following a particularly heated argument in the Dominican Republic. It all started when Nicole told Chantel that Pedro had been unfaithful with Coraima, then went after Chantel's mom, telling her to "go to hell" and throwing a glass at her. Pedro physically escorted his sister out of the room, yelling, "You go too far. You're crazy." He then called the police, saying he needed someone to come talk her down because she was "out of control."
Nicole and Pedro's relationship today
Blood may be thicker than water, but that doesn't mean family relationships are always easy. Pedro and Nicole Jimeno are perfect proof of that. The siblings tried to patch things up at the end of "The Family Chantel" Season 3, but things didn't go exactly as planned. Nicole was adamant that their strained relationship was all Pedro's fault. "You've made this impossible," she proclaimed, saying the final straw came when he attacked her boyfriend, Alejandro Padron. Pedro didn't take too kindly to that and snapped, sneering, "He can cheat on you as much as you want. That's perfect for me." What's more, Nicole refused to join Pedro in meeting their half-brothers, which resulted in Pedro admitting he felt like the only person supporting him was Chantel.
As for what's next, fans will have to wait until June 6, 2022 to find out if Pedro and Nicole have finally patched things up. That's when "The Family Chantel" will return for Season 4, however, as TLC teased in an official press release, you may not want to hold your breath for a reconciliation. "Pedro's relationship with his mother and sister is still strained, which isn't helping the two families bury the hatchet after last season's visit to the Dominican Republic," the network shared.