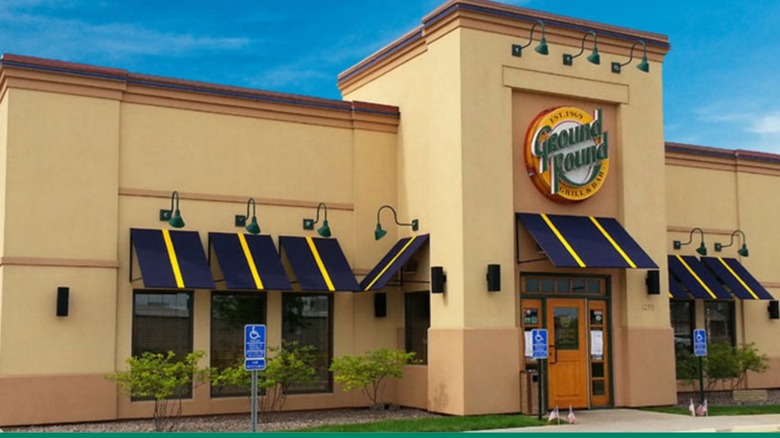 Casual dining restaurants are so ubiquitous across the US that one might easily forget that it was not always this way. The earliest casual dining chains, which include White Castle and Dairy Queen, didn't launch until after World War I. It wasn't until after World War II that dining chains designed to deliver the previously unaffordable full-service restaurant experience at a reasonable price started cropping up (per TrendSource). One of the first, if not the first, was Ground Round, according to CNN.
When Ground Round's first location opened in Massachusetts in 1969, per FundingUniverse, its 12-item menu consisted mainly of char-broiled burgers served in baskets with beer or soda (per GroundRound). It ushered in a completely novel kind of casual dining experience, one that was as much about the fun and casual vibe as it was about the easy-to-love casual American fare. Over the years, Ground Round's menu offerings expanded. In its heyday, Ground Round had 200 restaurants throughout the US (via NJ.com). Today, while the menu selection remains extensive and culturally eclectic, the Ground Round's website says that the chain encompasses a mere 15 locations across nine states, all in the Midwest and Northeast.
As for how Ground Round got from where it started to where it is today? In truth, it involves a rather surprising amount of drama and intrigue. Join us as we reveal the previously untold truth of Ground Round.
Ground Round began as a Howard Johnson's venture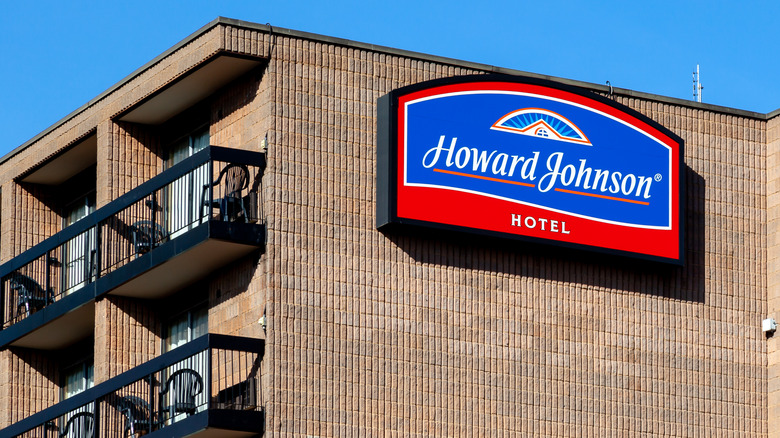 If you've ever been inside a Ground Round, with its dark but cheerful pub-like interior, you may be surprised to learn that the restaurant chain was founded by Howard Johnson's — the erstwhile hotel and restaurant chain that was once famous for its long list of ice cream flavors, its orange-sherbet-colored roof, and its mid-century modern neon signage. Howard Johnson's opened its first restaurant in 1929 in Quincy, Mass., per CapeCod. By 1935, the company had already figured out that it could pull in an impressive volume of business by opening in locations where motorists could see it as they were driving by. In 1954, the company began opening hotels along with its roadside restaurants, thereby fully catering to the increasing number of middle-class families taking road trips together.
Around the same time, another cultural phenomenon was beginning to take shape across the US, and that was the migration of American families from urban centers to bedroom communities within a commuting distance of those urban centers (per the National Museum of American History). Howard Johnson's wanted to be there for that too, but rather than diluting its HoJo brand, it created Ground Round to serve as the company's "neighborhood watering hole"-style brand, per the Patriot Ledger. Indeed, Ground Round was designed to appeal to multiple demographics, from kids and their parents to canoodling couples to nostalgia-loving older folks (per GroundRound). Ground Round's pilot location, like Howard Johnson's, was in Massachusetts.
Early Ground Round restaurants delivered a then-unique dining experience
In 1969, almost a decade before the birth of Chuck E. Cheese as an arcade-like restaurant experience meant to appeal to kids while being borderline tolerable for their adult chaperones, the first Ground Round opened in Massachusetts. It had a carnival-like restaurant experience that was intended to appeal to people of all ages (per GroundRound). "The atmosphere was casual, relaxed and permissive," as the Ground Round's website states, and there was an actual literal emphasis on there being "no rules."
Ground Round was famous for placing complementary bottomless baskets of unshelled peanuts on every table; the servers encouraged everyone to toss the shells on the floor — just in case you couldn't figure it out by observing the peanut-shell-littered floor, per Retroist. There was always at least one large screen on which slapstick black-and-white silent comedy films were projected, and it wasn't considered rude to fix your attention there if that's what you felt like doing. No rules!
Kids' meals were on a "pay what you weigh" basis — in pennies. On weekend afternoons, when any given Ground Round location might be overrun by multiple kiddie birthday parties, Bingo the Clown was often there to serve as host and foil. The fact that the lighting tended to be dim in those days (made necessary by the energy crisis of the 1970s, per CNN) only made the melee more palatable to all present.
Ground Round's permissive atmosphere came with a downside
Ground Round's "no rules" vibe had a downside. It quickly became associated with some hard partying by some young adults. Although that may be true of any number of bars, in the case of Ground Round, it appears to have led to a tragic incident that occurred in 1983. In September of that year, a particularly raucous happy hour at a Braintree, Mass., Ground Round led to the death of 20-year-old Kathleen Barry — the result of a freak accident that occurred in the parking lot. Barry, who was inebriated at the time, was riding atop the roof of a car belonging to another inebriated Ground Round happy hour participant. When Barry fell off the roof, she was run over, according to the Patriot Ledger.
Despite that, Ground Round was determined to not be legally responsible because Massachusetts' drinking age was 20 at the time, and the driver's behavior was deemed the proximate cause of Barry's death, per Patch. However, the incident had far-reaching implications. Many associated the incident with legislation enacted three months later to raise the drinking age to 21, per the New York Times. Worse yet, the incident led to the ban of happy hours in Massachusetts — a ban that has never been lifted, notwithstanding various attempts throughout the years, per NBC News. Whenever the issue resurfaces, it's almost inevitable that Ground Round gets name-checked in recounting the tragedy, according to CommonWealth Magazine.
Ground Round was ahead of the curve when it came to the low-carb approach to dieting
The notion of what constitutes "healthy eating" has evolved enormously in the five decades since Ground Round first began sprouting up around the US in the 1970s. Back then, being thin was unapologetically fetishized, with no particular emphasis being placed on physical fitness, except to the extent that exercise burned calories, per the Daily Mail. Additionally, the general public held little understanding of the role of nutrients in both weight and general health, at least as compared with today (per JSTOR Daily). However, Ground Round was surprisingly ahead of its time in terms of how it sought to appeal to its weight-conscious customers.
Whereas chef's salads were often the go-to choice at restaurants for dieters back then, Ground Round took a different approach. As an alternative to its carefree burgers-on-bun platters, it had a "Diet Plate" consisting of a burger "minus the bun," served with lettuce, tomato, onion, and a scoop of cottage cheese. With fruit as mere "garnish," Ground Round's diet plate seems perfectly attuned to the needs and wants of those in today's world who adhere to low-carb diets. While the cottage cheese might now be a questionable choice on some low-carb diets, the bun-less burger remains a stellar choice for anyone dining out while dieting, according to Livestrong.
Ground Round went through an awkward stage after Howard Johnson's was sold
Although Ground Round's business model looked like a success, circumstances behind the scenes grew tumultuous after Howard Johnson's was sold to Marriott in 1979, per Restaurant Business. Ground Round's ownership had changed hands four times by the time the company went public in 1991, per CNN. Despite the infusion of public capital and the fact that the number of Ground Round restaurant locations had multiplied to more than 200 by 1993, it was now struggling to keep up with the times, and its once-novel business model was deemed "passé."
In 1997, a Massachusetts-based private-equity firm, Boston Ventures, bought the company at a bargain-basement price and installed a new CEO, Tony Russo. Since Russo was a former president of Howard Johnson's and a veteran of Ground Round's board of directors, franchisees had high hopes for the brand. The reality, however, was something else entirely. The company invested little in the brand, while simultaneously demanding that franchisees re-invest 2% of their sales in advertising.
The upshot was an ever-widening gap between company-owned Ground Round locations, which were losing money. Franchisee-owned locations were carrying the company as much as they could. It was as if Ground Round existed in parallel universes: one in which the company was cannibalizing itself, the other in which franchisees were desperate to stop the bleeding. Then, in 2004, everything came to a crashing halt.
Ground Round's 2004 bankruptcy played out like a made-for-TV-movie
In the early aughts, Boston Ventures began attempting to sell off company-owned restaurants as it struggled to repay more than $26 million in debt linked to Ground Round (per CNN). In early 2004, with just $3.5 million left to pay off, Boston Ventures decided to wash its hands of Ground Round, filing for reorganization under Chapter 11 of the US Bankruptcy Code, per the Boston Business Journal. Former employees and diners alike may recall that this occurred on the Friday night of Valentine's Day weekend — company-owned restaurants were ordered to shut down immediately in the middle of the dinner rush, according to CNN and Restaurant Business.
An excess of 3,000 employees were let go without severance, and their final paychecks bounced. Some angry workers broke plates, stole steaks, and liquor in response to the move. In addition, there were reports of physical threats having been made to CEO Tom Russo, whom some believed had pushed for bankruptcy in bad faith as a way of avoiding personal liability. Among those who had questions about the validity of the bankruptcy filing was Massachusetts Attorney General Tom Reilly, who expressed "serious concerns" and pledged to investigate, per the Boston Business Journal.
How Ground Round's franchisees were their own white knight
Leading up to Ground Round's parent's declaration of bankruptcy, Ground Round was operating in two sharply contrasting realities (per CNN). On the one hand, Ground Round's parent company was seemingly running its restaurants into the ground. On the other hand, many franchisees had been operating their Ground Round locations at a considerable profit. The upshot was that 59 company-owned locations closed while 72 franchised locations, which operated under license from the company, remained in business.
The trouble with this scenario was that the distinction between company-owned and franchisee-owned locations was lost on most customers. Just as one bad apple can spoil the barrel, the dysfunctional Ground Round-owned locations had customers staying away from all Ground Round locations in droves. As a result, some franchised locations were forced to close. Those that didn't struggle to operate waited for a "white knight" to purchase the company and chart a new course — and then came the lightbulb moment.
The franchisees realized that no one was in a better position to run Ground Round than themselves. They pooled their assets, formed the "Independent Owners Cooperative," and purchased the company with the approval of the bankruptcy court. Since then, Ground Round has been 100% franchisee-owned. By 2011, all of the existing debt left by Ground Round's previous owners had been paid, according to a press release.
The Ground Round lost a massive age discrimination case in the 1990s
While Ground Round was dealing with corporate dysfunction and otherwise floundering in the 1990s, it also managed to get itself in a mess of legal trouble starting in 1993. It decided to fire four of its corporate office's long-time employees, all of whom worked in the finance department at company headquarters in Braintree, Mass. All of the workers were between the ages of 44 and 50 at the time of termination, and all had worked for Ground Round for anywhere from 24-32 years.
When workers sued Ground Round on the basis of what they described as a clear pattern of age discrimination (after the older employees lost their jobs, their positions were filled with younger, lower-paid workers), Ground Round defended the firings as being "part of a reorganization" of the company's finance department, according to the Associated Press. The trial court in Norfolk County, Mass., strongly disagreed, finding in favor of the employees and assessing damages for the four at nearly $7 million for back pay, future pay, damage to the careers of the employees, and emotional distress.
The dollar amount of the judgment was the highest in the history of Massachusetts age discrimination cases, according to the law office of Jonathan Margolis, who was the attorney of record for one of the plaintiffs. As a result, the case earned national attention, per Margolis and the Wall Street Journal.
The Ground Round escaped a sexual harassment claim by virtue of a legal technicality
Another sticky legal situation that Ground Round got itself into during its awkward post-Howard Johnson's years was a sexual harassment claim made by a female worker who was fired from a Missouri Ground Round location in 1989. Sharon Lane had been employed as a restaurant worker by Ground Round for nearly a decade, first as a hostess, then as a waitress and manager, and ultimately as a bartender. According to the trial court's opinion in Lane v. Ground Round, Sharon Lane made a compelling case that her supervisor, Michael Gallagher, harassed her over a period of more than three years by making unwanted sexual advances — including at least two incidents involving unwanted touching by Gallagher.
"The joke at the Ground Round was that sleeping with Mike Gallagher was a prerequisite for the job," the Court noted in its opinion. Further, Gallagher was prone to violent outbursts on the job. Nevertheless, Ground Round continued to promote Gallagher. Accordingly, Lane feared for her job and her safety and, therefore, raised no official complaint about Gallagher's behavior until after Gallagher reduced her hours and ultimately recommended her termination.
"The Court certainly does not condone Gallagher's actions while he was plaintiff's supervisor," the opinion stated. Nevertheless, the Court found itself in the position of having to dismiss Lane's case because she did not bring it in a timely manner under the applicable statute of limitations.
Vastly downsized, Ground Round is nevertheless hanging in
Ground Round got off to a great start in the 1970s. However, the sale of its parent company, Howard Johnson's, coincided with a two-decades-long rollercoaster ride during which the company changed hands numerous times. It was also sued multiple times by its own employees and went public, only to go private again less than 10 years later when it was bought out by a private equity fund that came close to running the company into the ground. Ground Round did manage to survive, thanks to its franchisees buying it out of Chapter 11 bankruptcy. As the franchisees suspected, they were far more suited to run the chain than an absentee parent company.
Nearly a decade later, in 2013, then-CEO Jack Crawford told Nation's Restaurant News that "business has been trending upwards in recent years." As a result, there were plans to grow from 27 franchisee-owned restaurant locations to 67 within two years. Things didn't pan out quite that way, with Ground Round restaurants having increased to just 30 by June 2015, per NJ.com. Ground Round added five new locations in 2017, per Restaurant News, but not all have survived. Performance Radio reported that one of these locations closed just a year after opening. Ground Round is down to 15 locations across nine states, but it's still in business, and its franchisees continue to tweak its format.
Ground Round is currently testing out a new version of itself
To say that Ground Round has been through a few changes over the years would be a vast understatement. In addition to the chain having changed hands multiple times until 2004 when it became franchisee-owned, Ground Round has also evolved its concept throughout its 50+ years in the business. It shifted from the carnival-like atmosphere of the 70s through its gradual toning down over the next 20 years to its current iteration as a sports bar known — since 2011, it has been referred to as "Ground Round Grill & Bar." Ground Round began testing a whole new concept with the May 2021 opening of its first "GR Kitchen & Taps" in Waterloo, Iowa.
Paired with a Best Western Hotel, GR Kitchen & Taps seems modeled — at least conceptually — on bars that specialize in craft beers, per Restaurant Business, and there's also an emphasis on a more modern, upscale menu. "Developed during the COVID 19 pandemic, we have a greater focus on a large selection of local and craft beers than traditional Ground Rounds," the franchisee explains on the website. GR Kitchen & Taps offers a variety of innovative new menu items from appetizers, salads, plant-based offerings, sandwiches, and burgers, to desserts.