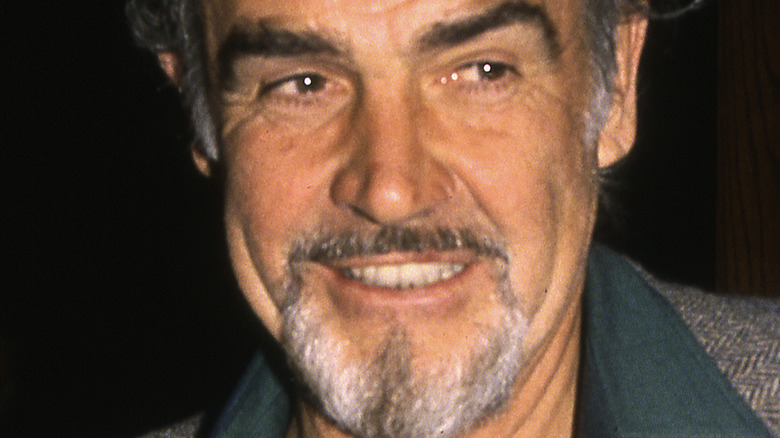 Scottish actor Sir Sean Connery became famous for playing the role of James Bond, the fictional secret spy agent known for his wild missions and many escapades. Connery is considered to be the very first Bond, as he was the premier actor to portray the internationally beloved character on the big screen. He brought life to the role of Agent 007 on and off for three decades in a total of seven films, per National World. Several other actors would succeed him, but he remained one of the most memorable Bonds.
He would go on to have an extremely successful career beyond playing Bond, and acted in dozens of films over the course of almost six decades, per IMDb. In 2006 he retired from acting (via The Guardian) just after kidney surgery. Still, he was credited as a voice actor on projects up until 2012.
On October 31, 2020, Connery died at his home in the Bahamas at the age 90, reported BBC. He was survived by his wife Micheline Roquebrune and his son, Jason.
Connery's ashes were scattered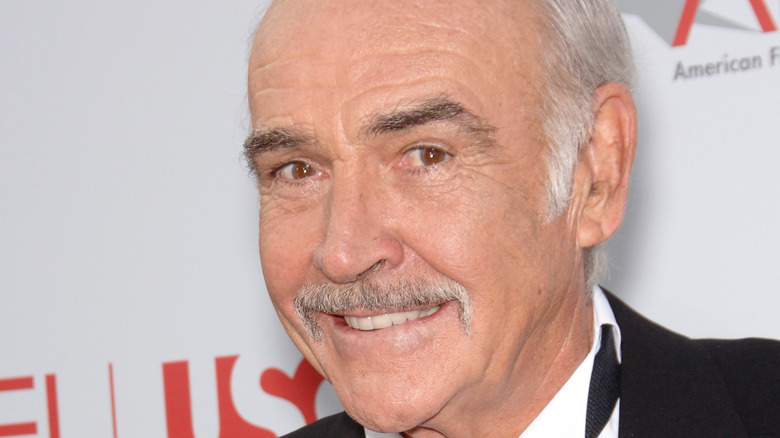 After a private funeral service to honor Connery in the Bahamas, the actor's body was then cremated. According to his wife, she revealed that one of his final wishes was to have his ashes scattered in the two countries that he called home: his native Scotland and the Bahamas, where he lived post-retirement, per Edinburgh Live.
Because of the tighter restrictions at the peak of the COVID-19 pandemic, at the time, his ashes were only scattered in the Caribbean nation. But in March 2021, his other wish was finally granted. It was reported that month that his ashes were set to be scattered in St. Andrews — a coastal Scottish town. An avid golfer, both Connery's wife and son told reporters that his ashes were very likely to be released on a golf course in the area, but it was never revealed where, per The Scotsman.
He was diagnosed with dementia
A month after Connery died his cause of death was determined to be old age, but with the added complications of pneumonia and heart failure, per TMZ. However, he was also battling something else. Shortly after news about his death spread, his wife Micheline Roquebrune shared that in the actor's final months of life he had the memory loss condition dementia.
Dementia mostly affects people of advanced age, and usually results in symptoms of mental impairment. People diagnosed with it are forgetful and can't remember simple things that they used to, which can result in them being unable to perform basic tasks, per the Centers for Disease Control and Prevention.
Roquebrune said that the illness caused Connery a lot of suffering in his final days, to the point where he couldn't even speak, per the Alzheimer's Disease website. "It was no life for him. It took its toll on him. He was not able to express himself …," she said.
The Connery family dealt with another loss
Just seven months after Connery's death, another Connery passed away. Sean's younger brother, Neil, died in Scotland on May 10, 2021 at the age of 83 (via Edinburgh News). Like his brother, Neil was an actor, known for his resemblance to his older sibling. He had reportedly been battling an undisclosed long-term illness before his death.
The brothers were both born in the Scottish capital of Edinburgh. Sean, born Thomas Sean Connery, came into the world first, on August 25, 1930, and Neil was born eight years later, on December 16, 1938. While Neil (above) didn't have the storied and successful career similar to that of his brother, he did earn himself a few acting credits, per his IMDb, and even starred in a spoof film of James Bond, titled "Operation Kid Brother," per Film Stories. He worked as a plasterer for most of his life, but briefly left to test out his footing in the acting business. He wouldn't be as famous as his big brother, but the public remembered him as a close lookalike of the famous Bond.
Connery's legacy as James Bond
Because he was the first official Bond, Connery almost had a lifelong commitment to the role. His last Bond movie was in 1983's "Never Say Never Again," but a few years earlier he had signed off on playing the literary hero because he was fed up with the franchise, per USA Today. After 1967's "You Only Live Twice," Connery quit Bond. He would, however, return for 1971's Bond movie, "Diamonds are Forever," and it would be a hefty paycheck that made Connery return to the role. Per Express, studio execs offered him $1.25 million to come back as Bond. Connery donated his "Diamonds" paycheck to the Scottish International Education Trust, which supports Scottish artists.
Connery was briefly succeeded in the role by George Lazenby, who would quit after one film, and was later replaced by Roger Moore — another memorable Bond. Still, Connery was the most famous of them all. Even when British actor Daniel Craig signed as the new Bond, filmmakers wanted the legendary actor to make an appearance in 2012 "Skyfall," per Screen Rant. At that point Connery was several years into his retirement and showed absolutely no interest in ever returning to the big screen. Had he decided to return, it's likely he would have had a cameo in the film.
His Bond gun was sold at auction
The prop gun that Connery wielded in his debut Bond film, "Dr. No," was sold at auction for $250,000 in California in December 2020, per Variety. The owner of the gun found a seller shortly after the actor's passing, but it wasn't Connery's death that led him to giving it up for sale. They were apparently already in the process of auctioning off the gun a year before he died. The auction coincidentally happened just two months after Connery's death, which left the previous owner uneasy.
"I don't want to profit off his death and I got nervous about it, but the auction house said this stuff happens all the time. I felt weird about it and considered pulling it at one point," said Dan Lanigan. The name of the new buyer of the Walther PPK prop gun was not revealed, but is apparently a fan of all the Bond movies.