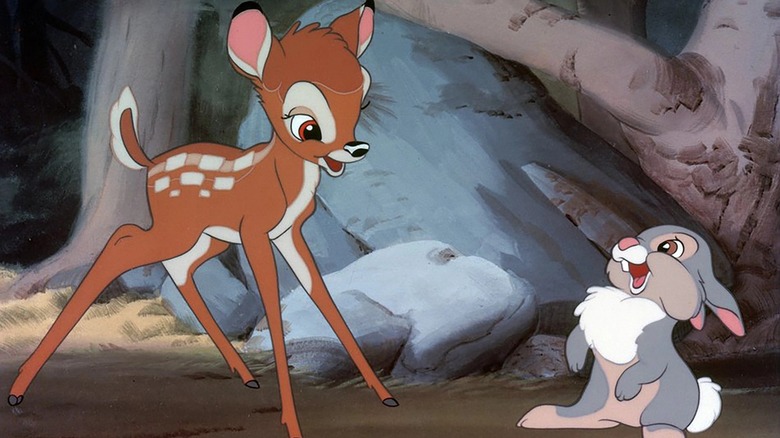 When it comes to the medium of animation, one name stands boldly and brightly above all others: Walt Disney Animation Studios. Ever since "Snow White and the Seven Dwarfs" was released in 1937, the studio has remained at the forefront of animation, whether it be traditionally hand-drawn or CGI animation. Though the studio has struggled throughout its many decades, it always manages to come out on top. It's hard to quickly summarize what makes a classic Disney film, but you can always count on a combination of beautiful animation, impactful characters, and memorable songs.
What then, makes for the very best Disney movies? There's no special formula to figure it all out, but we're going to try. These films have characters you'll always remember, songs you listen to over and over again, and some are massively underrated classics you'll be discovering for the first time. Here are the 35 best animated Disney movies ever.
The Adventures of Ichabod and Mister Toad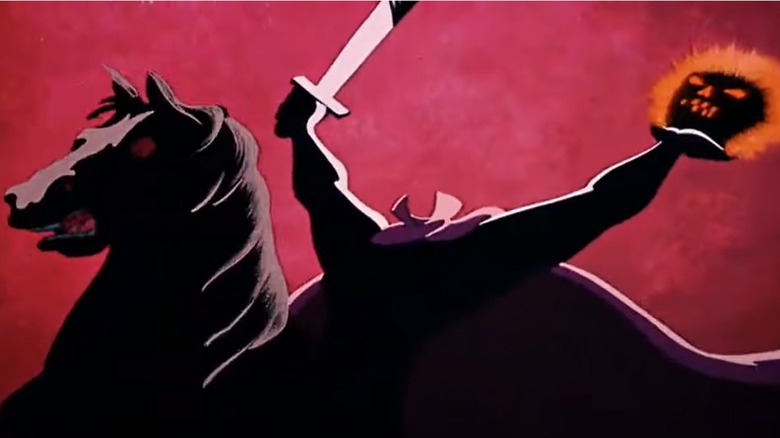 This charming film made at the end of Disney's wartime era is comprised of two segments. The first is based on "The Wind in the Willows," which follows an adventurous frog, J. Thaddeus Toad, Esq., and his madcap mission to maintain his estate. It's a lot of fun and has plenty of charm. The second, based on "The Legend of Sleepy Hollow," is one of the best things Disney has ever produced. The film culminates in a climactic chase between Ichabod Crane and the legendary Headless Horseman. It's a stunning amalgamation of color, sound, and beautiful animation that provides wonderful thrills and chills. It's one of Disney's most underrated movies, and one you've simply got to see.
Starring: Bing Crosby, Basil Rathbone, Eric Blore

Director(s): Jack Kinney, Clyde Geronimi, James Algar

Year: 1949

Runtime: 68 minutes

Rating: G
Aladdin
"I can show you the world," Aladdin sings to Jasmine, and we believe it. "Aladdin" is a spectacular romp and a fantastic action-adventure movie. The film follows a commoner who gets embroiled in a scheme to obtain a magic lamp that contains a genie with unlimited power who will change his life forever. The film is a constant joy, largely thanks to the magnificent Robin Williams, who helped make the Genie one of the greatest characters in Disney's history. Throw in a dastardly villain and wonderful songs from Alan Menken and Howard Ashman, and you have one of the finest Disney films.
Starring: Robin Williams, Scott Wenger, Linda Larkin

Director(s): Ron Clements, John Musker

Year: 1992

Runtime: 90 minutes

Rating: G
Alice in Wonderland
Walt Disney animation has always been about taking things to the next level and doing the unexpected. In 1951's "Alice in Wonderland," Disney unveiled one of its quirkiest and most delightfully absurd curiosities. Based on the Lewis Carroll books, the movie sees Alice entering the bizarre world of Wonderland as she meets a cast of wacky characters on her quest to return home. Come for the story, and stay for the unpredictable and hugely memorable characters and wonderfully stylized animation.
Starring: Kathryn Beaumont, Ed Wynn, Verna Felton

Director(s): Clyde Geronimi, Wilfred Jackson, Hamilton Luske

Year: 1951

Runtime: 75 minutes

Rating: G
Bambi
An extraordinary coming-of-age story, "Bambi" follows a young deer growing up in the forest alongside his friends, Flower the skunk and Thumper the rabbit. Thanks to extraordinary artistry from people like lead illustrator Tyrus Wong, "Bambi" is one of the most visually sumptuous animated films ever made. It's every bit as heartwarming as it is devastating, and while it is largely remembered for its soul-crushing death sequence, the movie is a powerful story of bravery, resilience, and figuring out who you are. "Bambi" is Disney animation at its finest: bold, visionary, unexpected, memorable songs, great characters, and an unforgettable story.
Starring: Hardie Albright, Stan Alexander, Peter Behn

Director(s): David Hand

Year: 1942

Runtime: 70 minutes

Rating: G
Beauty and the Beast
While Disney struggled throughout the 1980s, "The Little Mermaid" got things back on track financially, but it was the 1991 masterpiece "Beauty and the Beast" that firmly re-established Disney as the ultimate player in the world of animation. The film was the first animated feature to be nominated for the Academy Award for best picture, and it's easy to see why. The songs, delivered in lush, broadway-style stagings, are divine, and the characters are sensational. It seamlessly integrates hand-drawn animation with CGI as showcased in the beautiful ballroom dance sequence. A powerful romance and a resplendent fairy tale, "Beauty and the Beast" is an all-time classic.
Starring: Paige O'Hara, Robby Benson, Jerry Orbach

Director(s): Gary Trousdale, Kirk Wise

Year: 1991

Runtime: 84 minutes

Rating: G
Cinderella
The ultimate rags to riches fairytale, "Cinderella" finds a young woman transforming from an overworked and poorly treated servant into an elegant princess. Working off concept art from the tremendous talent of Mary Blair, the film is full of incredible details. Just watch the astonishing "Sing Sweet Nightingale" scene. It's also one of the most visually luscious films the studio has ever made. Cinderella is also a deeply underrated character and is far from the passive woman many imagine her to be. The story has been told countless times over the last century, but it's never been done better than in Disney's animated iteration.
Starring: Eleanor Audley, Ilene Woods, Verna Felton

Director(s): Clyde Geronimi, Wilfred Jackson, Hamilton Luske

Year: 1950

Runtime: 74 minutes

Rating: G
Dumbo
The magnificent elephant that learned to fly was created at a time of great pressure at Disney, as the company's previous film, "Fantasia was a box office disaster. "Dumbo" was the result of scaling back the cost of development by opting to use watercolors instead of oil-based paints to save money. The film is no less beautiful than its predecessors, and "Dumbo" ended up getting Disney back on track. The beautiful number "Baby Mine" is one of Disney's finest tearjerker moments, and the image of Dumbo's mother cradling him behind bars is as haunting as it is beautiful. There's also the magnificent "Pink Elephants" sequence that features the world's finest animators flexing their most creative muscles. It's a brisk 64 minutes and makes for perfect Sunday afternoon viewing.
Starring: Edward Brophy, Cliff Edwards, Verna Felton

Director(s): Ben Sharpsteen

Year: 1941

Runtime: 64 minutes

Rating: G
The Emperor's New Groove
Disney's 2000 classic, "The Emperor's New Groove," has an unbelievable history, and it's something of a miracle that it even exists. It's an even bigger miracle that the film ended up being sensational. Beat for beat, it may just be Disney's funniest movie, with an ingenious script that has as much fun making fun of itself as it does telling an engaging story. The adventure of Kuzco, a spoiled Emperor who is transformed into a llama and seeks to reclaim his spot on the throne with the help of villager Pacha, is wonderfully off-kilter. "The Emperor's New Groove" may have the single best villain-henchman duo in Yzma and Kuzco, and if you like your films with their tongue planted firmly in cheek, this is the one for you.
Starring: David Spade, John Goodman, Eartha Kitt

Director(s): Mark Dindal

Year: 2000

Runtime: 79 minutes

Rating: G
Fantasia
A spectacular musical adventure, "Fantasia" marked a bold departure from Disney's first two films. Walt Disney's passion project, "Fantasia" doesn't contain a singular narrative. It contains a series of short films that work in tandem with various pieces of classical music. The film is Disney's longest, but the two-hour runtime breezes by thanks to magical moments like "The Nutcracker Suite," and "Night on Bald Mountain," which introduced us to the magnificent Chernabog. Most iconic of all is "The Sorcerer's Apprentice," which marked Mickey Mouse's feature film debut.
Starring: Deems Taylor, Leopold Stokowski, Walt Disney

Director(s): James Algar, Samuel Armstrong, Ford Beebe, Norman Ferguson, Jim Handley, T. Hee, Wilfred Jackson, Hamilton Luske, Bill Roberts, Paul Satterfield

Year: 1940

Runtime: 120 minutes

Rating: G
Fantasia 2000
While not technically a sequel, "Fantasia 2000" is a sort of spiritual successor to the original "Fantasia" and even includes the original's most famous sequence, "The Sorcerer's Apprentice." That said, there's no requirement to watch the original (though you should), as "Fantasia 2000" is another beautiful celebration of classical music, and it features some of Disney's most visually adventurous work. "The Firebird Suite" is the definition of jaw-dropping, while Eric Goldberg's exquisite "Rhapsody in Blue" is truly the cream of the very rich crop.
Starring: Steve Martin, Itzhak Perlman, Bette Midler

Director(s): James Algar, Gaëtan Brizzi, Paul Brizzi, Hendel Butoy, Francis Glebas, Eric Goldberg, Don Hahn, Pixote Hunt

Year: 1999

Runtime: 75 minutes

Rating: G
Frozen
It's best known for "Let It Go," the song everyone's heard a million times, but "Frozen" is a genuinely great addition to the Disney canon. For starters, "Let It Go" is a legitimate classic, and one of Disney's best songs. The film follows Anna, who sets out to find her sister, Queen Elsa, who has become overwhelmed with her fantastic ice powers. While it gets bogged down by the dead weight of trolls (a problem rectified by the broadway adaptation), "Frozen" is a beautifully told, visually stunning story that's a testament to the power of female friendship and sisterly bonds.
Starring: Kristen Bell, Jonathan Groff, Idina Menzel

Director(s): Chris Buck, Jennifer Lee

Year: 2013

Runtime: 102 minutes

Rating: PG
The Great Mouse Detective
The very definition of underappreciated, "The Great Mouse Detective" marked the directorial debut of Disney legends Ron Clements and John Musker. Inspired by fictional detective Sherlock Holmes, the movie finds mouse detective Basil of Baker Street taking up a peculiar case of a missing mouse, which sets him on a collision course with his sworn enemy, Professor Ratigan. The film is a delicious crime caper, featuring a hugely committed Vincent Price, who makes the debonair villain Ratigan come to life with the terrific musical number "The World's Greatest Criminal Mind.
Starring: Vincent Price, Barrie Ingham, Val Bettin

Director(s): Ron Clements, John Musker

Year: 1986

Runtime: 80 minutes

Rating: G
The Hunchback of Notre Dame
It's genuinely hard to believe that "The Hunchback of Notre Dame" got away with a mere G rating, as it's one of, if not the, darkest movie Disney has ever made. The adaptation of the Victor Hugo novel "The Hunchback of Notre Dame" explores the life of Quasimodo, Notre Dame's bell-ringer, as he seeks to discover his independence, dealing with his vicious master and falling for a Romani girl along the way. The film is full of beautiful animation that brings the city of Paris to life in all its glory and features perhaps the most sinister villain of them all in Judge Frollo.
Starring: Tom Hulce, Demi Moore, Tony Jay

Director(s): Gary Trousdale, Kirk Wise

Year: 1996

Runtime: 86 minutes

Rating: G
Lady and the Tramp
A charming slice of classic Americana, "Lady and the Tramp" is a romantic and sensitive look at the world of dogs. Lady is a Cocker Spaniel who has an adoring, loving family — until they have a baby, and Lady finds herself no longer the apple of her people's eyes. Through no fault of her own, Lady finds herself out on the streets, and there she meets the scruffy and charming Tramp, who shows her the life of a street dog. The two end up falling for each other, and part of their courtship includes one of Disney's most iconic moments involving an Italian restaurant, a plate of spaghetti, and the song "Bella Notte."
Starring: Barbara Luddy, Larry Roberts, Peggy Lee

Director(s): Clyde Geronimi, Wilfred Jackson, Hamilton Luske

Year: 1955

Runtime: 75 minutes

Rating: G
Lilo & Stitch
This 2002 Disney film is just your classic story of an Elvis-obsessed young girl and her unshakable bond with her dog that's actually an alien … wait, what? "Lilo & Stitch" is a fantastical film set in Hawaii about two sisters struggling with the loss of their parents and the alien impersonating a dog that changes their lives. The film is full of surprises, and a stable of terrific supporting characters (Jumba and Pleakley forever). It's a lovely story about the family bonds that tie us together. As Stitch says: "Ohana means family, and family means nobody gets left behind."
Starring: Daveigh Chase, Tia Carrere, David Ogden Stiers

Director(s): Dean DeBlois, Christopher Sanders

Year: 2002

Runtime: 85 minutes

Rating: PG
The Lion King
Earning just under $1 billion at the global box office, 1994's "The Lion King" is the highest-grossing hand-drawn animation ever (not adjusting for inflation). It boasts incredible animation, great characters, and the most heartbreaking scene in a Disney film since 1942's "Bambi." Hans Zimmer's epic score complements the equally epic story, which follows a young lion forced to flee from his home after the tragic death of his father. The CGI adaptation of the film was an enormous financial success, but it doesn't have anything on the emotional animated epic. If you're going to watch "The Lion King," make it the 1994 masterpiece.
Starring: Matthew Broderick, Jeremy Irons, Nathan Lane

Director(s): Roger Allers, Rob Minkoff

Year: 1994

Runtime: 87 minutes

Rating: G
The Little Mermaid
"The Little Mermaid" kicked off the Disney Renaissance, which brought Disney back to the massive success of its early days. The movie follows the feisty mermaid Ariel as she falls madly in love with a human — to the devastation of her father King Triton. To spend time with him, Ariel makes a deal with the devil — or rather, the magnificent sea-witch Ursula. In exchange for her voice, she's granted legs to make it to shore. The film has the best collection of songs you can find in any film. From the devious "Poor Unfortunate Souls" to the joyous "Under the Sea" to the emotionally resonant "Part of Your World," nobody does it better than Howard Ashman and Alan Menken.
Starring: Jodi Benson, Pat Carroll, Samuel E. Wright

Director(s): Ron Clements, John Musker

Year: 1989

Runtime: 82 minutes

Rating: G
The Many Adventures of Winnie the Pooh
This incredibly charming movie is a package of short films, including "Winnie the Pooh and the Blustery Day," which snagged an Oscar for best animated short. The movie follows Winnie the Pooh and the residents of the Hundred Acre Wood as they go about their lives, and it's the perfect film when you need to feel warm and fuzzy inside. Many have given voice to a certain stuffed bear over the years, but Sterling Holloway is the definitive Winnie. There are plenty of fun songs from the Sherman Brothers, including "Up, Down, Touch the Ground," a body-positive anthem in which Pooh proclaims "I'm short, fat, and proud of that."
Starring: Sterlin Holloway, John Fiedler, Paul Winchell

Director(s): John Lounsbery, Wolfgang Reithermann

Year: 1977

Runtime: 74 minutes

Rating: G
Moana
One of the newer entrants on the list, "Moana" is proof that there's still plenty of magic to be found at Disney Animation Studios. "Moana" follows our titular fiery heroine, who wants to know what life is like beyond the shores of the island she calls home. When her village's resources begin to dry up, she sets off on an epic adventure to restore nature with the help of scheming god Maui, all accompanied by great songs courtesy of Lin-Manuel Miranda. The effects are world-class, and if you get bored (which is highly unlikely), simply staring in awe at how realistic the environments look is more than worth the price of admission.
Starring: Auli'i Cravalho, Dwayne Johnson, Temeura Morrison

Director(s): John Musker, Ron Clements

Year: 2016

Runtime: 113 minutes

Rating: PG
Mulan
Like most young women of her time, Mulan was supposed to be preparing for marriage. But when her ailing father is drafted into the war, Mulan disguises herself as a man and secretly joins the army in his place. "Mulan" is a fantastic story of courage in the face of unspeakable terror and is one of Disney's most earnest and effective stories of the power of women. Its large-scale action is remarkable, and it's a legitimately rousing tale, thanks in part to the magnificent musical number "I'll Make A Man Out of You."
Starring: Ming-Na Wen, Eddie Murphy, BD Wong

Director(s): Barry Cook, Tony Bancroft

Year: 1998

Runtime: 88 minutes

Rating: G
One Hundred and One Dalmatians
While we're used to Disney releasing at least one animated film each year, the 1960s were very quiet for the House of Mouse which released only three films. The best of the (small) bunch was "One Hundred and One Dalmatians," a film with a unique animation style and freewheeling attitude that fit perfectly with the swinging '60s. The film follows a pair of Dalmatians, Pongo and Perdita, who set out to rescue their puppies from the downright evil Cruella de Vil, who wants to turn them into a fancy fur coat. It's a delightfully funny, wholly original film that ranks as one of Disney's very best.
Starring: Rod Tayler, Cate Bauer, Betty Lou Gerson

Director(s): Wolfgang Reithermann, Hamilton Luske, Clyde Geronimi

Year: 1961

Runtime: 79 minutes

Rating: G
Peter Pan
The ultimate ode to the power of childhood imagination, "Peter Pan" takes us to the magical island of Neverland. Peter Pan transports the Darling children of London to the island, where they find themselves in a world of joy, and fun, but also of considerable danger, as the maniacal Captain Hook is looking for retribution. The animation is impressive, and watching the children fly around London at night is magical. "Peter Pan" may contain one of the most ill-judged, wildly offensive musical numbers ever, but its overarching sense of whimsy and adventure are delightful.
Starring: Bobby Driscoll, Kathryn Beaumont, Hans Conried

Director(s): Clyde Geronimi, Wilfred Jackson, Hamilton Luske

Year: 1953

Runtime: 76 minutes

Rating: G
Pinocchio
While "The Hunchback of Notre Dame" may be the darkest Disney film, "Pinocchio" is definitely the scariest. The classic story of a puppet coming to life is utterly mesmerizing. The astonishing sequence in Pleasure Island where boys transform into donkeys is some of the most reliable nightmare fuel you can witness. Most Disney films have a single villain, but "Pinocchio" has a cavalcade of them, each more menacing than the last. It may be frightening, but it's also a rich story full of hope, wonder, and a healthy dose of magic. It's one of the most remarkable examples of hand-drawn animation you can find, providing a masterclass in depth and lighting that's never been matched.
Starring: Cliff Edwards, Dickie Jones, Christian Rub

Director(s): Hamilton Luske, Ben Sharpsteen

Year: 1940

Runtime: 87 minutes

Rating: G
Pocahontas
Disney aimed for a bold new direction with 1995's "Pocahontas," one of their most serious films about forbidden love. It's also Disney's only film based on a real person, and while the historical accuracy is extremely flaky at best, the movie still succeeds thanks to its excellent protagonist, insightful songs, and jaw-dropping animation. Pocahontas is a terrific addition to the pantheon of Disney princesses. She's strong, smart, independent, and fiercely devoted to following her dreams. While it may not have achieved the Oscar glory they were so clearly hoping for, it did take home two Academy Awards for best musical or comedy score and best song for the phenomenal "Colors of the Wind."
Starring: Irene Bedard, Linda Hunt, David Ogden Stiers

Director(s): Mike Gabriel, Eric Goldberg

Year: 1995

Runtime: 87 minutes

Rating: G
The Princess and the Frog
After years of CGI movies, Disney returned to the glorious world of hand-drawn animation for their 49th feature, "The Princess and the Frog." Many fantastic animators returned to bring wonderful characters to life. The film is set in bustling New Orleans, where hardworking Tiana seeks to own her very own restaurant. One fateful night, Tiana ends up kissing a frog to turn him back into a prince, but instead, she turns into a frog, too! "The Princess and the Frog" made waves for being the first Disney film featuring an African American princess, and Tiana is one of the best characters the studio has ever crafted. The art-deco "Almost There" sequence is one of the most beautiful moments in cinema.
Starring: Anika Noni Rose, Keith David, Bruno Campos

Director(s): Ron Clements, John Musker

Year: 2009

Runtime: 95 minutes

Rating: G
Ralph Breaks the Internet
The sequel to "Wreck-It Ralph" finds our beloved video game characters taking on their biggest challenge yet: the internet. The movie is one of Disney's strangest. It's also by some measure, their most self-referential, featuring an extended scene inside Disney's website, where Vanellope meets all the other Disney princesses. The internet, where much of the film takes place, is rendered in incredible detail, and the use of constant referencing and advertising fits perfectly in its world. "Ralph Breaks the Internet" is frequently confounding, bizarre, and overwhelming, which makes it a brilliant reflection of what surfing the web is actually like.
Starring: John C. Reilly, Sarah Silverman, Gal Gadot

Director(s): Phil Johnston, Rich Moore

Year: 2018

Runtime: 112 minutes

Rating: PG
Raya and the Last Dragon
This 2021 movie is the newest film on the list and an exciting new direction for Disney animation. "Raya and the Last Dragon" takes place in the vast kingdom of Kumandra that's been divided after a great conflict. Raya sets out on a mission fraught with peril as she seeks to reunite the people of Kumandra by finding the mythical last dragon. Just when you think there's nowhere further for CGI animation to go, "Raya and the Last Dragon" appears with unbelievable detail. The movie is full of memorable characters and thrilling action sequences. "Raya and the Last Dragon" is the closest Disney has come to a traditional action movie, and it's one heck of a ride.
Starring: Kelly Marie Tran, Awkwafina, Gemma Chan

Director(s): Don Hall, Carlos López Estrada

Year: 2021

Runtime: 108 minutes

Rating: PG
Sleeping Beauty
Hell hath no fury like a woman who isn't invited to a baby's birthday party. That's the reason Maleficent appears in a smoke cloud of doom to curse Princess Aurora, claiming that on her 16th birthday, she'll prick her finger on a spinning wheel and fall asleep forever. Employing a unique style developed by ingenious artist Eyvind Earle, "Sleeping Beauty" looks different from every other Disney film. It's deeply indebted to medieval art, and its bold, graphic visions are breathtaking. While Aurora may be the least interesting princess, Maleficent makes for one of the all-time great villains, as she's complete with a sharp wit, incredible design, and tremendous power.
Starring: Eleanor Audley, Mary Costa, Verna Felton

Director(s): Clyde Geronimi

Year: 1959

Runtime: 75 minutes

Rating: G
Snow White and the Seven Dwarfs
The first-ever feature-length Disney movie, "Snow White and the Seven Dwarfs" is still one of the best. The classic fairy tale is built on vanity, as the Evil Queen seeks to kill Snow White for the sole reason that a magic mirror deems her to be the most beautiful in all the land. It may sound farfetched, but the film makes its premise seem completely believable. It's bold and daring, with the sequence of Snow White escaping through the forest enduring as one of the most visually striking and utterly terrifying pieces of animation ever. The ultimate tale of love at first sight, "Snow White" is as ravishing today as it was in 1937.
Starring: Adriana Caselotti, Lucille La Verne, Pinto Colvig

Director(s): David Hand

Year: 1937

Runtime: 80 minutes

Rating: G
Tarzan
Making incredible use of deep canvas technology, exemplified in its titular hero's swinging through an ever-changing jungle landscape, "Tarzan" marked a titanic step forward in the possibilities of hand-drawn animation. Tarzan, a man raised by apes, finds his world forever changed when he meets Jane, the first human he's ever seen. Complete with songs written and performed by Phil Collins, including the emotionally rousing "You'll Be In My Heart," which won an Oscar, "Tarzan" is a stunning adventure about finding your place in the world, and what it means to be a family.
Starring: Tony Goldwyn, Glenn Close, Minnie Driver

Director(s): Chris Buck, Kevin Lima

Year: 1999

Runtime: 88 minutes

Rating: G
Tangled
"When will my life begin?" asks Rapunzel in the delightful opening number from "Tangled". It's a fair question. Rapunzel has spent her entire life locked up in a hidden tower by Mother Gothel, who claims to only want to protect her. When the mysterious and rather charming Flynn Rider discovers the tower, it allows Rapunzel to leave her home for the first time, changing her life forever. "Tangled" marked a major milestone for Disney, as it was the studio's 50th animated film. It's a movie worthy of Disney's enormous legacy, and it provides a refreshing update on the familiar princess tale.
Starring: Mandy Moore, Zachary Levit, Donna Murphy

Director(s): Ron Clements, John Musker

Year: 2010

Runtime: 101 minutes

Rating: PG.
Treasure Planet
A major update on Robert Louis Stevenson's classic, "Treasure Island," directors Ron Clements and John Musker finally had their dream project realized with "Treasure Planet." The film follows Jim Hawkins, an adventurous teenager who comes across an intricate map that leads to the most legendary treasure haul of them all. The film is a technical marvel, using software that could create vast 360-degree sets for artists to work their magic on. Don't let the fact that "Treasure Planet" was a complete box office failure put you off. This is an emotionally resonant, exciting, and seriously entertaining sci-fi adventure.
Starring: Joseph Gordon Levitt, Brian Murray, Emma Thompson

Director(s): John Musker, Ron Clements

Year: 2002

Runtime: 95 minutes

Rating: PG
Winnie the Pooh
The final hand-drawn film Disney has made to date, "Winnie the Pooh" is Disney at its most charming. The movie follows Winnie the Pooh and the gang as they set out on a courageous adventure to save Christopher Robin from the vicious Backson, whose name may or may not simply be a spelling error. It has a terrific sense of humor and is as equally entertaining for kids as it is for adults. Clocking in at just under 70 minutes, it's the easiest watch on the list, but still has the transformative power to make you feel as if you're among familiar friends in the Hundred Acre Wood.
Starring: Jim Cummings, Craig Ferguson, Travis Oates

Director(s): Stephen J. Anderson, Don Hall

Year: 2011

Runtime: 69 minutes

Rating: G
Wreck-It Ralph
Diving headfirst into the world of video games, "Wreck-It Ralph" reimagines the classic arcade game villain as the enormous Wreck-It Ralph, played with gusto by John C. Reilly. Tired of being the bad guy feared by everyone in his game, Ralph seeks to prove that he has what it takes to be a hero. He finds himself in "Sugar Rush," a colorful kart-racing game, and there he meets Vanellope von Schweetz. The two find themselves bonded by their status as outcasts, and as he helps Vanellope prepare for a major race, he finds his biggest test yet racing towards him. For fans of video games and Disney fans alike, "Wreck-It Ralph" has plenty to offer, from plenty of gaming references to a charming and familiar story with a unique spin.
Starring: John C. Reilly, Sarah Silverman, Jane Lynch

Director(s): Rich Moore

Year: 2012

Runtime: 101 minutes

Rating: PG
Zootopia
Disney's take on the buddy cop comedy, "Zootopia" is an unexpected delight from the House of Mouse. This sprawling film, which is clearly influenced by noirs, crime capers, comedies, and thrillers, follows Judy Hopps, a rabbit with dreams of being a police officer in the metropolitan city of Zootopia. She manages to get on the force, but it's far more challenging than she ever imagined, but with the help of the hustling fox Nick Wilde, she may be able to solve a major case and bring stability to the city. "Zootopia" proves that Disney still has plenty of creativity in the tank, and while it has many influences, it manages to feel original and different from all other Disney films.
Starring: Ginnifer Goodwin, Jason Bateman, Jenny Slate

Director(s): Byron Howard, Rich Moore

Year: 2016

Runtime: 108 minutes

Rating: PG