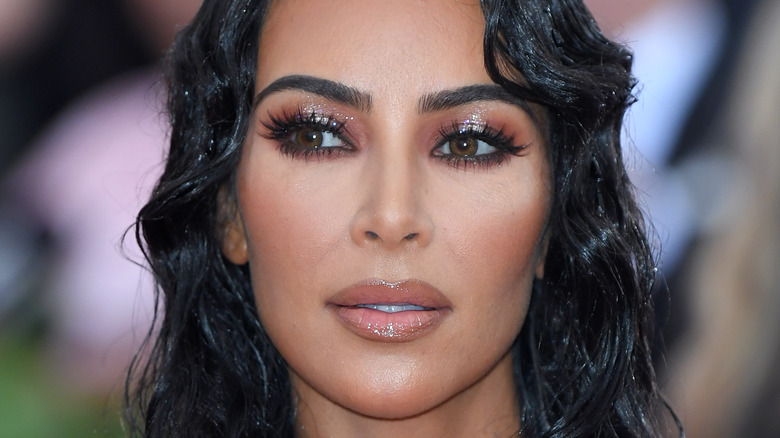 When it comes to the Kardashian-Jenner ladies, fashion might be the first word that comes to mind. The reality show icons have been serving looks since they made their TV debut in 2007. So when it comes to the Met Gala, the biggest fashion party of the year, these ladies come to turn heads — but not always in the best ways. Whether they're flaunting feathers, diamonds, or lace, they almost always know how to serve a look. However, even the most fashion-forward women can make some poor fashion choices.
With the next Met Gala drawing near, we decided to look at some of the worst and best Kardashian-Jenner looks from the Met Gala over the years. Unfortunately, sisters Khloe and Kourtney don't attend the big event, so we'll only be looking at outfits from Kris, Kim, Kendall, and Kylie. Have no fear, though, as there are more than enough looks from those four alone.
14. Kris Jenner (2019)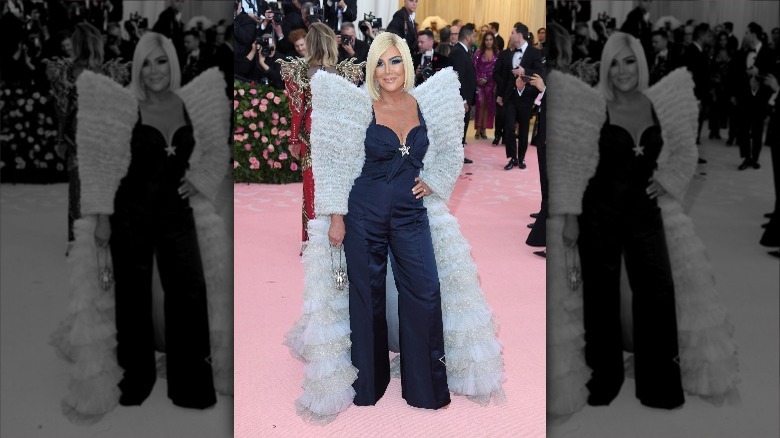 Kris Jenner might be the matriarch of the Kardashian-Jenner clan, but in no way is she the most fashionable. This 2019 Met Gala look is proof of that. Kris wore a navy Tommy Hilfiger jumpsuit with a ruched tulle coat — and she looked like the ugly duckling of the Winx Club. Yes, the theme was "Camp: Notes on Fashion," but we don't think this is what Anna Wintour had in mind.
Even daughters Kim and Khloe were appalled by the look. In a clip posted on the "Keeping Up with the Kardashians" Instagram, Khloe says, "What is this and who do you think you are?" Kim adds, "Honestly, if I sent this to Kanye he might have a heart attack." Trust us, Kim, Kanye wouldn't be the only one.
Not phased by her daughters' comments, Kris still stepped onto the carpet in her sad attempt at an Elton John jumpsuit and strutted the pink carpet. She also wore a platinum blonde wig, which was her youngest daughter Kylie's idea (via Glamour). While platinum blonde looks amazing on Kylie, it washed Kris out — but didn't distract from the shimmery blue eyeshadow (and let's be real, no one looks good in blue eyeshadow).
13. Kim Kardashian (2021)
We don't know what Kim Kardashian was thinking when she chose this look for the 2021 Met Gala. Twitter had a field day with this look, likening Kim to a creature from the "Harry Potter" franchise. One user tweeted, "Kim Kardashian went to the Met Gala as a dementor," showing a side-by-side comparison.
She wore a Balenciaga body stocking from head to toe, and even Kim herself had questions about the unusual number. "I fought against it. I was like, I don't know how I could wear the mask," she said in an interview with Vogue. Balenciaga's creative director, Demna, insisted on the mask — and clearly, he won.
It's definitely an unforgettable look, if we can even call this a look. All we know is that it's nowhere near the theme of "America: A Lexicon of Fashion." Lizzo did wear it as a Halloween costume though, so at least something good came out of it.
12. Kim Kardashian (2013)
If you thought Kim's dementor look was bad, wait until you see what she wore to the 2013 Met Gala. Kim wasn't actually invited to this one, but her now ex-husband Kanye West was performing, so she served as his plus one (via Elle). She served vintage couch realness, and the internet wasn't here for it. Even the late actor Robin Williams chimed in to compare her to his character Mrs. Doubtfire, tweeting, "I think I wore it better," (via Daily Beast).
She was pregnant with her first child, North, at the time, and this floral monstrosity did absolutely nothing for her figure, and took away some of that pregnancy glow.
In a video with Vogue, Kim admitted that she took some of the tweets personally, saying, "I was crying the whole way home because I just couldn't believe it." We feel a little bad, but at the same time, Givenchy designer Riccardo Tisci set her up for failure.
11. Kris Jenner (2015)
2015 was Kris Jenner's first Met Gala, and sadly, she chose to step out in this (via Insider). That year's theme was "China: Through the Looking Glass," but Kris looks more like Kuzco from Disney's "The Emperor's New Groove."
The infamous mom-ager wore a red Balmain wrap dress that ruched in all the wrong place. The ruches on the bust, paired with the balloon sleeves, make the dress look frumpy on top. Her heels didn't look tall enough for the dress, making her look short and shrunken down. Those earrings and chunky belt need to dig a grave and die there, because wow, they're loud.
Her full glam makeup look is actually gorgeous, but that hair detracts from it. Her hair resembles that of a cockatoo, and with her red dress, she borders on looking like Jafar's bird Iago from "Aladdin." We can't help that she looks like Disney characters, so don't shoot the messenger.
10. Kim Kardashian (2015)
​​This isn't the worst of Kim's Met Gala looks, but in no way is it her best. Don't get us wrong, Kim looks gorgeous, and the dress itself has some merits. On Kim, though, the shoulders look padded, making her appear rather boxy on top. The spacing between the embellishments was an interesting choice, and look messy and incohesive in some places.
This Givenchy gown feels unflattering, but perhaps it's because Kim had a secret to hide. Kim was actually two months pregnant at the time, and was doing her best to try and conceal it (via Vogue). With that knowledge in mind, it makes sense why her poses are so rigid and forward-facing and why the gown seems to fall on her in all the wrong ways.
Granted, the last time Kim was pregnant at the Met Gala, the internet dragged her for looking like a vintage couch, so we can all understand why she'd try to do something a little different this time around.
9. Kylie Jenner (2016)
Beauty is pain, and Kylie Jenner proved that with her Balmain gown at the 2016 Met Gala. Kylie posted a Snapchat after the big night, captioned, "When ur dress made you bleed and ur feet are purple." She followed up with another post saying, "It was worth it though," (via Teen Vogue). Talk about dedication.
You might be wondering: If we're so impressed by her dedication, then why isn't this look higher up on our list? We hate to break it to you, but the dress just isn't all that. She looks like a disco ball, and it wouldn't have been hard to guess that this dress must have been painful to wear, even if Kylie hadn't admitted to it. It looks incredibly heavy, and its bulky nature sits oddly on Kylie's body.
Granted, this was Kylie's first Met Gala, and at least she didn't show up looking like a vintage couch, but in comparison to some of her other Met Gala looks, this Balmain gown falls short.
8. Kendall Jenner (2018)
Kendall Jenner's looks are normally on the modest side, and while she does look stunning here, this is rather bland as far as her Met Gala looks go. This Off-White jumpsuit, designed by Virgil Abloh, came a year after her bold La Perla gown (more on that later), so this feels a bit lackluster (via Harper's Bazaar).
The jumpsuit becomes even duller when you realize that 2018 was the "Heavenly Bodies" theme, aka the year that Rihanna dressed like the pope (via Vogue). So, next to Rihanna looking like the pope and Blake Lively looking like a literal goddess, Kendall just looked meh in comparison.
Now don't get us wrong, only Kendall could pull off a white jumpsuit with a train, but it can't compete where it doesn't compare in this year's theme. She is serving face, however, then again when isn't she? Kendall rarely has bad makeup days, and that's no easy feat, so kudos to you, Kennie.
7. Kylie Jenner (2018)
Like her sister Kendall, Kylie chose a rather modest dress for the 2018 Met Gala, and we're pretty bored. Kylie, you're supposed to be the bold and daring one, so naturally we were all rooting for you. Not only that, but like your sister, you aren't even on theme! What's up with that?
This is a gorgeous black gown designed by Alexander Wang — it's just not giving "Heavenly Bodies." Kylie's bad luck with Met Gala dresses continued as the beauty mogul admitted there wasn't supposed to be a zipper on the side of the gown. Kylie wrote on her Instagram story, "This dress wasn't supposed to have a zipper but it ripped as I was squeezing into it, so we added it on the way out the door," (via Cosmopolitan). So she was serving body, but not "Heavenly Bodies," if you catch our drift.
Luckily, Kendall and Kylie would both be on theme the following year, so that's rather exciting.
6. Kendall Jenner (2017)
We're all for a good cutout, but Kendall's 2017 dress took it to a whole new level. Kendall is rarely one to take fashion risks, so this daring La Perla gown (if you can call it that) was quite a shocking but welcomed surprise.
The most iconic part of this dress is that it's made of 85,000 crystals (via Bustle). With that in mind, you'd think it'd weigh a ton, but unlike her sister Kylie's 2016 Balmain gown, Kendall's looks weightless. That's probably due to the fact that there isn't much actual gown there to begin with. In an interview with Elle, La Perla's creative director Julia Hart said, "The entire gown is made from one piece of string." Kendall put a lot of faith in that string — and it paid off.
Kendall also styled it perfectly, with minimal jewelry, shoes of the same material, and a "no-makeup" makeup look. The gown is the statement piece and she let it speak for itself, and we're living for it.
5. Kim Kardashian (2019)
It's no surprise that Kim loves a nude illusion dress, but this Mugler number she wore to the 2018 Met is her best one yet. Thierry Mugler hasn't designed a collection since 2003, so for him to come out of retirement just for this dress truly says something about it (via W Magazine).
"He had this vision of me as a California girl getting out of the ocean in LA or Malibu and onto the red carpet," Kim said in a Vogue red carpet interview. Mugler nailed it, of course, because his vision comes across perfectly. It's all in the details, with the way the crystals emulate drops of water. Pair that with Kim's wet hair look and glowing skin and you've got the ultimate beach babe. She's giving off major Pamela Anderson "Baywatch" energy, and it's absolutely mesmerizing.
It's hard not to stare, but just know we're looking very respectfully.
4. Kylie Jenner (2017)
Speaking of dripping looks, Kylie's 2017 Versace naked illusion dress is flawless. It's definitely a step up from her Balmain gown from the year prior. You can also tell she feels more comfortable on the carpet, because that's a power pose right there.
We can all agree that she's serving face for days. Her makeup is always on point; Ms. Kylie doesn't come to play. While she might've told her mom to wear a platinum wig for the 2019 Met Gala (a wig Kris did not pull off in the slightest) Kylie's own platinum bob is stunning. It frames her face perfectly and doesn't wash her out.
For it only being her second time at the Met Gala, Kylie really put the work in this go around. Designer Donatella Versace knew what she was doing when she put Kylie in this dress, so thank you, Donatella, for giving us a look we never knew we needed!
3. Kendall Jenner (2019)
Now, this. This left us speechless. It's giving Vegas showgirl. Kendall's 2019 orange Versace number is unforgettable. Donatella Versace was truly working overtime for the Jenner girls, and we thank her for her services.
Kris could take a few notes from Kendall because this right here is camp, but still manages to be glamorous. Not to mention, feathers are a hard look to pull off, and she could've easily looked like one of Big Bird's relatives, but she doesn't, and we love that for her. Her accessories are understated, but not too plain. She did just the right amount of everything else so that nothing took away from the gown.
The Kar-Jenner clan came as a united front for the 2019 Met, with Kris, Kim, and Kylie also in attendance (via E! News). Kylie also wore a Versace gown, which is coming up next, so don't you worry.
2. Kylie Jenner (2019)
What did we tell you? Kylie's 2019 Met look is a gift none of us knew we needed. On Kendall's arm, Kylie also wore a gorgeous Versace gown with the most dramatic puff sleeves we've ever seen.
A good figure-hugging dress is a Kar-Jenner staple, but the way Kylie's dress sits on her frame is breathtaking. The top of the gown is a sight to behold with its unique cut and Kylie doesn't take away from it. The lack of a necklace was the right move for a dress like this. Also, the fact that she managed to match her hair to her dress in a way that wasn't tacky is such a serve.
Kylie's daughter Stormi loved the dress so much that Kylie had a mini one just for her. In an Instagram post Kylie wrote, "My baby!!!!!!!! I cant handle this!!!!" Stormi looks just as iconic as her mother.
1. Kendall Jenner (2021)
Last, but certainly not least, is Kendall's 2021 Met Gala look. The 2021 Met made for an interesting red carpet with a lot of hit or miss looks, but Kendall was right on the money with this one. In a red carpet interview, Givenchy dress designer Matthew M. Williams told Vogue, "Well, the inspiration was Audrey Hepburn's 'My Fair Lady.' We just did a modern take on that moment."
Audrey Hepburn often turned to Hubert de Givenchy for her looks both onscreen and off, including her iconic "Breakfast at Tiffany's" black dress, so it was only fitting for Kendall to go to Givenchy for a custom Audrey-inspired creation (via Today).
Kendall's gown took 2,500 hours and 30 beaders to complete it — talk about hard work (via Vogue). That hard work paid off, because Kendall looks like a living doll, serving one of the best looks of the night.