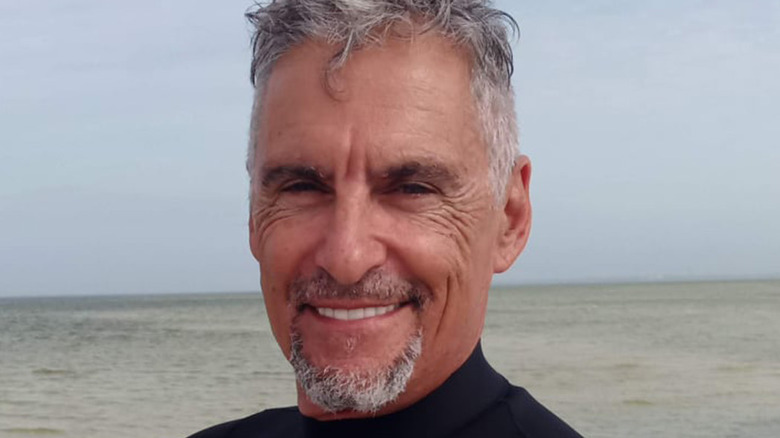 Initially dismissed as a wan carbon copy of the 1994 science fiction adventure "Stargate," the syndicated series "Stargate SG-1" blossomed into one of the most popular small-screen sci-fi efforts of the 1990s and early 2000s, netting multiple Emmy nominations, three spin-off series, and two direct-to-home video features during and after the course of its ten-season run. Much of the series' eventual success was due to the efforts of the producers, including creators Jonathan Glassner and Brad Wright, and star Richard Dean Anderson, who played Colonel Jack O'Neill, the no-nonsense leader of SG-1 — an Air Force special forces team that uses stargate technology to traverse the galaxy and defend Earth against various alien races. The show's producers and writers expanded the feature's premise to explore complex extraterrestrial civilizations and their influence on Earth's history, religion, and mythology.
The main cast of "Stargate SG-1" led by Anderson, Amanda Tapping (as military officer Samantha Carter), Michael Shanks (as scientist Daniel Jackson), and Christopher Judge (as Jaffa warrior Teal'c) was also instrumental to its popularity. The versatile crew of actors maintained a solid balance between action, drama, and occasional forays into self-referential humor. Their work was buttressed by a strong and diverse cast of supporting players and guest stars. Given that "Stargate SG-1" closed for good in 2007, many of the cast remain active on TV and in films, while others have either retired or died due to age or illness. What follows is a spoiler-heavy list of "Stargate SG-1" actors you might not know passed away.
Cliff Simon was SG-1's primary bad guy, Ba'al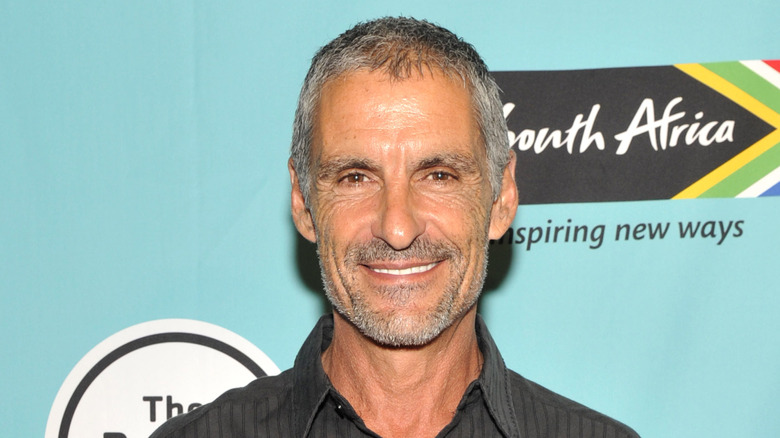 Cliff Simon, who played a long-running antagonist, the System Lord Ba'al, began his career as an athlete with dreams of winning Olympic gold for his native South Africa. He came close to his goal by qualifying for the 1984 Summer Olympics as a member of the Great Britain national team at the age of 17, but the intense training forced him to pivot to different interests. Simon returned to South Africa, where he completed military training before finding his way to performing through dance and acrobatics.
Simon performed with the Moulin Rouge in Paris and worked as a model, which led to his win at the 1992 Mr. South Africa contest. Television producers took notice of his athleticism and screen presence and offered him a role on the South African series "Egoli: Place of Gold." After a seven-year stint on the program, Simon headed to the United States. TV guest spots led to his 15-episode run as Ba'al in "Stargate SG-1," as well as his appearance as the character in the series' companion TV-movie, 2008's "Stargate: Continuum."
After "Stargate SG-1" ran its course, Simon busied himself with guest roles on "NCIS" and "The Americans," and lent his distinctive voice to ADR work for features like "Avengers: Age of Ultron." In 2020, he hosted and co-produced "Into the Unknown," a Travel Channel series which took him around the world to explore folk legends in various regions. The 58-year-old Simon died following a kiteboarding accident on March 9, 2021.
Don S. Davis' Gen. Hammond led SG-1 for seven years
Air Force Major General George S. Hammond oversaw Stargate Command for the first seven seasons of "Stargate SG-1." He was relieved of that duty at the end of Season 7 and sent to head up the Homeworld Security department. Hammond was described as retired at the end of Season 10 and noted as deceased in the series finale of the spin-off, "Stargate: Atlantis."
Actor Don S. Davis, who played Hammond on "Stargate SG-1" and in "Stargate: Continuum," taught theater at the University of British Columbia and left education in 1987 to pursue a career as an actor. Minor roles in features like "Stakeout" and series like "MacGyver" led to recurring assignments on "Twin Peaks" and "The X-Files." Character turns in features like Steven Spielberg's "Hook" and "A League of Their Own" preceded his reunion with "MacGyver" star Richard Dean Anderson on "Stargate SG-1." While appearing on that series, Davis also continued to land roles in features like "Con Air" and "Best in Show."
Health issues forced him to retire from full-time acting in 2007, but he continued to work in features and television, including guest appearances on "Supernatural" and the 2009 horror film "The Uninvited." Davis died of a heart attack at the age of 65 on June 29, 2008. Archival footage of his "Twin Peaks" character was featured in 2017's "Twin Peaks: The Return," as well as 2014's feature-length deleted scenes collection, "Twin Peaks: The Missing Pieces."
Carmen Argenziano was Jacob Carter and his Tok'ra symbiote
Faced with a terminal illness, Samantha Carter's dad, Air Force general Jacob Carter, accepted a unique proposal to extend his life — he became the human host for Selmak, a leader of the Tok'ra, a symbiotic alien race related to the reptilian and villainous Goa'uld. His new role made him both a sympathetic conduit between the Tok'ra and SG-1, as well as a more patient father to his two adult children.
Actor Carmen Argenziano played Jacob Carter in 25 episodes of "SG-1" between 1998 and 2005. A member of the esteemed Actors Studio, Argenziano began appearing in films and on television in the late '60s, and gave numerous character turns in low-budget and independent features produced by Roger Corman's New World Pictures, including "Caged Heat" and "Crazy Mama." Argenziano also enjoyed a minor role as an enforcer in "The Godfather, Part II," and amassed a wealth of TV credits on series like "Lou Grant," "The A-Team," and "L.A. Law."
In the late 1980s and early '90s, Argenziano began working in studio features, landing supporting roles in high-profile films like "The Accused," "Don Juan DeMarco," and "Broken Arrow." He worked tirelessly into the new millennium with recurring appearances on "The District" and "CSI: NY," and roles in "Angels & Demons," among other features. Argenziano died at the age of 75 on February 10, 2019.
Soul legend Isaac Hayes was the Jaffa warrior Tolok
In Season 8's "Reckoning," Teal'c, Bra'tac, and a legion of rebel Jaffa launch a plan to reclaim the holy planet of Dakara. To foment their plan, they consult a high-ranking warrior, Tolok, who shows initial concern that the assault on Dakara will weaken the rebel forces. The attack proves a success, and Tolok returns in Season 8's "Threads" to honor the pair's valor.
A bona fide music legend and Rock and Roll Hall of Fame member played Tolok in both the "Reckoning" and "Threads" two-parter, and later returned to the series, albeit in voiceover only, for Season 10's "200." Isaac Hayes began his career in the 1960s as the co-writer of dozens of hit songs, including Sam & Dave's "Soul Man," before embarking on his own career as an R&B artist. In 1971, he scored a massive hit with "Theme from Shaft," the title track from his soundtrack for the Black action film of the same name. The song netted Hayes an Academy Award, a Golden Globe, and a Grammy, and helped pave the way for his acting career, which began in the early '70s.
After a bankruptcy issue in the mid-'70s, Hayes shifted his focus to acting, where his action movie-adjacent background made him ideal for tough guy parts in films like "Truck Turner" and John Carpenter's "Escape from New York." He moved into guest roles on television in the 1980s and displayed a talent for comedy in Keenan Ivory Wayans' "I'm Gonna Git You Sucka" in 1988. More comedy work, including Mel Brooks' "Robin Hood: Men in Tights" preceded one of his best-known showcases — voicing the well-intentioned but lascivious Chef on "South Park."
Hayes fell out with "South Park" in 2006 shortly before suffering a stroke. Despite the health concerns, Hayes returned to performing his vast catalog of hits for music audiences. The comeback proved short-lived. Hayes died at the age of 65 on August 10, 2008.
Willie Garson was an enterprising extraterrestrial in three SG-1 episodes
One of the most unique recurring characters on "SG-1" is Martin Lloyd, who appears in three episodes between Seasons 4 and 10. A human soldier from another planet whose people are eliminated by the Goa'uld, Lloyd and a few survivors flee to Earth, where the other survivors force Martin to forget his past life. Their efforts are only partially successful, leaving Martin paranoid and haunted by past-life memories –- which draws the attention of SG-1. Together, they discover that Martin's home planet has been destroyed. However, he turns the experience into a corny sci-fi television series, "Wormhole X-Treme!"
Willie Garson played Martin Lloyd in all three of the character's appearances on "SG-1." Though best known as Stanford Blatch on both the original and revived "Sex and the City," Garson's credits began in the 1980s with teen roles on "Mr. Belvedere," among other series. He graduated to more complex adult roles in the 1990s, including three separate turns as Lee Harvey Oswald — in the 1992 feature "Ruby," the series "Quantum Leap," and one episode of "MADtv," respectively — and character performances in features like "Mars Attacks!," "Groundhog Day," "The Rock," and "Being John Malkovich." His TV work from this period included guest spots on "NYPD Blue," "Boy Meets World," and "The X-Files."
In addition to "Sex and the City," Garson also played Neal Caffrey's (Matt Bomer) con man sidekick Mozzie on "White Collar." Garson died of pancreatic cancer at the age of 57 on September 21, 2021.
Maury Chaykin was a devious Goa'uld scientist
A thorn in the side of SG-1, Ba'al, and the beings known as the Ori, Nerus is a Goa'uld scientist whose prodigious appetite for food, wine, and lavish praise eventually proves to be his undoing. He tricks SG-1 into bombing an Ori force in order to steal their tactical secrets (Season 9's "Beachhead"), which earns him a stint in solitary confinement in Area 51. Major General Henry Landry (Beau Bridges) later uses Nerus' gluttony as a cover to stop Ba'al's plan to steal various stargates (Season 9's "Off the Grid").
Maury Chaykin played Nerus in both of his "SG-1" appearances. Born to parents from the United States and Canada, Chaykin worked extensively in features and on television productions on both sides of the border. He played the detective Nero Wolfe in several A&E TV movies and a 2001-2002 series, and performed notable parts in "Dances with Wolves," "WarGames," "My Cousin Vinny," and several films directed by Atom Egoyan, including "The Sweet Hereafter." Chaykin netted a Genie Award — Canada's equivalent of an Oscar – in 1994 for the indie drama "Whale Music."
Chaykin's TV work included a recurring role on "Entourage" as a character based on Harvey Weinstein, and on series ranging from "Due South" to "La Femme Nikita" (which earned him one of his two Gemini Awards, the Canadian equivalent of an Emmy) and the popular Canadian comedy "Less Than Kind." Chaykin died on July 27, 2010 — his 61st birthday — from complications of a heart valve infection.
Comic Dom DeLuise became a curious AI component
The Season 3 episode "Urgo" takes its name from an artificial intelligence component of an implant embedded into the brains of the SG-1 team during a supposed pleasure trip to the planet P4X-884. Urgo was a childlike entity with a desire for new experiences that caused it to manipulate the team's senses in order to experience food, games, and other fun. To carry out these experiments, Urgo manifested itself in the form of the humorless scientist, Togar.
Both Urgo and Togar were played by actor and comedian Dom DeLuise, for whom "Stargate SG-1" was something of a family affair. His son Peter DeLuise was a frequent writer-director and performer on the show, while his two other sons, Michael and David, and his daughter-in-law Ann Marie were all guest stars.
DeLuise had been making audiences laugh in films and on television since the early 1960s. Best known for his collaborations with Mel Brooks (including "Spaceballs"), Gene Wilder ("The Adventure of Sherlock Holmes' Smarter Brother"), and Burt Reynolds ("The Cannonball Run"), DeLuise was also a prolific voiceover actor, contributing to numerous animated features and countless episodic cartoons.
DeLuise also directed a few feature films, authored numerous cookbooks and children's books and performed in various Broadway and operatic productions. On occasion, he also gave capable dramatic turns, most notably in 1964's "Fail Safe" and in 1980's "Fatso," directed by Anne Bancroft. He died at the age of 75 on May 4, 2009.
Lawrence Dane nearly blew up Stargate Command
Major General Henry Bauer appears in Season 4's "Chain Reaction," which was appropriately titled considering his literally and figuratively explosive impact on SG-1. After assuming control of SG-1, the Air Force veteran breaks up the team, dismisses Jack O'Neill, and commissions a weapons test on a distant planet that destroys the target and comes close to wiping out Stargate Command. The foolish maneuver costs General Bauer his command and leads to the reinstatement of General Hammond, who had been removed by the nefarious National Intelligence Department.
Canadian actor Lawrence Dane, who played General Bauer, was a familiar face to film and TV audiences on both sides of the 49th parallel. Initially billed under his real name, Larry Zahab, Dane made his debut on Canadian TV in the late 1950s and soon headed to Los Angeles, where he guested on numerous stateside episodic series like "I Spy" and "Bonanza." Feature-length projects came calling in the 1970s, including David Cronenberg's "Scanners" and cult horror favorites "Happy Birthday to Me" and "Rituals." Later on, he made his directorial debut with the 1984 drama "Heavenly Bodies."
Dane maintained a tireless schedule of TV and films in the 1990s and 2000s, including recurring roles on "The Red Green Show" and "Poltergeist: The Legacy" and character turns in features like "Bride of Chucky," which cast him as the ill-fated Lt. Preston. His final credit came with 2017's "Undercover Grandpa," starring James Caan. Dane died of pancreatic cancer at the age of 84 on March 21, 2022.
After Quantum Leap, Dean Stockwell jumped to SG-1
Nearly a decade after completing his Golden Globe-winning turn as Admiral Al Calavicci on "Quantum Leap," actor Dean Stockwell returned to science fiction television in the Season 6 "SG-1" episode "Shadow Play." Stockwell's "SG-1" character, the Kelownan scientist Kieran, reveals to his former student Jonas Quinn (Corin Nemec) that he seeks to overthrow his government in order to prevent its destruction in a war with two hostile nations. Later, it turns out that the entire revolution is Kieran's hallucination brought on by mental degeneration caused by long-term exposure to Naquadria radiation.
Though often associated with his "Quantum Leap" role, Stockwell was also a former child actor and Cannes Film Festival Award winner for the 1959 thriller "Compulsion." In the '80s, David Lynch helped re-ignite Stockwell's movie career with roles in "Dune" and "Blue Velvet," which led to an Oscar nomination for the Jonathan Demme-directed comedy "Married to the Mob," and multiple Emmy and Golden Globe nods for "Quantum Leap."
Stockwell kept busy throughout the 2000s with recurring roles on "Battlestar Galactica" and "JAG" and guest shots on "NCIS: New Orleans" and "Star Trek: Enterprise," both of which reunited him with "Quantum Leap" co-star Scott Bakula. He retired after suffering a stroke in 2015 and died at the age of 85 on November 7, 2021.
Comic actor Henry Gibson played it straight for SG-1
Though best known for comic roles on TV shows like "Rowan & Martin's Laugh-In" and in films like "National Lampoon's Vacation" and "Innerspace," actor Henry Gibson was also adept at dramatic performances, as evidenced by his appearance in Season 5's "Sentinel." Gibson played Marul, the kindly leader of the planet Latona, which wards off attacks by the Goa'uld with a powerful weapon known as the Sentinel. Marul's faith in the Sentinel never wavers, even after a rogue SG-1 team dismantles the device and leaves the planet open for attack.
Gibson amused TV audiences in the 1960s with his comic persona the Poet, who recited offbeat, satirical poems for nightclub crowds and "Laugh-In" viewers. He parlayed his popularity into guest roles in numerous features and episodic TV, most of which were comedies. The major exception would be Robert Altman's "Nashville," for which Gibson earned a Golden Globe nomination for his turn as country singer and political aspirant Haven Hamilton.
Gibson reunited with Altman for "A Perfect Couple" and "HealtH," but remained busiest in comic character roles for directors like John Landis ("The Blues Brothers") and Joe Dante ("Gremlins 2: The New Batch"). Gibson also appeared in many TV episodes and voiced numerous characters in animated series like "The Wild Thornberrys." In the 1990s and 2000s, he remained active in features, most notably Paul Thomas Anderson's "Magnolia" and "Wedding Crashers." Gibson died of cancer at the age of 73 at his home in Malibu, California on September 14, 2009.
Stage star Keene Curtis was a lost Earth scientist
Season 1's "The Torments of Tantalus" introduces "SG-1" viewers to Ernest Littlefield, a scientist working on the Stargate project in 1945. Played in flashback sequences by Paul McGillion — who was later cast as Dr. Carson Beckett on "Stargate: Atlantis" — Ernest enters the gate and arrives on the planet Heliopolis, the meeting place of the Four Great Races. Unfortunately, he's unable to return to Earth and remains there for more than a half-century until SG-1 is dispatched to rescue him in 1997.
Actor and Utah native Keene Curtis played the elderly Ernest Littlefield in "Tantalus," which came nearly five decades after his screen debut in Orson Welles' 1948 adaptation of Shakespeare's "Macbeth." A onetime stage manager for the Martha Graham Dance Company, Curtis branched out into acting on stage in the mid-1960s and won a Tony in the early 1970s for the musical "The Rothschilds." Television and feature films came soon after, including numerous guest roles on episodic series. The best known of these was as John Allen Hill, owner of the restaurant above Sam Malone's bar on "Cheers."
Noted for his regal-sounding voice, Curtis also lent his talents to numerous animated series, including "The Smurfs" and "The Pirates of Dark Water." He also voiced the Grand Moff Tarkin in NPR's radio adaptation of "Star Wars Episode IV: A New Hope." After making his final television appearances in 1998 on series like "The Pretender" and "Party of Five," Curtis died at the age of 79 from complications of Alzheimer's disease on October 13, 2002.
Character actor Paul Koslo toughened up SG-1
Captured in Season 4's "The Serpent's Venom," Teal'c is delivered to Goa'uld torturer Terok in order to break his spirit and, by extension, the Jaffa rebellion. However, Teal'c proves too strong an opponent, which upends the plans of Terok's boss, System Lord Heru'ur, and leads to Terok's death.
Paul Koslo, who played Terok, was born in Germany and raised in Canada, where he began his acting career before heading south to play tough guys in stateside action films. He co-starred with Charlton Heston in "The Omega Man" and stood his ground against actors like Clint Eastwood in "Joe Kidd," Charles Bronson in "The Stone Killer," and Paul Newman in "The Drowning Pool," while also making numerous appearances in TV series like "Police Woman" and "The Rockford Files."
Television remained Koslo's primary showcase in the '80s and '90s, though he occasionally returned to features like Stuart Gordon's "Robot Jox" and the Jean-Claude Van Damme actioner "Inferno." Koslo's "Stargate" appearance was one of his final screen roles. He died of pancreatic cancer at the age of 74 on January 9, 2019.