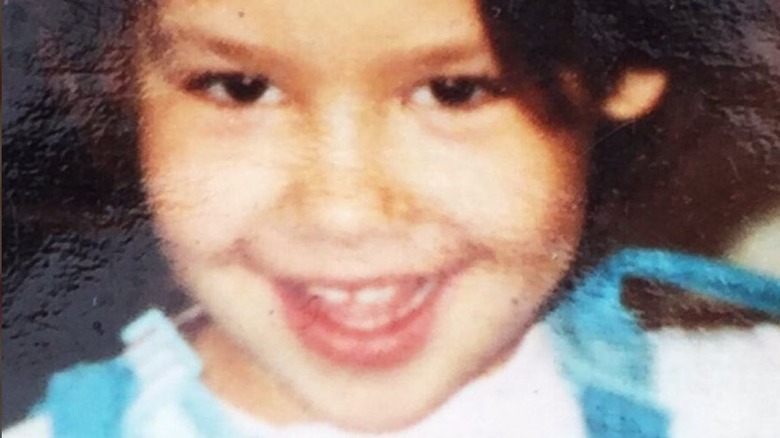 We may receive a commission on purchases made from links.
Amber Rose is a model, author, and podcaster who is well-known for quite a few reasons. If you've read Rose's 2015 interview with Cosmopolitan, you might have heard that she began working in adult entertainment at the too-young age of 15 as a way to help support her family. You might have also heard that she dated Kanye West for two years and that the rapper later said that after their relationship ended, he had to wash himself 30 times before he could be with estranged wife Kim Kardashian. You might have even heard that Rose has two children with two different men (per Essence).
But for every story about Rose that sounds far-fetched or inappropriate, there's a truth behind it that shows she is a woman who has overcome hardship and who continues to grow despite those challenges. Here's a look at where she came from and how she's transformed herself from her very humble beginnings. This is the stunning transformation of Amber Rose.
Amber Rose had a tough childhood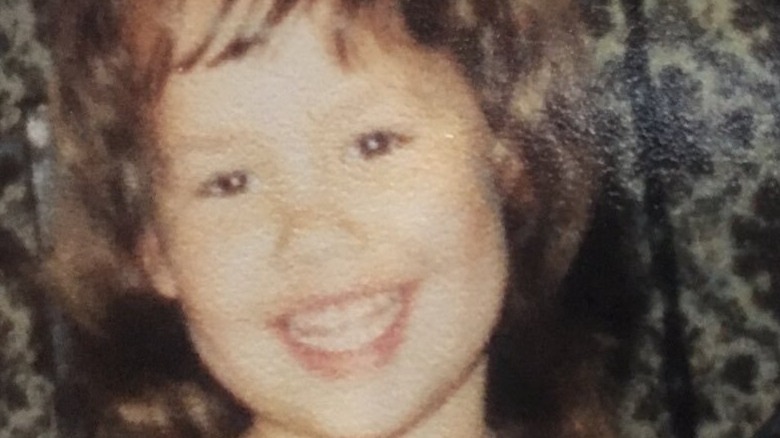 While it might be easy to look at Amber Rose's success now and assume her life has always been easy, the reality is that she's had to face many demons throughout her past. Rose was raised mostly by her mother, whom she praised in an interview with Cosmopolitan: "She taught me compassion, and she taught me how to be a good person." Although Rose didn't see her father, an active member of the military, all that often, she thinks very fondly of him now.
Rose told The Sun that her childhood was challenging for a multitude of reasons, not least because she grew up in a Philadelphia neighborhood she described as "tough" (per AZCentral). She explained that between random shootings and difficult interactions with her peers, life wasn't easy. "I fought girls in my neighborhood all the time. But it was just the thing to do. If you have a problem with someone you fight it out," she told AZCentral.
Rose added that nearly everyone she knew when she was young ended up abusing substances or died young, which makes her a bit of an anomaly.
Amber Rose began her career in adult entertainment
Amber Rose told Cosmopolitan that she had dreams of becoming a marine biologist when she was a kid, but that those dreams didn't pan out when real life kicked in. She began working in adult entertainment at the age of 15, but the route wasn't one that she was ready for. She said that the job was apparently beyond what she was prepared to do, explaining, "I was a kid. I think I was still a virgin at the time."
After taking a step back, Rose returned to the industry at the age of 18 and worked in the field until she was 25. This time around, she was ready for it. "That was the best time of my life! Oh my god, I had so much fun. I really did," she told Cosmopolitan. "All the girls were really cool … I made lifelong friends."
Rose eventually began to branch out, parlaying her experiences in adult entertainment into the larger world of entertainment in general.
The model moved into acting in 2007
Amber Rose earned her first acting role in 2007 when she was cast in the TV series "A Haunting." The Discovery Channel show features stories from real people about their own encounters with the paranormal world, which are sometimes depicted in reenactments. Rose played a character named Jessie when she was featured on the episode "Spirits of the Dead." According to IMDb, the episode is about the lengths to which a horse farm owner goes to rid his property of spirits.
Rose has amassed quite a few acting roles since then. She guest starred on "'Black-ish" in 2015, though some fans were a little disappointed with the character she played. As Refinery29 put it, Rose's character, Dominique, is "the kind of cliché, stock female character we should be working to eliminate from TV and movies, and Amber Rose has the platform to help make it happen."
Rose also showed up on "Inside Amy Schumer" from 2015 to 2016, which appears to have led to a friendship with Schumer herself (per People).
In 2008, Amber Rose began appearing in music videos
Acting on television isn't the only role in entertainment that Amber Rose has on her resume. In 2008, she made her music video debut when she appeared in the video for Young Jeezy's song "Put On." The experience was also memorable because it's where she met her ex-boyfriend, Kanye West. From there, Rose was featured in a number of music videos, including the video for the Ludacris song "What Them Girls Like" and the video for Nicki Minaj's "Massive Attack" (per Life & Style).
Rose later spoke to Life Files about her time as a music video model, explaining that she feels she took a "classy" approach to the work. "I did interviews … I did a video … that's why to this day, they respect me so much," she told The Jasmine Brand. "I did my job … I got my check and went home."
Her tumultuous relationship with Kanye West put her on the map
As we mentioned, Amber Rose and Kanye West met in 2008 on the set of his music video for "Put On" and dated for two years. In reference to those who knock her and who credit West for launching her career, Rose said bluntly, "I don't owe him nothing" (per the New York Post).
Since parting ways, both Rose and West have seemed to go out of their way to speak negatively of the other. Rose has opened up about the challenges she experienced during the relationship, telling the New York Post in 2012 that West is incapable of commitment. "He can't be faithful, and it's not just with one person. He's just unfaithful with a lot of different women," she said, adding, "I got to the point where I thought, my heart can't take it anymore."
In an interview with Star magazine, Rose blamed Kim Kardashian for contributing to her breakup with West. After sharing that Kardashian was reportedly sending West photos of herself while he was with Rose, the model added that the reality star was "one of the main reasons why me and Kanye are not together. She's a homewrecker" (per RadarOnline).
Amber Rose met her ex-husband on Twitter
Amber Rose began dating Wiz Khalifa in 2011, a year after things with Kanye West ended. Rose later told Us Weekly that the two met in a pretty modern way: on social media! She related, "Initially we met through Twitter. He did an interview about me and the guy who interviewed him asked, 'If there was one girl in the world who would you be with?' He said 'Amber Rose.'"
Following Khalifa's admission, Rose made the first move by starting a conversation with him on the platform. They soon met, fell in love, and got married in July 2013 (per Twitter). At the time of their wedding, they had a lot to celebrate — Rose was pregnant with their son, Sebastian Taylor Thomaz, who was born in February 2013 (per People).
However, things between the pair took a turn, and they announced they were divorcing not even two years later (per People). Khalifa later told Playboy that ending the marriage was tough but that he got something out of it, saying, "It helps to walk away sometimes, even though it was super hard." For her part, Rose chalks up their divorce to getting married too soon. As she told the "B Real With Bethenny" podcast, "I feel like if we just stayed in just a boyfriend-girlfriend relationship longer, we could have worked it out and then got married later."
She has opened up about how motherhood has changed her
Amber Rose is now a mom of two, as of this writing. In 2019, she gave birth for a second time when she and her now ex-boyfriend, Alexander Edwards (also known simply as AE), welcomed their own son, Slash (via USA Today). Slash is now the younger brother to Rose's older son, Sebastian, whom she shares with her ex-husband, Wiz Khalifa (per BBC News).
Rose has been open about the role that motherhood has played in her life. She told People that, like a lot of moms, her fears for her own children can even keep her up at night. "You think about all the worst things that could possibly happen to your baby, and it really sucks," she said.
Rose has also been quick to admit that, when it comes to parenting, she definitely doesn't know everything, despite having read numerous books about motherhood. But, instead of feeling overwhelmed or worrying she's not doing enough, she focuses on letting her own instincts take control. As Rose explained to People, "Your maternal instinct comes in, and you figure it out along the way. And that's the fun part about it."
Publishing her first book in 2015 was a major accomplishment for Amber Rose
In 2015, Amber Rose officially added author to her growing list of roles and accomplishments when she published her first book, "How to Be a Bad Bitch," which is billed as part memoir, part self-help. Per the book's description on Amazon, it "covers finances, career, love, beauty, and fashion while emphasizing confidence, positive self-acceptance, and authenticity."
While promoting the book, Rose gave an interview to GQ where she shared what it was like to pitch her work to publisher Simon & Schuster. After admitting she was worried that the publishing house might not understand what the book was about, Rose told GQ that she was relieved to walk into a room full of women. She asked one question — "Have you ever been cheated on with a woman who was less attractive?" — and the room blew up in conversation.
She said the realization she landed on is this: "How do you win? You do exactly what you want to do. And if it doesn't work out, then he's just not meant for you."
These days, Amber Rose can take care of herself
When it comes down to it, lately it seems that the one thing that especially intimidates people about Amber Rose is that she can take care of herself. At least, that's definitely what she believes. Rose is truly an impressive force in entertainment: Through her various pursuits and enterprises she's touched nearly every part of the field, and she's able to completely support herself financially while doing so.
Rose is completely aware of the situation, telling GQ that she knows a lot of men can't handle it. "I have my own house. I have a Ferrari. I have a Jeep. I have an Escalade … I have a beautiful son, two assistants, lawyers, business managers, management, and access to pretty much whatever I want," she said, adding that it's "intimidating" for some men, and that, as a result, she's really only comfortable living with someone who is more or less on the same level as she is.
Her successful career has resulted in an impressive net worth
All that hard work has paid off in a very real way for Amber Rose. In fact, Celebrity Net Worth estimates that her overall net worth is approximately $12 million. That number is the result of her years of making her way through Hollywood and beyond. In addition to her modeling and acting work, Rose is also the voice behind a few songs, most notably 2012's "Fame" and "Loaded."
Rose is also a property owner. She purchased a Mediterranean mansion in Los Angeles for just under $4 million (per Marie Claire) in 2016, the same year she sold her previous property, a two-story contemporary which she had listed for $5.1 million (per Architectural Digest). The new pad, built in 2015, came complete with six bedrooms, eight bathrooms, library, and bar, in addition to more traditional amenities.
Real estate isn't Rose's only expensive interest. The Daily Mail revealed that she also apparently has a thing for fancy cars, such as the $371,000 Rolls-Royce she also bought in 2016.
It's important to Amber Rose that her sons are feminists
Amber Rose takes her role as a mom to her two young sons very seriously. She told People that giving birth to her first son, Sebastian, helped her understand that he needs to be able to see his mom as "Superwoman," while it's equally important for him to be raised as a feminist. As a woman who has endured an enormous amount of shaming about who she is and how she's spent both her personal and professional time, Rose told the publication that she hopes her son stands up for the girls and women in his life. She explained that if Sebastian overhears a girl being insulted, she "want[s] him to be the first person to say, 'Man, that's not cool. You don't talk to women like that.'"
Rose echoed this idea in another interview with Teen Vogue. While explaining that she exposes her son to the female body through art, she said, "I feel like as parents, when we talk to our children [and] make things very taboo and sexual and weird, or we're like, 'No, no, no, don't look' … it makes them be like, 'Why? What's the big deal?'" In doing so, Rose is doing her part to hopefully raise a boy who is comfortable with both himself and the girls and women around him.
The model says Kobe Bryant's death inspired her forehead tattoo
The death of Kobe Bryant and his daughter, Gianna Bryant, in a January 2020 helicopter crash rocked the lives of people all over the world, and the same is true for Amber Rose. In February 2020, she debuted two brand-new tattoos on her forehead: the nicknames of her sons, Bash and Slash. While speaking to "One on One with Keyshia Cole," Amber said that, while she felt like it might be seen to some as silly, the death of both Kobe and Gianna is what inspired her to get the tattoos. Amber explained, "I don't want this to sound corny or anything but kinda after Kobe (Bryant) died, it made me reflect on my life. I don't want people to be like, 'Oh Kobe died and you went and got a tattoo,' but it was kinda like that."
She added that her own father's cancer diagnosis was another reason she felt moved to make such a permanent alteration to her face. His experience helped her understand how short life can be, and, as she put it in the interview, she decided that the forehead tattoos were right for her to honor her sons. The model and mom of two said simply, "This is how I felt and I'm happy I did it."